Download Canvas
Please fill the form below, after you will receive an e-mail with a link to download it.
The Sustainable Business Canvas
53% of startups states sustainability is essential for their business model to be viable. By designing the Sustainable Business Canvas, we want to propose a toolbox for entrepreneurs to embrace sustainability as a core for their business model.
The Sustainable Development Goals
Key partners
Who are our Key partners?
Who are our key suppliers?
Who can help in negative externalities?
Which key resources are we acquiring from partners?
Which key activities do partners perform?
MOTIVATION FOR PARTNERSHIPS
Key activities, key resources, key resources, value proposition, value propositions, customer relationships.
Transactional - no real relationship
Co-Creation
Automated services
Through which channels do our Customer Segments want to be reached?
How are we reaching them now?
How are our channels integrated?
Which ones work best?
Which ones are most cost-efficient?
How are we integrating them with customer routines?
Channel phases
Customer segments.
For whom are we creating value?
Who are our most important customers?
Cost structure
What are the most important costs inherent in our business model?
Which Key Resources are most expensive?
Which Key Activities are most expensive?
Is your business more: cost driven or value driven?
Sample characteristics
Revenue streams.
For what value are our customers really willing to pay?
For what do they currently pay?
How are they currently paying?
How would they prefer to pay?
How much does each Revenue Stream contribute to overall revenues?
Negative externalities
How does your Value Proposition impact negatively your environment?
Your Partners?
Your Ressources?
Your Channel?
Positive externalities
How your Value Propositions will positively impact your environment?
In what manner your Value Proposition target one or multiple UN sustainable goals?
The Sustainable Business Model enriches the original Business Model Canvas with 3 additional sections :
A list of un sustainable goals.
The main objective here is to let the business owner check the sustainable goals targeted by the business.
For startups, it's also a good way to reminde that your impact can be as important as your revenue stream.
NEGATIVE EXTERNALITIES
This block ask the business owner or startupper to imagine what would be the negative impact of its business. For example: SaaS companies, by using Cloud computing power, use a lot of energy to provide its solutions. IT solutions also might have a negative impact on jobs.
An extra question is asked to see how business can compensate this.
Negative externalities can be seen as hidden opportunities that could generate new revenue.
Positive externalities are important. It creates adhesion from customers, employees and shareholders.
In a world where people are the most valuable assets, positivie externalities can have a huge impact on keeping this asset onboard.
Last Sustainable Business Cases
Discover how companies used the Sustainable Business Canvas to reflect on their way to operate their business.
Featured Content
Cost Management
Artificial Intelligence
Build for the Future
© 2023 Boston Consulting Group
Terms of Use
Site Search Search
BCG Henderson Institute Newsletter: Insights that are shaping business thinking.
Social Impact
/ article, four steps to sustainable business model innovation.
By David Young and Marine Gerard
This article is part of an ongoing series that describes the concept of "Sustainable Business Model Innovation" (SBM-I) and how companies are putting it to use.
You may have noticed that every day there's another announcement about companies making new climate commitments, asset managers outlining their plans for ESG integration, or regulators proposing new disclosures or extending producers' responsibilities. Corporate coalitions like the World Economic Forum International Business Council and the US Business Roundtable endorse a more stakeholder-inclusive corporate capitalism while industry coalitions work to solve their members' shared sustainability challenges. And employees and consumers call on employers and brands to take environmental and social challenges seriously. All of this makes clear that we have entered a new era for business, one in which sustaining competitive advantage requires companies to transform their business models for sustainability.
Company leaders need a broader, more systemic understanding of these dynamic sustainability challenges and the ways that their companies can play a part in addressing them. Fortunately, as some farsighted businesses are discovering, the most powerful opportunities for profitable innovation are embedded in these same challenges. Let's consider three examples.
The first is Telenor, the leading Norwegian mobile operator. In 2008, having entered Pakistan three years earlier, it joined forces with the microfinance bank Tameer. With support from the Bill and Melinda Gates Foundation, the International Finance Corporation (IFC), and the Consultative Group to Assist the Poor (CGAP), they launched a new service called Easypaisa, providing mobile-based financial services to the unbanked and underbanked. By the end of 2019, Telenor Microfinance Bank (the result of Telenor's acquisition of Tameer) boasted the largest branchless banking service in Pakistan, growing its Easypaisa mobile wallet user base to 6.4 million, its depositor base to 17 million, and the transactions volume through its agent network to about PKR 1 trillion (approximately $6 billion). This service has significantly advanced financial inclusion in Pakistan and established Telenor as a major telecom enterprise there.
Or consider Ajinomoto, a global food and biotech company based in Japan. It produces seasonings, sweeteners, and pharmaceuticals. As part of its 2030 vision and growth strategy to "help one billion people worldwide lead a healthier life," Ajinomoto is exploring a new "personalized nutrition for health" business. Combining its core nutrition expertise and new technology, the company aims to provide customers with digitally enabled diagnostics, analytics, and product recommendations. These would guide people toward the kind of well-balanced amino acid intake that boosts cognitive and physiological functions and helps prevent aging-related diseases like dementia—a prominent societal issue in Japan.
Another example is Indigo Ag, a US-based agricultural technology startup that was valued at $1.4 billion in 2017. In 2019, the company launched a service called Indigo Carbon to help incentivize farmers to remove carbon from the atmosphere and sequester it in their soil. The service provides technologies and recommendations for regenerative agriculture practices. The ultimate goal is to pay farmers for each ton of carbon captured and then sell certifications to companies looking to offset their carbon footprints. By supporting a transparent carbon credit marketplace, Indigo Carbon creates benefits for all participants: the farmers, the companies buying the offsets, the planet, and its own business.
What do these three companies have in common? Regardless of industry, geography, or size, they (and dozens of others like them) are innovating business models—building on and expanding beyond their core assets and capabilities—to address significant environmental and societal challenges in their local contexts. In this way, they create new sources of value and competitive advantage for their business.
The Four-Step Innovation Cycle
In our research, we have studied more than 100 cases of companies that are practicing what we call "Sustainable Business Model Innovation" (SBM-I). We have found that the most advanced of these companies, the "front-runners," combine environmental, societal, and financial priorities to re-imagine their core business models and even shift the boundaries of competition.
One might expect the front-runners to consist mainly of smaller enterprises, branded through their visible social or environmental missions. But most of them are actually global corporations that have gradually developed new business models that create both sustainability and long-term competitive advantage.
The core practice for SBM-I is an iterative innovation cycle, shown in Exhibit 1. With each round, the company gains scale, experience, and market presence for its initiative; these reinforce both the business advantage and the environmental and societal benefits generated.
1. Expand the Business Canvas
So how can you bring this cycle to life in your company? The first step is to develop a rich understanding of the broader stakeholder ecosystem in which the company operates and of the environmental and societal issues and trends that might affect this ecosystem. As part of this diagnosis, you explore the potential impacts of ecosystem dynamics and issues on your business model. This will allow you to identify a range of business vulnerabilities and opportunities tied to environmental and societal issues. Some of these are good starting points for focused SBM-I.
More specifically, we recommend the following:
Expand the business canvas by mapping the wider ecosystem of stakeholders and societal issues in which the business operates. Ask yourself: Who are the key stakeholders in the system? What are the material environmental and societal issues and trends? How do stakeholders and environmental and societal issues directly or indirectly impact all the different parts of the business model?
Stress-test the business model (current or potential) within this broader map. How do stakeholder dynamics and environmental and societal issues constrain or hold back your business model? Where do limitations in the system create vulnerabilities for the business model?
Extrapolate trends and build materiality scenarios. Look at today's environmental and societal trends and think about how they might evolve over time. In addition, build scenarios to envision completely different, more extreme versions of the future (as opposed to linearly projecting trends) to stretch your thinking. And then, under these scenarios, ask yourself: How might environmental and societal issues change over time? How might stakeholders' perceptions of and attitudes toward those issues shift? What would be the effects on the system map and the business model?
Explore scaling up the business. Imagine the business model at different scales of activity. Suppose your business grew three- or five-fold over the next few years. Where might breaking points or opportunities arise? What happens to the externalities the business creates? How do risks and opportunities change?
Identify innovation opportunity spaces or "strategic intervention points" (SIPs). These are points at which targeted action or innovation could alter stakeholder dynamics, positively impact the environmental or societal issues, reduce the vulnerabilities of the business model, or even create new business value opportunities.
Look for difficulties, gaps, and risks to arise from the analysis. For example, your company's own lines of business might contribute to the environmental or societal issue and impact the growth of the business today. Also, don't just rely on your own thinking. Cultivate outsiders who can provide complementary and thought-provoking perspectives.
In a recent interview , Christine Rodwell, former vice president of business development cities at Veolia, explained that "to walk the talk on sustainability, companies need to listen to their external stakeholders. They should create a committee of critical friends (across public, social, and academic sectors) who will challenge them and advise them to develop business solutions that create meaningful environmental and societal benefits."
To understand what expanding a business canvas looks like in practice, consider the hypothetical example of a consumer packaged goods (CPG) manufacturing company engaged in a real-world dilemma: the toxic effect of plastic packaging on natural habitats, particularly in the world's oceans. About 18 billion pounds of plastic waste enter the world's oceans each year. This is equivalent to five grocery bags of trash on every foot of coastline. Plastic pollution causes extensive damage to life on land and at sea, including toxic contamination, strangulation, blockage of digestive passages, and endocrine-related reproductive problems for people as well as animals. Concerns about this problem reached a tipping point in the mid-2010s, as studies confirmed the damage.
As industrial leaders in this field know all too well, the complexities of gathering, cleaning, sorting, recycling, and reusing plastics have made it costly and difficult to address this issue. Companies that step forward with effective and financially viable solutions will not only gain enormous goodwill but are also likely to build high-growth businesses.
But where do you start? And where do you focus innovation efforts and investments to tackle such a complex, multifaceted environmental issue? Reflecting the SBM-I cycle approach, Exhibit 2 shows what a stakeholder-centric systems map for the plastics issue could look like from the point of view of a CPG company. This map uses basic systems dynamics principles to capture the most significant interrelationships among the CPG company, the environmental issue at stake, and key stakeholders (consumers, policymakers, civil society, waste collectors and recyclers, and plastics manufacturers). The arrows show patterns of cause and effect. For example, when urbanization increases, so does the cost of landfilling.
The power of this diagram (versus more traditional, linear depictions) comes in part from its ability to reveal where delays, rebound effects, or tipping points might be active in the system. For instance, the node labeled "environmental and recycling awareness" will influence changes in several consumer habits—but only after a delay. Such awareness cannot be seen as a quick-fix solution, but over time it will help change the dynamics of the entire system.
The boxes in the exhibit represent the opportunity spaces or strategic intervention points (SIPs) that become evident during this step. In this example, a few of the SIPs for our CPG company are as follows: shifting to new packaging formats; setting up plastic collection initiatives; lobbying for government programs like deposit return systems; joining precompetitive coalitions that invest in recycling infrastructure and new recycling technology; and educating and nudging consumers to consume and dispose of packaging in more sustainable ways.
2. Innovate for a Resilient Business Model
The first step in the cycle will have led you to identify the opportunity spaces that hold potential for both financial returns and societal value. You must then transform your business model, or imagine an entirely new one, so that you can seize these opportunities. In this second step, you innovate and develop new aspects of that new business model. You are seeking to bypass current constraints, break tradeoffs, deploy technological advances, and perhaps integrate activities that were previously kept separate. You should ideate a new business model to integrate and reinforce both business advantage and environmental and societal benefits.
In related research , we introduced and defined seven archetypal business models that optimize for both societal and business value. Here we illustrate how they might apply to the plastics waste challenge.
Own the origins. Change production inputs to generate societal and environmental benefits. For instance, HP is working with waste collectors in a partnership with the First Mile Coalition in Haiti. HP has invested $2 million in a local facility to produce clean, high-quality recycled plastics that can then be used as input in an array of HP personal computer products and ink cartridges, reducing the environmental footprint of those products. Four years after its launch in 2016, the program had already diverted approximately 1.7 million pounds (771 metric tons) of plastic materials (equivalent to more than 60 million plastic bottles) from waterways and oceans and created income opportunities for 1,100 Haitians (with 1,000 more expected in coming years). Thanks to this and other efforts, HP boasted the world's most sustainable PC portfolio in May 2020. This included, for example, the HP Elite Dragonfly, the first PC manufactured with ocean-bound plastic.
Own the whole cycle. Create environmental and societal impact by influencing the product usage cycle from cradle to grave. Since the 1990s, Grupo AlEn, a leader in home cleaning products based in Monterrey, has invested and scaled up its in-house plastic recycling operations to become one of the largest plastic recyclers in Mexico. AlEn now operates 30 routes and 6,200 collection points in the Monterrey area, recycling more than 50,000 tons of PET and HDPE per year. This business expansion has given AlEn an exclusive supply of recycled plastics, enabling it to create distinctive, greener packaging at a relatively stable cost.
Expand societal value. Expand the environmental and societal value of products and services, and capture value in pricing, market share, and loyalty. In 2018, PepsiCo acquired Sodastream, the world's leading at-home sparkling water maker. Building on this technology, PepsiCo has begun to bring packaging-free, customizable beverages to workplaces, college campuses, and airports. This new business positions PepsiCo to win in the increasingly personalized beverage market and to save an estimated 67 billion single-use plastic bottles by 2025.
Expand the value chains. Innovate by layering onto the business ecosystems of customers or of partners in other industries. In Chile, Algramo's innovative bulk distribution system replaces single-use plastic with RFID-equipped reusable containers. Since 2013, the startup has scaled up its business by partnering with more than 2,000 family-owned stores across Santiago. They dispense affordable food and staple products "al gramo" (Spanish for "by the gram") and reward customers for reusing containers. Algramo's model not only helps the environment but also benefits the urban poor, who previously had to pay high prices for small quantities of products, in wasteful, individually wrapped packets.
Re-localize and regionalize. Shorten and reconfigure global value chains to bring societal benefits closer to home. In Brazil, BASF has developed a solution to a local issue: waste certificate fraud. Some collectors and recyclers claim credits for recycled materials that they didn't actually process or that aren't actually recycled. Partnering with Kryha, a digital blockchain studio, and Recicleiros, an NGO that supports waste collectors and their cooperatives, BASF developed an online platform called ReciChain. This platform enables accurate and secured data tracking throughout the recycling value chain, to improve the quality of operations and guarantee the validity of manufacturers' certificates and claims.
Energize the brand. Encode, promote, and monetize the full environmental and societal value of products and services, and use that leverage to engage customers in novel ways. The innovative manufacturing company 3M released the latest version of its Thinsulate insulation product in 2019. This is "100% recycled featherless insulation" made from recycled plastic bottles. Building on this accomplishment, 3M worked with the high-end apparel brand Askov Finlayson to create "the world's first climate-positive parka," producing 3,000 parkas in 2019 as an inspiring demonstration project.
Build across sectors. Create new business models in collaboration with government and nonprofit organizations, particularly in rapidly developing economies, to improve the business ecosystem and societal proposition. Together, SC Johnson and the social enterprise Plastic Bank have opened nine recycling centers in Indonesia to collect and recycle plastic before it reaches the ocean. This partnership also plays an important societal role, helping families in impoverished areas who collect plastic waste by buying it at a premium from them. In 2019, the partnership announced a ground-breaking, three-year deal to create 509 plastic collection points, including locations in Thailand, the Philippines, Vietnam, and Brazil. In aggregate, these points are expected to collect 30,000 metric tons of plastic over three years—the equivalent of stopping 1.5 billion plastic bottles from entering waterways and the ocean. On the business side, among other benefits, this collaboration will secure a steady supply of high-quality recycled plastics and help SC Johnson meet its 2025 packaging goals.
These seven archetypes can be starting points for developing your own business model innovation. Adapt them, and combine several together to develop a more comprehensive solution to environmental and societal issues relevant to your enterprise. Interestingly, among the 102 in-depth SBM-I cases that we explored in our research, 75% of the SBM-I leaders (the "front-runners") combine three or more archetypes. This contrasts with less than 30% in the two other groups: the "ecosystem leaders" and the "initiative leaders," whose efforts tend to be more narrowly focused.
In addition to exploring the possibilities inherent in these seven archetypes, take inspiration in the lessons learned from SBM-I front-runners. Front-runners see sustainability as a source of competitive advantage. In line with their long-term strategies, they continuously iterate and fine-tune their business models, always seeking to deepen their beneficial impact. They explicitly seek to understand and fix the root causes of environmental and societal challenges—as some of our plastics recyclers did, addressing not just the environmental concerns but also the social aspects of the issue. These companies also use digital technologies wherever possible, to break economic constraints and unlock new solutions. They practice an intensive form of stakeholder engagement: partnering with nonprofits and governments, operating across organizational boundaries, and pooling resources with other enterprises, even competitors. Last but not least, they experiment with new forms of value capture, such as blended financing sources, to de-risk and amplify their own investments. After all, notwithstanding their environmental and social track records, the front-runners are still in business to show a profit and return investment to shareholders.
3. Link to Drivers of Value and Competitive Advantage
In the third stage of the cycle, test, iterate, and refine your business model ideas or concepts (from the second step) to ensure that they will yield the environmental and societal benefits intended, and that the benefits will translate into value and advantage for the company. A business with weak profit margins cannot invest in innovation to amplify and scale environmental and societal benefits.
The objective of this step is to keep assessing and reengineering the business model, so that it continually improves the resilience of the business and the benefits to society. The following questions, based on our research into the characteristics of robust, resilient business models , can help you navigate this part of the process:
Can the business model scale effectively? Can it be replicated across all your business units or the markets you serve, without diminishing returns?
Will the business model differentiate your brand or product and make it more competitive in the marketplace?
Will it reduce the risk of commoditization, by being hard for others to imitate? Will its distinctiveness help you retain some control over pricing?
Can it leverage network effects? For example, can it attract the kinds of customers and suppliers that make other customers feel compelled to join?
Does the business model harness business ecosystems—including the larger industry, the value chain, and everyone who interacts with your products, services, and practices—for advantage and sustainability?
Does the business model naturally create meaningful environmental and societal benefits?
Will the environmental and societal benefits remain durable against changing trends over time, even as the business model scales up?
Does the business model increase returns to shareholders as well? Are the financial benefits linked to the environmental and societal benefits in some significant way?
Finally, does the model animate your company's purpose? Does it boost engagement and loyalty between the company and its employees, customers, investors, and other stakeholders?
Exhibit 3 shows how a company might assess its business model against these nine questions. The resulting footprint reveals how robust and resilient the business model is and identifies where it could be improved to unlock further advantage and value for the company.
The fuller the footprint, the better. Among the front-runners in our sample, 90% score "high" on at least five of the nine attributes, as opposed to only 30% in the other groups. The front-runners also show superior average scores on every single dimension.
4. Scale the Initiative
The full potential value of sustainable business model innovation is achieved only when the new business model is brought to scale: engaging people in the company, across the supply chain, in the company's networks, and in its ecosystems to expand impact and advantage.
To accomplish this, companies can leverage three enablers. First, partnerships with other organizations, within or across industries or sectors, can help a company pool resources, fill capability gaps, and unlock new markets. Almost 90% of the front-runners have broadened their efforts this way. Second, digital technology (leveraged by 80% of the front-runners) can help create new distribution channels that reach previously unserved or underserved populations at a fraction of the cost of their predecessors. Third, companies that adopt SBM-I tend to develop cultures and leadership values that attract and engage people inside and outside their boundaries. Indeed, all of the front-runners explicitly mention the environmental and societal impact they seek to deliver in their vision, purpose, or mission statements.
Consider the example of BIMA, a mission-driven provider of mobile-delivered health and insurance services that started operations in Ghana in 2010. Its innovative digital technology platform and its partnership model (which comprises telecom providers, mobile money providers, and insurance underwriters) have enabled it to rapidly scale its innovative business model. BIMA now provides affordable, easy-to-manage life and health insurance to more than 35 million low-income customers across ten emerging economies. BIMA's customers have access to its services through their mobile phones. Many of them are lower income families who earn less than $10 a day. About 75% of them are obtaining insurance for the first time in their lives. These societal benefits are at the core of BIMA's strategy and mission; the company's website says explicitly that its "purpose is to protect the future of every family."
The four-step innovation cycle we propose in this article offers companies a way to systematically integrate and solve for social and business value in one business model. Most of the companies that begin this journey are already skilled at optimizing for business advantage. They may already recognize the importance of taking into account their environmental and societal impacts. With this approach, they are now ready to take on innovation for a business that optimizes for both business and social value.
The BCG Henderson Institute is Boston Consulting Group's strategy think tank, dedicated to exploring and developing valuable new insights from business, technology, and science by embracing the powerful technology of ideas. The Institute engages leaders in provocative discussion and experimentation to expand the boundaries of business theory and practice and to translate innovative ideas from within and beyond business. For more ideas and inspiration from the Institute, please visit our website and follow us on LinkedIn and Twitter .
Managing Director & Senior Partner, BCG Henderson Institute Fellow
ABOUT BOSTON CONSULTING GROUP
Boston Consulting Group partners with leaders in business and society to tackle their most important challenges and capture their greatest opportunities. BCG was the pioneer in business strategy when it was founded in 1963. Today, we work closely with clients to embrace a transformational approach aimed at benefiting all stakeholders—empowering organizations to grow, build sustainable competitive advantage, and drive positive societal impact.
Our diverse, global teams bring deep industry and functional expertise and a range of perspectives that question the status quo and spark change. BCG delivers solutions through leading-edge management consulting, technology and design, and corporate and digital ventures. We work in a uniquely collaborative model across the firm and throughout all levels of the client organization, fueled by the goal of helping our clients thrive and enabling them to make the world a better place.
© Boston Consulting Group 2023. All rights reserved.
For information or permission to reprint, please contact BCG at [email protected] . To find the latest BCG content and register to receive e-alerts on this topic or others, please visit bcg.com . Follow Boston Consulting Group on Facebook and X (formerly Twitter) .
What's Next
Read more insights from BCG's teams of experts.
The Secrets of Sustainability Front-Runners
Sustainable companies need sustainability strategies. The front-runners are fundamentally reimagining their businesses to turn sustainability into a core business advantage.
How to Tell If Your Business Model Is Creating Environmental and Societal Benefits
In today's context, a resilient and competitive business model must optimize for both business and environmental/societal value. Gauge your model against the six dimensions of E/S impact.
How to Tell If Your Business Model Is Truly Sustainable
Use a nine-point robustness and resilience framework to determine if your business model can provide ongoing competitive advantage.
Why the New Competitive Advantage Demands Sustainability
Companies can no longer simply focus on maximizing total shareholder returns. To win, they must hone sustainable business models.
The Quest for Sustainable Business Model Innovation
Building on traditional BMI and systems thinking, a new approach to sustainability helps companies move from reporting and compliance to action and advantage.
Sustainable Business Models Canvas with examples
The sustainable business model canvas is a tool that helps companies create a sustainable business model that incorporates economic, social, and environmental factors.
It is based on the traditional business model canvas but includes additional components related to sustainability.
Value Proposition: This is the core of any business model and represents the unique value that the company provides to its customers. In a sustainable business model, the value proposition should also consider the social and environmental impact of the company's products or services. Example: Patagonia, an outdoor clothing company, provides high-quality outdoor clothing while also promoting environmental sustainability and social responsibility through initiatives such as using recycled materials and donating a portion of profits to environmental causes.
Customer Segments: This refers to the groups of customers that the company targets with its products or services. In a sustainable business model, the company should consider the social and environmental preferences of its target customers. Example: Beyond Meat, a plant-based meat substitute company, targets environmentally conscious consumers who want to reduce their meat consumption.
Channels: This refers to the ways in which the company reaches its customers. In a sustainable business model, the company should consider using channels that are environmentally friendly and socially responsible. Example: Tesla, an electric car company, sells its cars directly to consumers through its website and company-owned stores, avoiding the need for traditional car dealerships and reducing its environmental impact.
Key Activities: This refers to the activities that the company must perform to deliver its value proposition. In a sustainable business model, the company should consider activities that minimize environmental impact and promote social responsibility. Example: Unilever, a consumer goods company, has implemented a sustainable sourcing program to ensure that the raw materials it uses in its products are sustainably sourced and do not contribute to deforestation or other environmental issues.
Key Resources: This refers to the resources that the company needs to deliver its value proposition. In a sustainable business model, the company should consider using resources that are environmentally friendly and socially responsible. Example: Interface, a flooring company, has implemented a "Mission Zero" program to eliminate its environmental footprint by using sustainable materials, reducing waste, and using renewable energy.
Key Partners: This refers to the partners that the company relies on to deliver its value proposition. In a sustainable business model, the company should consider partnering with organizations that share its social and environmental values. Example: TOMS, a shoe company, partners with organizations to provide shoes to children in need and has also launched a sustainable line of shoes made from environmentally friendly materials.
Revenue Streams: This refers to the ways in which the company generates revenue from its customers. In a sustainable business model, the company should consider revenue streams that promote sustainability and social responsibility. Example: Ecolife Recycling, a waste management company, generates revenue by collecting and recycling electronic waste, reducing the amount of waste that ends up in landfills and promoting sustainability.
In summary, the sustainable business model canvas helps companies create a business model that takes into account economic, social, and environmental factors. By incorporating sustainability into their business model, companies can create value for their customers while also promoting a more sustainable and responsible way of doing business.

Sustainable business model design
In this post you will learn how to use a tool called the business model canvas to develop effective and impactful solutions for environmental and social impact.
The post also includes real word case studies to demonstrate how you can use this tool to describe the infrastructure, offering, customers, and finances of your sustainable business model and you can now design, discuss, and communicate your sustainability programs in a language people will understand.
One of the many challenges faced by Sustainability professionals is how to communicate the business case for our sustainability programs. We often hear that "management just don't get it" and this leads to frustration and ultimately, we hit the sustainability trough of sorrow.
One of the biggest problems when we try to present our sustainability plans is that sustainability professionals speak a foreign language – seriously we do. We speak about the bigger sustainability context like climate change and loss of biodiversity, we try to convince people that reducing carbon emissions is important, or we espouse the virtues of achieving the United Nations Sustainable Development Goals. Trying to convince the CFO to invest in your sustainability program using this language is like trying to chase a parked car – the harder you run the more it is going to hurt because they have no idea what you are talking about.
Fortunately for us there is a concept that is used by millions of business professionals around the world that basically acts as a translator to convert your sustainability-idish language into something anyone within the business world can understand.
One of the best ways to describe how a business (including components of a business like a sustainability strategy) is organized and delivers values to its customers is using a business model. A business model is how a company creates value for itself while delivering products and services for its customers.
Sustainable business models also capture economic, social, and environmental value for a wide range of stakeholders.
THE SUSTAINABLE BUSINESS MODEL CANVAS
The sustainable business model canvas.
The following section provides an overview of each of the eleven segments of the sustainable business model canvas that you can use design, develop and describe the infrastructure, offering, customers, and finances of your sustainable business model.
Case Study - Project Turns Ghost Fishing Nets into Carpet
In this case study we will look at how a carpet manufacturer improved their business model to create multiple value streams for the business whilst helping clean the oceans.
Interface Business Model Canvas
Interface make carpet for commercial buildings. But they also established their Mission Zero® promise to eliminate any negative impact the company has on the environment by 2020.
Using the business model canvas we can describe the key elements of Interface's business.
Interface's core business is manufacturing and selling carpet therefore the primary value proposition offered by Interface is fashionable carpet tiles in a range of designs.
Their customers are typically owners of commercial buildings like high rise office buildings. An interesting thing about these customers is that they have shareholders who expect some sustainability performance requirements of the buildings – but we'll come back to these shareholders later.
Interface deliver their value proposition (channels) through skilled trades who install the carpet tiles in the buildings.
For customer relationships – this is how we find, keep and grow our customers, Interface use a conventional sales force but they also have a network of architects and designers who recommend their products to the building owners.
Next, we have revenue streams. Interface captures value from carpet sales.
We then need to consider what resources Interface need to deliver quality carpet products. Interface need manufacturing facilities, they need human resources like their sales force, and they also need materials like nylon yarn to manufacture the carpets.
Key activities include manufacturing of the carpet and the establishment of a supply chain for key components that go into making carpet. This includes their re-entry program that recovers and recycles used carpet.
Key partners include their supplier of nylon yarn.
Costs include the costs to operate the business, investment in key resources, costs of key activities and payment to key partners.
Interface's Net-Works Program Business Model
Net-Works® is an innovative, cross-sector initiative designed to tackle the growing environmental problem of discarded fishing nets in some of the world's poorest coastal communities.
Interface partnered with the Zoological Society of London to buy discarded fishing nets from some of the poorest communities in the world.
The fisherman from these communities recover the ghost nets that are polluting to oceans and indiscriminately killing sea life therefore helping conserve and sustainably use the ocean.
Interface purchase these nets providing income to the community and the Zoological Society of London help the community establish banking services, provide education on sustainable fishery management and alternative income sources like seaweed farming.
The nets are recycled into new yarn for Interface's carpet tiles by their yarn manufacturer.
This directly supports Interface's Mission Zero goal to source 100% recycled material for its carpet tiles.
It reduces its supply chain risks for raw material as they now need less virgin nylon which is a product of crude oil.
It also allows Interface to deliver additional value to its customers through environmental product disclosures detailing the recycled content in the carpets.
Remember the shareholders we mentioned earlier – now Interface's customers can report to their shareholders that they are sourcing sustainable products for their buildings.
Interface benefits from an enhanced brand reputation as a leader in sustainability which reinforces the customer relationships.
Which in turn leads to more sales and improved value capture for Interface.
The Net-Works programme has resulted in a reduction in the number of ghost nets in the ocean, less virgin materials and a new source of income for the communities.
The partnership has created an inclusive business model with positive outcomes for everyone involved.
Using these eleven building blocks you can see how we have been able to describe how Interface's Net-Works programme complements and directly supports Interfaces' core business as a supplier of carpet tiles by delivering additional value to its customers, strengthening customer relationships, reducing supply chain risks and enhancing value capture whilst delivering a suite of positive economic, social, and environmental benefits.
We use the above technique with our clients to uncover and unlock new value from their sustainability strategy or sustainability projects. We also use this technique to design, discuss and communicate new sustainability initiatives for our clients.
If you think that business model innovation could help you deliver positive environmental or social impacts for your sustainability strategy then you may want to check out our Impact Business Builder Online Course which teaches you how to design, test, and launch sustainability solutions.
Attributions for Images
Turtle caught in ghost net – U.S. National Oceanic and Atmospheric Administration, public domain
How Michelin used Business Model Innovation to Create Profitable Sustainability Outcomes
Michelin business model canvas.
Michelin New Sustainable Business Model
They bundled this service with a range of professional services to help their customers reduce fuel consumption and optimise vehicle performance. This allowed Michelin and its customers to extract the maximum value from their products.
Their superior technology meant they could get more kilometres per tyre compared with low cost competitors and therefore because they were charging per kilometre they could also maximise revenue per tyre.
Michelin was incentivised to produce less tyres because the more kilometres they got out of a tyre the more revenue they could generate per tyre which meant less material usage, lower supply chain risks, and reduced carbon emissions (not to mention the reduced carbon emission for their customers due to fuel efficiency improvements). They were also now able to take a product stewardship role and recover the used tyres for recycling and re-entry into their manufacturing process.
Michelin were also able to create new customer relationship pathways by creating a direct relationship, stronger intimacy and deeper roots within their customer's business.
The community were beneficiaries of this business model through less waste to landfill and reduced air pollution. Michelin were also able to support the outcomes of a range of the UN Sustainable Development Goals.
Using the above eleven segments you can describe the infrastructure, offering, customers, and finances of any sustainable business model and you can now design, discuss, and communicate your sustainability programs in a language people will understand.
Others who liked this post also liked these…
The Untold Secrets to Selling Sustainable Products
by James McGregor | November 9, 2023 | Blog , Marketing and Communications , Popular | 0 Comments
Despite high consumer interest in sustainability, eco-friendly products struggle with low actual purchasing rates. Marketing expert Edwin Stafford suggests focusing on product benefits beyond sustainability, providing specific environmental claims instead of general ones, and targeting mainstream influencers rather than just eco-conscious groups. This balances eco-friendliness with customer priorities, increasing the chance of successful sales.
How to get others to take action on sustainability
by James McGregor | October 27, 2023 | Blog , Marketing and Communications , Popular | 0 Comments
Whether tackling global issues like climate change, challenges within your own organisation, or even scaling your sustainable business the key to getting action is the ability to influence behaviour.
The most important leadership skill for sustainability professionals
by James McGregor | October 8, 2023 | Blog , Marketing and Communications , Popular , Strategy , Sustainability Management | 0 Comments
The article discusses the most important leadership skill every sustainability professional should have – the ability to influence and persuade others.
How to get more buy-in for your sustainability initiatives
by James McGregor | June 3, 2023 | Blog , Marketing and Communications , Popular | 0 Comments
This article will help you learn a simple technique to uncover reasons for people to "buy-in" to your sustainability initiative.
How to win more sustainable projects for your architecture practice
by James McGregor | October 25, 2022 | Blog , Marketing and Communications | 0 Comments
This post will give you a simple 5 step sales framework to help you win more projects in your architecture practice.
Why your sustainable building company needs a sales process
by James McGregor | October 25, 2022 | Marketing and Communications , Popular | 0 Comments
In this post you will learn a step by step sales process for your building and construction company.
The 7 parts of the ultimate presentation or proposal
by James McGregor | April 18, 2022 | Marketing and Communications , Popular | 0 Comments
The ultimate 7 part pitch formula that will help you create the best, most memorable, most compelling and most engaging presentation or proposal you have ever put together.
We are Making a Lifestyle TV Show to take Sustainable Housing to a Mass Audience
by James McGregor | December 8, 2019 | Blog , Marketing and Communications | 0 Comments
Want to scale sustainable housing solutions? Try Reality TV
by James McGregor | February 28, 2019 | Blog , Marketing and Communications , Popular | 0 Comments
How to Make Energy Efficiency Fun
by James McGregor | June 18, 2018 | Blog , Marketing and Communications | 0 Comments
There is no doubt that energy efficiency delivered in the same old dry way is boring – but with a little creativity, technology and behavioural science it doesn't have to be.  Energy efficiency can be fun and something people want to do and actually enjoy doing.
How to use the Blue Ocean Strategy to scale Sustainability Solutions
by James McGregor | October 24, 2023 | Blog , Popular , Strategy | 0 Comments
Applying the Blue Ocean Strategy to your sustainability strategy can help your organisation to reduce costs, generate new profit streams, and deliver sustainability goals.
Unlocking Sustainability Success: The Hidden Flaw in Gantt Charts and How to Overcome It
by James McGregor | August 20, 2023 | Blog , Popular , Strategy , Sustainability Management | 0 Comments
In this article I explain a hidden flaw in gantt charts that is sabotaging your sustainability initiatives. You'll also discover a method to overcome this flaw.
4 Sustainability Mistakes to Avoid and How to Fix Them
by James McGregor | August 8, 2023 | Blog , Popular , Strategy , Sustainability Management | 0 Comments
This article identifies four practices that are likely sabotaging your sustainability efforts and how to fix them.
How to be innovative in sustainability
by James McGregor | March 30, 2023 | Blog , Popular , Strategy , Sustainability Management | 0 Comments
For many businesses, innovation means getting together for a brainstorming workshop to come up with ideas out of the blue, in the hope that one of these ideas will stick. But there is more to it than that.
How to design your Sustainability Strategy – The three types of initiatives you should have
by James McGregor | January 18, 2023 | Blog , Business Model Innovation , Popular , Strategy , Sustainability Management | 0 Comments
Moving to Net Zero is going to take some time and therefore businesses need to balance short-term and long-term priorities. This post discusses the three types of initiatives you should have in your sustainability strategy to manage this balance.
What manoeuver warfare theory taught me about sustainability and innovation
by James McGregor | February 28, 2019 | Blog , Business Model Innovation , Strategy , Sustainability Management | 0 Comments
Want to Deliver a Successful Sustainability Strategy? Then Stop Talking About the Environment
by James McGregor | August 25, 2017 | Blog , Strategy | 0 Comments
Why understanding that nobody cares about you sustainability plan is a good thing and the three things you should consider next time you come up with your next sustainability plan if you want it to succeed.
How to Experiment Like a Startup to Deliver Amazing Sustainability Outcomes
by James McGregor | August 1, 2017 | Blog , Strategy | 0 Comments
Learn how a young man asking a simple question trying to get home for Christmas turned this hypothesis into the world's leading carpooling platform, connecting millions people going the same way…
Why Most Sustainability Programs Fail and What You Can Do About It
by James McGregor | July 10, 2017 | Blog , Strategy | 0 Comments
98 percent of sustainability strategies fail. Learn how lean startups methods can greatly improve the success rate of your sustainability plans …
Episode 18 Sam Schatz, AeroFarms
by James McGregor | June 10, 2020 | Podcast | 0 Comments
Episode 17 Kim Lim, PichaEats
by James McGregor | April 15, 2020 | Podcast | 0 Comments
Episode 16 Lauren Bukowski, Hey Tiger
by James McGregor | March 31, 2020 | Podcast | 0 Comments
Episode 15 Kimberly White, The Planetary Press
by James McGregor | March 17, 2020 | Podcast | 0 Comments
Episode 14 Kelly O'Shanassy, Australian Conservation Foundation
by James McGregor | March 10, 2020 | Podcast | 0 Comments
Episode 13 Paul Warburg, Wendigo
by James McGregor | March 3, 2020 | Podcast | 0 Comments
Episode 12 Tony Rinaudo, The Forest Maker from World Vision
by James McGregor | February 24, 2020 | Podcast | 0 Comments
Episode 11 Paul Dunn, B1G1
by James McGregor | February 18, 2020 | Podcast | 0 Comments
Episode 10 John Pabon, Fulcrum Strategic Advisors
by James McGregor | February 11, 2020 | Podcast | 0 Comments
Episode 9 Jeremy Meltzer, i=Change
by James McGregor | February 4, 2020 | Podcast | 0 Comments
Let's Start Something Great Say Hello!
Email Address
Company Name
Pin It on Pinterest

Business Transitions: A Path to Sustainability pp 101–112 Cite as
Business Models for Sustainability
Haley Knudson 2  
Open Access
First Online: 22 February 2023
2737 Accesses
The concept of business models for sustainability (BMfS) has attracted research attention in the fields of corporate sustainability, entrepreneurship and management. BMfS are a way of linking sustainable innovation to an organization's business model, and as a means for management to operationalize sustainable activities and strategies across an organization's value chain. This chapter provides the history and description of BMfS as both a tool and conceptual logic that divides activities into three components – value proposition, value creation and delivery, and value capture. Practitioner tools are introduced, along with a brief conceptual overview.
Download chapter PDF
1 Background
Sustainability at a societal level is dependent on the sustainable development of organizations. Agenda 2030 and the UN Sustainable Development Goals (SDGs) have highlighted the importance of industry's involvement in the necessary shift in the current economic system (United Nations General Assembly 2015 ; Sachs et al. 2020 ; United Nations 2020 ). Traditional business models are unsuitable for meeting global sustainable development (SD) challenges (Wells 2013 ). Business models for sustainability (BMfS) are a concept that can help bridge the gap between the sustainable innovation necessary for SD and the strategies employed by organizations (Boons et al. 2013 ).
Research on BMfS has emerged to link sustainable innovation to the business model of an organization and its stakeholder network. It is a means for management to ideate and operationalize sustainable activities, mechanisms, and innovations from a system perspective. For this reason, BMfS are located on Level 3 of the CapSEM model, as they provide a structure and logic for the creation and capture of sustainable value. Methods and perspectives from Levels 1 and 2 for reducing negative and increasing positive sustainability impacts can be operationalized through the organization's business model as it links these operational activities to the wider value creating logic. Research on BMfS continues to expand and asserts the need for the incorporation of stakeholder interests and social and environmental values into an organization's strategy (Stubbs and Cocklin 2008 ; Boons and Lüdeke-Freund 2013 ; Bocken et al. 2014 ). Organizations can use business model thinking to reflect on their current operations and to find ways to redesign and innovate to meet sustainability needs and objectives across all Levels of the CapSEM Model.
2 BMfS Concepts
This section presents key concepts used in the study and implementation of BMfS, summarized in Table 10.1 .
2.1 Business Models
A business model (BM) represents the way a company creates and captures value (Chesbrough 2010 ; Osterwalder and Pigneur 2010 ; Zott et al. 2011 ). Traditionally, this means the activities and resources that combine to allow the organization to meet its objective of delivering value to its customers, while also creating a profit. It is a reflection of a firm's strategy (Casadesus-Masanell and Ricart 2010 ; Seddon et al. 2004 ; Shafer et al. 2005 ; Richardson 2008 ) and, on an operational level, can provide the organizational and financial architecture of an organization including its understanding of its customers and their needs (Teece 2010 ). The BM and its activities can be structured around a common framework of three components – value proposition, value creation and delivery, and value capture (Richardson 2008 ; Chesbrough 2010 ; Osterwalder and Pigneur 2010 ). Value proposition refers to the organization's product or service offering, and the value embedded within it. The organization's activities and processes, including its resources, suppliers, partners, and distribution, represent value creation and delivery . Value capture is the organization's cost structure and revenue streams.
In practice, the BM can be a helpful tool for thinking about an organization's strategy. It can help outline or conceptualize an organization's value activities, and the way in which they interact, impact customers and stakeholders, and help meet corporate strategy and its goals. As responsibility in the value chain becomes a more pressing requirement from regulators, customers and stakeholders, organizations need to change the way in which they do business. They can use their current BMs as a starting point for brainstorming and thinking systemically about how they can shift to new or adapted business models that create and capture value across economic, environmental, and social dimensions.
2.2 Business Models for Sustainability
BMs for sustainability present an opportunity to affect larger societal and environmental change by transforming the value that guides organizations and the current market. They also provide a vehicle for organizations to increase their long-term value and competitive advantage (Porter and Kramer 2019 ). The BMfS definition presented in Table 10.1 extends the traditional BM components into the sustainability domain, as presented in Fig. 10.1 . Distinguishing characteristics of a BMfS include the explicit and proactive consideration of stakeholders, of environmental, social, and economic capital, and that the organization looks beyond its own boundaries and over the long-term perspective (Schaltegger et al. 2016 ; Geissdoerfer et al. 2018 ). BMfS are placed on the organizational change level (Level 3) of the CapSEM Model because they provide a common framework within which the organization can discuss its current operations, partners, stakeholders, suppliers, and value flows. By viewing its BM as a system of activities, a company can work on identifying where and how changes can be made in the process (Zott and Amit 2010 ).The long-term outlook is an implicit requirement of SD, and it is important that organizations specifically integrate it into their strategies, performance measures and BMfS. Additionally, stakeholder needs over the long-term must be actively and intentionally integrated into BM processes and activities, so that the organization's activities reflect and meet them.

BMfS components
Embedding the three dimensions of sustainability, long-term thinking, and the engagement of all stakeholders into a BM requires an organization to understand how its activities, resources and relationships interact to create value. Conceptually, the value proposition in a BMfS extends beyond its goal of highest economic return and removes the purely economic value an organization associates with its product or service (Boons and Lüdeke-Freund 2013 ). It reflects the fact that the relationship between the organization and its customers and stakeholders is based on an exchange of value (wants and needs), rather than on the product or service itself (Bocken et al. 2014 ). If the customer wants to purchase a product with a lower environmental footprint, for example, they may be willing to pay more to have the same need met, or even sacrifice some functionality for social and environmental benefit.
Drawing attention to its position in a larger system, value creation and delivery in a BMfS is based on sustainable supply chain processes, such as the supply of resources, and production and transport activities, that reduce ecologic and social pressure. Impacts on stakeholders and environments across the life cycle and value chain must be considered (Boons and Lüdeke-Freund 2013 ). Improved processes may allow the seizing of new opportunities, revenue streams and markets, e.g., through recycling and closed-loop systems or creating new markets based in sustainable and efficient design or production (Bocken et al. 2014 ). Organizations can use the perspectives and tools from Levels 1 and 2 of the CapSEM Model to better orientate their production processes and value chain activities towards sustainability. Examples of innovation for sustainability in value creation and delivery could be new technology for improved resource efficiency in production, redesign of transport systems or improved labor conditions and worker's rights. These innovative activities also require the organization to look beyond its own boundaries and consider the needs of local communities and stakeholders. Such a perspective requires applying the thinking embedded in Level 4 (systems change) of the CapSEM Model.
Value capture in a BMfS recognizes the value awarded to the organization in performing in an environmentally and socially beneficial way that meets economic, environmental and social needs, and produces more than monetary profit (Boons and Lüdeke-Freund 2013 ; Bocken et al. 2014 ). It is structured in a way that helps to balance the value the organization associates with social, environmental, and economic costs and benefits. The value capture also "describes how part of the value generated for a stakeholder can be transformed into value useful for the company" (Geissdoerfer et al. 2018 ). Placing value on a reduction in resources or emissions, or on the benefit of creating community programmes, can then work its way into the organization's overall cost-benefit structure. More advanced value capture structures might incorporate leasing or sharing schemes that reduce traditional consumption patterns and collect payments per use or time-period rather than one-time purchases.
2.3 Business Model Innovation for Sustainability
The process of conceptualizing, adapting, or changing a BM to one that fosters sustainability is a development that requires a shift in the logic and system of interacting value components of the organization. This process can be referred to as Business Model Innovation for Sustainability (BMIfS). Conceptual clarity between the terms business model and business model innovation remains ill-defined (Foss and Saebi 2017 ; 2018 ; Geissdoerfer et al. 2018 ). However, one can generally distinguish between the BM as the system of interacting components, and BMI as "designed, novel, nontrivial changes to the key elements of a firm's business model and/or the architecture linking these elements" (Foss and Saebi 2017 ). For sustainability-based BMI, an organization must undertake more than single innovations that, for example, reduce the environmental impact of a single production process. Instead, it requires a broader and more complex understanding of innovations, and whether and how they transform and permeate through the business model, including the logic and processes that create, exchange and capture value for sustainability.
Another essential aspect of BMIfS is the holistic consideration of all components. BMfS components must be considered outside of their individual boxes since the activities within them are intertwined with activity processes within the others. Reflecting on these core aspects, the next section presents principles and tools for operationalizing BMfS and innovating a BM for sustainability.
3 Developing a Business Model for Sustainability
This section presents tools and guiding principles for innovating an organization's BM for sustainability. Based on their sustainability goals, an organization may choose to take a defensive , accommodative or proactive approach to innovating its BM (Schaltegger et al. 2016 ). These range, respectively, from making small incremental changes to mitigate risk and reduce cost, to improving internal processes that consider sustainability on some level, to the redesign of the core logic of the business for sustainable value (Schaltegger et al. 2016 ). To reach the more mature levels of BMIfS, important attributes that may help an organization in the process are (Stubbs and Cocklin 2008 ):
Treating sustainability as a strategy in itself
Using triple-bottom-line reporting for measuring and communicating progress e.g., SDG targets and indicators or the Global Reporting Initiative (GRI)
Taking the stakeholder view of the organization
Embedding sustainability into top management so it makes its way into organization processes and culture
Recognizing nature and the environment as key stakeholders
Practitioner tools for BMI for sustainability ideation and development also come in different forms. Taking an inside-out approach , some tools begin with mapping an organization's current BM elements along sustainability dimensions to identify areas for reducing negative or increasing positive sustainability impact (Joyce and Paquin 2016 ). Other approaches take the outside-in perspective and look to types of BMIfS that have worked for other organizations and have been categorized into archetypes (Bocken et al. 2014 ; Joyce and Paquin 2016 ). The next sections briefly introduce two alternatives for organizations depending on whether they would like to start by first mapping their current BM, or by looking to successful sustainability or BM innovations of outside organizations. The approaches are not exclusive and should be combined for greater knowledge building, inspiration, and development.
3.1 Mapping a Business Model for Sustainability
Applying the BM concept from the operational level can be valuable as a mapping tool of component parts. Expanding the framework of three BM components, a business model canvas (BMC) takes an inside-out perspective to identify areas for innovation across nine "building-blocks" of the BM (Osterwalder and Pigneur 2010 ). In addition to the value proposition building block, value creation & delivery are divided into key partners, activities, and resources, and customer segments, customer relationships, and delivery channels. Value capture in a BMC is represented by segments of cost structure and revenue streams. Business model canvases for sustainability help organizations map their BM elements in a set architecture and in relation to their social and environmental performance objectives (Foxon et al. 2015 ; Upward and Jones 2016 ; Tiemann and Fichter 2016 ; Joyce and Paquin 2016 ). Explicitly viewing activities as components that interact as a system, helps to highlight their connections and the way each influences the others, potentially exposing areas for sustainable value creation.
In extending the original BMC for traditional BMs, numerous canvases have been developed to integrate sustainability dimensions, e.g., (Foxon et al. 2015 ; Upward and Jones 2016 ; Tiemann and Fichter 2016 ; Joyce and Paquin 2016 ). Some studies have shown that mapping tools may have a limited effect on implementing designed innovation strategies (Morris et al. 2005 ; Demil and Lecocq 2010 ; Boons and Lüdeke-Freund 2013 ; Geissdoerfer et al. 2018 ). However, mapping different BM elements and functions across a generalizable framework can be a helpful starting point for visualization, ideation, and communication purposes within an organization.
The triple layered business model canvas (TLBMC) (Joyce and Paquin 2016 ), extends the original economic focused BMC to include additional layers for environmental and social value creation. The TLBMC should be performed in two steps – first as a baseline outlining the current BM and interactions, and then to identify areas for sustainable innovation opportunity.
The TLBMC has been selected for presentation in this chapter because the additional layers force an organization to specifically consider each of their BM components in relation to environmental and social aspects and impacts. Other BMCs for sustainability add important sustainability components, but not in the comprehensive way that the TLBMC embeds them The TLBMC mandates focus on interactions between the building-blocks on each layer (horizontal coherence), but also between and across the layers (vertical coherence) for systemic consideration of activities and stakeholders.
In addition to the economic layer, the environmental layer of the TLBMC requires an organization to take the life cycle perspective when identifying their environmental impacts. It specifically focuses on addressing the impacts of value creation & delivery activities such as material selection and supply, production processes, distribution, and impacts through use- and end-of-life phases. The environmental layer strongly encourages the use of quantitative indicators for measuring impact, and many of the Level 1 and 2 CapSEM model tools can therefore be applied. The social layer takes a stakeholder management approach to help the organization identify the impacts of relationships and interactions with its stakeholders including guidelines for local community engagement, organization governance, and management of employee, customer and societal culture. This helps the organization understand the flows of value within their value network, and to recognize opportunities for creating and capturing social value in their BMfS.
3.2 Business Model for Sustainability Archetypes
From an outside-in approach, BMfS have been classified into archetypes , or common models, based on the way(s) in which the models work to create and capture sustainable value (Bocken et al. 2014 , 2016 ). The archetypes identified by Bocken and colleagues are categorized according to the type of mechanism or innovation that helps the organization deliver on sustainability – technical, social or organizational (Boons and Lüdeke-Freund 2013 ; Bocken et al. 2014 ). Footnote 1 While the categorization was performed to make sense of the growing literature in the field, the clear groupings and naming of archetypical models now provides both scholars and practitioners with common forms and patterns to discuss and reflect upon in the business model innovation process.
Technical archetypes are characterized by technical innovation in the business model through, for example, design or manufacturing processes that are more resource efficient and/or support the principles of the circular economy. Social grouped archetypes depend on social innovation to offer sustainable value, such as through a change in the functionality they offer the customer or a change in consumer behavior. Organizational grouped archetypes focus on restructuring the organization and its value creation, possibly as a reorganization of ownership, social or hybrid enterprises or base-of-the-pyramid business models that veer away from traditional company profit maximization structures (Bocken et al. 2014 , 2016 ). Figure 10.2 presents the eight sustainable business model archetypes, and some examples, grouped by their innovation type (Bocken et al. 2014 ). Table 10.2 describes each of the archetypes across the BM elements of value proposition, value creation and delivery, and value capture (D'Amato et al. 2020 ).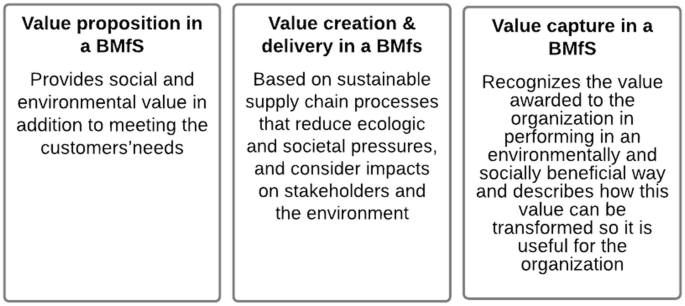 Sustainable business model archetypes. (Bocken et al. 2014 ). doi: 10.1016/j.forpol.2018.12.004
Archetypes can also be grouped based on their foundational principles, e.g., the circular economy (Lacy et al. 2014 ; Lewandowski 2016 ; Lüdeke-Freund et al. 2019 ), or by their main value creation area – mainly economic, social-economic, social, mainly ecological or integrative (Lüdeke-Freund et al. 2018 ). The categorization of common patterns can provide inspiration to organizations working to improve the sustainability of their BM. Archetypes point out specific innovations that can transform the current BM or create an entirely new BM. They can be helpful in reconceptualizing current processes and identifying potential opportunities.
4 Conclusion
This chapter has provided an overview of the conceptual framing of BMfS, along with some of the practitioner tools that can be used by organizations to begin adapting, transforming, or creating new BMs that support sustainability objectives. BMfS are placed on the organizational level (Level 3) of the CapSEM Model because they can be used by management to visualize and understand the way the organization's activities combine and interact to create and capture value. To improve or better orientate their BM toward sustainability, BM activities must incorporate and combine environmental, social, and economic dimensions over a long-term perspective with the active consideration of stakeholders. Organizations should therefore apply and utilize the methods and tools associated with each of the Levels of the CapSEM Model to establish and measure the impacts of their activities within and beyond their business model. For example, Level 1 and 2 tools can be used to measure the material flows and life cycle impacts of production processes and value chains which can subsequently be incorporated into the value proposition and value creation and delivery elements of the business model. Changes in the material flows or resource use can then make their way into the value capture activities of the BM. Furthermore, management can apply other organizational level tools (Level 3) to manage, track, report and communicate their progress toward sustainability indicators, and identify areas where they are not meeting selected performance indicators. The organization must make strategic decisions to root sustainability in its organizational strategy so that sustainability objectives also drive the development and innovation of its BM. Corporate social responsibility (CSR) could be one such perspective for helping ground the BM in sustainable practices. Finally, to gain an overview of the network of actors and interdependent systems and activities that make up its BM and that must be considered in potential BMI for sustainability opportunities, the organization must take a holistic systems view (Level 4) to its operations, business model, and sustainability strategy. The framework of components – value proposition, value creation and delivery, and value capture – can then be used to structure environmental, social, and economic activities within the business model and position them for improved sustainability.
The technological, social, organization groupings were later updated to environmental, social and economic groupings (Bocken et al. 2016 ) paralleling triple bottom line dimensions, and a ninth archetype of 'inclusive value creation' added under the organizational/economical grouping. The original grouping is still most widely used, however, and therefore presented in the chapter.
Bocken NMP, Short SW, Rana P, Evans S (2014) A literature and practice review to develop sustainable business model archetypes. J Clean Prod 65:42–56. https://doi.org/10.1016/j.jclepro.2013.11.039
CrossRef   Google Scholar  
Bocken NMP, Weissbrod I, Tennant M (2016) Business model experimentation for sustainability. In: Setchi R, Howlett RJ, Liu Y, Theobald P (eds) Sustainable design and manufacturing 2016. Springer International Publishing, Cham, pp 297–306
Boons F, Lüdeke-Freund F (2013) Business models for sustainable innovation: state-of-the-art and steps towards a research agenda. J Clean Prod 45:9–19. https://doi.org/10.1016/j.jclepro.2012.07.007
Boons F, Montalvo C, Quist J, Wagner M (2013) Sustainable innovation, business models and economic performance: an overview. J Clean Prod 45:1–8. https://doi.org/10.1016/j.jclepro.2012.08.013
Casadesus-Masanell R, Ricart JE (2010) From strategy to business models and onto tactics. Long Range Plan 43(2–3):195–215. https://doi.org/10.1016/j.lrp.2010.01.004
Chesbrough H (2010) Business model innovation: opportunities and barriers. Long Range Plan 43(2–3):354–363. https://doi.org/10.1016/j.lrp.2009.07.010
D'Amato D, Veijonaho S, Toppinen A (2020) Towards sustainability? Forest-based circular bioeconomy business models in Finnish SMEs. Forest Policy Econ 110:101848. https://doi.org/10.1016/j.forpol.2018.12.004
Demil B, Lecocq X (2010) Business model evolution: in search of dynamic consistency. Long Range Plan 43(2–3):227–246. https://doi.org/10.1016/j.lrp.2010.02.004
Foss NJ, Saebi T (2017) Fifteen years of research on business model innovation: how far have we come, and where should we go? J Manage 43(1):200–227. https://doi.org/10.1177/0149206316675927
Foss NJ, Saebi T (2018) Business models and business model innovation: between wicked and paradigmatic problems. Long Range Plan 51(1):9–21. https://doi.org/10.1016/j.lrp.2017.07.006
Foxon TJ, Bale CSE, Busch J, Bush R, Hall S, Roelich K (2015) Low carbon infrastructure investment: extending business models for sustainability. Infrastruct Complex 2(4):1–13. https://doi.org/10.1186/s40551-015-0009-4
Geissdoerfer M, Bocken NMP, Hultink EJ (2016) Design thinking to enhance the sustainable business modelling process – a workshop based on a value mapping process. J Clean Prod 135:1218–1232. https://doi.org/10.1016/j.jclepro.2016.07.020
Geissdoerfer M, Vladimirova D, Evans S (2018) Sustainable business model innovation: a review. J Clean Prod 198:401–416. https://doi.org/10.1016/J.JCLEPRO.2018.06.240
Joyce A, Paquin RL (2016) The triple layered business model canvas: a tool to design more sustainable business models. J Clean Prod 135(1):1474–1486. https://doi.org/10.1016/j.jclepro.2016.06.067
Lacy P, Keeble J, McNamara RJ, Rutqvist J, Haglund T, Cui M, Cooper A, Pettersson C, Kevin E, Buddemeier P (2014) Circular advantage: innovative business models and technologies to create value in a world without limits to growth. Accenture, Chicago
Google Scholar  
Lewandowski M (2016) Designing the business models for circular economy – towards the conceptual framework. Sustainability 8(1):43. https://doi.org/10.3390/su8010043
Lüdeke-Freund F, Carroux S, Joyce A, Massa L, Breuer H (2018) The sustainable business model pattern taxonomy – 45 patterns to support sustainability-oriented business model innovation. Sustain Prod Consum 15:145–162. https://doi.org/10.1016/j.spc.2018.06.004
Lüdeke-Freund F, Gold S, Bocken NMP (2019) A review and typology of circular economy business model patterns. J Ind Ecol 23(1):36–61. https://doi.org/10.1111/jiec.12763
Morris M, Schindehutte M, Allen J (2005) The entrepreneur's business model: toward a unified perspective. J Bus Res 58(6):726–735. https://doi.org/10.1016/j.jbusres.2003.11.001
Osterwalder A, Pigneur Y (2010) Business model generation: a handbook for visionaries, game changers, and challengers. John, Hoboken
Porter ME, Kramer MR (2019) Creating shared value. In: Lenssen G, Smith N (eds) Managing sustainable business. Springer, Dordrecht. https://doi.org/10.1007/978-94-024-1144-7_16
Richardson J (2008) The business model: an integrative framework for strategy execution. Strateg Chang 17(5–6):133–144. https://doi.org/10.1002/jsc.821
Sachs JD, Schmidt-Traub G, Kroll C, Lafortune G, Fuller G, Woelm F (2020) The sustainable development goals and Covid-19. Sustainable development report 2020. Cambridge University Press, Cambridge
Schaltegger S, Hansen EG, Lüdeke-Freund F (2016) Business models for sustainability: origins, present research, and future avenues. Organ Environ 29(1):3–10. https://doi.org/10.1177/1086026615599806
Seddon PB, Lewis G, Freeman P, Shanks G (2004) Business models and their relationship to strategy. In: Currie WL (ed) Value creation from E-business models. Butterworth-Heinemann, Oxford, pp 11–34
Shafer SM, Smith HJ, Linder JC (2005) The power of business models. Bus Horiz 48(3):199–207. https://doi.org/10.1016/j.bushor.2004.10.014
Stubbs W, Cocklin C (2008) Conceptualizing a "sustainability business model.". Organ Environ 21(2):103–127. https://doi.org/10.1177/1086026608318042
Teece DJ (2010) Business models, business strategy and innovation. Long Range Plan 43(2–3):172–194. https://doi.org/10.1016/j.lrp.2009.07.003
Tiemann I, Fichter K (2016) Developing business models with the sustainable business canvas: manual for conducting workshops. Oldenburg and Berlin
United Nations (2020) Sustainable development goals report 2020. United Nations, New York
United Nations General Assembly (2015) Transforming our world: the 2030 agenda for sustainable development. https://sdgs.un.org/partnerships . Accessed 1 Sept 2022
Upward A, Jones P (2016) An ontology for strongly sustainable business models: defining an Enterprise framework compatible with natural and social science. Organ Environ 29(1):97–123. https://doi.org/10.1177/1086026615592933
Wells P (2013) Sustainable business models and the automotive industry: a commentary. IIMB Manag Rev 25(4):228–239. https://doi.org/10.1016/j.iimb.2013.07.001
Zott C, Amit R (2010) Business model design: an activity system perspective. Long Range Plan 43(2–3):216–226. https://doi.org/10.1016/j.lrp.2009.07.004
Zott C, Amit R, Massa L (2011) The business model: recent developments and future research. J Manage 37(4):1019–1042. https://doi.org/10.1177/0149206311406265
Download references
Author information
Authors and affiliations.
Department of International Business, NTNU, Trondheim, Norway
Haley Knudson
You can also search for this author in PubMed   Google Scholar
Corresponding author
Correspondence to Haley Knudson .
Editor information
Editors and affiliations.
Department of International Business, NTNU, #x00C5;lesund, Norway
Annik Magerholm Fet
Rights and permissions
Open Access This chapter is licensed under the terms of the Creative Commons Attribution 4.0 International License ( http://creativecommons.org/licenses/by/4.0/ ), which permits use, sharing, adaptation, distribution and reproduction in any medium or format, as long as you give appropriate credit to the original author(s) and the source, provide a link to the Creative Commons license and indicate if changes were made.
The images or other third party material in this chapter are included in the chapter's Creative Commons license, unless indicated otherwise in a credit line to the material. If material is not included in the chapter's Creative Commons license and your intended use is not permitted by statutory regulation or exceeds the permitted use, you will need to obtain permission directly from the copyright holder.
Reprints and Permissions
Copyright information
© 2023 The Author(s)
About this chapter
Cite this chapter.
Knudson, H. (2023). Business Models for Sustainability. In: Fet, A.M. (eds) Business Transitions: A Path to Sustainability. Springer, Cham. https://doi.org/10.1007/978-3-031-22245-0_10
Download citation
DOI : https://doi.org/10.1007/978-3-031-22245-0_10
Published : 22 February 2023
Publisher Name : Springer, Cham
Print ISBN : 978-3-031-22244-3
Online ISBN : 978-3-031-22245-0
eBook Packages : Earth and Environmental Science Earth and Environmental Science (R0)
Share this chapter
Anyone you share the following link with will be able to read this content:
Sorry, a shareable link is not currently available for this article.
Provided by the Springer Nature SharedIt content-sharing initiative
Find a journal
Publish with us
Accessibility Links
Skip to content
Skip to search IOPscience
Skip to Journals list
Accessibility help
Accessibility Help
Click here to close this panel.
A business model canvas framework for sustainable one-stop-shops
Georgios Pardalis 1 , Krushna Mahapatra 1 and Brijesh Mainali 1
Published under licence by IOP Publishing Ltd IOP Conference Series: Earth and Environmental Science , Volume 1085 , SBE22Delft - Innovations for the Urban Energy Transition: Preparing for the European Renovation Wave 11/10/2022-13/10/2022 Delft, Netherlands Citation Georgios Pardalis et al 2022 IOP Conf. Ser.: Earth Environ. Sci. 1085 012048 DOI 10.1088/1755-1315/1085/1/012048
Article metrics
360 Total downloads
Share this article
Author e-mails.
Author affiliations
1 Built Environment and Energy Technology, Linnaeus University, Växjö, 35195, Sweden
Buy this article in print
The Sustainable Business Model Canvas (SBMC) offers a useful tool for business model design, as it manages to integrate all the three dimensions of sustainability without distinguishing between three different layers (economic, environmental, and social). This paper presents the application of SBMC in a real study case of a one-stop-shop (OSS) for the renovation of single-family houses operating in Kronoberg province in Sweden. The case is based on shifting from the current approach of the OSS, making interventions that will lead to the development of a "new" OSS which can reach the highest possible sustainability potential. A two-stage comprehensive assessment process for the "new" model is proposed, following a life cycle perspective. The use of SBMC and the assessment process allows both existing and under-development OSSs to gain a better understanding of different alternatives regarding their business, and how these alternatives improve or weaken their existing business model. This work also proposes the steps that should be followed to assess the impact of potential intervention in the business model on the sustainability performance of an OSS. There is a need though to acquire relevant data to make a more detailed evaluation of the economic, environmental, and social burdens and benefits of an OSS. Such an evaluation will lead to more well-informed interpretations regarding the sustainability performance of different OSSs.
Export citation and abstract BibTeX RIS
Content from this work may be used under the terms of the Creative Commons Attribution 3.0 licence . Any further distribution of this work must maintain attribution to the author(s) and the title of the work, journal citation and DOI.
Let your search flow
Explore perspectives, what is a perspective.
Perspectives are different frameworks from which to explore the knowledge around sustainable sanitation and water management. Perspectives are like filters: they compile and structure the information that relate to a given focus theme, region or context. This allows you to quickly navigate to the content of your particular interest while promoting the holistic understanding of sustainable sanitation and water management.
3.4 Sustainable Business Model Canvas
Executive Summary
Are you eager to drive social change and address some of the growing global challenges through  projects within the water and climate sectors? Great! This factsheet will help you understand how to develop and use creative and sustainable business models that provide you guiding lines to overcome the most challenging bottlenecks you are going to face when developing your project. Concretely, this factsheet will present the Sustainable Business Model Canvas (BMC) tool and its main components.
Understanding The Business Model Canvas (BMC)
What is a Sustainable BMC and why is it important?
The Sustainable Business Model Canvas (hereafter BMC) is a tool that you can use to visualize, assess, and adapt your project's blueprint (business model) in a clear and structured way while considering the project's social and environmental impact. Using such a tool will allow you to have  clear insights into how to create and deliver value for your target groups and how to capture it for your own project objectives, whether those are to make profit while contributing to environmental sustainability, being recognized as an influencer or a public figure, or simply doing something good for the planet and your community.
Although a number of Sustainable BMCs approaches and editions have been developed over the last few years, the most popular one to date is Osterwalder and Pigneur' 2010 edition. It is a user-friendly and comprehensive tool that helps the entrepreneur adopt an environmental and social lense while designing and implementating a project. This factsheet will use Osterwalder & Pigneur's 2010 Sustainable BMC publication as a starting point.
What does Sustainable BMC look like?
A Business Model Canvas tends to be comprised of 9 fundamental fields. In Osterwalder and Pigneur'd publication, an additional two fields are added: 1) the social impact of a project and 2) the environmental impact of a project (both highlighted in a red rectangle in Figure 1). The Sustainable BMC focuses mainly on two main directions, Positioning (right side of the canvas) and Operation (left side of the canvas).
The positioning section: illustrates the position of your project within your target market, the added value it brings to the target groups, to society as a whole and to the environment. The fields included in the positioning section include: Customer Segments, Customers Relationships, Channels, Value Proposition, Revenue Streams, and Social and Environmental Benefits.
The operational section: illustrates the operational plan of your project including all the involved stakeholders and the financial aspects of your project. The fields included in the operational section include:  Key Activities, Key Resources, Key Partners, Cost Structure, and Social and Environmental costs.
It is important to remember that the sustainable BMC (and any BMC for that matter) reflects the changes and characteristics of an organisation and of the context it operates in and should therefore be treated as a living organism which is subject to change and which should undergo continuous revision, maintenance, and updates according to both current and future specifications of the project and market/s (figure 2).
Figure 1: Sustainable Business Model Canvas (OSTERWALDER & PIGNEUR 2010)
The Position Section
The main goal of this section is to assist you in positioning your project within your target market and increase your profit by creating a sustainable added value for your project and your target groups. Six main components in the sustainable BMC are designed to help you achieve this:
Customer Segments (CS)
Your target groups are the most important element of your business model. Without having well-defined target groups and a clear understanding of the problems they are facing, and their contexts and needs, you will not be able to achieve the goals of your project. Understanding your target groups allows you to tailor your project and value proposition to their needs, expectations, and context which is essential to maximize your project's success potentials.
The Customer Segments field in the Sustainable BMC is utilized to define the different target groups of your project. You can organise and categorise them in your Sustainable BMC as you see fit. For example, you can break them down into sub-segments, if needs and expectations within a customer segment vary and  therefore need different solutions and treatment. A great way to get started is by developing an Empathy Map  for each segment and sub-segment. This tool will help you visualise and understand the various needs, situations, and expectations of your target group/s.
Are you interested in learning more about developing relevant profiles for your project's target group/s? Great! Check our factsheet and worksheet under module "3.3 Developing Innovative Solutions" and learn more about Empathy Maps and how to create needs-oriented solutions.
Value Propositions (VP)
The value proposition field is the foundation for any project or product being developed. It illustrates the ongoing value exchange between you and your target groups. The Value Propositions may be quantitative (e.g. price, speed of service) or qualitative (e.g. design, target groups experience).
This field is closely linked to the customer segment field since the the value of your product or service depends entirely on your customers. You may think that you have added value to your product or service but real value only exists if you manage to get your customer to see it.  Value Proposition supports you to highlight the special features, aspects, and added value of your product or service when communicating with your target group/s. It can help you showcase the uniqueness of your project and how it compares to the competition.
Take a reading break and download our worksheet to learn how to analyse your project characteristics and define your unique value proposition through the Value Proposition Canvas.
Ok, now that we have learned about value proposition and your Customer Segments, it is time to learn about establishing good and lasting relationships with your target groups.
Customer Relationships (CR)
The Customer Relationships field is all about defining how you will interact with your target groups, from initial outreach to turning them into loyal customers. You must choose the most beneficial and viable way to reach your different customer segments, whther this is through a face-to-face meeting/event, cold calling them or employing a third party as a contractor to initiate conversations? Is it best to reach through through selling products/services online, or are you offering  more personalised selling services? …etc.  The possibilities are endless when it comes to building a relationship with a target group, yet it is crucial to note that the strategy you choose will influence the experience that your target group has, including the trust, loyalty, and commitment they develop for your product/service and your company as a whole.
Now that we learned the importance of understanding your customer segments and sub-segments and how to build solid relationships with them, we need to address one crucial detail: how do we reach them?
Channels (CH)
In order to establish long lasting relationships with your target customers you have to invest in ongoing customer relationship building strategies. It is not enough to have a few initial exchanges.  You must introduce appropriate channels that regulate these relationships and interactions according to a specific plan that suits and corresponds with your project goals. You should makes sure that your communication channels correlate with your marketing and sales plans. Keep in mind that the channels you use to promote your product/services and connect with your target groups can vary greatly. You can use social media, email marketing, events, one-to-one meetings, phone calls, billboards, tv advertisement, established networks, apps, community building etc. It is therefore crucial to pick the channels that are suitable for your unique project goals and put a solid strategy in place that corresponds with the interests, habits, and contexts of your target groups.
Regulating and controlling your project's revenue streams can make or break your business model. Let's learn more about that in the next paragraph.
Revenue Streams (RS)
Revenue Streams capture the financial gain your project converted by providing your Value Proposition to your Customer Segment. This field is all about identifying how much your target groups should pay to obtain your solution. Your pricing should be determined by your ultimate goals and business models and by the expectations and purchase abilities of your target groups. It is important also to note, that revenue streams have two main types, regardless of your business model:
Revenues are generated by form one-time payments.
Recurring revenues are generated from on-going payments.
The last field of the Position section is reserved to the Social and Environmental Benefits of your project on the communities and environment. Keep reading to find out more.
Social and Environmental Benefits (SEB)
Social and environmental benefits are the external benefits that your project produces for the communities and the environment in which it operates. It is crucial to consider the benefits of your project on these communities and environments to:
position yourself as a project that has a positive social and environmental impact
enriches/strengthens the credibility of your project's value proposition to the target groups
attracts financial support from governments, donors or impact investors that may support you taking your project to the next level
Now that we understand the characteristics and roles of the different fields within the postion section, let's now look into the attributes of the fields in the operation section of the Sustainable BMC.
The Operation Section
Key Activities (KA)
This field describes the main activities and actions that your project undertakes to make your identified business model work. These activities address all the pending tasks of a project such as providing a value proposition to the target groups, identifying and maintaining the relationships with the target groups, use of channels, and the management of the revenue streams. The Key Activities field is therefore vital to operate and manage your project. For example, the more resources you invest in producing and preparing your project's value proposition, the more comprehensive the channels need to be and the more personal-oriented the customer relationships are, the more activities you will have.
Identifying the key activities of a project alone will bring you nowhere without having and deploying the right resources. What are the key resources of a project and how do you utilize them? Keep reading to find out.
Key Resources (KR)
While the key activities describe the most important activities of a project, the Key Resources field describes the most important assets a project must have to guarantee the overall success of its business model. This includes all the physical resources (such as building, vehicles, …etc.), intellectual resources (such as partnerships, knowledge, brands, …etc.), human resources (such as employees, experts, consultants, …etc.), and financial resources (such as cash, credits, …etc). Some resources will be owned in-house and some will be external resources which can be rented, bought, or used for a specific period. It is therefore crucial to reflect on the needs of your project when deciding the resources that you need to invest in. For example, the less in-house resources you need, the lower the investment costs will be.
Having the right partners on your side can often be a useful way to speed up and secure project success. How and why? Keep reading to learn all about key partnerships and their role in any given project.
Key Partnerships (KP)
The Key Partnerships field describes the network of external individuals, universities, companies, suppliers and parties that a project needs to partner with in order to achieve the identified activities/objectives and deliver the value proposition to the target groups. These identified entities have the resources that are needed to carry out project activities better, faster, and/or more cost-efficient. In order to maintain these partnerships you will need a solid partnership management system in place which will require allocating substantial resources. To avoid investing unnecessary resources in this field of your BM you  should only create partnerships that introduce specific and much-needed added-value to your project. It is also important to note that there are different types of parterships and you must find the one that works for your specific need. These can include strategic alliances between non-competitors, strategic partnership between competitors, joint ventures to develop new businesses, and buyer-supplier relationships. In summary, only form partnerships that make the most sense for your project's business model, activities and value proposition.
Implementing and maintain the key activities, resources, partners, channels, relationships of our projects does not come for free. Let's look into the nitty gritty part of the BMC: the Cost Structure of our projects!
Cost Structure (CS)
The Cost Structure field is all about describing the monetary costs of operating and implementing a project. In essence, it captures all the costs incurred to achieve all the other above-described fields in your Sustainable BMC. Preparing and maintaining a realistic and an updated version of your project's cost structure is highly important to understand the actual and potential costs of designing, implementing, and maintaining your project and to be aware of what the main and secondary drivers of these costs are. This field should include all tangible and intangible costs that your project comes across such as rent, materials, overhead, operation, communication, infrastructure (electricity, internet, water, …etc), administration, personnel, cars, …etc.
If you are focusing on designing and implementing a sustainable project, you must also account for the social and environmental costs of your project. How do you do this? Let's find out.
Social and Environmental Costs (SEC)
The social and environmental costs are additional external costs that result from the impact that your project activities could have on the surrounding environment and communities. Identifying and accounting for these costs is crucial when designing and implementing your project to create a balance between the financial aspirations and social and environmental consequences and, therefore, achieve comprehensive sustainability of your project.
Figure 2: Sustainable BMC Dynamics
Business Model: is considered the blueprint of a project or business. It is a structure that outlines the logic behind a project, the way a project is to be run, the people and steps involved, the market in which the project is to be operational, and the financial plan anticipated for this project. In other words, it is all about describing how your project creates sustainable long-term added-value for your company, your target groups, and society as a whole.
Business Plan/strategy: is considered the roadmap of a project or business in a specific period. It is a formal written document that illustrates all aspects of your project including the strategy, vision, goals, marketing plan, financial aspects, and operational, management, and organisational plan.
Go to next topic!
3.5 Pitching your ideas
The canvanizer, http://www.businessmodelgeneration.com/.
As the official website of Business Model Generation by Osterwalder & Pigneur, this website offers guidance and resources for making use of the business model template.
Cooperative model for financially sustainable municipal solid waste composting (NAWACOM, Kenya) - Case Study
Briquettes from agro-waste (Kampala Jellitone Suppliers, Uganda) - Case Study
A public-private partnership linking wastewater treatment and aquaculture (Ghana) - Case Study
Water Business Kit Kenya: A guide to starting your own water treatment and vending business
The IFC publications provides hands-on insights and checklists for developing a safe water business. The theoretical information is illustrated by examples and a case study in Kenya.
The PPPCanvas
Business model generation, business model development.
A business model is a conceptual framework to describe how a social enterprise, start-up or NGO creates, captures and delivers value. The Business Model Canvas (BMC) developed by Osterwalder and Pigneur (2010) serves as hands-on tool to design truly customer oriented business models to meet needs in the market. However, it also covers the aspects of customer segmentation, customer relations, and revenue streams etc. to translate a business idea into a practical business model.
The business model development factsheet provides you with an overview on how to apply the  Business Model Canvas . In order to conceptualize an in-depth business model, a broad range of tools from the  blueprint  and  validate  phase factsheets are available that have also to be taken into consideration.
Subscribe here to the new Sanitation and Water Entrepreneurship Pact (SWEP) newsletter. SWEP is a network of organizations joining hands to help entrepreneurs design and develop lasting water and sanitation businesses. 
What is a business model and why is it important for your business?
The term business model is widely used in theory and practice and reflects core aspects of a business as such. Osterwalder and Pigneur describe it as "[…] the rational of how an organization creates, delivers and captures value" (2010, p.14). To translate these 3 core tasks into concrete building blocks they developed the Business Model Canvas. The Business Model Canvas comprising of customer segments, value propositions, (distribution) channels , customer relationships, revenue streams , key resources, key activities, key partnerships and cost structure. This method can help safe water businesses to capture the strategy of how to create value for specific target groups, called customer segments and how to reach these customer segments with safe water or household water treatment solution ( HWTS ) at what price. An important dimension at an early stage is to determine the revenue streams so that the business can become cost-covering or profitable. In a next step, business model covers the aspects of what resources are needed, how to finance the business, with whom to collaborate in order to make the business work etc. When reflecting on your existing business or defining a new idea it is crucial to address these topics, specifically when you are working in the complex BoP market .
For whom is business model development essential?
Developing a business model is essential for profit and socially oriented safe water firms who are starting to concretise a business idea. It will help to assess and refine the business idea as well as reflecting and improving the model of a current business. It is applicable for profit-oriented operations as well as for not-for profit oriented ones.
How to create a new business model or refine an existing one?
With the help of the prominently used Business Model Canvas (BMC) (OSTERWALDER & PIGNEUR 2010), a company can refine, reflect or define its business model and take strategic decisions on how to proceed and implement its developed ideas. The goal of the BMC is to assist water entrepreneurs in understanding their business idea and how the business operates to encourage discussions, foster analysis and leverage creativity to design a business model that works.
A thorough explanation of the different building blocks of the Business Model Canvas can be found here .
To further explore the core elements of your business model, we refer to the other tools of the blueprint phase of this toolbox: value proposition , value creation , simple vs. complex business models , innovative ways to reach non-users and retailers and mobile sales force .
But first comes first: developing a business model in practice:
During workshops, gathering different stakeholders, you can discuss how your business model can be developed/improved to create a unique business model by using the BMC:
See here how it can be done.
Use this extensive step-by-step description of how to identify the different building blocks of the BMC in 20 minutes here .
An online template version to work with can be found here .
Interesting information about business model creation here .
Gain inspiration with the toolkit for particular water and sanitation business development:
Having brainstormed and filled out the BMC for your company is the first step towards a successful business. But having a BMC is not the end of the work, rather the work starts now: You have to prototype and validate your business ideas to see how they perform in the real world and adjusted to the needs of your customers (see tool on human centred design ).
Alternative Versions to
You might be interested in.
Operation and Maintenance
Network Circle Newsfeed
Susana meeting at africasan7, wash for health – prevention is the best medicine, have your say in the future of rural water supply (deadline 30 november), contenidos de la ficha, comparte con otros, subscribe to our newsletter.
Three bility
Tools for Sustainable Innovation
The Sustainable Business Model Canvas
...........................................................
The Sustainable Business Model Canvas is a great tool to enable users to think about the most relevant areas of their business within a triple-bottom-line (TBL) context. It allows users to maximise the sustainability impact of their venture whilst minimising negative externalities, and it is fast and easy to complete. The Sustainable Business Model Canvas can also be used as part of our Sustainable Business Model Innovation Game .
Projekte-Hotline: +49 3327 5658 – 28
Sustainable Business Model Canvas – Entwickeln Sie ein nachhaltiges Geschäftsmodell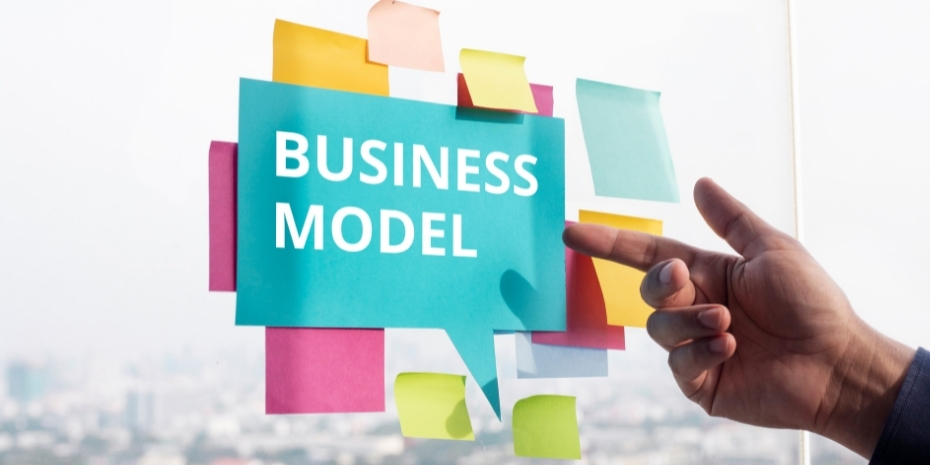 Wie können Sie Nachhaltigkeit bereits bei der Entwicklung Ihres Geschäftsmodells mitdenken? Wir stellen Ihnen die Methode Sustainable Business Model Canvas vor und geben Ihnen eine Anleitung zur Nutzung.
Mehr Nachhaltigkeit im Unternehmen
Der Klimawandel, das Artensterben und die damit verbundenen Folgen wie beispielsweise Extremwetterereignisse verdeutlichen die Notwendigkeit einer Veränderung der Wirtschaft hin zu mehr Nachhaltigkeit. Dazu müssen innovative und nachhaltige Geschäftsmodelle entwickelt und umgesetzt werden. Wir stellen Ihnen in diesem Beitrag das Sustainable Business Model Canvas vor, eine Methode, mit der Sie Nachhaltigkeit bereits in Ihrem Kerngeschäft mitdenken.
Das Sustainable Business Model Canvas
Das "Sustainable Business Model Canvas" ist eine Erweiterung des "Business Model Canvas" (engl.: canvas = Leinwand) und baut darauf auf.
Die Idee eines Business Model Canvas ist so einfach wie effektiv:
Es hilft Ihnen bei der Definition und Dokumentation des eignen Geschäftsmodells. Sie können die Schlüsselfaktoren Ihrer Geschäftsidee konkretisieren und so abschätzen, ob und wie eine neue Idee oder eine Veränderung umgesetzt werden kann. Wir empfehlen ein praktisches Vorgehen: Drucken Sie sich das Canvas (also Ihre Leinwand) aus oder nutzen Sie Onlinetools wie Miro oder MURAL zur Visualisierung.
Das "Sustainable Business Model Canvas" erweitert das Modell und nimmt im Gegensatz zum klassischen Business Model Canvas, das Geschäftsmodelle nur ökonomisch betrachtet, alle drei Dimensionen der Nachhaltigkeitstheorie – Ökonomie, Ökologie und Soziales mit in den Blick.
Tipp: Mit unserem Flyer  "Das Business Model Canvas"  geben wir Ihnen einen kompakten Überblick zu dieser Methode.
Sowohl das Business Modell Canvas, als auch das Sustainable Business Model Canvas dienen als Vorlage, um Ihr Geschäftsmodell in neun Bausteine geordnet darzustellen.
Beim klassischen Modell sind diese Bausteine: Nutzenversprechen, Kundenbeziehungen, Vertriebs- und Kommunikationskanäle, Kundensegmente, Aktivitäten, Ressourcen, Partner, Kostenstrukturen und Umsatzströme.
Für das Sustainable Business Model wurden die Bausteine Vision und Mission, Wettbewerber und relevante Stakeholder hinzugefügt. Kundenbeziehungen, -segmente sowie Vertriebs- und Kommunikationskanäle wurden zum Baustein Kunden zusammengefügt (siehe Abbildung).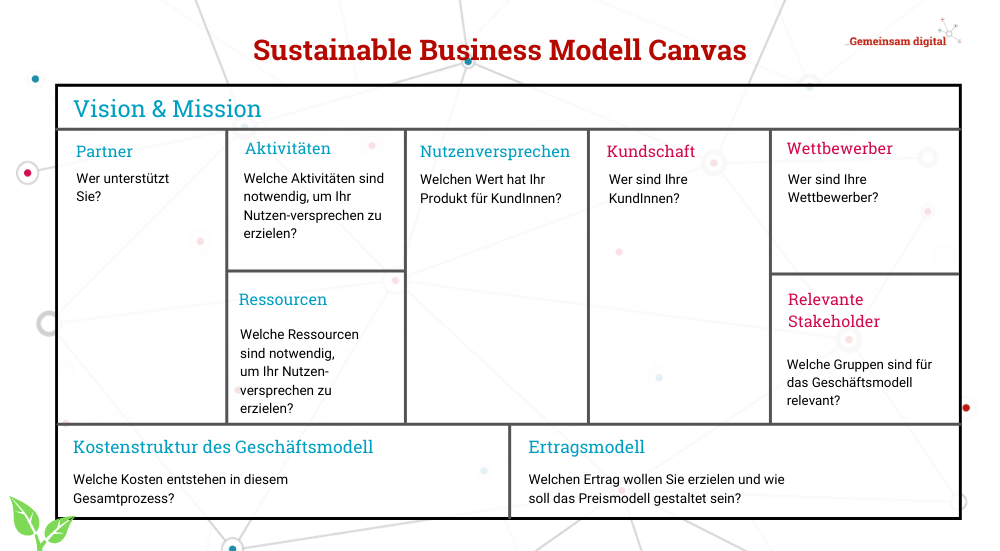 So nutzen Sie das Sustainable Business Model Canvas
Bevor das Sustainable Business Model zum Einsatz kommt, sollten Sie bereits Ihre Geschäftsidee und Ihr Produkt oder Ihre Dienstleistung definiert haben. Anschließend können Sie das Model nutzen, um ein nachhaltiges Geschäftsmodell zu entwickeln. Versammeln Sie dazu Ihr Team und legen Sie los!
Schritt 1: Erstellen Sie zunächst ein Raster mit den neun Bausteinen oder verwenden Sie eine Vorlage aus dem Internet. Alternativ können Sie ein Online-Tool nutzen oder einen Workshop zum Thema besuchen. Online können Sie das gratis Tool von Start Green nutzen.
Schritt 2: Überlegen Sie sich die Vision sowie Mission Ihres Geschäftsmodells . Diese Definition ist der Entwicklung eines Geschäftsmodells vorangestellt. Die Vision konzentriert sich darauf, welches langfristige Ziel Sie verfolgen. Wofür soll Ihr Unternehmen in Zukunft stehen? Die Mission leitet sich aus der Vision ab und legt den Zweck Ihres Unternehmens fest. Welche Werte und Standards sollen verfolgt werden?
Schritt 3: Mit dem Sustainable Business Model Canvas können Sie dann überprüfen, ob die Definitionen von Vision und Mission den Leitgedanken Nachhaltigkeit widerspiegeln . Fragen dazu sind unter anderem: Welche Rolle soll soziale Nachhaltigkeit spielen?, oder: Welchen Beitrag soll Ihr Unternehmen in den nächsten fünf Jahren leisten um die Nachhaltigkeitsziele zu erreichen? Alle Elemente des Geschäftsmodells die Sie in den folgenden Bausteinen erarbeiten, müssen mit der Vision und Mission abgeglichen werden.
Diskutieren Sie die einzelnen Bausteine der Reihe nach und nutzen Sie z.B. (virtuelle) Post-its, um die Gedanken zu visualisieren und Anmerkungen zu den einzelnen Geschäftselementen am Canvas anzubringen.
Schritt 4 : Gehen Sie anschließend die Felder der Bausteine eins bis neun der Reihe nach durch. Zu den einzelnen Bausteinen gibt es unterschiedliche Leitfragen , die Sie im Team diskutieren können. Beim Sustainable Business Model Canvas werden dabei Fragen aus dem klassischen Model durch nachhaltigkeitsspezifische Fragen ergänzt. Durchlaufen Sie mit Ihrem Team alle Felder des Canvas und befüllen Sie diese mit Hilfe der Post-Its auf denen Sie Ideen, Gedanken und Diskussionserkenntnisse sammeln.
Schritt 5: Haben Sie alle Felder befüllt, überprüfen Sie, ob die Notizen mit Ihrer Vision und Mission vereinbar sind. Wiederholen Sie diesen Schritt solange, bis Sie mit dem Ergebnis zufrieden sind und alle Bausteine den Nachhaltigkeitsgedanken aufgreifen .
Schritt 6: Verschriftlichen Sie die Erkenntnisse. Das Resultat ist ein Dokument, das ein kohärentes Geschäftsmodel enthält. Damit Sie dieses umsetzen können, benötigen Sie noch weitere Planung, beispielsweise einen Finanz- und/oder Businessplan. Das Sustainable Business Model Canvas liefert Ihnen die Basis dazu und eine Grundlage für Entscheidungen.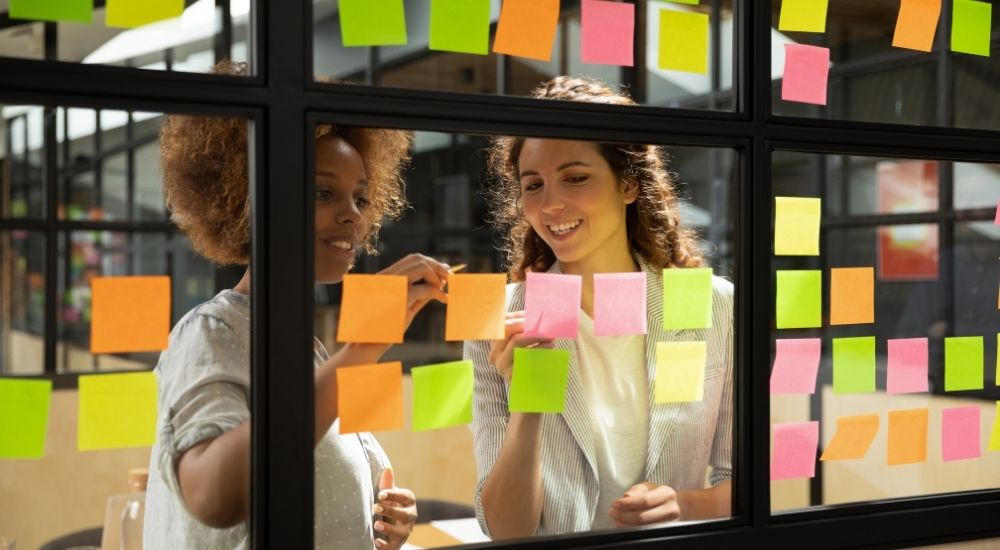 Die Vorteile des Modells
Das Sustainable Business Model Canvas unterstützt Sie bei der Entwicklung eines nachhaltigen Geschäftsmodells. Durch den ganzheitlichen Ansatz bezieht das Modell neben ökonomischen, ökologische und soziale Aspekte mit ein. Weitere Vorteile des Modells sind:
Eine klare Struktur, die Zusammenhänge visualisiert und das Canvas intuitiv nutzbar macht.
Geringe Komplexität, zur Nutzung des Canvas sind kein Vor- oder Fachwissen notwendig.
Leitfragen, an denen Sie und Ihr Team sich orientieren können.
Sie können das Modell jederzeit ergänzen und sich auf Geschäftselemente fokussieren die für Sie entscheidend sind.
Ein Sustainable Business Model können Sie kostenlos erstellen und jederzeit erweitern.
Tipp: Weitere Methoden zur Entwicklung von Geschäftsmodellen sind der  Business Model Navigator  und die  Lean Start-Up Methode .
Bitte lasse dieses Feld leer.
Die Datenschutzinformation habe ich gelesen und stimme diesen hiermit zu.*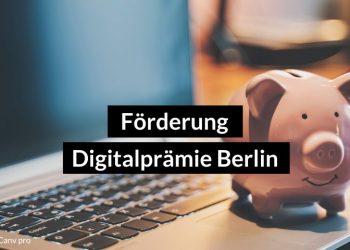 Neustart Digitalprämie Berlin: Förderung für Unternehmen und Soloselbständige
Sichern Sie sich bis zu 17.000 € Zuschuss für Digitalisierungsmaßnahmen: Seit dem 15. August 2022 kann die Digitalprämie wieder von...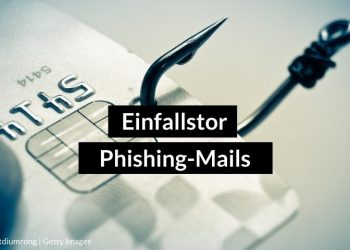 Phishing-Mails erkennen: So sensibilisieren Sie die Belegschaft für Cyberattacken
Phishing-E-Mails stellen eine der gefährlichsten Sicherheitsbedrohungen für Unternehmen dar. Im Interview erklärt der IT-Manager Mathias Mrosewski wie eine Phishing-Simulation das...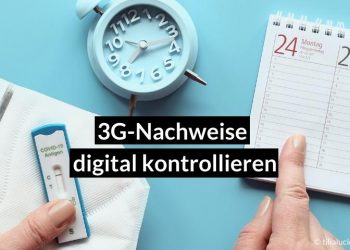 Digitale Tools zur 3G-Kontrolle am Arbeitsplatz
Mit den steigenden Coronazahlen verändert sich auch der Arbeitsalltag der Beschäftigten. So gilt in Deutschland seit dem 24. November eine...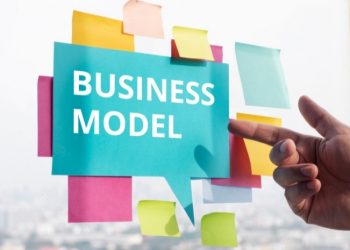 Ein Nachhaltiges Geschäftsmodell von Anfang an: Das "Sustainable Business Canvas" ist die Weiterentwicklung des beliebte Canvas-Modells zur Geschäftsmodellentwicklung. Wir zeigen,...