Business Plan: Coffee Shop Report
Executive summary, introduction of coffee shop business plan, market feasibility, technical feasibility, financial feasibility, human resource feasibility, conclusion for coffee shop business plan.
Wondering how to write an introduction or conclusion of coffee shop business plan? Check out this essay example! Here, you will find a complete business plan: coffee shop goals and objectives, recommendations, and features that make it successful. Write a great coffee shop report with the help of our example!
Our new coffee shop will be situated in Melbourne. The business will target only female clients. The hotel will concentrate on gaining the allegiance of customers by providing them with an unparalleled experience of coffee beverage services. The cafe will offer many crafted dishes to fulfill our clients' banquet, lunch, and supper desires. Our menu will comprise of omelets, benedicts, toasted bread, and toasties.
The article below focuses on a coffee shop's business plan. The café will be registered as a sole proprietorship. It will be wholly owned and operated by one entrepreneur. The cafe will be established in the city of Melbourne.
What is the size of the market?
In Melbourne and its neighboring cities, coffee shop industry is estimated to generate revenue worth $4.78 billion annually (David 2015). The business is large and varied. Over the last few years, the number of coffee shops and cafes has increased.
What is the growth rate of the industry?
The industry's revenues are expected to increase by 7.3% annually for the next two years (Hunter 2015). The increase has been boosted by growing incomes and the citizens' unceasing love for quality coffee.
Is the market at full capacity?
We are predominantly interested in a coffee café because currently there are a few businesses that offer these services. Therefore, our venture aims to fill this market gap by delivering exceptional beverage services.
Where are our customers getting the product now?
The leading coffee cafes in Melbourne include Auction Rooms, Three Bags Full, Hardware Sociate, Di Bella Roasting Warehouse, Market Lane, Proud Mary, and Sensory Lab (Purnama 2013). All these cafes offer services to both male and female clients. We expect to face competition from these shops and other medium food kiosks spread across the city of Melbourne. The other competitors are restaurants and food stalls that offer beverage services.
Where are the customers?
We will target female clients who work or study in regions around Melbourne. The city currently has a population of 4.35 million people (Johnny 2015). Half of these residents are women. In the future, the population is expected to increase to surpass that of Sydney. The main reason for positioning itself in this segment is that the business has the opportunity of incorporating new features to the existing services to cater for the changing demands and needs of our targeted customers. We will offer our services to females. Through this, we will differentiate our services from our competitors.
To gain a competitive advantage over our competitors, we will differentiate our products and services (Agnihotri 2015). One major way of fulfilling the above is through value addition. We will focus on improving our beverages' package to enhance their aesthetic appeal. All drinks and snacks will be packed and served in impressive food packages designed to surpass our customers' expectations.
We will only offer services to female clients to differentiate ourselves from our rivals. In Melbourne, a few coffee shops focus on particular communities such as religious, age, sex, or political minorities. If our café focuses on specializing in satisfying only women's community, we will attract many clients and enhance our market share. The market segment presents an opportunity for the business.
How many would purchase from you?
With increased government expenditure, vibrant tourism, transport, and trade in the region, our business will be favorable and convenient to many women. An increase in government expenditure implies that there is more money in circulation, and more people can afford to enjoy the food services at our business center (Kwek 2015). We expect to serve up to 300 clients in a day.
What external factors come to bear? Government, Industry Dynamics
An important external factor that will affect our business is government regulations. We will have to satisfy all the standards required by the local governments.
How long will this opportunity last in the market?
Our projections indicate that during our earlier years of operation, we will experience less competition because we will only focus on female clients. However, competition is expected to increase in the future because we have a window period of two years. Over time, several players will enter the market eating into our company's customers. Because of this, our company will experience enormous pressure from the new entrants. Such risks put pressure on our business' future success. The above imply that we must always differentiate our products and services from those offered by our competitors. If we fail to do so, our rivals will fill the gap and gain an advantage over the company.
What keeps new competition from entering this market?
A threat faced by new entrants has been the inability to adapt to the ever changing service features and standards required by the clients. Another threat that prevents new competitors in the industry is competition from established rivals.
In the first months of our operation, we plan to focus on understanding the thoughts, desires, and behaviors of our clients. Through this, we will be able to come up with the appropriate targeting and positioning techniques in future. Equally, the chance will enable the business to identify efficient and reliable marketing channels to be utilized in the future.
Options for developing the technology
Our café will be registered as a sole proprietorship. The shop will be wholly owned and operated by five entrepreneurs. The cafe will be established in the city of Melbourne. The coffee shop will serve clients throughout the week as indicated below:
Options for producing the product or service
Our products and services will be generated in house. Equally, we will utilize the same approach in our sales and distribution. As such, we expect our clients to visit our establishment. There will be no outside catering services. With increased turnover for startup cafes, the owners are expected to offer their skills and labor to fill in where required until the business starts to generate profits.
Options for sales and distribution
To reach our customers, we will utilize some approaches. Advertising will be our primary marketing strategy. We will create a series of television, the internet, and technology advertisement platforms. Through this, we will subcontract these functionalities to other firms. The firms will comprise of individuals knowledgeable in product information as well as customer service. Through social media, we will encourage more potential clients to access our services. The social media will also enable us to interact with potential customers to understand their expectations
Resources required for development
With respect to our limited inexperience in the industry, we will collaborate with reputable and competent suppliers. The vendors will offer sensibly priced products. The merchandise will be delivered according to an approved time timetable. The cost of establishing the shop is $363,000. The majority of the expenses will be used in purchasing the raw materials including furniture fixtures. Raw materials to be used at the café will be sourced from experienced suppliers. They include kitchenware, food processors, utensils, dishwasher, clothing, and stainless steel tables.
The laws and regulation relating to the business
Before opening our enterprise, we will obtain accreditation from relevant business licensing regulators in Melbourne. Similarly, we will get a permit that will illustrate that our company will work towards environment conservation.
Any moral or ethical issues that you are uncomfortable with
Our research identified that ethical issues of workers being mistreated by their supervisors are prevalent in the hospitality industry. The business will formulate and implement appropriate ethical cultures to prevent such incidences. The code of ethics should articulate the accepted standards. Similarly, ethical culture will be enhanced by all levels of supervision.
Technological changes are changing or emerging that may affect the business
During our research, we noted that a significant threat faced by coffee shops and other beverage outlets is speedy technological transformations. Many clients enjoy cafes with the latest technological facilities such as Wifi access. The threat puts pressure on the company's future success. Every year, we will be required to adopt new technologies to be ahead of our rivals. If we fail to do so, our competitors will fill the gap and gain an advantage over our company.
Projected revenues from sales of our products and services
The table below illustrates the expected sales volume in units sold and in dollars sold. Our approximate selling price per unit is $ 11.37. The expected revenues are indicated below.
Financial dynamics and opportunities
Indicated below are the cost structures illustrated based on unit basis:
Price per unit minus is $11.37
Variable costs are estimated to be $4.51 per meal
Gross margin per unit minus is 44.90
Fixed costs per unit are 48.0
Net margin per unit is 8.0%
Indicated below is the income statement used in the calculations:
Is the project worthwhile financially?
Indicated below are assumptions utilized in our financial plan
Meal Price ranges from $8.00 – $15.00
Average lunch price is 8.79
Average dinner price is13.74
The restaurant is located in the Melbourne City
Gross margin 45% and net profit are 8.0%. The figures indicate that the venture is economically viable. Below is a 1-year monthly cash flow statement: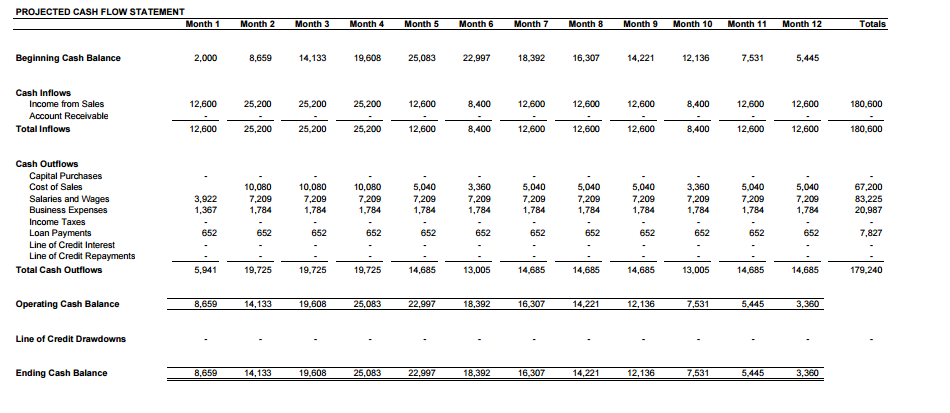 How much investment is required and how they will be used
Financial risk.
Total fixed costs linked with the coffee shop are $669,186. They represent yearly expenses. The variable cost is $ 4.51 for each meal. The breakeven revenue will be $1,108,970. It equals to 97,535 meals. We would not get better returns elsewhere, so we better invest in the shop. I will have to give up my mortgage to finance the project. The return of investment is $1, 229,334 after three years. The above illustrations are indicated in the table below:
Sources of funds
The money needed will be sourced as shown in the table below. There are higher chances that we are going to get all the money required for the project. We will have to sacrifice money needed for other investments to attain our objectives.
What technical and management experience is required?
The business will hire 20 employees. They will comprise of two managers and subordinate staff. The managers will be needed to have more than three years of experience in a similar environment.
The technical team should have at least one year of experience. Together, the management team will select every applicant. We have implemented an up-to-date interview procedure. The process will staff the coffee café with highly experienced persons for every position. Every candidate will be evaluated and ranked based on a pre-defined set of values intended for each vacancy. Hiring efforts will focus on recommendations.
Who are the owners and what are their roles?
The restaurant's management team will comprise of the owner, the manager, and technical expert. The owner has a restaurant career. He has served for over 20 years in the foodservice industry. He will be the general manager of the business. The manager will oversee smooth operation of the facility.
As such, the hotel manager will manage the overall undertakings like hiring and making financial arrangements. The manager will report to the owner of the shop. A technical expert will direct every functional group. As such, the technical expert will ensure that all installations in the shop are up and working. The supervisor reports to the general manager.
What is the ownership structure?
The organizational fabric of the shop will represent a corporate divisional order. The divisional order will be predominant service sections of the cafe. They include housekeeping segment, food and beverage section, concierge block, and front desk management. For instance, the prominent sectors of the enterprise will be separated into semi-autonomous bodies. The smaller sections will be apportioned to a particular field of service.
Every semi-autonomous will have a group head. As such, the group leader will be selected as the managing officer of that particular segment. At the top of the hierarchy will be the hotel manager. The present-day economic conditions in the beverage industry are characterized by increased competition.
In this regard, the coffee shop will adopt the above organizational structure to save on the cost of operation. The organizational structure has many advantages. Through this structure, every section functions effectively for the reason that they are centered on certain precise task. By doing so, the shop will be able to enhance the output of every section.
What are the labor requirements?
Attracting, inspiring, and retaining a skilled workforce is significant and often challenging for today's businesses (Hazelton 2014). Appropriate staffing measures will aid our coffee shop intensify the satisfaction of its workers, reduce recruiting costs and increase the hotel's productivity.
In this regard, the business has put in place appropriate sourcing policies that attract a diverse variety of high-performing candidates. We have also implemented a transparent hiring procedure, which guarantees objective selection using pertinent criteria. Through this, the company will attract competitive and competent candidates. Our orientation processes guarantee that new employees are informed about the business' values, objectives, key policies, and measures.
The shop will offer a positive working environment for its staff. Through this, the business will be able to attract and retain qualified workers. A positive work environment enables the employees to undertake their roles without challenges. Thus, the productivity of the cafe will increase.
Similarly, the business should identify, compensate, and support the right behavior to attract and retain a competent workforce. Through this, the worker's morale will be boosted. By involving and engaging the employees, the shop will be able to motivate its workforce. As such, individuals are more dedicated and involved if they are allowed to add their thoughts and proposals towards the improvement of the business.
Equally, the firm will adopt fun in the workplace to motivate the employees. The initiative will enable the employees develop a positive staff culture, boost their morale and motivation, and enhance employer and employee relationship. Likewise, the approach will improve teamwork, increase employee satisfaction, help attract and retain the best people, and improve customer satisfaction. The initiative will also enhance creativity and problem solving, resolve conflict and difficult issues, and augment productivity and performance.
Likewise, the hotel manager will come up with policies that encourage relationship among the employees. Through building relationship among the employees, the managers will enable the employees to understand and appreciate each other's social, religious, or racial background (Stafford 2013). They will be achieved by offering the employees with regular seminars, workshops, and other social events. Through this, they will get to know one another better enhancing mutual respect.
The managers acknowledge that recruitment and hiring of new employees contribute to the increase in operating costs. Therefore, the business has adopted a competitive reward scheme to reduce the employee turnover. Because the firm is aiming to be among the top coffee shop in Melbourne, its reward system is expected to be competitive.
As such, the reward scheme will indicate the individuals to be awarded and the reason behind the rewards. The practice will enhance individual performance and firm's outcomes. The reward system will balance with the organization's culture.
To enhance and maintain quality, the cafe's executives will implement performance measurement strategies (Carlson 2013). The shop will adopt quality and time performance measures. Quality performance test will assess the value of the services rendered by the employees. Equally, time performance will determine the period it takes the employees to perform their services.
The hotel will undertake the above assessment regularly to enhance the efficiency of the performance measures. Changes in performance measures and requirements related to increasing the competency-base of workers to meet global requirements will also be monitored. Therefore, the cafe will implement a culture of accountability.
Similarly, they will focus on results. When goals and visions are brought into line with organizational accountability, the administration can hold employees answerable for their tasks. Equally, performance measures will encourage workers to accomplish the lounge's goals, missions, and objectives.
What is the company's growth strategy?
The shop's organizational culture will change as the business grows. The appropriate succession planning measure will be instituted to recognize and develop internal staff with the possibility to fill future vacancy positions in the cafe (Catherine 2014). The process is the most efficient and appropriate way of filling organization's vacancies.
Through this approach, the shop will reduce its recruitment costs and orientation training expenses and time. The approach will offer employees with abilities to advance their career through regular training. As a result, employees will progressively develop and advance their careers. Through career advancement, workers' morale will be enhanced enabling them to dispense their knowledge and capabilities effectively. By improving on the workforce's morale, the business will increase its productivity leading to an increase in returns.
In conclusion, it should be noted that the cost of establishing the shop is $363,000. The majority of the expenses will be used in purchasing the raw materials including furniture fixtures. The business will target only female clients. As such, the coffee bar will offer many crafted dishes.
Start-up Expenditures and Expenses Worksheet
Swot analysis.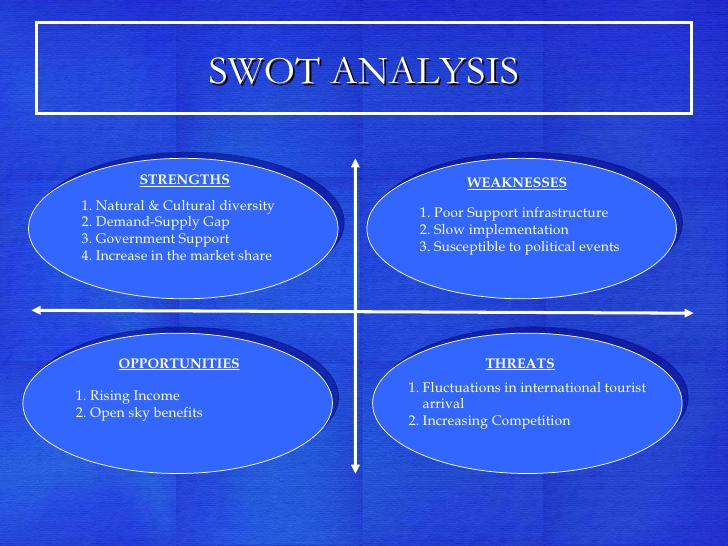 Agnihotri, A. 2015, 'Extending boundaries of Blue Ocean Strategy', Journal of Strategic Marketing , vol. 32, no. 8, pp.1-10.
Carlson, K. 2013, 'Designing Business Training for Fun and Results', Performance Improvement , vol. 52, no. 9, pp. 45-46.
Catherine, F. 2014, 'Sustainable cultures: Engaging employees in creating more sustainable workplaces and work styles', Facilities, vol. 32, no. 8, pp. 438-454.
David, B. 2015, Coffee culture in Australia . Web.
Hazelton, S. 2014, 'Positive emotions boost employee engagement: Making work funbrings individual and organizational success', Human Resource Management International Digest, vol. 22, no. 1, pp. 34-37.
Hunter, B. 2015, Melbourne CBD, Melbourne . Web.
Johnny Y. 2015, Start a new business/Café Business . Web.
Kwek, G. 2015, Australia makes its mark on global coffee culture . Web.
Purnama, M. 2013, Melbourn Top 10 Cafes . Web.
Stafford, K. 2013, 'Does Fun Pay? The Impact of Workplace Fun on Employee Turnover and Performance', Cornell Hospitality Quarterly , vol. 54, no. 4, pp. 370-382.
Chicago (A-D)
Chicago (N-B)
IvyPanda. (2023, August 27). Business Plan: Coffee Shop Report. https://ivypanda.com/essays/business-plan-coffee-shop/
"Business Plan: Coffee Shop Report." IvyPanda , 27 Aug. 2023, ivypanda.com/essays/business-plan-coffee-shop/.
IvyPanda . (2023) 'Business Plan: Coffee Shop Report'. 27 August.
IvyPanda . 2023. "Business Plan: Coffee Shop Report." August 27, 2023. https://ivypanda.com/essays/business-plan-coffee-shop/.
1. IvyPanda . "Business Plan: Coffee Shop Report." August 27, 2023. https://ivypanda.com/essays/business-plan-coffee-shop/.
Bibliography
IvyPanda . "Business Plan: Coffee Shop Report." August 27, 2023. https://ivypanda.com/essays/business-plan-coffee-shop/.
Stress-Strain Relation of Stainless Steel After Exposure to Fire
Submerged Arc Welding
The Microeconomics and Macroeconomics Factors in a Startup Café
Starbucks Mug: Product Review
Feasibility Study on Small Business Related To Tourism in Melbourne, Australia
The Status of Melbourne's Economy
Melbourne Coffee: Entrepreneurship, Creativity and Innovation
Melbourne Food and Wine Festival in Australia
A Dr. Cafe Coffee
Needs of the employees of Melbourne Aquarium
Southwest Airlines Business Strategy
Strategic Management Project: Emirates Airlines
The Key Components at American Enterprise Architecture
New Venture Business Plan
Strategic Management Case: Vera Bradley
Intro To Business Coffee Shop Project
Recommended
More Related Content
What's hot.
What's hot ( 20 )
Viewers also liked
Viewers also liked ( 19 )
Similar to Intro To Business Coffee Shop Project
Similar to Intro To Business Coffee Shop Project ( 20 )
Coffee Shop Business Plan Sample
Are you interested in opening your own coffee shop, cafe, or purchasing an existing coffee shop franchise?  Well, you've come to the right place!  This sample business plan will help provide insight on what a Coffee Shop Business Plan should look like.
Contact Simple
Your Name *
Email Address *
Phone Number — Optional
Business Name - Optional
Additional details
1.Executive Summary
Sample Coffee Shop (The Company) was incorporated in the province of British Columbia on January 1, 2021 by Mr. John Doe and Mrs. Jane Doe.  Sample Coffee Shop is seeking a $150,000 business loan to purchase an existing "Sample Coffee Brand" franchise located at #100 – 500 Wellington St. Vancouver, BC.
As the Covid-19 pandemic subsides, and widespread immunization takes place, more and more people will return to local establishments.  Furthermore, in the current economic environment the company has identified multiple ways to add value to the existing franchise.  These value adds include: extending hours of operation, a wider selection of food and dessert, catering services to local offices, and offering promotions on food-delivery apps Doordash and UberEats.
With over four decades of combined business management experience, Mr. and Mrs. Doe bring an abundance of knowledge and expertise to this opportunity.  Mr. Doe, being a senior executive of 105077 Inc. where he has overseen the company's manufacturing process, monitored and evaluated middle management.
Mrs. Doe has been involved in healthcare management for the past 7 years, working to foster an environment that provides necessary and quality health care services to patients.  In addition, Mrs. Doe was raised in a family that owned and operated a successful food business in The US; therefore, bringing invaluable experience to this opportunity.  Together, Sample Coffee Shop looks to provide a new, heightened level of customer experience to guests, and help develop the wider Sample Coffee Brand brand.
The Coffee and Snack Shop industry in Canada has seen modest growth over the past five years.  However, as industry players overcome the economic challenges of the Covid-19 pandemic there is a wave of optimism throughout the industry.  As Canadians return to daily life industry players are reminded of the staple their stores provide.  Whether serving professionals on their way to work, students looking for a place to study, or catering to local offices; coffee shops provide the food and beverages that keep the Canadian economy moving.
Mr. and Mrs. Doe are prepared and qualified for the opportunity at hand – transforming the franchise's largest location into a growing coffee shop again, and exceeding customers expectations each and every day.
2.Business Overview
Sample Coffee Brand – Wellington St. has experienced challenges in the past few years, from declining sales to weathering the Covid-19 pandemic.  Sample Coffee Shop has identified this as an excellent opportunity to purchase the Wellington St. Franchise at fair market value, while improving customer service, experience, expanding the food menu, and catering to local office buildings.
2.1 Business Summary
Founded in 2005 at Parker and Smithe Street in downtown Vancouver, Sample Coffee Co has been a leader in brewing superbly fresh coffee, committing to local craftsmanship, and unparalleled service.  In 2010 Sample Coffee Brand was recognized as the "Hottest Brand in Canada". Today there are 25 Sample Coffee Co locations across British Columbia and Alberta, with many more to come.
Sample Coffee Brand is committed to providing an atmosphere of connectivity, which even trickles down to the size of their locations.  With all but one Sample Coffee Co location being less than  1,400 square feet, the franchisor is dedicated to providing immense seating space to guests.
Lattes, cappuccinos, mochas and fresh brews are all made from Waves' exclusive coffee blends. As coffee professionals, Sample Coffee Co understands the ranges of coffees grown from around the world, offering the highest possible quality beans from South America to Africa.  Waves' roast master oversees that each batch of beans is put through visual, aromatic and taste tests then filtered in drum roasters.  With blended drinks, Belgian hot chocolate, African rooibos teas, cold drinks, pastries, paninis and sandwiches brought in from local bakeries, Sample Coffee Co really offers something for any mood.
2.2 Industry Overview
Many Canadians frequent coffee establishments (NAICS 722512 – Limited-service eating places) on their way to work in the morning or throughout the day.  Coffee franchises are indeed part of a profitable industry.  The younger generation is driving coffee consumption trends in Canada.  Adults aged 18-49 prefer specialty coffee, where adults aged 65-79 gravitate towards traditional coffee blends. The youngest Canadian consumers, aged 18-34 are more interested in coffee that is ethically sourced, leading to a rise in fair trade and organic coffee sold from coffee shops.
Millennials and Gen Zs are increasingly making consumer decisions based on sustainability, which for coffee can mean where coffee is sourced, how it is transported, how it is produced, and the affects these things have on social issues and the environment.  For example, Fair Trade certified coffee ensures it is produced in an environmentally friendly way, and that workers in the coffee industry are being treated safely and fairly.
2.3 Mission Statement
The Sample Coffee Co mission is to meet people who share our passion and ideals so that together, we create great neighbourhood coffee houses that enrich the lives of everyone we welcome inside.
2.4 Goals and Objectives
Receive $150,000 in funding
Transfer business license from the current owner
Take part in franchise training
Officially launch on May 1, 2021
Create an instagram account for the Wellington St. location
Get to know our customers and staff
Breakeven or make a small profit in Year 1
Grow revenue, and make a profit in Year 2
2.5 Key Success Factors
Work closely with the franchisor to ensure our location represents the wider Sample Coffee Brand brand
Inventory Management: Don't have too much, or too little inventory at any given time
Customer Service: Consistently offer the greatest customer service available
2.6 Staffing
STORE MANAGER
A Store Manager will be hired at the beginning of Year 3.  They are to provide positive, pleasant experiences that enrich the lives of everyone who comes through our door.
Job Duties and Responsibilities
Provide friendly, prompt customer service
Continually learn about our products and consistently provide quality food and beverages
Master the art of beverage preparation
Foster a good working environment
Welcome and encourage new staff members and act as a role model
Assist in training, supervising and supporting staff
Conduct staff meetings
Maintain cleanliness in the coffee house at all times
Conduct daily cash handling duties and receive reports of any errors
Follow company policies and procedures
Create action plans and follow through in a timely manner
Place and verify vendor orders and deal with issues daily
Resolve customer and staff concerns
Display sales and financial accountability
Retail management experience
Exceptional leadership skills
Exceptional communication skills
Ability to meet budgeted sales and profit goals
Sample Coffee Brand baristas carry out several customer service responsibilities.  Baristas greet customers, take food and drink orders, prepare menu items, and answer questions about our menus and services.  It is imperative that our baristas display personable and friendly attitudes, while maintaining a level of professionalism.
Requirements & Competencies:
Receive and process customer payments
Prepare and serve hot or cold beverages, such as coffee, espresso drinks, blended coffees or teas
Take customer orders and convey them to other employees for preparation
Clean and sanitize work areas, utensils, or equipment
Describe menu items to customers or suggest products that might appeal to them
Clean service or seating areas. Serve prepared foods, such as muffins, biscotti, or bagels
Prepare or serve menu items, such as sandwiches or salads
Weigh, grind, or pack coffee beans for customers
Stock customer service stations with paper products or beverage preparation items
Order, receive, or stock supplies or retail products. Slice fruits, vegetables, desserts, or meats for use in food service
Check temperatures of freezers, refrigerators, or heating equipment to ensure proper functioning
Demonstrate the use of retail equipment, such as espresso machines
2.7 Management Team
Mr. John Doe
Executive Director, 105077 Inc.
Washington, The US
2016 – 2020
Role and Responsibilities:
Estimating, negotiating, and managing budgets and timelines
Establish manufacturing goals, objectives, and standards
Investigate and implement new methods/technologies to increase cost effectiveness and improve profitability of manufacturing operations
Re-negotiating timelines or schedules as necessary to meet company demand
Implementing initiatives to support the overall growth and achievements
Develop and manage project plans and corresponding reporting and budgets
Drive and implement quality control programs
Proactively identify problems and swiftly implement appropriate solutions
Managing inventory and raw material levels
Work with internal teams and external vendors to identify supply chain bottlenecks and develop strategies for improvement
Support the development and implementation of project and process documentation
Contribute to the long-term growth of the company
Mrs. Jane Doe
Manager of Operations, Health Place
Vancouver, BC
November 2015 – Present
Managing staff, overseeing client care and ensuring adherence to established policies and procedures
Promote the quality of life of people with disabilities by developing day-to-day management and long-term care strategies
Work with other health care professionals to determine patients' goals and create both short- and long-term plans to achieve those goals
Using current policies and regulations to guide care decisions aids in promoting consistency, reducing mistakes and improving safety for patients and staff
3.Products & Services
Sample Coffee Co takes two things seriously: coffee and chocolate.  The company sources only the best coffee beans available from small lot farmers.  By blending top quality coffee beans together with real Belgian chocolate the result is a flavourful mocha that is second to none.  Sample Coffee Co is committed to providing a fresh and wide variety of sandwiches, wraps, soups and seasonal pastries. Sample Coffee Co provides an elevated coffee-shop experience by pairing locally-sourced coffee and chocolate beverages with a delicious fresh food menu.
Fresh Baked
Gluten Free
Muffins & Loaves
Scones & Croissants
Squares & Cookies
Ciders & Other
Coffee Blends
Iced & Blended
4.Operations
The success of Sample Coffee Co Wellington St. will depend on how well the operations are managed by Mr. and Mrs. Doe.  The following elements are critical to a successful operation:
Owner's Involvement: Mr. and Mrs. Doe are committed to assuring the success of this franchise location.  When not physically in the store, mobile analytics will be used to keep track of the store's performance.
Staff Satisfaction: By using open and honest communication Mr. and Mrs. Doe plan to develop strong professional relationships with their team.  A team that feels supported and appreciated is much more likely to provide a heightened level of customer-service.
Understanding of the Business: From franchise training to the first few weeks and months of operation, Mr. and Mrs. Doe are committed to developing a thorough understanding of Sample Coffee Co business model; and which actions will bring increased productivity and profitability.
Inventory Management: It is critical that the franchise doesn't purchase too much, or too little of any given product.  Mr. and Mrs. Doe will work closely to ensure inventory is managed properly.
Great Products: Sample Coffee Brand is proud to serve exceptional products to their customers.  The franchise will be diligent in ensuring all products are handled with care, of the proper date, and have no defects.
Alignment With the Franchisor: All of our operations must be aligned with Sample Coffee Brand.  Sample Coffee Co has a clear and concise operational plan and the management of Sample Coffee Co Wellington St. plans to follow these operational guidelines closely.
Safety: Sample Coffee Co Wellington St. will take the safety of it's staff and patrons seriously.  During the Covid-19 pandemic Mr. and Mrs. Doe will be diligent about ensuring all stakeholders follow government guidelines.  Additionally, management will ensure that all operations are congruent with Worksafe BC regulations.
4.1 Location
2800 sq ft.
Currently seats 30 – 40 people; full-capacity is 85 people
Bitcoin ATM machine available to guests
Most spacious location within the franchise
Meeting room services available
4.2 Equipment
Equipment as of March 12, 2021:
Small Meeting Rooms: 6 chairs, 2 tables
Big Meeting Room: 10 stools, 8 chairs, 3 tables
Floor Area: 12 stools, 38 chairs, 13 tables
Outside Patio: 2 umbrella, 13 chairs, 5 tables
Office: 1 two shelf filing cabinet, 1 office desk, 1 printer, 4 white chairs, 2 chairs, 2 s/s storage shelves, 1 Samsung CTV monitor
Rear Room: 2 Frigidaire Air Freezer, 1 True Upright Cooler, 1 Hobart Dishwasher, 1 safe, 1 floor cleaning bucket
Serving Area: 1 True Display Cooler, 1 Blending Machine, 1 Ice Making Machine, 1 Coffee Making Machine, 1 Insign Small Fridge, 1 Merrychef Oven, 2 POS Machine, 1 Bunn Bender, 2 Coffee Storage – APPROXIMATE MARKET VALUE: $70,000
4.3 Inventory
Upon transfer of ownership Sample Coffee Shop will receive less than $1,000 of inventory.  Items will include bakery, breakfast, lunch and drinks items.  Mr. and Mrs. Doe will focus on inventory management; ensuring to only purchase items that will be sold.
5.Market Overview
The Coffee Shop industry in Canada has grown over the five years to 2020, driven by the expansion of major coffee retailers, such as Starbucks Corporation (Starbucks). However, the industry experienced increased volatility over the past five years due to challenges established by the global spread and economic effect of COVID-19 (coronavirus). Prior to the economic upheaval caused by the pandemic, the industry was sustained by growth in the domestic economy.
Steadily increasing consumer spending in Canada for the majority of the period has supported the industry's growth, as consumers have been more willing to splurge on small luxuries such as coffee and doughnuts. Busier lifestyles, which have left less time for preparing meals or beverages at home, have also helped the industry, especially as coffee and snack shops have placed a greater emphasis on convenience. Nevertheless, the industry was challenged by the outbreak of the coronavirus, which caused an abrupt decline in demand for industry goods and services while some establishments were forced to close due to the effects of social distancing and essential business restrictions.
The industry has benefited from greater consumer spending on breakfast over the past five years, which has boosted revenue and kept profits stable. The breakfast segment has been a bright spot in an otherwise slow growing food service sector during the period. However, coffee and snack shop operators have been forced to contend with increased competition from fast food restaurants, such as McDonald's Corporation and Tim Hortons Inc. (Tim Hortons), which recognizes that serving specialty coffee during breakfast is a key means of drawing customers through the door. For this reason, operators have added a greater variety of food items to their menus, such as breakfast sandwiches, fruit and granola cups.
Increased consumer spending and growing demand for specialty products have also encouraged many independent coffee shops to open for business.  Over the five years to 2025, operators will continue to offer more nontraditional, high-margin menu items such as iced coffee, breakfast items and wraps. Industry revenue is forecast to grow at an annualized rate of 2.0% to $5.1 billion over the five years to 2025.
5.1 Market Trends
Delivery Apps: Skip the Dishes, Doordash, UberEats
Unique Blends of Coffees: Proprietary blends of coffee are becoming more and more popular. Coffee and tea shops — and even full-service restaurants — increasingly offer blends to support good health and reduce fat with soy and collagen creamers. Blends like mushroom coffee and matcha lattes are common. Most dedicated coffee shops offer blends that increase gut health, boost metabolism, and/or support the immune system.
Increased Competition: Coffee shop's are forced to contend with increased competition from quick-delivery restaurants
Snapchilled Coffee: Freshness matters. Even if you prefer chilled coffee in hot weather, the snap chilling process is supplanting cold brewing. The process takes freshly brewed coffee and cools it rapidly, which extracts more flavor and more appealing aromas than the cold brewing process. There is also no waste of unused cold-brewed coffee. Snapchilled coffee doesn't take as long to make as cold-brewed, and you don't need to dilute the coffee by adding ice cubes. Look for this trend to become more common in coffee and tea shops in 2021.
The Most Important Meal: Greater consumer spending on breakfast is expected to boost industry revenue
Choosing Tea for Health Benefits: Many consumers now choose tea for its complex blend of chemicals and additives like turmeric, ginger, and chamomile. Most of these tea additives are classified as "adaptogens," which are substances that relieve mental and physical stress. 3
Labour Intensive: The industry remains relatively labour intensive
5.2 Competition
Pallet Coffee Roasters
https://www.palletcoffeeroasters.com/
980 Wellington St. Vancouver, BC V6Z 1N9
Sells coffee online through their ecommerce store
Blenz Coffee
www.blenz.com
232 Howe St, Vancouver, BC V6C 3R9
64 franchises in British Columbia alone
Railtown Cafe
https://railtowncafe.ca/
968 Wellington St. Vancouver, BC V6Z 1N9
Offers coffee, pastries, and delicious food
5.3 Competitive Advantage
Massive space which helps provide customers with a safe, socially distanced setting and meeting area
Unique set of offerings like a robust selection of rooibos drinks, free meeting rooms and consistently gracious team members. It's these elements and more that make Sample Coffee Co an intimate and locally-conscious answer to the replicated atmosphere of multinational coffee giants
5.4 Risk Analysis
Another wave of Covid-19: The risk of another wave of Covid-19 can be mitigated through our pre-established "delivery platform". The pandemic has made our audience more focused on customized service, and we can deliver on that by bringing our products to them directly through our catering service, or through UberEats and Doordash.
Potential new entrants to the marketplace: Competition is already fierce in our industry. We must remind ourselves and our team to over-deliver by being the best version of our professional selves.  Additionally, by working closely with the franchisor we can progress a mutually beneficial relationship that develops our specific location and the wider Sample Coffee Brand brand.
Boost to the minimum wage: Although this would be damaging in the short-medium term we can't see this happening anytime soon. The BC provincial government understands how hurtful this would be to the hospitality industry and will likely only raise the minimum wage when the time is right for businesses and workers alike.
Drop in consumer spending: This is potentially the biggest threat to our business; however, both the federal and provincial government have shown their preparedness to provide economic stimulus to keep the economy moving through consumer spending. Moreover, this can take a few weeks or months to execute, so our location will be prepared for a potential drop in consumer spending by having excess cash available.
6.Marketing Plan
Mr. and Mrs. Doe will be focused on developing a community that wants to come back to the franchise.  By providing kind and professional service, while ensuring guests take advantage of Coffee Rewards we will create a new, exceptional atmosphere.  There are a variety of competing coffee shops in the surrounding area, so to win over customers we must ensure we exceed every client's expectations in customer-service and through the quality of our products.
6.1 Target Customer
Office Workers
25 – 55 years of age
Works in local downtown offices
Wants a place to relax and enjoy while out of the office
18 – 25 years of age
Attends UBC Robson Square, or a local language school
Looking for great deals
Retail Patrons
Shops at Nordstrom, Pacific Centre, Holt Renfrew
Less focused on price – more focused on quality of food, drinks, selection
6.2 Key Channels
Sample Coffee Co Wellington St. – Instagram Account
Management will develop a customized instagram account to grow our community on one of the most popular social media platforms available, Instagram.  By posting special offers, promotions, and introducing our team we will stay engaged with our audience, and therefore bolster sales.
Special Promotions on Food Delivery Apps
Food delivery apps Doordash and UberEats are incredibly popular right now.  Management will create special promotions to get the franchises food and drinks in front of the target customer.
Catering Services to Local Offices
By catering to a wide audience of local offices we can develop key relationships with individuals and businesses.  This channel will develop our catering service, and eventually transpire into more guests in our store by nurturing the relationships we develop with local office staff.
The Official Sample Coffee Co Coffee App
The official app for Sample Coffee Co Coffee allows you to use your phone to pay and earn points at every location. Scan the app barcode in store to earn points on your purchases and build progress toward rewards. With this app you can add money to your account, set up auto-reload of your account, view transaction history and follow your rewards progress. It's the fastest way to pay at Sample Coffee Co Coffee. Features:
Sample Coffee Co Coffee Rewards: View your account points balance and other rewards
Pay with your phone at Sample Coffee Co Coffee locations.
Reload your account or set up auto-reload with your credit card.
Earn progress to rewards.
Send Sample Coffee Co Coffee e-gifts to friends and family.
6.3 SWOT Analysis
7.Financial Plan
The following financial projections are a product of this very business plan.  By investing in marketing, and having a sound operational strategy, Sample Coffee Shop will turn around the Sample Coffee Co Wellington St. location and bolster year over year (YOY) sales.
7.1 Financial Summary
7.2 Income Statement – Year 1
7.3 Income Statement – Year 2
7.4 Income Statement – Year 3
How can we help you?
Get in touch with us or visit our office
How to Create a Coffee Shop Business Plan and Executive Summary: Free Template & Guide
By Debra Weinryb
Before you open a coffee shop, you will need to have a coffee shop business plan. This important document acts as a roadmap for your coffee shop business adventure – with everything you need to turn your business dreams into a reality.
If you're passionate about coffee but have never written a business plan before, it can be nerve-racking to start. To help you out, we've put together a complete guide to writing a successful coffee shop business plan. In this guide, we'll cover:
What is a coffee shop business plan?
How to write a business plan for a coffee shop
The 10 sections of every successful coffee shop business plan
A free coffee shop business plan template
Create a custom business plan for your coffee shop concept with this free template.
What is a Coffee Shop Business Plan?
A coffee shop business plan is a document that explains what your business idea is and how it will succeed. It answers several questions, like how you will set up your coffee shop, how you will fund your business, and what revenue you expect to make. It includes information about your marketing plan, sales strategy, coffee shop customers , pricing structure, competitors, required labor, and financial plan.
Similar in length to a traditional restaurant business plan , it's a succinct document that usually spans 15-20 pages, but no more than 30 pages. Coffee shop business owners can make their plans pop with visuals like photos and designs of their coffee house, and site plans of their retail store. Charts and graphs are also used to show financial inventory information, like how much coffee beans will be purchased monthly and at what cost, for example.
Once complete, you will be able to show your coffee house business plan to potential investors, bankers, and business partners. That's why it's so important to dedicate a large amount of time and energy into getting your java shop business plan underway early on.
How to Write a Business Plan for a Coffee Shop
With the proper guidance, your brew shop business plan can be easy to write. That's why having a coffee shop business plan template is a useful aid for conceptualizing your business and goals before you start to write. Additionally, having a coffee shop business plan example can help you think of key elements to demonstrate your coffee shop's potential for growth and profitability – which are both important to attract funding.
Elements of a Coffee Shop Business Plan
Executive summary for a coffee business .
Start with your executive summary – a short and high-level overview of each section in your coffee house business plan. In any business plan sample for a coffee shop, you'll see that this is the first section because it gives readers crucial information about your business before you dive into details.
The executive summary section describes your business concept, the problem it solves, your target market, financial highlights, lease information, as well as your vision for the menu, products, and how you will service coffee – whether that's in a kiosk, drive through, pickup, or sit-down coffee shop.
As you write your executive summary, consider who will read your brew shop business plan and what you would like them to know. After all, you want to capture your reader's attention and entice them to continue to read or even invest!
Here are a few key points of interest you can mention in your executive summary:
Ambiance: The character and atmosphere of your coffee shop
Location: Information on your potential foot traffic, facility/lease, and seating capacity.
Kitchen storage: Space for multiple blends of coffee or a high-end espresso machine.
Goals: Your mission statement and guiding principles that will drive your success.
Funding: What funds you need and how you will use them to achieve your vision.
Business Overview
The Business Overview section takes a deeper dive into the coffee industry as a whole, your local market, and what makes your coffee shop model unique among the competition. Here, start by giving a brief overview as to when and why you started your coffee shop business. In addition, you can include major achievements such as hitting target sales goals or opening new coffee shop locations.
In this section, you can also go into more detail about the business operations of your neighborhood coffee shop . For example, explain what coffee and food products you will offer, your hiring and labor practices, and how you'll brew coffee. This, of course, will depend on your coffee shop business model.
Here are a few types of coffee shops and how they could be described:
Grab-and-go coffee shop: Pickup or drive through only, so folks can grab a cup of coffee in a heartbeat
Traditional coffee shop: Sells baked goodies and a variety of coffee drinks in a relaxed atmosphere
The coffee bar: Like a homey living room, with lounge music, WiFi, and fresh coffee
Management and Staff
In this section, you will talk about ownership. Start with the business owner(s) who will manage your coffee shop, and talk about their experiences/qualifications that will make them successful. You'll also include details of who will take care of your day-to-day coffee shop operations.
Every coffee shop will need baristas who take care of sales and make drinks, but those that sell food may also need someone to operate basic kitchen equipment. Additionally, you may want to hire someone to do marketing and advertising, or an accountant to take care of your bookkeeping.
After deciding on what jobs you want to create, you'll need to identify if they are part-time or full-time, how you will recruit/train them (e.g., barista training), and what you will pay them in wages and benefits. Your employees will factor into your financial forecast and expenses later on in your business plan for a coffee shop, so it's essential to get a head start on your hiring budget.
Coffee Shop Market Analysis
Your Market Analysis section should show that you've looked at your target market, assessed your location, and understand how you'll compete against other coffee shops in the area. Remember to consider what makes your restaurant unique and what will help it stand out. Here are two ways you can do just that:
Mention if your coffee shop is in a central location, such as near a college where students break for lunch, or next to office buildings where professionals drop in on their way to work. If you are one of many coffee shops in an area, consider pointing out what makes you different, like your wide variety of specialty coffees and the quality of your food.
Customer Analysis
Include information about your ideal customer – with details on who they are, why they shop at your coffee shop, and any metrics. If you performed market research before starting your coffee shop, include that too. For example, if you have data on a high demand for espresso in your area, the sales potential for a drive-through espresso stand could be very promising.
Sample Menu
A section with a sample menu lets investors know exactly what you'll be serving. Keep in mind that your sample menu should be a differentiator – otherwise, why would investors think that customers should choose your coffee over competitors who serve similar drinks?
Here are a few tips for choosing what to include in your great sample menu:
Think about the types of coffee beans that could set you apart. Maybe you only serve organic coffee beans, unlike your competitors.
Cater the types of drinks you serve to your target market. For a young customer, sweet frappuccinos, hot chocolates, and drinks topped with whipped cream can be popular. For health-conscious consumers, options like tea and "light" coffee may perform better.
If your customers will be hungry, such as students on a lunch break, or employees on their way to work, then consider including food items like pastries.
Marketing Plan and Publicity
An effective marketing plan is essential for bringing new customers through your coffee shop's door and retaining your loyal guests. In this section, start by describing how you want to drive incoming traffic, in addition to what budget you have in mind, and your expected return on investment. If you have a lot of detailed information, you may want to create a separate marketing plan document.
To cover all your bases, you can include the Four Ps of Marketing:
Product: What beverage and food products you will offer? For example, will you offer non-coffee drinks, frappuccinos, espresso, or cold brews?
Price: What is your average price point and how does it compare to competitive coffee shops?
Place: The location of your coffee shop and how it will impact your success. For example, will you operate kiosks, and if so, where will they be placed to get the most foot traffic?
Promos: How will you drive customers to your location(s)? Examples include live music, giving free samples, advertising, or partnering with influencers or other organizations.
Business Operations and Operating Plan
The business plan operations section includes the physical requirements of your coffee shop business, like retail space, specialized equipment, supplies, and labor. When describing your business' operational expenses, also consider showing where your coffee shop is trying to save money. For example, if you are buying used furniture or equipment, let your reader or potential investor know how you are cutting losses.
Here are a few areas you can include in the operating plan section:
Retail Space
Space you plan to lease, buy, or rent for your coffee shop
Parking spaces for a truck or for customers to access your coffee shop
Specialized Equipment
Coffee machines like a coffee grinder, a brewing machine, or a hot water dispenser
Specific arrangements like a sandwich prep table, counter space, or a display case
Technology such as a coffee shop POS to process transactions and track inventory
List your suppliers according to type – for your coffee beans and other food and drink products
Menu items you will buy vs. make in your coffee shop, such as croissants or cookies
The frequency at which you need to restock your coffee shop inventory
Staff such as a Barista to brew coffee
Staff to do food preparation, menu creation, and cleaning
A manager to oversee payroll and human resources
Financial Forecast and Expenses
This is an important section, especially if you need to attract investors to your coffee shop. Since coffee shops are often smaller storefronts, usually with a lower profit margin , this section needs to emphasize how your coffee shop business will grow and be profitable in the long-term. 
Your financial forecast and expenses section should include the following:
Cash flow statement with monthly projections for all your coffee shop purchases
Balance sheet to give investors a snapshot of your assets, liabilities and equity
Break even analysis to demonstrate the sales you need in order to make a profit
Coffee Shop Business Plan: Next Steps and Plan Template
To get ideas of details to include, use a coffee shop business plan sample.
Whether you own a coffee shop or are just starting out, writing a coffee shop business plan is essential to your success. In such a highly competitive coffee market , you need a business plan to show potential investors what makes your store stand out. 
If you're looking for a coffee shop business plan example, a template is a great place to start. By using a coffee business plan template , you can improve your chances of securing funding or attracting new business partners. Using a business plan sample for a coffee shop will also keep you organized and show readers how your coffee shop can be successful.
FAQs: Coffee Shop Business Plan
If you have any lingering questions, we've answered the top coffee shop business plan FAQs.
How profitable is a coffee shop?
A coffee shop business' profits can range from 2.5% to 85% of gross sales, according to this Chron article . The amount of profit depends on the size of your coffee shop – smaller coffee shops usually have lower profits.
How do you start a coffee shop business?
To start a coffee shop business, do lots of research on the industry and your market so you can plan how to separate yourself, your menu, and the quality of your products from competitor coffee shops. Consider where your coffee shop might be located and what kind of customer base you'll have. Map out the expected costs for operations, marketing, etc. in a financial plan. This will help you plan a strategy for success so you can create a strong coffee shop business plan to present to potential investors.
How much budget is needed to open a coffee shop?
How much budget you need to open a coffee shop will depend on the location of your business. Start by doing some research on real estate in the area where you want your coffee shop business, suppliers for your menu items, cost of hiring employees, and other operating costs. Also, consider what kind of marketing campaigns – such as email, direct mail, and advertisements – that you might want to run and include those in your budget too.
How do you start a business proposal for a coffee shop?
To start a business proposal for a coffee shop, use a coffee shop business plan sample and make sure you include the key sections: an executive summary, business overview, management and staff, market analysis, marketing and publicity, operations plan, and financial forecast and expenses.
Also, make sure you do enough research before you start so you understand how a coffee shop business works, your market, and your competitors, and have relevant facts and figures to support the plan for your new business.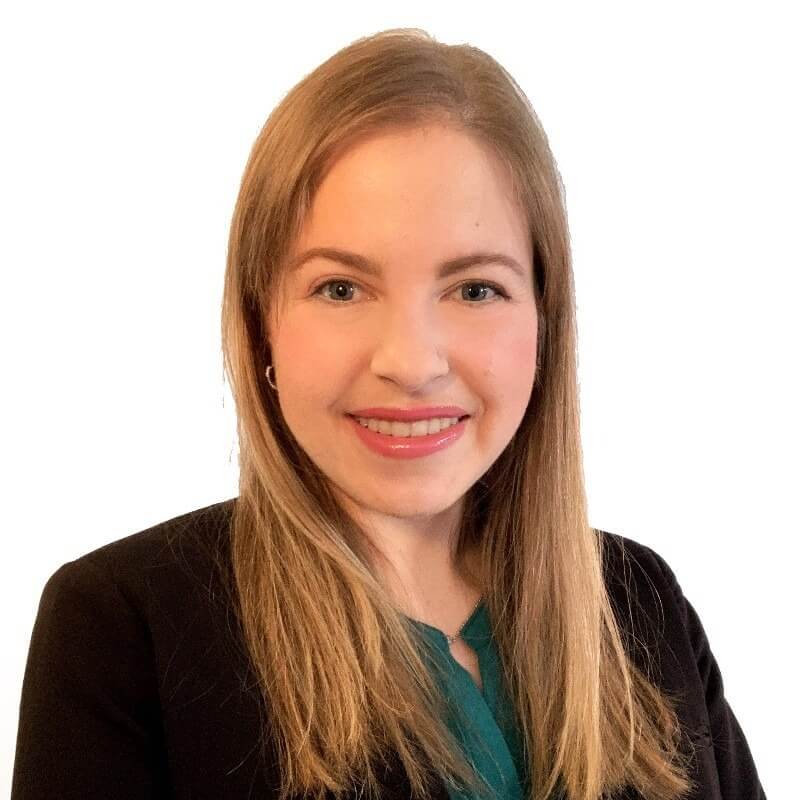 Debra was a Content Marketing Specialist at TouchBistro, writing about the latest food and restaurant industry trends. In her spare time, Debra enjoys baking and eating together with family and friends.
Download our free inventory template
Subscribe to the touchbistro newsletter.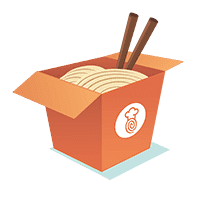 Your Complete Guide to Restaurant Reservations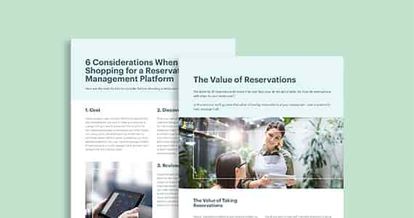 More Articles
Join over 18,000 subscribed restaurateurs and get:
Free industry reports, checklists, templates, guides, and more
The latest restaurant trends delivered straight to your inbox
Tips for running a successful restaurant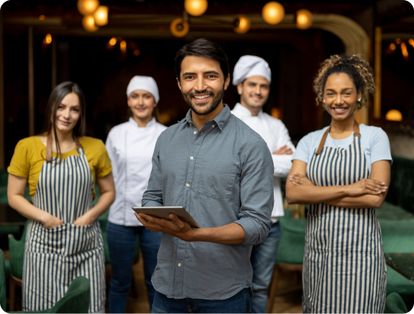 QR Code on Table Tents for Restaurants and Bars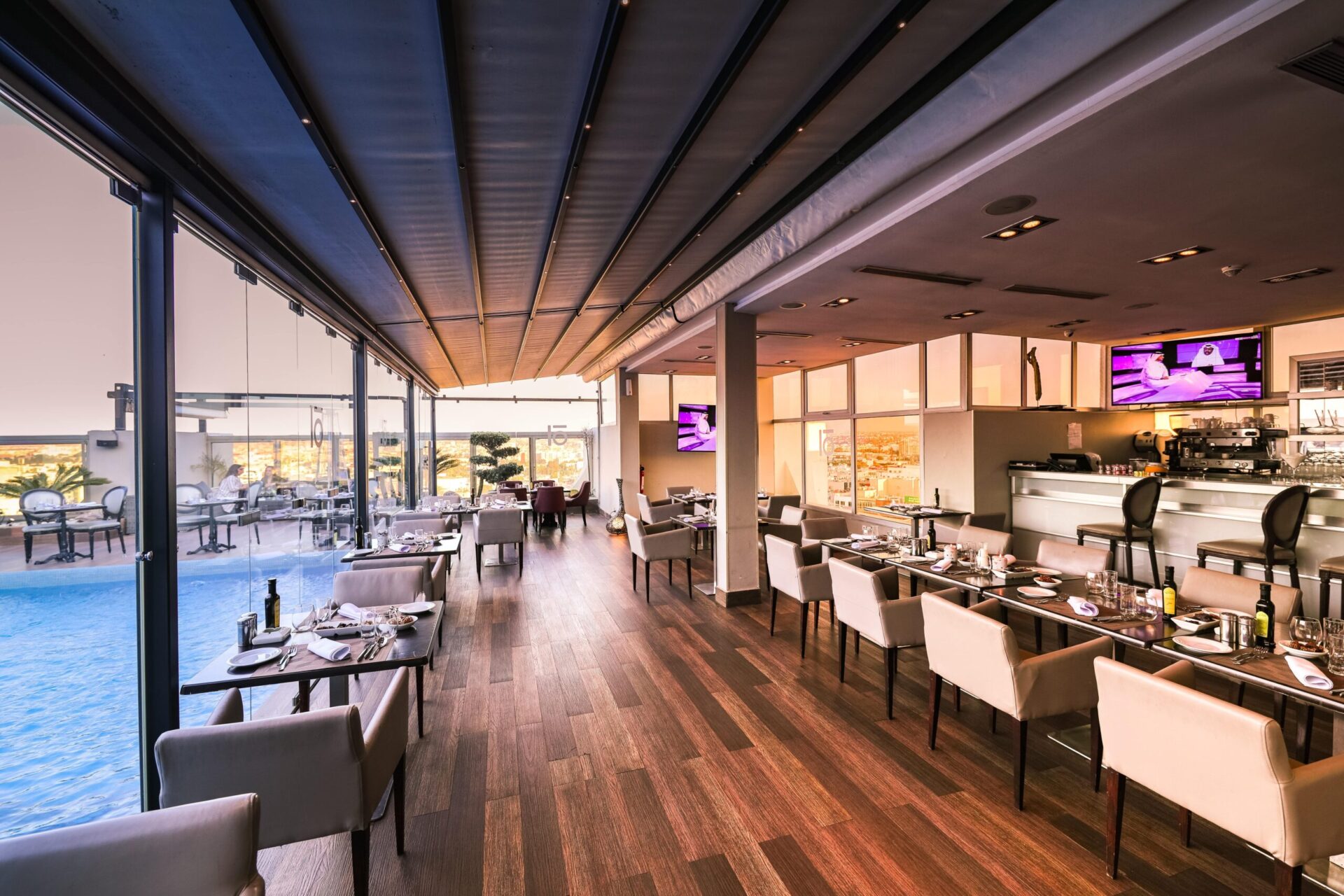 How much does it cost to open a small restaurant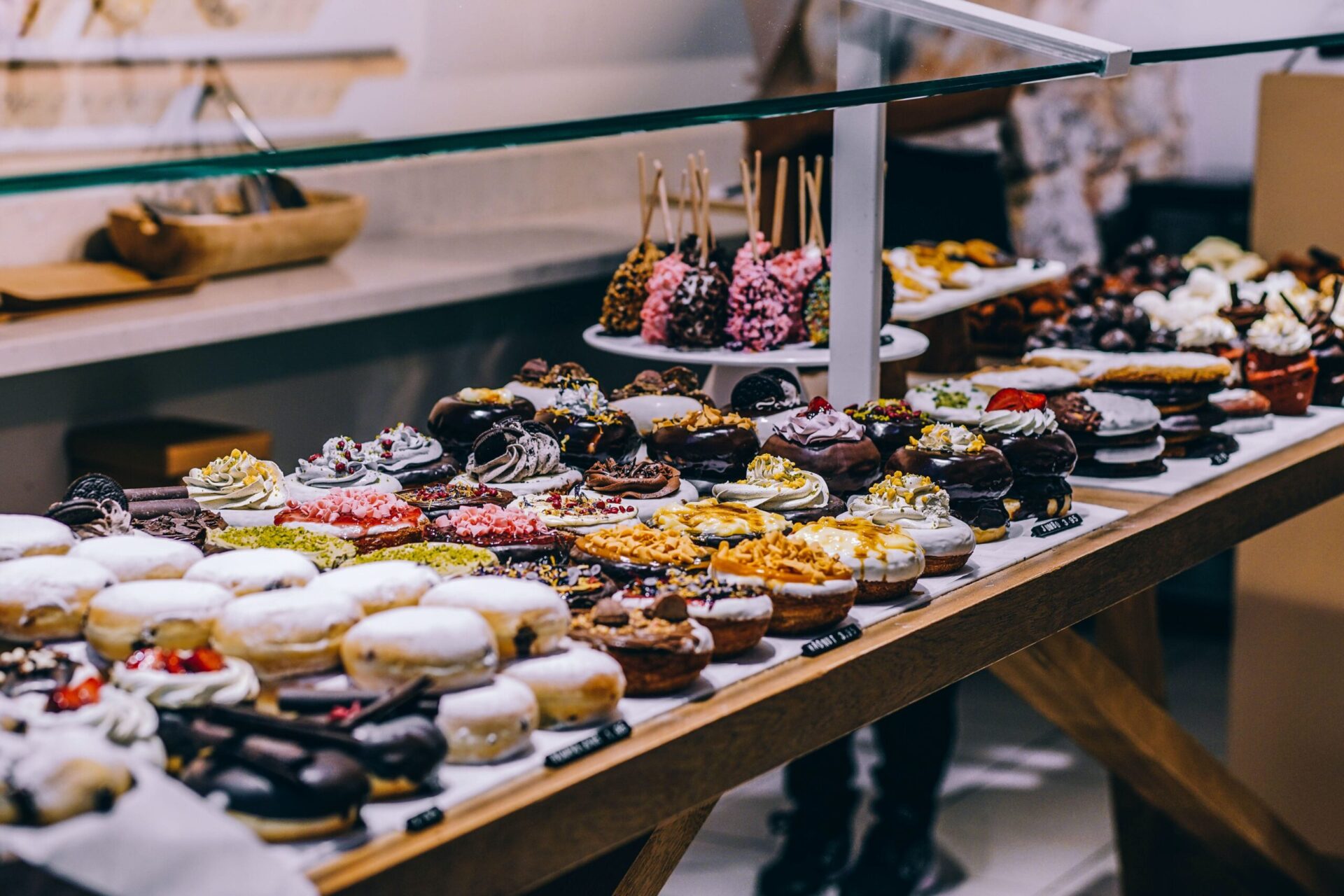 How much does it cost to open a bakery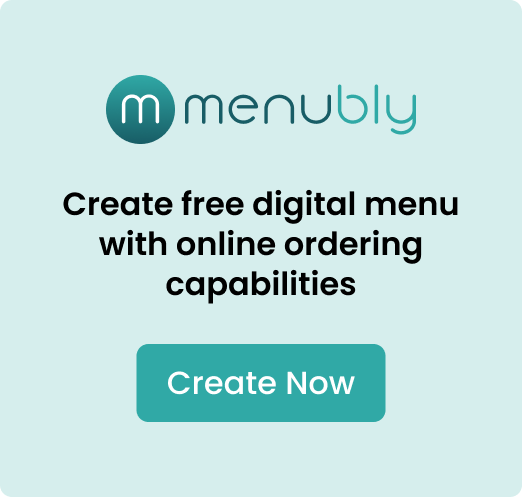 Menubly LLC 8 The Green Suite R, Dover, Delaware 19901
Privacy Policy
Terms of service
Cookie Policy
Coffee Shop Business Plan Template
Business Plan Outline
Coffee Shop Business Plan Home
1. Executive Summary
2. Company Overview
3. Industry Analysis
4. Customer Analysis
5. Competitive Analysis
6. Marketing Plan
7. Operations Plan
8. Management Team
9. Financial Plan
Coffee Shop Business Plan
Whether you are planning to start a new business or grow your existing coffee shop, you've come to the right place to create your coffee shop business plan.
We have helped over 100,000 entrepreneurs and business owners create business plans and many have used them to start or grow their coffee shops.
A coffee shop business plan is used to start and/or grow your business. Among other things, it outlines your business concept, identifies your target customers, presents your marketing plan and details your financial projections.
Coffee Shop Business Plan Sample
Below are links to each section of our coffee shop business plan example:
Next Section: Executive Summary >
Coffee Shop Business Plan FAQs
What is a coffee shop business plan.
A business plan for a coffee shop is a plan to start and/or grow your business. Among other things, it includes your company overview, allows you to conduct a market analysis to identify your target market, includes a sample menu, presents your marketing plan and pricing strategy to attract your local customer base, details your sales forecasts, and provides the income statement, balance sheet and cash flow statement for your coffee shop.
You can  easily complete your coffee shop business plan using our Business Plan Template for a Coffee Shop here .
What Are the Main Types of Coffee Shops?
The different types of coffee shops include cafes, coffee bars and coffeehouses that sell coffee drinks and other snacks. Some coffee shops offer lunch and dinner menus and are close to being full-service restaurants. There are also coffee shops that are more accessible for people on the go or those who want to make their own coffee. These are retail coffee shops, drive thru coffee shops, coffee carts and trucks, and roasters or retailers.
What Are the Main Sources of Revenue and Operating Expenses for a Coffee Shop?
The primary source of revenue for many coffee shops come from its food and drink sales, which includes brewed coffee, coffee beans, seasonal drinks and refreshments, and baked goods. Gift card and merchandise sales like tumblers, mugs, and coffee makers also contribute to a coffee shop's revenue stream.
The expected expenses for a coffee shop are the cost of coffee and food products, salaries and wages, rent, and advertising costs. 
How Much Does it Cost to Start a Coffee Shop?
Opening a coffee shop business can cost anywhere from $40,000 to $100,000 depending on the size and location of the business. Additional costs such as inventory, employee salaries, and marketing expenses can range from $5,000 to $15,000 per month.
How Do You Get Funding for Your Coffee Shop Business?
The best way to get funding for a coffee shop business is through a bank loan or utilizing your personal savings, business credit cards or borrowing from friends and family. You can also look into government grants or loans, or try to find a partner who is willing to invest in your business. Whatever route you choose, be sure to have a solid coffee shop business plan for potential investors including a sales and marketing plan as well as a realistic idea of how much money you need to get started.
How to Start a Coffee Shop?
Determine the type of coffee shop business you want to open . There are many different types of coffee shops, from small mom-and-pop shops to large chains.
Create a coffee shop business plan. This will outline your plans for starting and running your coffee shop. 
Secure funding . You will need money to start and run a coffee shop, so you'll need to find investors or borrow money from a bank or other lending institution.
Find a location for your coffee shop. This can be tricky, as you'll need to find a space that is affordable and has good foot traffic.
Equip your coffee shop . You'll need to buy or lease equipment such as espresso machines, coffee brewers, and furniture in addition to the coffee beans and other food products you plan to sell.
Hire staff . You'll need employees to run your coffee shop, so post job ads and interview potential candidates.
Learn more about how to start a successful coffee shop business:
How to Start a Coffee Shop Business
Where Can I Get a Coffee Shop Business Plan PDF?
You can download our free coffee shop business plan template PDF here . This is a sample coffee shop business plan template you can use in PDF format.

Customer Reviews
Net 30 Account
Wise Services
Steps & Timeline
Work at a Glance
Market Research at a Glance
Business Plan Writing Services
Bank Business Plan
Investor Business Plan
Franchise Business Plan
Cannabis Business Plan
Strategic Business Plan
Corporate Business Plan
Merge and Acquisition Business Plan (M&A)
Private Placement Memorandums (PPM)
Sample Business Plans
Professional Feasibility Study
PowerPoint Presentations
Pitch Deck Presentation Services
Business Plan Printing
Market Research
L-1 Business Plan
E-2 Business Plan
EB-5 Business Plan
EB-5 Regional Centers
Immigration Attorneys
Nonprofit Business Plan
Exit Business Planning
Business Planning
Business Formation
Business License
Business Website
Business Branding
Business Bank Account
Digital Marketing
Business Funding Resources
Small Business Loans
Venture Capital
Net 30 Apply

Frequently Asked Questions
Business Credit Cards
Talk to Us 1-800-496-1056
Coffee Shop Business Plan Sample
Fill the Form to Download Coffee Shop Business Plan Example
The coffee shop business plan is an essential tool for coffee shop owners and those who want to open a coffee shop.
A coffee shop business plan will give you an idea of how much a coffee shop will cost, how those costs will be funded, and how much money you expect to make from it. 
When it's ready, you can show it to investors, banks, partners, and anyone else who can help you open a cafe. Getting this document right is worth your time and effort, so make sure you do it right.
After helping entrepreneurs in the USA launch more than 400 independent coffee shops , we know that a business plan is vital for success.
We are here to help you write a coffee shop business plan.
Here's a business plan sample pdf and a template that will give you some inspiration for what should be included in your coffee shop business plan.
1. Business Plan Title Page
3. market overview, 4. competitive analysis, 5. swot analysis, 6. marketing plan, 7. funding request, 8. management summary, 9. financial highlights, coffee shop business plan powerpoint presentation, download coffee shop business plan example pdf.
Coffee Shop Business Plan Template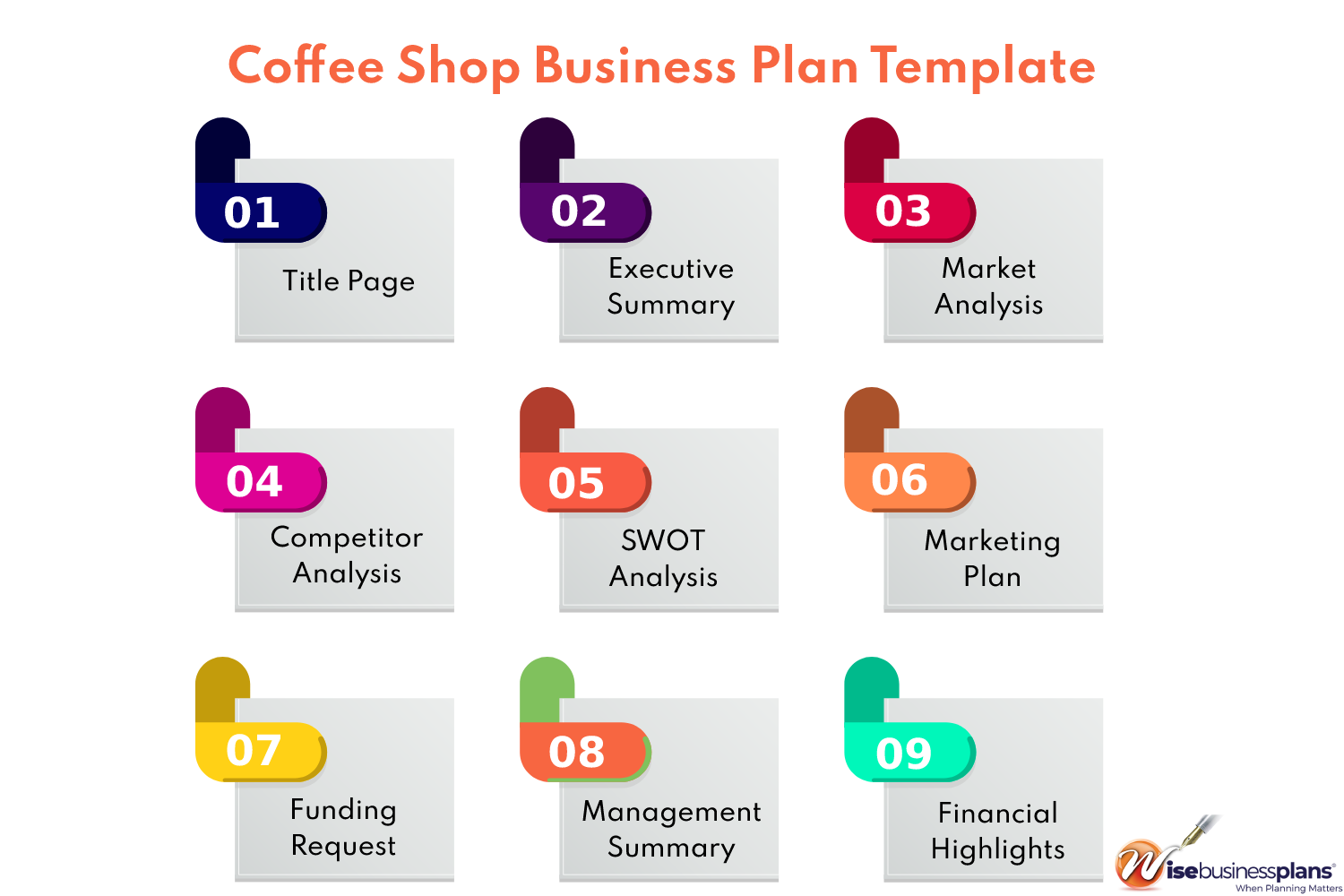 A coffee shop business plan template should include the following sections. Let's look at a coffee shop business plan template and discuss what each section should include.
1. Business Plan Title Page 2. Executive Summary 3. Market Overview 4. Competitive Analysis 5. Swot Analysis 6. Marketing Plan 7. Funding Request 8. Management Summary 9. Financial Highlights
Start with the legal name of your business. Provide the address of a likely location or website if you already have one. Include your company logo at the top or bottom of the title page. On the title page, there should also be a table of contents listing each section and its page number.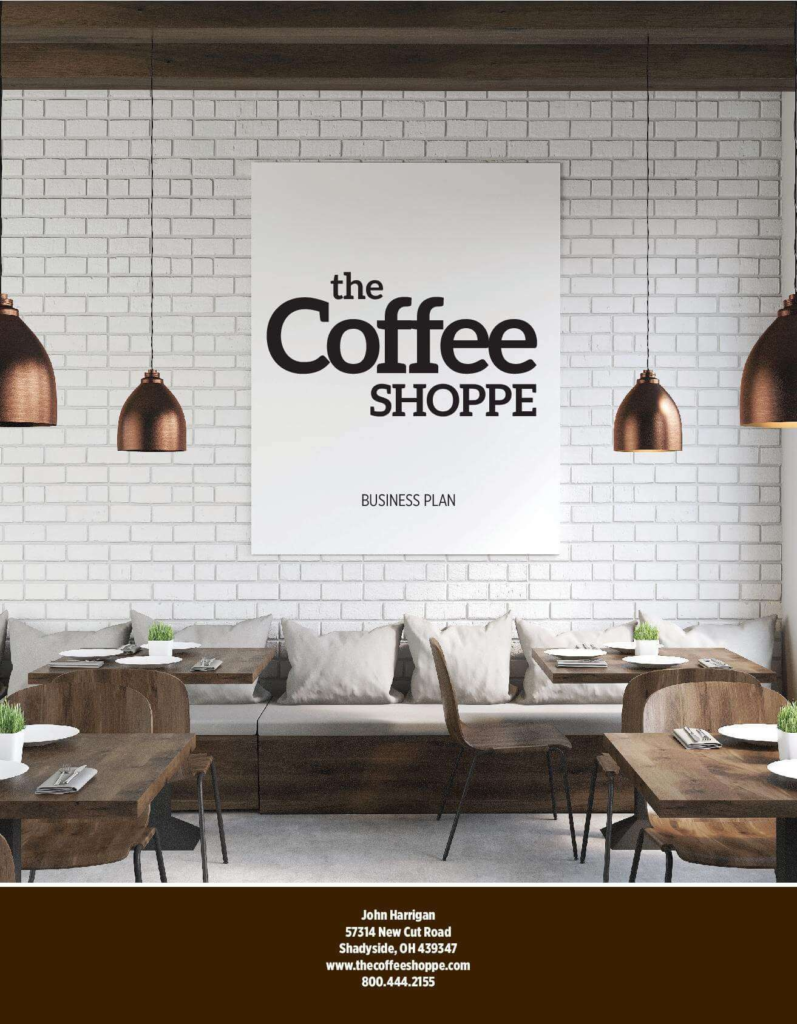 What makes a great cover page for a business plan?
Visit our page on business plan cover page examples to download our free business plan cover page templates and create a beautiful cover page yourself.
2. Executive Summary
The Coffee Shoppe will be a business service provider based in Miami, Florida. Founded by Mrs. Nancy Harrigan.  The Coffee Shoppe will offer a menu of services which include coffee, lattes, capacinos, expressos, deli sandwiches and baked goods.
While these services will comprise the initial market entry core, long-term plans call for the integration of storage and relocation capabilities to the business mix.
The local area has been in dire need of a service of this type for some time and The Coffee Shoppe plans to adequately serve them through the consistent delivery of real-time hospitality. 
The market is definitely filled with opportunities but in order to capitalize on them, a strong infusion of working capital must be acquiesced. 
The founder projects needing 100K for their business venture with repayment being made out of the profits that are driven annually. Funding that is secured will be used in a variety of areas including marketing, logistics, management, site procurement as well as the day to day operations of the organization.
The marketing for The Coffee Shoppe will be done through a variety of mediums including the Internet, mass media, print and networking. Internet efforts will center on the creation of a user-friendly website that clearly list all of the core services that will be offered. 
To read the full executive summary, click here to download the PDF
Read more: Executive summary examples
Financial Highlights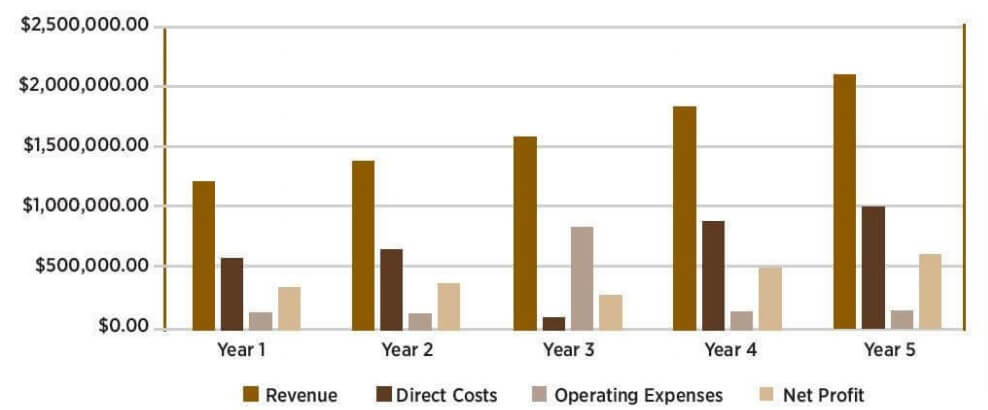 The Company is entering the market at a time when the industry in which it operates is experiencing substantial growth. According to market research firm IBIS World, the Coffee & Snack Shops Industry has seen an average annual growth rate of 5.8% over the last five years, positioning industry revenue to be around $47.7 billion in
2018. The Coffee & Snack Shops industry is projected to see an average annual growth rate of 1.4% over the next five years, placing industry revenue at $51 billion in 2022.
Market Analysis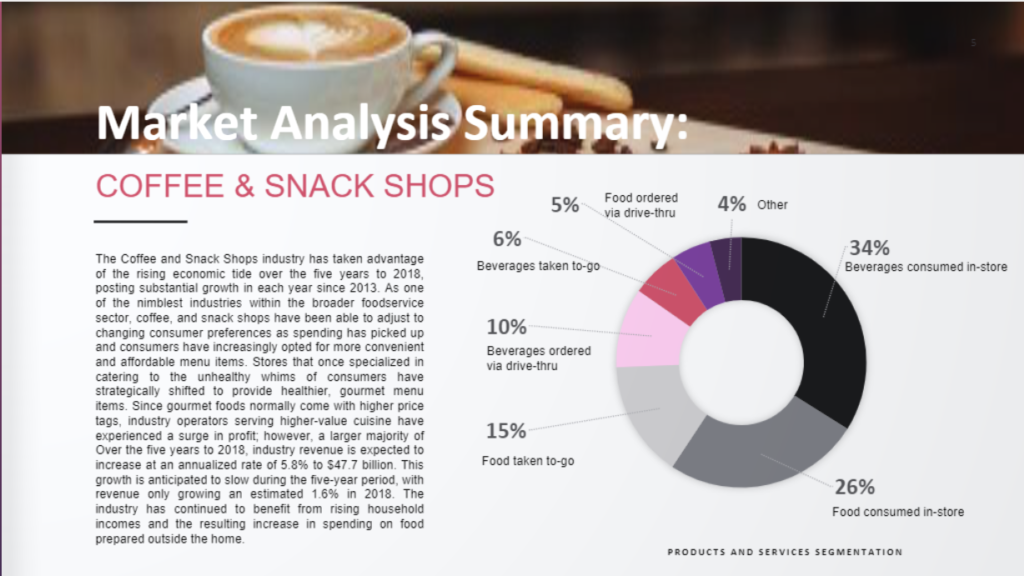 Target Market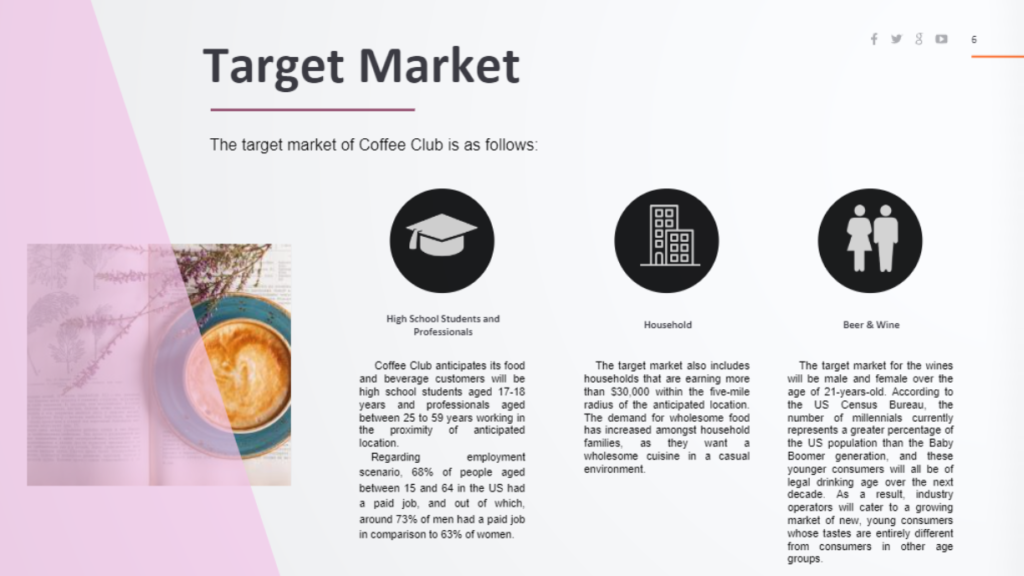 The following is a listing of the primary competitive advantages of the Companv upon entering the market
Congenial customer service
A central location wit greater foot traffic Parking facility available for customers
Soothing ambiance for calm eating
Excellent visibility from the road
Aggressive marketing campaian
Understanding visitors food choices and integrating the same in the menu
Inviting feedback from customers
Key understanding of trends and flavor
The company will hire experienced management and staff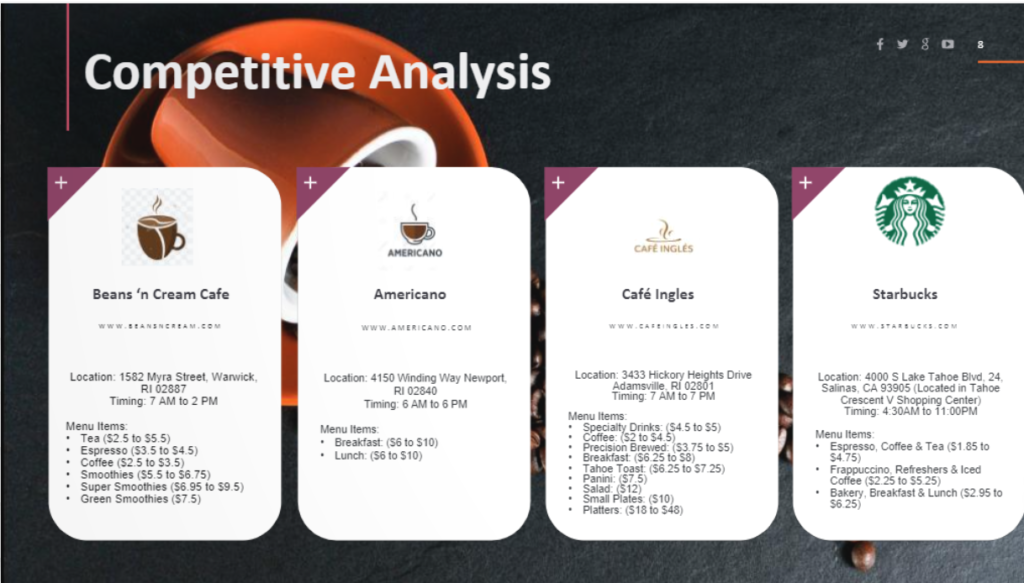 The following is an analysis of the  SWOT analysis of the coffee shop business as well as the opportunities and threats present in the market.
Location. The location is one of the primary strengths of the The Coffee Shoppe business model as there are currently no other organizations that have the capabilities to offer the types of services that will be introduced to the market.
The founder. Founder Nancy Harrigan is a seasoned, strategic business professional with an eye towards success, profit and achievement. These qualities will form the basis of the The Coffee Shoppe brand and be a catalyst that propels the success of the operation.
Servicing of a need. The services that will be brought to the local residents of Miami are one that is truly needed. The fact that The Coffee Shoppe will be satisfying this need will endear the organization to the customer base and allow for consistently strong growth.
Lack of funding. Funding is the sole weakness of the The Coffee Shoppe business venture. While funding is a weakness it should be noted that the founder is confident that if adequate funding is secured, she will be able to develop a viable business.
Opportunities
Limited competition. The limited amount of local competition is the primary opportunity for The Coffee Shoppe as it will give the organization the opportunity to develop a loyal customer base while erecting barriers to entry.
Small business growth. The projected growth of small businesses will provide another opportunity and will feed opportunities directly into the The Coffee Shoppe pipeline.
Larger organizations. Larger organizations could possibly realize the opportunities that can be found in the local region and begin entering the market. While this is a threat, the founder believes that with strategic marketing, community efforts and customer service, this threat can for the most part be mitigated.
Free: Business Plan Examples
Do you need help creating a business plan? Check out these six free, proven business plan examples from different industries to help you write your own.
Marketing for The Coffee Shoppe will be done through a variety of mediums with television, print and the Internet being the primary drivers. The website will have SEO capabilities and will be developed using all of the latest in web and graphics technologies.
In addition to the home website, plans also call for the creation of a strong social media presence using Facebook.com and Twitter.com with regular updates occurring on each of the aforementioned pages.
Commercial time has already been purchased through ABC and commercial production will begin immediately following funding acquisition. Print marketing will consist of advertisements being placed in publications that are typically read by members of the targeted audience including small business owners and corporate types.
Networking will round out the The Coffee Shoppe marketing mix with the founder joining various networking groups that give her the ability to champion the brand that she has created.
Read more: how to do market research research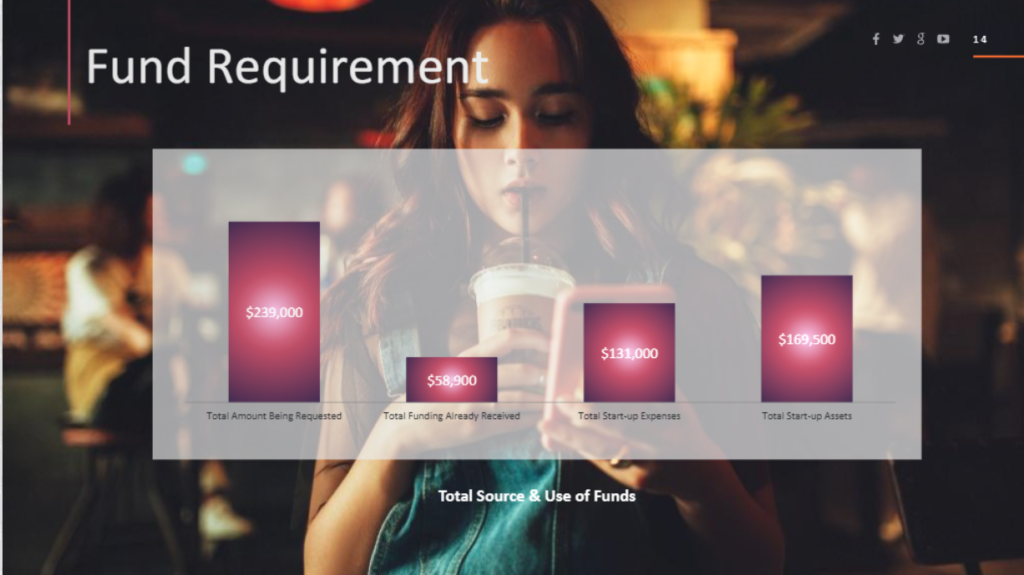 Read more: ways to find investors for your business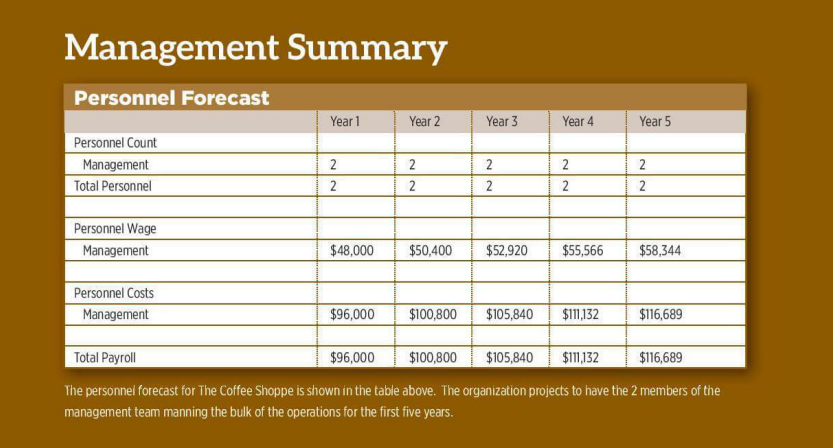 Financial Indicators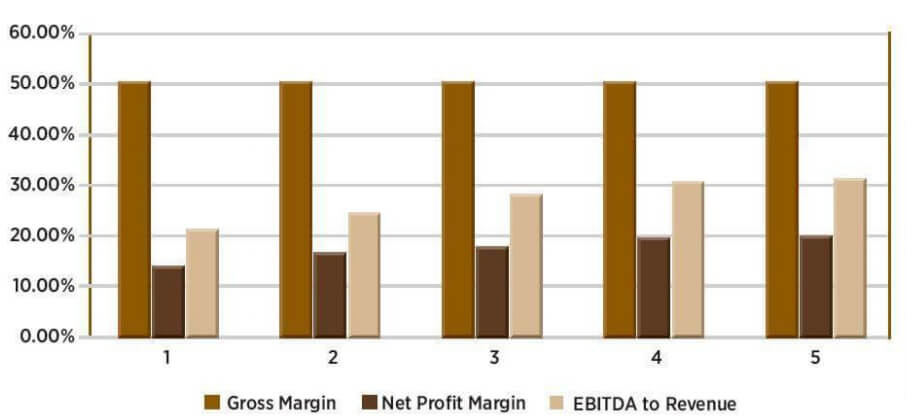 To learn more about financial indicators, click here to download the pdf
Break even analysis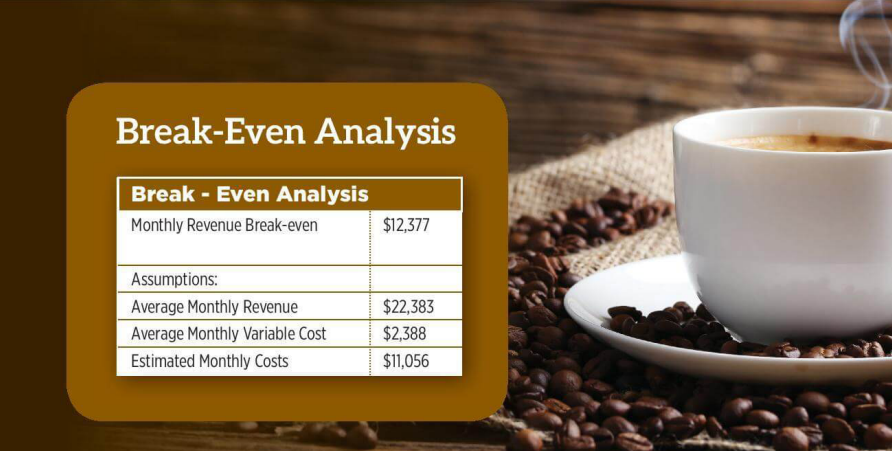 Profit and Loss Statement

Projected Cash Flow

Projected Balance Sheet

Coffee Shop Business Plan Sample. FAQs:
Starting a coffee shop can vary greatly depending on location, size, and concept. On average, the initial investment can range from $80,000 to $300,000. This includes lease deposits, equipment purchases, inventory, permits, and marketing expenses.
The specific permits and licenses needed will vary based on your location and local regulations. Common requirements include health department approvals, business permits, food service licenses, and zoning permits. It's crucial to research and comply with all necessary legal requirements.
A successful marketing strategy is essential for attracting customers. Utilize social media platforms, collaborate with influencers, and host events to create buzz around your coffee shop. Offering unique beverages, outstanding customer service, and a welcoming ambiance will keep customers coming back.
While it's not mandatory, offering organic or fair trade coffee can attract environmentally conscious consumers. It also reflects your commitment to sustainable and ethical practices, which can build a loyal customer base.
Track key performance indicators (KPIs) such as sales revenue, customer retention rates, average ticket size, and social media engagement. Analyzing these metrics will help you gauge the success of your coffee shop and identify areas for improvement.
Implementing a loyalty program, offering personalized perks, and providing excellent customer service are effective ways to retain customers. Engage with your audience on social media, respond to feedback, and continuously improve your offerings based on customer preferences.
Our free real sample business plans will show you how to write a plan that looks as polished and professional as this one.
Click to view the coffee shop business plan sample. Our experienced business plan writers professionally write each business plan and work with you to develop a winning plan.
We will show you some real-world business plan examples so you may know how to write your own, especially if you are seeking a bank loan or an outside investment and need to use SBA-approved formatting.
Quick Links

Investor Business Plans
M&A Business Plan
Private Placement
Feasibility Study
Hire a Business Plan Writer
Business Valuation Calculator
Business Plan Examples
Real Estate Business Plan
Business Plan Template
Business Plan Pricing Guide
Business Plan Makeover
SBA Loans, Bank Funding & Business Credit
Finding & Qualifying for Business Grants
Leadership for the New Manager
Content Marketing for Beginners
All About Crowdfunding
A Comprehensive Guide to Venture Capitalists
EB-5 Regional Centers, A Step-By-Step Guide
Logo Designer
Landing Page
PPC Advertising

Business Entity
Business Licensing
Virtual Assistant
Business Phone
Business Address
E-1 Visa Business Plan
EB1-A Visa Business Plan
EB1-C Visa Business Plan
EB2-NIW Business Plan
H1B Visa Business Plan
O1 Visa Business Plan
Business Brokers
Merger & Acquisition Advisors
Franchisors
Proud Sponsor of




Academia.edu no longer supports Internet Explorer.
To browse Academia.edu and the wider internet faster and more securely, please take a few seconds to upgrade your browser .
Enter the email address you signed up with and we'll email you a reset link.
Business Plan: ELEGANT coffee shop
by Foysal Hossen
Access 47 million research papers for free
Keep up-to-date with the latest research
Share your research and grow your audience
We're Hiring!
Help Center
Find new research papers in:
Health Sciences
Earth Sciences
Cognitive Science
Mathematics
Computer Science
Academia ©2023
Free Related PDFs
Jonathan Morris
This article outlines the history of the origins of espresso coffee in Italy, its incorporation into Italian mass culture during the years of the economic boom, and the transfer of 'Italian style coffee' into overseas markets during the 1950s and 1960s. The second part of the chapter outlines the adaptation and valorisation of 'Italian-style coffee' as part of the Speciality Coffee movement in the United States in the 1970s and 80s, the development of the coffee shop chain format, and the transfer of this back into Europe, notably via the UK, with the ambiguities over authenticity and nationality that this generated. The article concludes with a consideration of the impact of these developments on the Italian coffee industry.
Lok Yee CHOW
Tyrone Brackens