How to Develop a Work Project Plan
Developing a work plan helps to articulate the steps required for achieving a goal. These plans help simplify the process when things get too complicated. Many companies use work project plans, and these guidelines explain how to create them.
A project plan is a document that represents and specifies the goals, objectives and tactics of a program or project, as well as its tasks, leading activities, timing, sequencing and who will be responsible for everything. It sets demonstrable objectives with measurable objectives that are possible to be transformed into concrete actions. When team collaboration is effective, a work plan project document can act as a tool for guidance to help companies realize outcomes. Many companies use project plan templates to help them develop their work project plans from beginning to end.
Create an Outline
The work project plan should consist of an outline that's broken down into goals, strategies, objectives and tactics. In this way, you'll be able to better determine the overall outcome for success. Your goal should state the mission of your project. When outlining your strategies, you should focus on your goals and what you need to achieve them. Your objectives tie into your strategies in the form of deliverables. For example, if you want to make your business more profitable, an objective could be reducing marketing costs, and the strategy for that could be achieving a reduction of 25 percent per acquisition. The tactics you add to your outline are the checklists you're using to achieve your goals, strategies and objectives.
Define Your Goals
Create a clear and concise definition of your goals so that you can develop your work plan project around specific goals. Defining your goals as narrowly as possible will help you develop an understanding of your overall needs. In doing so, you'll ensure that deadlines will met, the project will stay on track, there will be enough resources available and the task will be completed. You'll see more success if you keep your work project plan organized, plan it around your team and make sure it's not designed solely around the project's process.
Measure Your Team's Progress
When you're working on developing a work project plan, you need to remember to measure your team's progress. You'll be responsible for looking at the work they've accomplished, as well as what they still need to do to reach their goals. However, it is important to note that looking at too much information will muddle the results. So don't focus too much on the results. Instead, focus on the project itself.
Planning Activities and Resource Management
Utilize planning worksheets to develop step-by-step activities and tasks for your team to follow throughout the project. Use an outline or template to create these worksheets, like a health and safety plan template or a campaign plan template. Assign specific activities to team members to help meet the objectives of your work project plan. Also look at how you're managing your resources. For example, if you're working on a project that calls for 25 people and your team currently consists of 15, you'll need to recruit temporary workers (perhaps using a recruitment plan template) or be strategic with how the work is assigned to each member of your team.
Privacy Policy
Terms of Service
© 2023 Ask Media Group, LLC
Online Students
For All Online Programs
International Students
On Campus, need or have Visa
Campus Students
For All Campus Programs
How to Create a Personal Growth and Professional Development Plan

What sets you apart from your peers?
Can you speak a second language? In a room full of professionals in your field, how many are great at public speaking or understand how to work across word processing platforms? Are you naturally great at reading people, but your ability to build workplace relationships needs improvement?
Personal and professional development are distinct avenues of self-improvement, but the two go hand in hand. For example, suppose you're interested in creating a personal or professional development plan or working toward personal growth. In that case, you're likely to experience a pleasant side-effect of learning new skills or strengthening abilities you already have, that is, achieving your personal goals for work.
How to Create a Personal Development Plan
Dr. Shanita Williams , associate vice president of people experience at Southern New Hampshire University (SNHU), also an author and a TEDx speaker , said she uses a specific approach to guide her thinking when creating a personal development plan. She recommends these 5 steps to help you make your own personal development plan:
Step 1: Define Results and Motivation
Considered by Williams to be the first and most crucial step, a vision for your personal development plan starts at the finish. "Start with the end in mind," Williams said. Ask yourself what goals you wish to achieve and consider where you want to start.
In setting your personal growth goals, Williams said, knowing why you want to improve yourself is essential for your motivation to maintain your success. "Take some time to think about what you want to achieve, and you'll truly set yourself up for success," she said.
Step 2: Determine Required Skills
The next question you need to ask yourself once you understand your goal is: "what skills do you need to achieve this outcome?"
"You may have several skills that are needed to achieve the results you desire. Do not become overwhelmed," Williams said. "List them all so you can explore all possible avenues for development."
Ask supervisors, peers or a personal development coach for help identifying the skills you'll need to work on or add to your toolbox.
Step 3: Perform a Skills Self-assessment
Some skills come naturally, and others take a lot of work to become proficient. Williams suggests you self-assess the skills needed to achieve your personal growth goals. Which skills do you already possess, and which ones will take some time to learn?
Don't be afraid to ask for an outside perspective from supervisors or friends when considering which of your skills could use some development. Consider the skills you already have and how you perform under stressful conditions.
For example, you know you can give a presentation to peers and supervisors in a meeting room, but do you know how you would perform giving that same presentation to a crowded auditorium? You can build upon skills you already have to be even more capable.
Step 4: Isolate One Skill
Pick one relevant skill to help you discover the area you will focus on first. This one skill should be something you can work on that will help you get closer to your goal.
"This (skill) might be obvious," Williams said, "and in some cases, it might be challenging (to identify)." However, identifying and working on these skills one by one can make the personal development process less overwhelming and help you reach objectives faster.
Step 5: Develop an Action Plan
For your personal development plan, Williams said it's "important to determine what success looks like and put a plan in place." Williams uses an objective-setting method referred to as " SMART goals ."
This method helps you make your goals Specific, Measurable, Attainable, Relevant and Time-bound . Know what you want to achieve. Don't try to do too much too fast. Celebrate your successes. Make deadlines you can meet and stick to them.
Examples of Professional Development
You know you want to make yourself an asset, but where do you begin? Consider these options for professional development.
1. Formal Development
Participating in workshops led by instructors knowledgeable in your field can advance your understanding of new concepts and adds to your skills. In addition, you can take advantage of online media, like Khan Academy's Hour of Code , to sharpen your professional skills or advance your knowledge of areas in which you have limited experience.
2. Social Development
You can join an industry association, such as the Small Business Association ( SBA ) or the American Nurses Association ( ANA ), to connect with others in your field and gain support. Additionally, being a member of professional associations and attending conferences focused on your field can help you network.
Another way you can add to your social development is by finding a mentor who does what you want to do and is willing to help guide you on your path toward professional development. Learning from those whose success you want to emulate can make you better at what you want to do.
3. Experiential Development
Challenge yourself with skills-based practice. Link up with project teams that allow you to test your skills and push yourself further. Putting your skills to the test in real-world scenarios will help you understand what works and doesn't — and what you still need to improve.
Which avenue of professional development is right for you? "I have found that your learning style will influence how you select your professional development," Williams said.
So, pursue professional development opportunities that match your learning style or use a mix of all three. Using a combination of methods works for Williams, who said doing so "helps to engage my head, heart and hands in my development."
Can Personal Growth Be Professional Development?
Different career fields suggest different approaches to using personal growth for professional development. "Some industries require a specific number of hours demonstrating the skills in the field, while others may only require a certain number of education credits for professional development," Williams said. "These requirements vary by industry and position, so it's important you speak with your supervisor or other professionals in the field, so you have a plan that will set you up for success."
Williams said she had witnessed personal growth leading to professional development many times in her career. She's seen personal growth goals, such as becoming a better communicator and mastering conflict management , lead to professional development.
"I have also seen professional development goals that have led to personal development as well," Williams said. "If you are truly developing, you notice things like (your) confidence improve in various areas of your life."
A degree can change your life. Find the SNHU degree program that can best help you meet your goals.
Ashley Wallis '16 is an Army veteran and writer with a BA in English Language and Literature from SNHU. Find her on Twitter @AshDWallis .
Explore more content like this article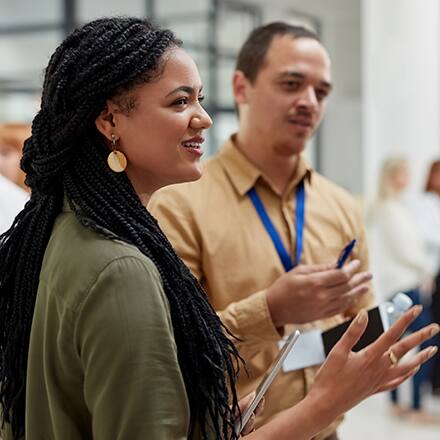 More Than Handshakes: What is Professional Networking?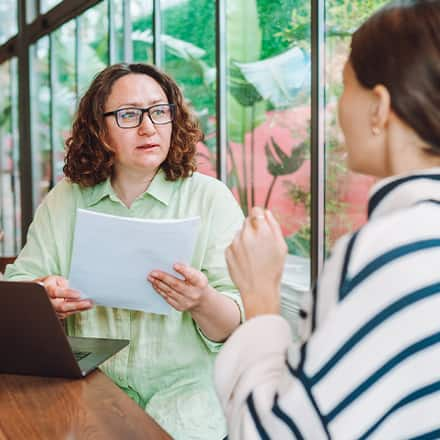 What is a CV?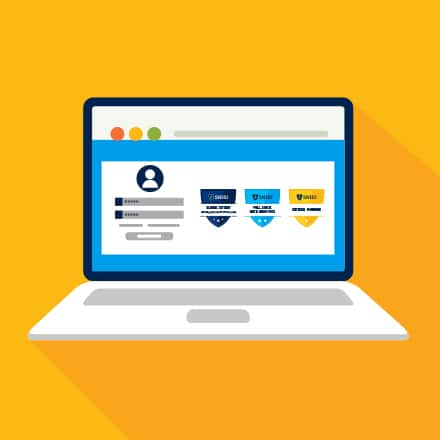 What is a Digital Badge?
About southern new hampshire university.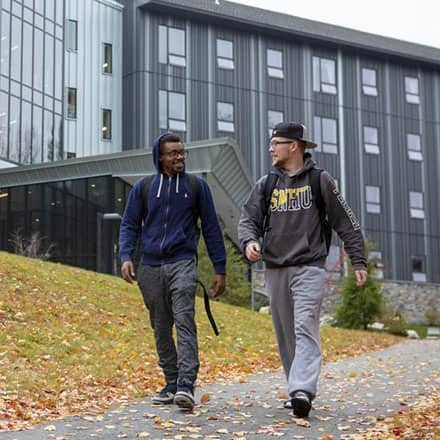 SNHU is a nonprofit, accredited university with a mission to make high-quality education more accessible and affordable for everyone.
Founded in 1932, and online since 1995, we've helped countless students reach their goals with flexible, career-focused programs . Our 300-acre campus in Manchester, NH is home to over 3,000 students, and we serve over 135,000 students online. Visit our about SNHU page to learn more about our mission, accreditations, leadership team, national recognitions and awards.
Our range of over 180 online courses are fully accredited, trusted by more than 2 million learners and ideal for training you and your team.
Food Hygiene
Health and Safety
Safeguarding
Asbestos Awareness
Fire Safety
Mental Health
Health and Social Care
Business Essentials
Team training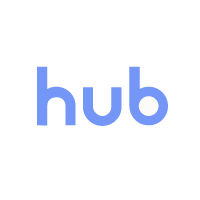 Welcome to the Hub, the company blog from High Speed Training.
Select a topic to find the most up to date, practical information and resources produced by our experts to support you in your professional life.
A Personal Development Plan (PDP) Guide & Template
What is a personal development plan.
Personal development is an ongoing process that drives you to improve your knowledge, skills and experience, so that you can achieve your goals. A personal development plan (or PDP) is a method of focussing your goals into achievable steps, which helps you keep track of your personal development.
Download Free PDP Example/Template
Why Should I Create a Personal Development Plan?
Your plan may be aimed at your education, career or personal goal, or a mixture of all three – that is up to you to determine. Whatever the case may be, a good plan will provide you with a clear sense of focus. It helps you map out a path towards your goals, strategise a plan to achieve them, record the actionable steps you will take, and set a timeframe for completing them. Focussing your goals into a PDP helps you maintain your vision, keep on track to achieve your targets, and reflect on your progress.
Simply put, a PDP can help you build a clear understanding of what you want to achieve and how you are going to achieve it.
Interested in Learning More?
Let us help with your personal development goals this year. Choose from a wide range of business essentials courses , whether it be Leadership and Management , Starting a Business , or Coaching and Mentoring . You could have your CPD recognised certificate in a matter of hours!
A clear plan can also support your positive mental wellbeing and improve your level of satisfaction. It can provide a sense of direction, purposefulness and a feeling of success as you start to fulfil your potential. All of these can have very positive impacts on your mental health.
Therefore, discovering what your goals are, getting organised and giving yourself a sense of direction can be incredibly beneficial. This article will give you an understanding of how to write a personal development plan, as well as provide you with a handy template to support your development journey.
How to Write a Personal Development Plan
There are seven steps to writing a PDP:
Set yourself goals.
Prioritise those goals.
Set yourself deadlines for when you want to achieve them.
Recognise threats and opportunities.
Develop your skills or increase your knowledge.
Use your support network.
Measure your progress.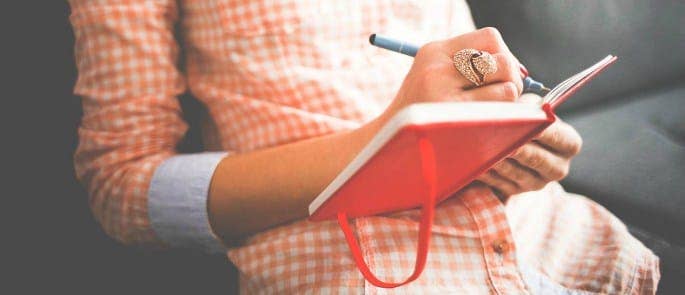 1. Set Yourself Goals
The first step is to set yourself goals . Think about what you want to achieve, whether that's within a few weeks, within a year, or over your lifetime.
Deciding what you want is not only the first step in planning, it's also the hardest. Once you've figured out what you want to do, that goal will provide clear direction and a structure for your resulting plan.
At this stage, your goals will feel big. You might be wondering how you are ever going to achieve them. Don't worry – the next step is to prioritise and turn those goals into smaller, actionable steps that will support you on your way to achieving them.
2. Prioritising Your Goals
Now that you have your goals, the next stage is to break them down into smaller steps. When doing this, it's important that your goals are SMART:
Specific. Avoid large, ambiguous steps. These won't support you on your way to achieving your goals. Insted, make sure that your goals are specific and clearly highlight the skill, knowledge or experience you want to develop.
Measureable. You need to be able to monitor and reflect on your progress. Therefore, your goals need to be measurable, such as by setting a goal to develop your SEO knowledge with a measurable target of growing your website traffic by a set, defined percentage.
Attainable. Your goals need to be achievable and realistic. You need to think about if it is something you can realistically achieve with the time and resources you have. If not, you will likely be setting yourself up for failure.
Relevant. It's important to keep your overall goal in mind and make sure that every step you take is supporting you to achieve it. You don't want to be spending time doing things that don't get you where you want to go.
Time-bound. Set yourself key targets to achieve and deadlines in which to achieve them. This will help you stay focussed on achieving your goals. However, it's important to make sure you are realistic in what you can achieve in any given period. Don't try to achieve everything all at once. It's unrealistic and you won't be setting yourself up well to achieve them. Remember that personal development is a journey – your PD plan can continue to grow and develop as you take those steps towards your goals.
Once you have your goals, you'll need to prioritise them.
In your PDP, you should be setting yourself mini goals to make the big ones happen.
For example, if you wish to pursue a career in academia as a senior lecturer and then a professor, a necessary step to succeeding in this goal is to achieve a PhD. So that would be one of your long-term goals. You then need to break it down into steps, such as:
Learn about the PhD application process.
Find a suitable university and supervisor for a PhD.
Look at routes for funding.
Find studentships to apply for or apply to your university of choice.
Write and submit your PhD application.
3. Set Yourself Deadlines
Knowing when you want to achieve a goal is crucial, and picturing your future is an important source of motivation and inspiration.
Having goals and a set deadline will drive your motivation to achieve them. For example, if your goal is to buy a home, knowing when you want to achieve it will help you calculate exactly how much money you need to save each year in order to get your deposit. The same is true for your skills, knowledge and experience development. As mentioned above, setting realistic and time-bound goals are essential to achieving them.
One good way to understand more about achieving your goals is to speak to those who have previously trodden a similar path. Learning about their experiences can help you understand key barriers to, or methods of, success that may also be applicable to your PDP.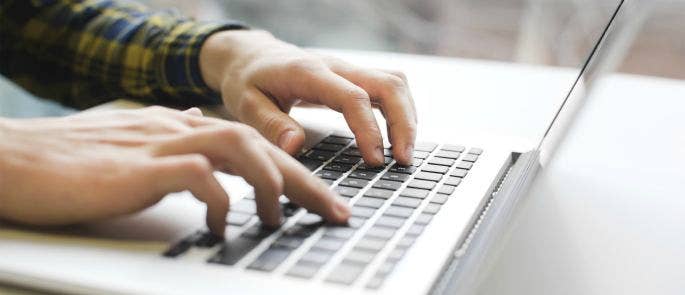 4. Recognise Threats and Opportunities
When considering your goals, you should identify your own strengths, consider areas of weakness you can develop, look at the opportunities available to support you in achieving your goals, and any threats that may hinder you in your progress. This is called a SWOT analysis. Note that these threats may be external or they may be core skills that you can develop as part of your PDP.
For example, a lack of motivation could hinder your plans to apply for a PhD. However, once you've identified your tendency to procrastinate or lose focus, you can put in place methods that will keep you motivated.
There are also going to be things that you could do, and connections with people or resources you could take advantage of, that will help you on your way. These are your opportunities that you should commit to doing.
For example, if there's a conference coming up, take advantage of that. Go along and network, stay up to date on the latest knowledge, or even present a paper. These are all opportunities that could help you achieve your goals.
5. Develop Yourself
Once you have an idea of what could help or hinder you, this is when you can capitalise on those opportunities you recognised. Make an action plan about how you'll make that progress.
Whatever it is that hinders you, there's a way to stop it. Your plan is the first step to making sure you stay on track.
So, why not take a look at how to upskill yourself , develop transferable skills in today's rapidly changing jobs market, or even discover an online learning opportunity .
6. Use Your Support Network
The next thing you need to realise is that:
You don't have to do everything by yourself.
And you shouldn't. The support network around you is a valuable asset, so use it and don't underestimate it.
In your PDP, list the people who can help you. This could be a financial advisor, a friend, or a colleague. People are often so happy to help you, more than you might realise.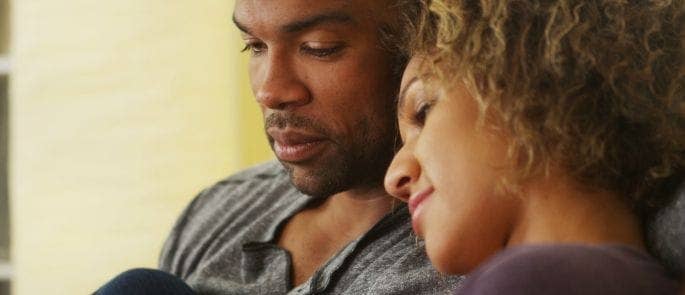 7. Measure Progress
After you've achieved some progress, whether it's big or small, take time to reflect on how far you've come.
Recognising what has gone well is an effective way to bolster your motivation and remain dedicated.
And after a setback, this is another time to take stock.
Wallowing – briefly – is a good way to feel what you need to without holding on to it. Holding onto sadness, anger or frustration, however, will only deter you. These emotions will take you nowhere and will only hinder you.
You should also spend a little time figuring out why it went wrong. Can you identify a skills or knowledge gap?
If you can, then you can get yourself back on track by focussing on your next step. This will reignite your sense of purpose and help you regain control, which is integral to making progress.
Continue to reflect on your progress. You can gain significant insight from your reflections and this can help you grow. Remember that you should update your plan where necessary. Don't overload it at any one time but, once you have achieved your small steps, reflect and then update your plan to focus on your next move.
Free Personal Development Plan Example & Template
In this article, we have discussed how you can create your own personal development plan, so you should now feel ready to start considering your goals and developing your own plan. To help you produce an effective personal development plan, we have created an editable template that you can use. Take a look at our example PDP, and download your free template below:
Further Resources:
How to Upskill Yourself
What are Personal Development Goals for Work?
Using Key Phrases in Performance Reviews & Appraisals
Resilience Quiz
How to Stand Out in a Virtual Interview: Preparation Tips
What is CPD? A Guide to Continuing Professional Development
Business Essentials Courses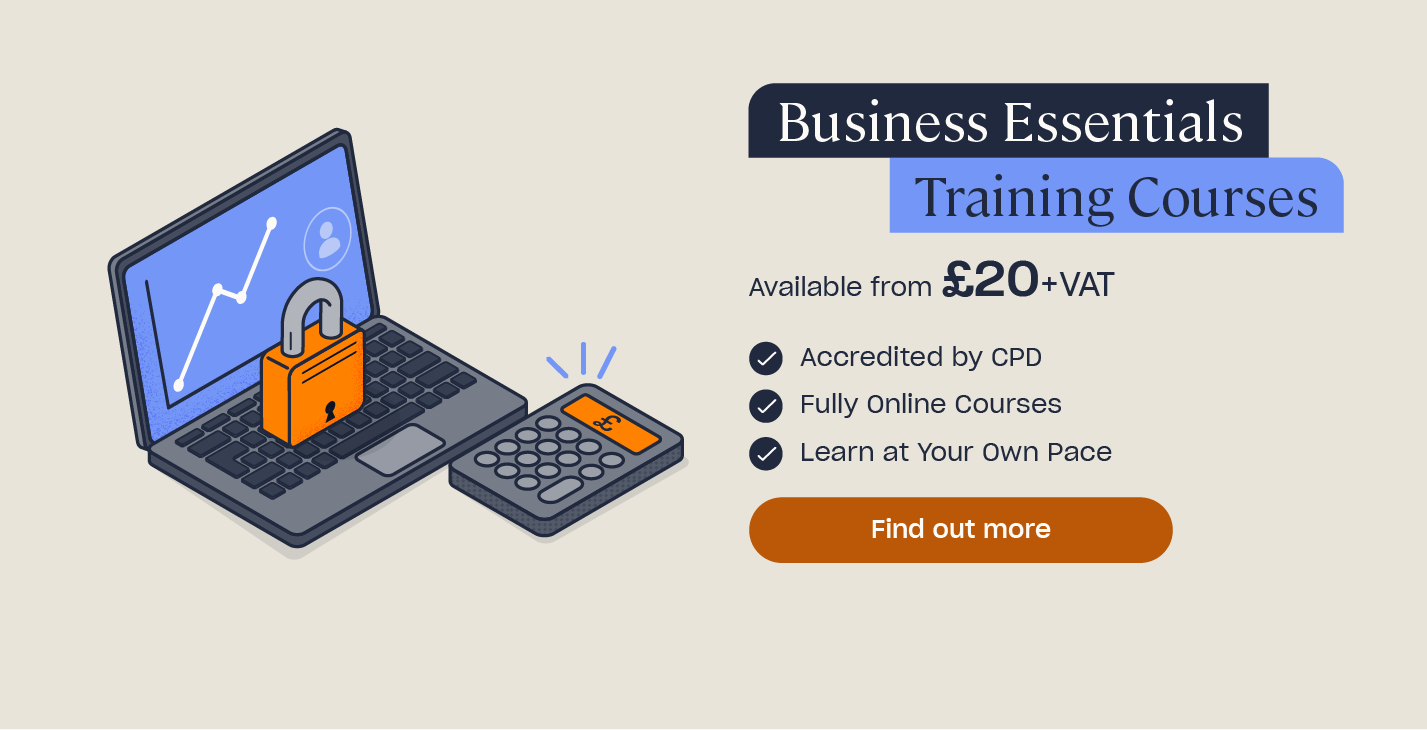 Post Author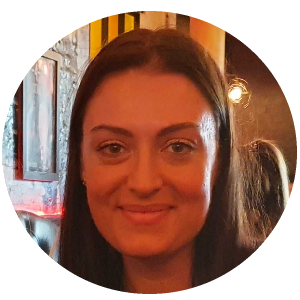 Her favourite article is Five Top Learning and Development Trends for 2020
You may also like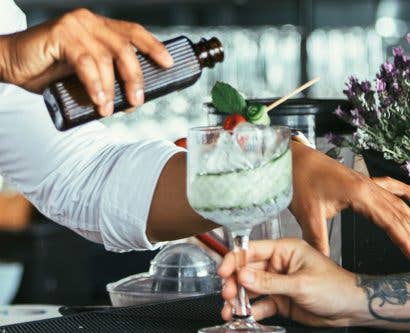 Scam alert banner
Beware there has recently been an increase in reported recruitment scams currently targeting jobseekers. These scams trick you into handing over your money by offering you a 'guaranteed' way to make fast money or a high-paying job for little effort. Click here for more details.
Personal Development Plan | Career Advice | Hays
Personal development plan | main region | ub.
Creating your personal development plan

What is a personal development plan?
Personal development plan vs professional development plan, personal development plan examples, goals for personal development , time management , digital literacy , communication, what are the benefits of a personal development plan, hayssearchentityform portlet, search for jobs.
Enter Keywords / Reference No.
AU Social Share
Career development rh menu promo block, career development.
8 things to set your career up for success next year
Career check-in guide
The new career path 8 tips for success at work
8 tips to ease new job nerves How to network online
How to ensure success in a newly created role
Quiet quitting more than just a trend
Mental health and wellbeing at work
How to ask for a pay rise
Starting a new job
How to manage burnout
Receiving a promotion
How to set career goals
Taking the job because it pays more
Stretch opportunities for your career
Time management tips
Adapting to change
Career progression guide
How to ask for a promotion
The importance of networking
How to write a career objective for your resume
Work-life balance
Refer a Friend | Promo Block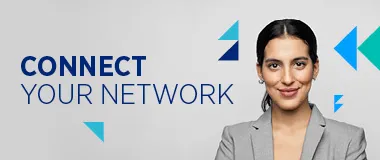 Refer a friend
Join the Hays referral program and we will reward you with a $200 e-gift card for every eligible friend you refer.
Join 150k+ leaders reading our Monthly PI Post.
How to create a personal development plan [example]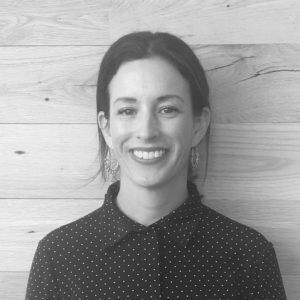 Creating a personal development plan can help you grow at work and beyond.
A personal development plan can help you gain control of your life. Whether you have big goals (publish a best seller) or small ones (read one book a month), the best way to hold yourself accountable is to write your goals down, set deadlines, and revisit the document often.
This post contains information and resources to help you create a personal development plan :
To start, I'd like to share my own personal development plan as an example.
This is my personal development plan.
Before I explain how to create a personal development plan, I'm going to let myself be vulnerable. I'm going to share my own real-life personal development plan. Here's why:
Leaders should be transparent : As a manager, how can I expect my employees to open up and be honest with me if I'm too afraid to open up and be honest with them?
Personal growth should be celebrated : Let's shed the stigma attached to the term "self-improvement." Whether you're trying to learn a fifth language or quit smoking cigarettes, setting goals and working to reach them is admirable.
Writing a personal development plan can be overwhelming : Maybe you went through a brainstorming exercise and came out with a mountain of goals. It can be hard to know which goals to prioritize—and how to format the document. Examples help.
Who should create a personal development plan? Everyone in the company, from the CEO down to the individual contributors. No matter who you are, you can always develop skills and knowledge; you can always become a better version of yourself.
For years, I struggled to find a personal development format I liked. Then a co-worker shared hers with me, and I've been using her template ever since. I hope you'll like it as much as I do.
Without further ado, here's my personal development plan :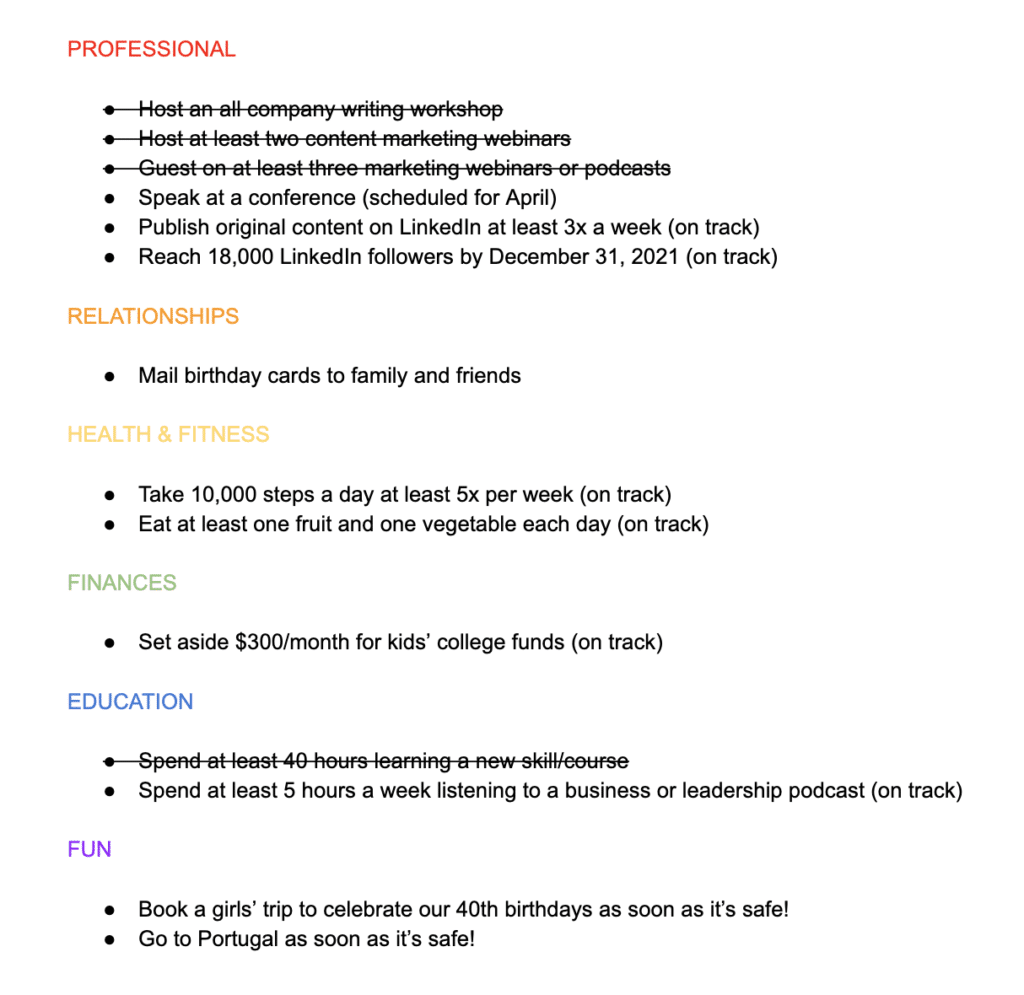 I love this format because of its simplicity. As an added bonus, the fun rainbow colors make me smile every time I look at it. And that positive feeling fuels my growth mindset—it pushes me to stretch beyond my comfort level to become better.
How to create a personal development plan
Here are four best practices for creating a personal development plan—and ensuring its efficacy:
1. Think categorically.
This personal development plan template works because it takes the guesswork out of goal setting. It pushes you to think categorically about which short-term and long-term goals you'd like to focus on. Many employees think their boss wants them to prioritize professional growth, but that's just one piece of the personal growth puzzle.
This template spotlights six personal development categories that span Maslow's Hierarchy of Needs . You can modify these to fit your own unique needs. For example, you might add spirituality, volunteering, or mental health.
It can be helpful to run through a brainstorming session using a comprehensive personal development template . Then, with lots of great ideas in front of you, use the simpler template to organize a few goals you want to prioritize.
Join 10,000 companies solving the most complex people problems with PI.
Hire the right people, inspire their best work, design dream teams, and sustain engagement for the long haul.
Request a Demo
See how PI's Talent Optimization Platform can help your company hire with certainty, inspire your teams, and sustain lasting employee engagement.
I would like to receive marketing emails from The Predictive Index. By submitting my information, I agree to be subject to PI's Terms of Use and Privacy Policy .
By submitting your information, you agree to be subject to our Terms of Use and Privacy Policy .
2. Create S.M.A.R.T. goals.
If you think S.M.A.R.T. , you'll be better positioned to achieve your goals. The acronym stands for simple, measurable, attainable, relevant, and time-bound.
Instead of "Make more money," shift the focus to how you'll get there—with concrete deadlines:
Earn my x certification (by August)
Lead a cross-functional project (by December)
Mentor a junior employee (1x per month through the end of the year)
Setting small, attainable goals—and achieving them—actually helps build confidence .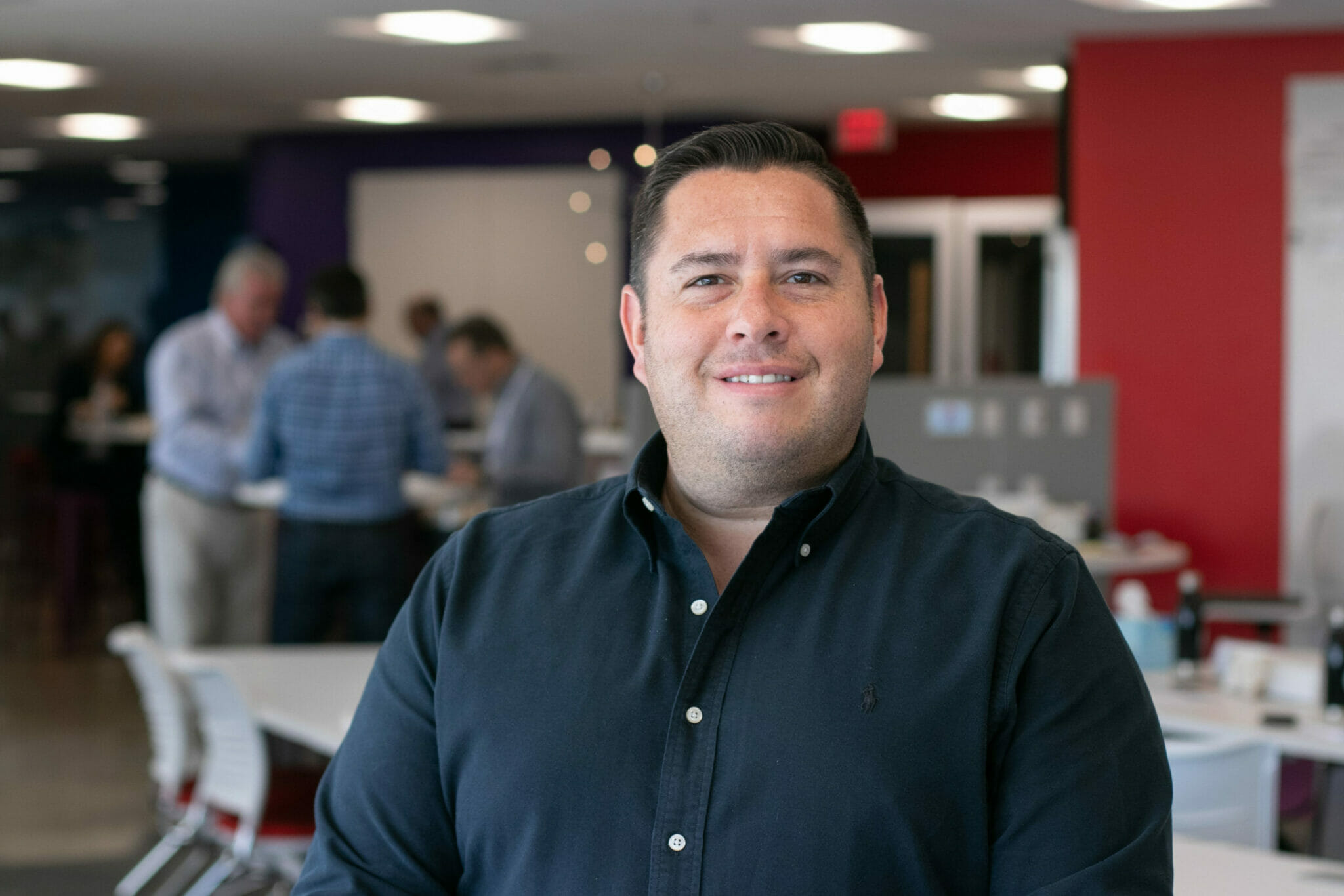 3. Schedule regular personal development meetings.
At many companies, personal development is something employees and managers do once a year then soon forget about.
Managers should schedule regular personal development meetings—quarterly at a minimum. I meet with my direct reports monthly to go over their personal development plans and see what progress they've made. This shows them I'm invested in their growth, which builds trust and engagement.
I also share my goals with my team so they can hold me accountable. It's a subtle way of teaching them to manage up, and it builds their leadership skills. (Check out this leadership rubric if you have a minute.)
4. Set a calendar reminder to hold yourself accountable.
Personal development plans only work if you use them. I'm in the habit of referring to my plan at least once a week. But until you develop the habit yourself, set calendar reminders to prompt you to visit the doc regularly.
Eventually, you might not need the reminder. Ideally, you'll be driven by the feel-good endorphins that get released every time you cross another goal off your list.
Lead by example.
Leaders should model the behavior they want to see. When you keep focused on growing and learning , your employees will be more likely to develop the same mindset and follow suit. You could also give your employees access to tools like the PI Inspire solution , which will help them grow and develop self-awareness. Here's a sneak peek of my personal development chart within the software (the self-coaching tips are really helpful):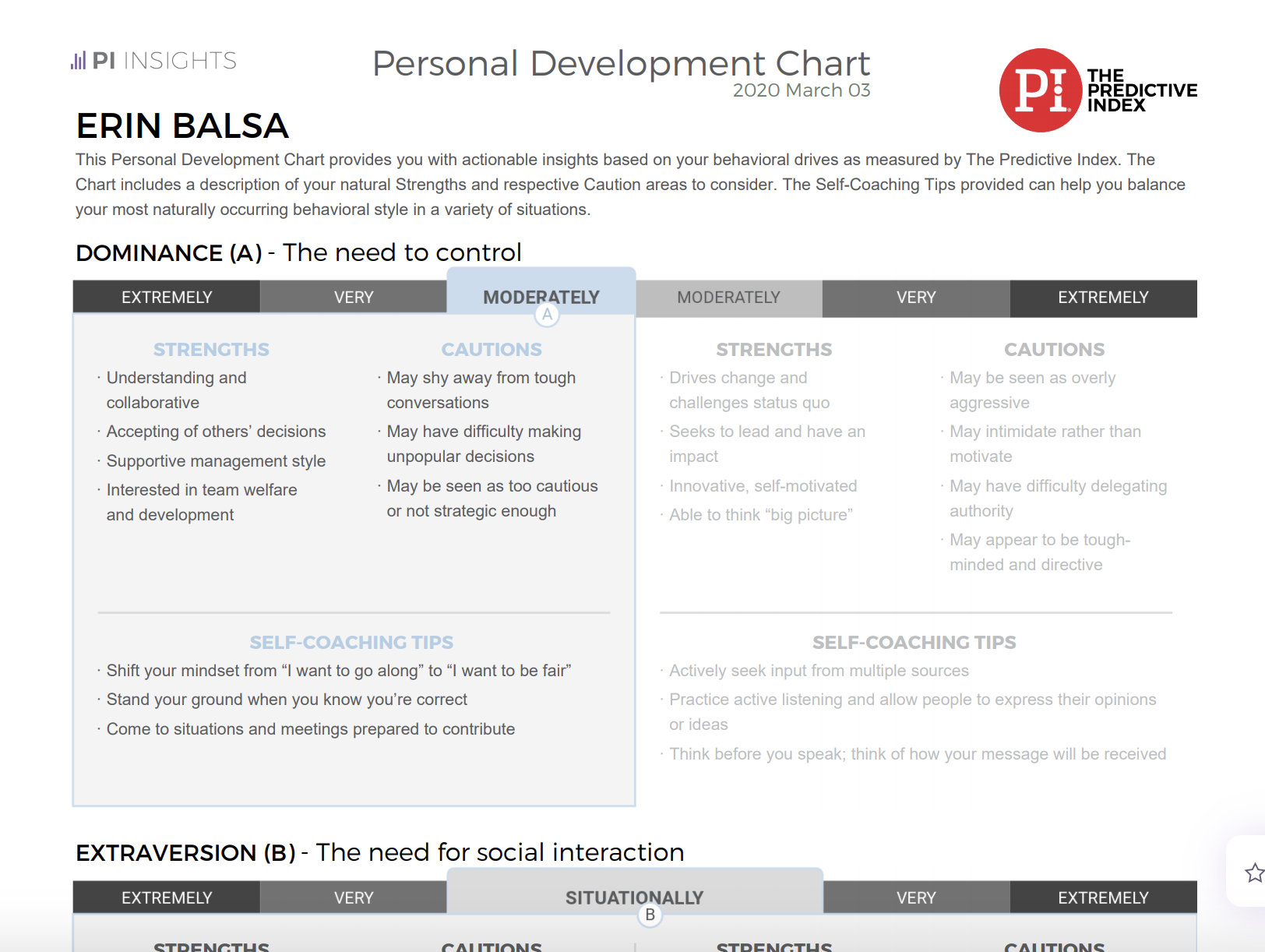 Erin heads up content marketing at PI. Her claim to fame? She's the only Erin Balsa on LinkedIn.
Related Posts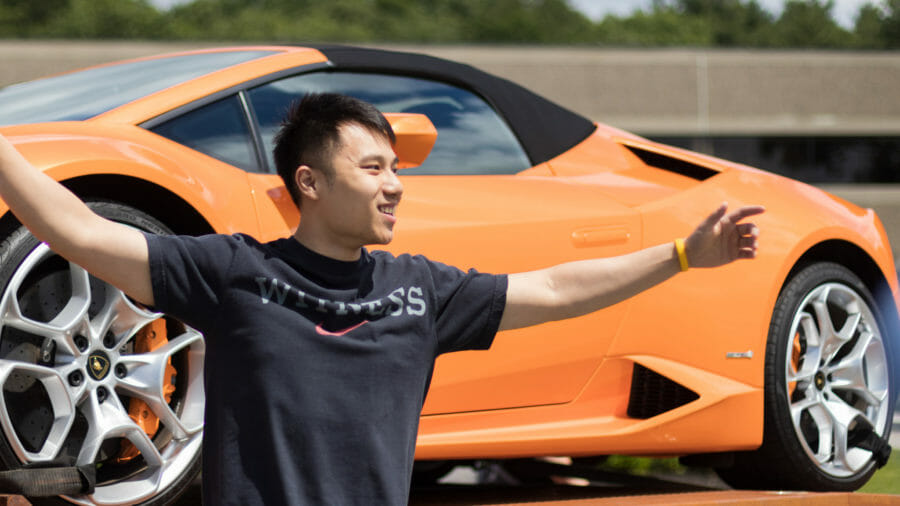 Create and develop organizational values that enhance company culture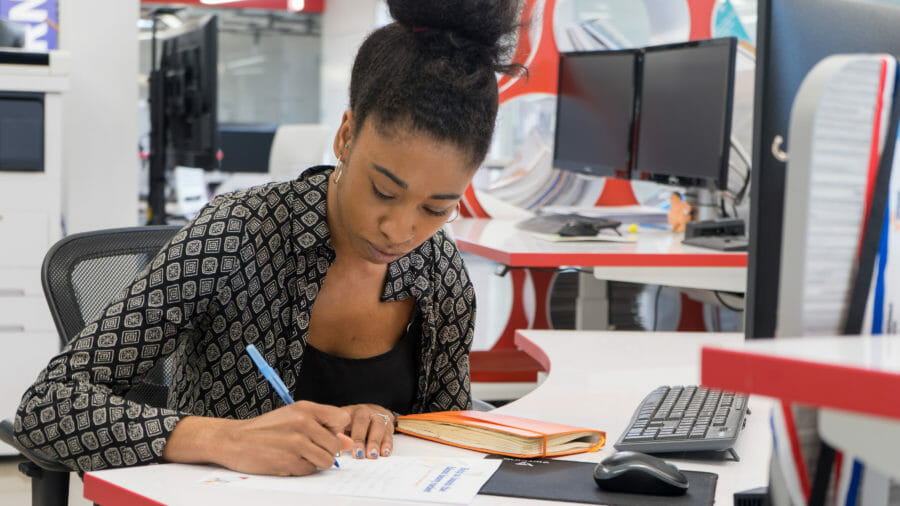 3 easy tips to create compelling career paths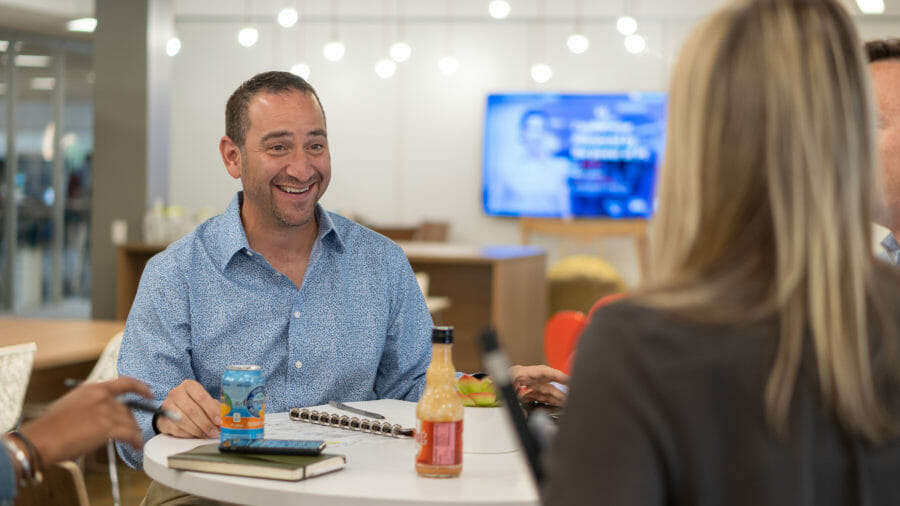 4 secrets to creating a successful workplace mentorship program
Create your free pi learn account..
I would like to receive marketing emails from The Predictive Index. View our Privacy Policy.
By creating a Learn account, you're agreeing to accept The Predictive Index Terms of Service .
We're committed to your privacy. The Predictive Index uses the information you provide to contact you about relevant content, products, and services. You may unsubscribe from these communications at any time. For more information, check out our privacy policy .
Thank you for registering for PI Learn!
Please check your email for your account information.
Sign up for our weekly newsletter.
Join 150K+ business and HR leaders and stay up to date with our top resources.
I would like to receive marketing emails from The Predictive Index. By submitting my information, I agree to be subject to PI's Terms of Use and Privacy Policy .
How to Create a Personal Development Plan: 3 Examples
For successful change, it is vital that the client remains engaged, recognizing and identifying with the goals captured inside and outside sessions. A personal development plan (PDP) creates a focus for development while offering a guide for life and future success (Starr, 2021).
This article introduces and explores the value of personal development plans, offering tools, worksheets, and approaches to boost self-reflection and self-improvement.
Before you continue, we thought you might like to download our three Goal Achievement Exercises for free . These detailed, science-based exercises will help you or your clients create actionable goals and master techniques to create lasting behavior change.
This Article Contains
What is personal development 7 theories, coaching in personal development and growth, how to create a personal development plan, 3 examples of personal development plans, defining goals and objectives: 10 tips and tools, fostering personal development skills, 3 inspiring books to read on the topic, resources from positivepsychology.com, a take-home message, frequently asked questions.
Personal development is a fundamental concept in psychology and encompasses the lifelong process of self-improvement, self-awareness, and personal growth. Crucial to coaching and counseling, it aims to enhance various aspects of clients' lives, including their emotional wellbeing, relationships, careers, and overall happiness (Cox, 2018; Starr, 2021).
Several psychological models underpin and support transformation. Together, they help us understand personal development in our clients and the mechanisms and approaches available to make positive life changes (Cox, 2018; Passmore, 2021).
The following psychological theories and frameworks underpin and influence the approach a mental health professional adopts.
1. Maslow's hierarchy of needs
As a proponent of the humanistic or person-centered approach to helping people, Abraham Maslow (1970) suggested that individuals have a hierarchy of needs. Simply put, they begin with basic physiological and safety needs and progress through psychological and self-fulfillment needs.
Personal development is often found in or recognized by the pursuit of higher-level needs, such as self-esteem and self-actualization (Cox, 2018).
2. Erikson's psychosocial development
Erik Erikson (1963) mapped out a series of eight psychosocial development stages that individuals go through across their lifespan.
Each one involves challenges and crises that once successfully navigated, contribute to personal growth and identity development.
3. Piaget's cognitive development
The biologist and epistemologist Jean Piaget (1959) focused on cognitive development in children and how they construct their understanding of the world.
We can draw on insights from Piaget's stages of cognitive development, including intellectual growth and adaptability, to inform our own and others' personal development (Illeris, 2018).
4. Bandura's social cognitive theory
Albert Bandura's (1977) theory highlights the role of social learning and self-efficacy in personal development. It emphasizes that individuals can learn and grow through observation, imitation, and belief in their ability to effect change.
5. Self-determination theory
Ryan and Deci's (2018) motivational self-determination theory recognizes the importance of autonomy, competence, and relatedness in personal development.
Their approach suggests that individuals are more likely to experience growth and wellbeing when such basic psychological needs are met.
6. Positive psychology
Positive psychology , developed by Martin Seligman (2011) and others, focuses on strengths, wellbeing, and the pursuit of happiness.
Seligman's PERMA model offers a framework for personal development that emphasizes identifying and using our strengths while cultivating positive emotions and experiences (Lomas et al., 2014).
7. Cognitive-Behavioral Theory (CBT)
Developed by Aaron Beck (Beck & Haigh, 2014) and Albert Ellis (2000), CBT explores the relationship between thoughts, emotions, and behavior.
As such, the theory provides practical techniques for personal development, helping individuals identify and challenge negative thought patterns and behaviors (Beck, 2011).
Theories like the seven mentioned above offer valuable insights into many of the psychological processes underlying personal development. They provide a sound foundation for coaches and counselors to support their clients and help them better understand themselves, their motivations, and the paths they can take to foster positive change in their lives (Cox, 2018).
The client–coach relationship is significant to successful growth and goal achievement.
Typically, the coach will focus on the following (Cox, 2018):
Actualizing tendency This supports a "universal human motivation resulting in growth, development and autonomy of the individual" (Cox, 2018, p. 53).
Building a relationship facilitating change Trust clients to find their own way while displaying empathy, congruence, and unconditional positive regard . The coach's "outward responses consistently match their inner feelings towards a client," and they display a warm acceptance that they are being how they need to be (Passmore, 2021, p. 162).
Adopting a positive psychological stance Recognize that the client has the potential and wish to become fully functioning (Cox, 2018).
Effective coaching for personal growth involves adopting and committing to a series of beliefs that remind the coach that the "coachee is responsible for the results they create" (Starr, 2021, p. 18) and help them recognize when they may be avoiding this idea.
The following principles are, therefore, helpful for coaching personal development and growth (Starr, 2021).
Stay committed to supporting the client. While initially strong, you may experience factors that reduce your sense of support for the individual's challenges.
Coach nonjudgmentally. Our job is not to adopt a stance based on personal beliefs or judgment of others, but to help our clients form connections between behavior and results.
Maintain integrity, openness, and trust. The client must feel safe in your company and freely able to express themselves.
Responsibility does not equal blame. Clients who take on blame rather than responsibility will likely feel worse about something without acknowledging their influence on the situation.
The client can achieve better results. The client is always capable of doing and achieving more, especially in relation to their goals.
Focus on clients' thoughts and experiences. Collaborative coaching is about supporting the growth and development of the client, getting them to where they want to go.
Clients can arrive at perfect solutions. "As a coach, you win when someone else does" (Starr, 2021, p. 34). The solution needs to be the client's, not yours.
Coach as an equal partnership. Explore the way forward together collaboratively rather than from a parental or advisory perspective.
Creating a supportive and nonjudgmental environment helps clients explore their thoughts, feelings, and goals, creating an environment for personal development and flourishing (Passmore, 2021).
Download 3 Free Goals Exercises (PDF)
These detailed, science-based exercises will help you or your clients create actionable goals and master techniques for lasting behavior change.
Download 3 Free Goals Pack (PDF)
By filling out your name and email address below.
Email Address *
Your Expertise * Your expertise Therapy Coaching Education Counseling Business Healthcare Other
Email This field is for validation purposes and should be left unchanged.
A personal development plan is a powerful document "to create mutual clarity of the aims and focus of a coaching assignment" (Starr, 2021, p. 291). While it is valuable during coaching, it can also capture a client's way forward once sessions have ended.
Crucially, it should have the following characteristics (Starr, 2021):
Short and succinct
Providing a quick reference or point of discussion
Current and fresh, regularly revised and updated
Key elements of a personal development plan include the following (Starr, 2021):
Area of development This is the general skill or competence to be worked on.
Development objectives or goals What does the client want to do? Examples might include reducing stress levels, improving diet, or managing work–life balance .
Behaviors to develop These comprise what the client will probably do more of when meeting their objectives, for example, practicing better coping mechanisms, eating more healthily, and better managing their day.
Actions to create progress What must the client do to action their objectives? For example, arrange a date to meet with their manager, sign up for a fitness class, or meet with a nutritionist.
Date to complete or review the objective Capture the dates for completing actions, meeting objectives, and checking progress.
Check out Lindsey Cooper's excellent video for helpful guidance on action planning within personal development.
We can write and complete personal development plans in many ways. Ultimately, they should meet the needs of the client and leave them with a sense of connection to and ownership of their journey ahead (Starr, 2021).
Personal Development Plan – Areas of Development In this PDP , we draw on guidance from Starr (2021) to capture development opportunities and the behaviors and actions needed to achieve them.
Personal Development Plan – Opportunities for Development This template combines short- and long-term goal setting with a self-assessment of strengths, weaknesses, and development opportunities.
Personal Development Plan – Ideal Self In this PDP template , we focus on our vision of how our ideal self looks and setting goals to get there.
"The setting of a goal becomes the catalyst that drives the remainder of the coaching conversation."
Passmore, 2021, p. 80
Defining goals and objectives is crucial to many coaching conversations and is usually seen as essential for personal development.
Check out this video on how you can design your life with your personal goals in mind.
The following coaching templates are helpful, containing a series of questions to complete Whitmore's (2009) GROW model :
G stands for Goal : Where do you want to be?
R stands for Reality : Where are you right now with this goal?
O stands for Options : What are some options for reaching your goal?
W stands for Way forward : What is your first step forward?
Goal setting creates both direction and motivation for clients to work toward achieving something and meeting their objectives (Passmore, 2021).
The SMART goal-setting framework is another popular tool inside coaching and elsewhere.
S = Specific M = Measurable A = Attainable/ or Agreed upon R = Realistic T = Timely – allowing enough time for achievement
The SMART+ Goals Worksheet contains a series of prompts and spaces for answers to define goals and capture the steps toward achieving them.
We can summarize the five principles of goal setting (Passmore, 2021) as follows:
Goals must be clear and not open to interpretation.
Goals should be stretching yet achievable.
Clients must buy in to the goal from the outset.
Feedback is essential to keep the client on track.
Goals should be relatively straightforward. We can break down complex ones into manageable subgoals.
The following insightful articles are also helpful for setting and working toward goals.
What Is Goal Setting and How to Do it Well
The Science & Psychology of Goal-Setting 101
1. People skills
Improving how we work with others benefits confidence, and with other's support, we are more likely to achieve our objectives and goals. The following people skills can all be improved upon:
Developing rapport
Assertiveness and negotiation
Giving and receiving constructive criticism
2. Managing tasks and problem-solving
Inevitably, we encounter challenges on our path to development and growth. Managing our activities and time and solving issues as they surface are paramount.
Here are a few guidelines to help you manage:
Organize time and tasks effectively.
Learn fundamental problem-solving strategies.
Select and apply problem-solving strategies to tackle more complex tasks and challenges.
Develop planning skills, including identifying priorities, setting achievable targets, and finding practical solutions.
Acquire skills relevant to project management.
Familiarize yourself with concepts such as performance indicators and benchmarking.
Conduct self-audits to assess and enhance your personal competitiveness.
3. Cultivate confidence in your creative abilities
Confidence energizes our performance. Knowing we can perform creatively encourages us to develop novel solutions and be motivated to transform.
Consider the following:
Understand the fundamentals of how the mind works to enhance your thinking skills.
Explore a variety of activities to sharpen your creative thinking.
Embrace the belief that creativity is not limited to artists and performers but is crucial for problem-solving and task completion.
Learn to ignite the spark of creativity that helps generate innovative ideas when needed.
Apply creative thinking techniques to enhance your problem-solving and task completion abilities.
Recognize the role of creative thinking in finding the right ideas at the right time.
To aid you in building your confidence, we have a whole category of articles focused on Optimism and Mindset . Be sure to browse it for confidence-building inspiration.
With new techniques and technology, our understanding of the human brain continues to evolve. Identifying the vital elements involved in learning and connecting with others offers deep insights into how we function and develop as social beings. We handpicked a small but unique selection of books we believe you will enjoy.
1. The Coaching Manual: The Definitive Guide to the Process, Principles and Skills of Personal Coaching – Julie Starr
This insightful book explores and explains the coaching journey from start to finish.
Starr's book offers a range of free resources and gives clear guidance to support new and existing coaches in providing practical help to their clients.
Find the book on Amazon .
2. The Big Leap: Conquer Your Hidden Fear and Take Life to the Next Level – Gay Hendricks
Delving into the "zone of genius" and the "zone of excellence," Hendricks examines personal growth and our path to personal success.
This valuable book explores how we eliminate the barriers to reaching our goals that arise from false beliefs and fears.
3. The Gifts of Imperfection: Let Go of Who You Think You're Supposed to Be and Embrace Who You Are – Brené Brown
Brown, a leading expert on shame, vulnerability, and authenticity, examines how we can engage with the world from a place of worthiness.
Use this book to learn how to build courage and compassion and realize the behaviors, skills, and mindset that lead to personal development.
We have many resources available for fostering personal development and supporting client transformation and growth.
Our free resources include:
Goal Planning and Achievement Tracker This is a valuable worksheet for capturing and reflecting on weekly goals while tracking emotions that surface.
Adopt a Growth Mindset Successful change is often accompanied by replacing a fixed mindset with a growth one .
FIRST Framework Questions Understanding a client's developmental stage can help offer the most appropriate support for a career change.
More extensive versions of the following tools are available with a subscription to the Positive Psychology Toolkit© , but they are described briefly below:
Setting goals can build confidence and the skills for ongoing personal development.
Backward goal planning helps focus on the end goal, prevent procrastination, and decrease stress by ensuring we have enough time to complete each task.
Try out the following four simple steps:
Step one – Identify and visualize your end goal.
Step two – Reflect on and capture the steps required to reach the goal.
Step three – Focus on each step one by one.
Step four – Take action and record progress.
Boosting Motivation by Celebrating Micro Successes
Celebrating the small successes on our journey toward our goals is motivating and confidence building.
Practice the following:
Step one – Reflect momentarily on the goal you are working toward.
Step two – Consider each action being taken to reach that goal.
Step three – Record the completion of each action as a success.
Step four – Choose how to celebrate each success.
If you're looking for more science-based ways to help others reach their goals, check out this collection of 17 validated motivation & goal achievement tools for practitioners . Use them to help others turn their dreams into reality by applying the latest science-based behavioral change techniques.
Personal development has a rich and long history. It is underpinned by various psychological theories and remains a vital aspect of creating fulfilling lives inside and outside coaching and counseling.
For many of us, self-improvement, self-awareness, and personal growth are vital aspects of who we are. Coaching can provide a vehicle to help clients along their journey, supporting their sense of autonomy and confidence and highlighting their potential (Cox, 2018).
Working with clients, therefore, requires an open, honest, and supportive relationship. The coach or counselor must believe the client can achieve better results and view them nonjudgmentally as equal partners.
Personal development plans become essential to that relationship and the overall coaching process. They capture areas for development, skills and behaviors required, and goals and objectives to work toward.
Use this article to recognize theoretical elements from psychology that underpin the process and use the skills, guidance, and worksheets to support personal development in clients, helping them remove obstacles along the way.
Ultimately, personal development is a lifelong process that boosts wellbeing and flourishing and creates a richer, more engaging environment for the individual and those around them.
We hope you enjoyed reading this article. Don't forget to download our three Goal Achievement Exercises for free .
Personal development is vital, as it enables individuals to enhance various aspects of their lives, including emotional wellbeing, relationships, careers, and overall happiness.
It promotes self-awareness, self-improvement, and personal growth, helping individuals reach their full potential and lead fulfilling lives (Passmore, 2021; Starr, 2021).
Personal development is the journey we take to improve ourselves through conscious habits and activities and focusing on the goals that are important to us.
Personal development goals are specific objectives individuals set to improve themselves and their lives. Goals can encompass various areas, such as emotional intelligence, skill development, health, and career advancement, providing direction and motivation for personal growth (Cox, 2018; Starr, 2021).
A personal development plan typically comprises defining the area of development, setting development objectives, identifying behaviors to develop, planning actions for progress, and establishing completion dates. These five stages help individuals clarify their goals and track their progress (Starr, 2021).
Bandura, A. (1977). Social learning theory . Prentice-Hall.
Beck, A. T., & Haigh, E. P. (2014). Advances in cognitive therapy and therapy: The generic cognitive model. Annual Review of Clinical Psychology , 10 , 1–24.
Beck, J. S. (2011). Cognitive behavior therapy: Basics and beyond . Guilford Press.
Cottrell, S. (2015). Skills for success: Personal development and employability . Bloomsbury Academic.
Cox, E. (2018). The complete handbook of coaching . SAGE.
Ellis, A. (2000). Can rational emotive behavior therapy (REBT) be effectively used with people who have devout beliefs in God and religion? Professional Psychology-Research and Practice , 31 (1), 29–33.
Erikson, E. H. (1963). Youth: Change and challenge . Basic Books.
Illeris, K. (2018). An overview of the history of learning theory. European Journal of Education , 53 (1), 86–101.
Lomas, T., Hefferon, K., & Ivtzan, I. (2014). Applied positive psychology: Integrated positive practice . SAGE.
Maslow, A. H. (1970). Motivation and personalit y (2nd ed.). Harper & Row.
Passmore, J. (Ed.). (2021). The coaches' handbook: The complete practitioner guide for professional coaches . Routledge.
Piaget, J. (1959): The Psychology of intelligence . Routledge.
Rose, C. (2018). The personal development group: The students' guide . Routledge.
Ryan, R. M., & Deci, E. L. (2018). Self-determination theory: Basic psychological needs in motivation, development, and wellness . Guilford Press.
Seligman, M. E. (2011). Authentic happiness using the new positive psychology to realize your potential for lasting fulfillment . Nicholas Brealey.
Starr, J. (2021). The coaching manual: The definitive guide to the process, principles and skills of personal coaching . Harlow: Pearson Education.
Whitmore, J. (2009). Coaching for performance . Nicholas Brealey.
Share this article:
Article feedback
Let us know your thoughts cancel reply.
Your email address will not be published.
Save my name, email, and website in this browser for the next time I comment.
Related articles
How to Perform Somatic Coaching: 9 Best Exercises
Our bodies are truly amazing and hold a wellspring of wisdom which, when tapped into, can provide tremendous benefits. Somatic coaching acknowledges the intricate connection [...]
Training in Lifestyle Coaching: 8 Best Certifications and Courses
What makes the Wizard of Oz storyline so compelling? Maybe it's that we relate to Dorothy's struggle and her feelings of being stuck, lost, and [...]
5 Best Wellness & Health Coaching Certification Programs
There is a growing understanding that 'prevention is better than cure' and with that insight, the health and wellness coaching industry is expanding with ever [...]
Read other articles by their category
Body & Brain (42)
Coaching & Application (56)
Compassion (26)
Counseling (50)
Emotional Intelligence (24)
Gratitude (17)
Grief & Bereavement (21)
Happiness & SWB (38)
Meaning & Values (25)
Meditation (20)
Mindfulness (44)
Motivation & Goals (43)
Optimism & Mindset (32)
Positive CBT (25)
Positive Communication (20)
Positive Education (44)
Positive Emotions (30)
Positive Leadership (13)
Positive Psychology (32)
Positive Workplace (33)
Productivity (16)
Relationships (42)
Resilience & Coping (34)
Self Awareness (20)
Self Esteem (36)
Software & Apps (22)
Strengths & Virtues (30)
Stress & Burnout Prevention (32)
Theory & Books (44)
Therapy Exercises (34)
Types of Therapy (58)
Personal Development
Sales Training
Business Training
Time Management
Leadership Training
Book Writing
Public Speaking
Live Speaker Training With Brian
See Brian Speak
Coaching Programs
Become a Coach
Personal Success
Sales Success
Business Success
Leadership Success
Personal Development Plan Examples & Templates for Success
Did you know you can make your dreams and aspirations a reality by focusing on your own individual personal development plan ?
Your potential is limitless, and investing in personal development is a way to harness your many talents.
Establishing goals for what you want to achieve — where you would like to go in the short term or long term — can improve your personal development.
In this guide, I'll help you understand what personal development means and its importance, what a personal development plan is and why you should make one, and how to write a personal development plan.
I'll also share with you my personal development plan template to get you started on your path to reach your personal development goals, complete with helpful examples and resources to support you.
Table of Contents
What is a Personal Development Plan (PDP)
The 7 Categories of Personal Development
Why Make a Personal Development Plan
How to Set Personal Development Goals
Personal development plan template, personal development courses and programs, what is a personal development plan (pdp).
A personal development plan is a guideline for your life and your future success.
Personal development is the process of improving oneself through conscious habits and activities. It is the pursuit of personal growth to enhance your quality of life and to achieve your dreams and aspirations.
When you create a personal development plan, you start to define the kind of person you want to be, skills you want to have, and accomplishments you want to achieve. And then you map out your long-term and short-term goals to realize these aspirations and set timelines for when you want to reach them.
Many people underachieve in their careers because they do not realize the areas of personal development that can help achieve mastery in any field.
Effective leaders focus on continual self-improvement and know there is no substitute for hard work.
When you practice self-discipline by setting a goal, making a plan, and working on it every day, you will see personal development and progress within your career.
The Importance of Personal Development
Most of the time, what you think about is what you become. From the moment you wake until the moment you close your eyes at the end of the day, everything you experience plays a factor in your development.
When you take greater control over your experiences, you are able to guide your personal development and accelerate toward what you want to become instead of leaving it to chance.
Setting, striving for, and meeting personal development goals opens up a world of new possibilities for you to increase your quality of life.
For example, as a result of creating and following your personal development plan, you may gain more responsibility for work and open up opportunities for higher pay. This growth could qualify you for a better career trajectory to increase your overall happiness, job satisfaction, and ability to provide for the life you want for you and your family.
Focusing on your personal development also gives you better decision-making abilities so you can avoid problems that may have plagued you in the past or are holding you back now.
At the end of the day, personal development helps you create more positivity and harness the power of positive thoughts , which can transform your life.
When you give time to yourself by focusing on your professional and personal growth, you are better able to achieve your version of success because of personal development.
Personal Development vs Self-Improvement
Recognizing the difference between self-improvement and personal development can be a little tricky.
While they are similar in that they are both very instrumental in achieving your goals and improving yourself, there are key differences between a self-improvement plan and a personal development plan.
Personal development is the work you are putting in to transform yourself on a daily basis. It's the efforts you're making to advance in your work, lifestyle, attitude, physique, and sociability.
Setting personal development goals and creating a plan helps you take full advantage of any opportunity that may come your way and make the most of your potential.
Self-improvement is an inner transformation. It is a self-motivated study to improve one's character, status, or knowledge by their own efforts.
Self-improvement is a lifelong process of constantly searching for ways to change your habits so you can reach your fullest potential.
The specific efforts you put into personal development lead to self-improvement.
Start Achieving All of Your Goals Today! Download my FREE Personal Development Plan Template
Focusing on personal development categories such as personal skills, personal growth, and personal power can create habits for personal improvement.
Personal growth is founded on education and skill. Through education and experience, you increase your skill level and your ability to succeed in your field.
There are seven main categories of personal development.
Personal Skills
Personal skills can be ones you were born with as well as skills gained through deliberate practice. They're often referred to as soft skills.
Examples of personal skills are decision-making, teamwork, organization, and communication.
If you're interested in growing your skills at work, try working on your personal skills. The highest-paid, top individuals in their field are the ones that focus on growing their personal skills.
Knowing what areas you excel in and which need development is very useful in your personal and professional life.
Personal Growth
Having a personal growth plan is one of the first steps toward bettering yourself and stepping out of your comfort zone.
Humans and the human mind are constantly evolving. Think about it: you are not the same person you were a year ago. You've learned more, grown in many different ways, and have experienced more life events to further shape your personality, beliefs, and world outlook.
In order to experience personal development and growth, strive to be a better version of yourself today than you were yesterday.
Personal Power
Personal power is the authority others believe you to have in certain situations and is fueled by your contacts, knowledge, and financial status.
Developing an ever-widening circle of contacts, seeking to learn more, and growing financially increases the number of doors that others will leave open for you to step into.
Expanding your network, knowledge base and financial status will also allow you to help others do the same, further increasing your personal power and opportunities for personal development and growth.
Personal Improvement
Personal improvement stems from good work habits and having a positive mental attitude.
Thinking before you act is critical to developing a strong amount of personal improvement. To help you think first, try to set priorities on a list and consider the likely consequences before beginning.
Working on personal improvement and generating a positive mental attitude will also reduce the amount of time that it takes you to achieve your goals.
Personal Empowerment
Personal empowerment is similar to Personal Power, except empowerment is the power you see within yourself, instead of how others view you.
Promoting a positive image and adopting creativity within your daily life can speed up the time it takes to achieve personal empowerment and your goals.
To help you increase your personal empowerment, consider looking for new, creative ways to finish a project in a faster, easier or cheaper way without compromising the end result.
Personal Analysis
It is very important to be conscious of areas in which you are naturally gifted as well as analyze areas in which you need improvement. This is called personal analysis.
Being truthful about where you currently stand is the first step to moving forward. You should be constantly evaluating where you are in relation to achieving your goals and ambitions.
Personal Objectives
Ambition goes to waste when there are no clear goals in sight. Developing short-term and long-term goals is a pivotal step in actually accomplishing them and growing as a person.
Having a set plan will help you have a clear understanding of which strategies are necessary in order to reach your desired destination.
Why Make a Personal Development Plan?
The reason you need a personal development plan is that making a plan will help guide you to better decision-making and remind yourself of where you want to go.
In other words, good preparation increases the probability of success and decreases the risk of things going wrong along the way.
Creating a plan for personal development helps you get a better sense of control over your life and will make you better prepared for whatever comes your way.
Consider these benefits to having a personal development plan:
It brings your vision to reality.
It ensures you take appropriate and logically planned action.
It helps you improve your time management skills so you can achieve your goals.
It's a plan to keep track of progress, which serves to motivate you when you want to give up.
It's been proven to reduce stress, improve balance in life, and increase self-confidence.
Developing personal development goals for work can make the difference between success and failure. Creating a self-growth plan for your personal life can mean the difference between life-long happiness and regret.
Skills & Objectives
The objectives of personal development are continuous personal growth, increased potential for success, and capitalizing on potential opportunities.
You can practice your personal development skills by setting aside time for the important people in your life, performing action exercises that force you to perform at the highest level, and studying growth performances to help ensure you continue to climb the ladder of success.
An action plan has to include measurable objectives so you know the exact steps it will take to reach your goals. Objectives break your larger personal developments goals into bite-sized pieces so you are able to know where you are headed and check off your progress along the way.
There are no limits except for the limits you place on yourself with your thinking.
Commit yourself to a life of constant learning. Even if you are at the top of your field, there is always something to learn.
Once you have mastered a new skill, move on to learning another one. Constantly learning new skills keeps your mind fresh and active and opens doors that would otherwise be closed to you.
You will become unstoppable and you will see your entire future open up in front of you if you live a goal and growth-oriented life.
Before you can set up a plan, you need to do some self-reflecting and answer personal goal questions.
A few questions you should develop before laying out a specific plan of action are:
What do I want to make out of my life?
What are my goals and ambitions?
What is currently standing in my way of achieving these goals?
After answering those questions, you can create a personal plan that contains a few key components.
The key components you should focus on are having a specific outcome that you are constantly working towards, planning and paving a path towards achieving it, being mindful of the obstacles, and understanding the bigger motivation behind your actions.
When developing a personal development plan for work, you should focus on SMART goals. SMART stands for "Specific", "Measurable", "Achievable", "Relevant", and "Time-Bound."
By following this easy-to-remember acronym when goal setting , you can improve both your personal and professional life:
Specific: Write goals that are detailed and clear instead of broad and general.
Measurable: Set milestones that will let you know you are achieving your goal.
Achievable: Make goals that are challenging yet can realistically be achieved.
Relevant: Align your goals with your personal self-improvement plan.
Time-Bound: Pick an end date by which you want to achieve your goal.
Set Goals for Professional Life
In order to make progress that you can see and track in your professional life, you need to document a detailed plan of action for your personal development.
Some personal development plan examples for work include answering the following questions:
What do I want to learn?
What do I have to do?
What support and resources will I need?
How will I measure success?
Be as specific with your answers as possible. The more precise, the easier it is to track your progress.
Seeing how far you have come and how your hard work is paying off will give you a boost of confidence and provide a sense of accomplishment.
Some examples of personal development goals for work include the Golden Hour and the 21-Day Mental Diet.
The Golden Hour Rule
The Golden Hour Rule steers the trajectory of your day.
Beginning your day early and investing your first hour in yourself will make a tremendous difference in the way you feel, and you will begin to see positive results in your day.
You will begin to see yourself in a more positive light and improve on your personal development.
The 21-Day Mental Diet
The 21-Day Mental Diet personal leadership plan example means waking up early and investing at least the first two hours of your day in yourself.
With this extra time, set clear goals you can work to achieve in the workplace. This can be improving your productivity and efficiency to help you get that promotion or earn a raise.
Your goals may also include education. You need to learn more to earn more.
Try setting a goal to read something educational, motivational, or inspirational every day before you go to work.
Set Goals in Your Daily Life
Outside of the workspace, it is important to be focusing on some personal goals as well. Similar to the work plan, the personal plan requires you to focus on key points in order to achieve your goals.
Here is a personal development plan example:
What are the important goals that you want to achieve?
When is your set deadline?
What are your biggest strengths?
Who or what are your biggest threats?
There are several aspects of personal development disciplines that will make achieving success possible if developed correctly.
A few of these disciplines include goal setting, planning and organizing, and concentrating on your high-value activities.
Goal Setting
Goal setting can be done in the early morning and take only a few minutes of your day.
It can be as simple as purchasing a spiral notebook and writing out your ten goals at the beginning of each day. This will program them deep into your subconscious mind and help you actually follow through on accomplishing them.
Planning Your Day
Planning and organizing at the end of the day can help you better prepare for the coming day.
When you plan out your day, putting it down on paper, you can begin to visualize your important tasks and make sure you are working to complete them throughout the day.
Concentrating On Your High-Value Activities
High-value activities are the things you choose to do throughout the day that will give you the biggest return on your efforts to get you closer to your goals.
Concentrating on your high-value activities will help keep you focused and contribute to your success as much as any other discipline you can develop.
Promoting the highest value activities will make a powerful difference in how quickly you achieve them and the goals they relate to.
Creating a plan for personal development will help you get a better sense of control over your life and your goals…and it doesn't have to be a daunting task!
Follow this template for writing a personal development plan to get started in achieving your goals.
There are six core steps in this template that will help you take action and measure your progress.
Step 1: Set Your Goals
Write a list of the top 10 most important goals you would like to achieve. I encourage you to really write them down somewhere — on paper or on your computer — instead of just keeping them in your head.
People who write their goals and have a clear plan are 30% more likely to achieve their goals.
Search deep within yourself and identify the things you really want out of life. Do not be hindered by thoughts of roadblocks that may get in your way. Open yourself up to all the possibilities that would make you truly happy in life.
These are life goals. Life goals are meant to be challenging, so they may seem huge, overwhelming, or even scary. But that's why they will be broken down into digestible and manageable smaller goals.
For example, providing for your family is an important long-term goal, but figuring out the steps to get there is the challenge. Your smaller personal development plan objectives will help you identify those steps so you have a clear road map to follow.
With each of the 10 goals you identify, also define your "why:" Why do you want to achieve this goal? What will it mean for your personal life, your career, your health, your loved ones?
Knowing your why will help set you up for success. It will keep you motivated to continue progressing forward until you have achieved what you want to.
Step 2: Prioritize Your Goals
Once you have identified your top 10 goals, write which of those 10 is the most important to you and why.
Starting with your highest priority goal, identify the short-term goals and steps that are needed to achieve your long-term goals.
What needs to happen today so you can move on to tomorrow?
This may require some research on your part, depending on your goal.
For example, say your goal is to become a leader in your field. Some of the short-term goals you will prioritize to reach this personal leadership plan example may include the following:
Choose a topic or niche in your industry that you want to specialize in.
Learn everything you can about the issue by talking to people in your industry, reading about your topic, attending seminars and webinars, and so on.
Educate others by writing regular blog posts.
Start a podcast and offer valuable information.
Give interviews on podcasts, local radio and TV stations, and news outlets.
Write a book and get it published.
Become a public speaker at industry conferences or hold your own conference.
Step 3: Create a Timeline for Achieving Your Goals
Setting deadlines in your personal development plan template is crucial. Without them, your goals can get lost in the everyday chaos of life or forgotten completely.
Write down a specific timeline for achieving each of your goals, but be realistic in your timing and know the likelihood ahead of time of achieving your goal within a certain timeline to avoid discouragement.
While you may want to become debt-free by next year, you will first need to do what is necessary to earn more income or reduce your expenses. This could involve getting more education, finding a better job, or making major life changes, which could take more than 365 days.
Once you assign a due date to each of your short-term goals, tackle the hardest goal first . This will help you realize you can actually achieve your goals faster and give you the motivation you need to propel yourself forward.
If you're unsure of the timeline you should set for accomplishing your goals, speaking to other people who have achieved the goal you are striving for will help you set a realistic deadline.
Conducting online research could also help in defining a timeline to accomplish your goals.
Knowing that it takes four to five years to earn a Ph.D. in business lets you know how long it will likely take you. If you can only attend school part-time, you know it will take longer, perhaps twice as long.
Step 4: Analyze Your Strengths and Weaknesses
Write down your strengths and weakness. Remember that skills like perseverance, positive attitude, and creativity are strengths and weaknesses as much as educational level, experience, and having a strong network of professional contacts.
Focus on the attributes that are needed to achieve your goal. Then, write how your strengths can help you achieve this goal and how you plan to overcome those weaknesses.
Use a SWOT analysis to organize your thoughts and develop a strong strategy for achieving your goal. SWOT stands for strengths, weaknesses, opportunities, and threats.
Ask yourself questions similar to these to help you develop each part of a SWOT analysis:
What sets you apart from your peers?
What is your competitive advantage?
What do others regularly praise you for?
What do people ask you to help them with?
What parts of yourself are you confident about?
What values are important to you?
What do you usually avoid doing because you don't think you can?
What kind of tasks do you procrastinate?
Where are you lacking in skills, experience, or education?
What resources do you lack?
What areas do you feel you need improvement?
What gets in the way of your work performance or relationships with others?
Opportunities
What technology can help you achieve your goal?
What promotions or financial incentives are available at work?
Who can help you reach your goal?
What changes are happening or are projected to happen in your industry or personal life?
What conferences, classes, or networking events are available to you?
What are your competitors failing at that you can learn from and improve on?
What obstacles do you face that may hinder your progress?
Which of your weaknesses could lead to threats?
Who is trying to achieve the same goal that may get in your way?
Step 5: Write an Action Plan
Write actions that you need to take in order to achieve your goal. These can be things you need to add to your daily routine as well as things you need to eliminate from it in order to achieve the success in life that you are looking for.
Doing this will help you to achieve each goal faster.
Whether you use a notebook or your computer, just make sure you're also physically writing down your plan so you can see it every day and hold yourself accountable.
Step 6: Measure Your Progress
The final step in your personal development plan template is to mark your progress.
Write down what has been working well, what you have accomplished, what you still need to improve, and what skills or knowledge you have gained along the way.
People who set up a system to report on their goals weekly achieve 40% more than people who do not.
To help you in this final step, consider using a tracker to take notes, measure progress, and be analytical about what works and what does not.
Sometimes it is necessary to change courses midstream or add a step that you were not initially aware of. That doesn't mean you should abandon your goal out of discouragement. It just means you need to adapt, and this is where a tracker can help you determine if it's time to pivot.
Remember it's okay to be flexible. Doing so will allow you to make changes when needed that will propel you toward your goal more efficiently.
This could be a good opportunity to use another piece of data about how people who write things down/journal are much more likely to be successful.
Personal development courses, coaches, and programs can also help you hit your goals.
A personal development program accompanied by a personal development coach helps to keep you disciplined and moving forward.
If you are looking to transform your life, check out these courses and programs that include all of my knowledge, distilled into powerful lessons to help you achieve immediate success in your own life. They will teach you how to stop worrying and stressing out and how to take control of your life, forever.
Power of Personal Achievement
Learn the right way to visualize your ideal future. This course will teach you how to set your goals and methodically achieve them with more efficiency than ever before.
This program will teach you how to ditch the negative emotions that have been hindering your success as well as how to redirect your energy and resources towards your personal mission.
The Science of Self Confidence
In this course, you'll learn just about everything I've learned about self-confidence during the past four decades.
I reveal the secret of the four Cs that teach you how to escape the endless loop of failure. You will find your true self and, as a result, finally feel truly confident.
Maximum Productivity
This course will equip you with the skills to discover your special calling. You will learn everything you need in order to know how to take the shortest, fastest route possible to your destination.
Ultimate success is achievable when you know how to dramatically improve your productivity.
Create Your Personal Development Plan Today
Don't wait to start improving your life.
Follow a personal development plan for work and your personal life or use a template to start accomplishing your goals and improving your life.
For the easiest way to get started, download my free Personal Development Plan Template to organize your goals over the next few months and years and optimize your success.
« Previous Post 10 Leadership Qualities & Characteristics of Good Leaders Next Post » Making Black Friday About YOU Again – a letter from Brian Tracy
About Brian Tracy — Brian is recognized as the top sales training and personal success authority in the world today. He has authored more than 60 books and has produced more than 500 audio and video learning programs on sales, management, business success and personal development, including worldwide bestseller The Psychology of Achievement. Brian's goal is to help you achieve your personal and business goals faster and easier than you ever imagined. You can follow him on Twitter , Facebook , Pinterest , Linkedin and Youtube .
Most Recent
The Power Of Positive Thinking
Proven Ways to Instantly Improve Performance at Work
How To Become A Public Speaker: Tips to Get Started And Grow Your Speaking Career
Public Speaking Courses: Everything To Know & How to Find the Best One
How to Sell and Become a Master Salesperson
Free Webinar: How To Write a Book and Become a Published Author
Free Video Series: 3-Part Sales Mastery Training Series
Free Assessment: The Confidence Factor
Free Assessment: Discovering Your Talents
Browse Categories
Follow Brian & Join the Discussion
Free Resources
Best Sellers
Knowledge Base
Shipping & Returns
Privacy Policy
About Brian
Brian Recommends
Your Privacy is Guaranteed. We will never give, lease or sell your personal information. Period!
© Copyright 2001-2023 Brian Tracy International. All Rights Reserved.
Digital Marketing Certificate
CRO Certificate
Growth Marketing Certificate
Sales & Business Development Certificate
Digital Communication Certificate
Agile Project Management Certificate
Project Management Certificate
Web 3 Foundations Certificate
Digital Product Management & Strategy Certificate
Digital Leadership Certificate
Design Thinking Certificate
Data Fundamentals Certificate
Data Visualisation & Storytelling Certificate
Business Analytics Certificate
AI for Business Certificate
Train your Team
How to Create a Personal Development Plan | 7 steps to success
A lot of us look at our personal development journey like it's a line. We go from point A to point B as though we're a train on a track.
But your career isn't a train, and you can jump off or change tracks at any point!
Whether it's in your career or in your life in general, every so often it's good to reassess where you're going, and where you want to be going .
At Growth Tribe, we work with people every day who are looking for professional development or even a change of direction .
We've seen how investing in your personal development goals can change your career thousands of times.
Creating a clear action plan is a great way to achieve the personal growth you want.
TABLE OF CONTENT
0. Why do you need a personal development plan?
1. Step 1: Understanding yourself and your motivations
2. Step 2: Find our vision or North Star Goal
3. Step 3: Break your vision down
4. Step 4: Break your milestones further down into smaller goals
5. Step 5: Assess your skills
6. Step 6: Get your manager on board (optional)
Why do you need a personal development plan?
Achieving professional goals requires making a plan. We all know this, but we often get swept away in our day-to-day and struggle to make changes when we need to.
Personal development planning can give you a clear vision of where you want to go and how to get there.
It breaks down your mission into small, realistic goals and provides you with a blueprint for success.
You'll be able to make deliberate decisions, and understand how these decisions are helping you reach your personal goals.
Time management expert Alan Lakein said:
Planning is bringing the future into the present so that you can do something about it now.
So, if you're ready to do something about the future now, we've broken the individual development plan down into 7 steps.
Understanding yourself and your motivation
Finding your vision or north star goal
Break down your vision into milestones
Break your milestones further down into smaller goals
Assess your skills
Get others on board
Get practical with your development plan
Step 1: Understanding yourself and your motivations
Before you can start planning, you need to know where you want to go . So this step will involve a bit of soul searching.
We call this the Personal Analysis . You'll start by understanding who you are, what motivates you and where your strengths and weaknesses lie.
These questions often sound daunting, because they are.
If you're struggling to figure out what motivates you, or what you're good at you can always try self-assessment tools (such as the Character Strength Survey or the MBTI ).
But make sure to use them as guidance as opposed to gospel.
If that's not for you, try on the following questions until you have a good understanding of who you are and what drives you:
What do you live for?
What are you really good at naturally?
How do you know you're really good at that?
According to others, what are your strengths and weaknesses?
What do you absolutely dislike (in general, in your personal and professional life)?
What did you always want to learn?
If you find it difficult to answer those questions, get some input from the people you spend a lot of time with first: your colleagues, your manager, your friends, your partner, your family, etc.
As all of them know you in a different setting, you should be able to get 360 feedback on yourself.
Choose a couple of questions from above that resonate most with you and reflect on the answers you get.
→ Do you agree or disagree?
→ Is there anything that surprised you?
→ Did they miss anything that you deem very important? ‍ 💡 We've created an easy to use document so you can map out this whole process, download it here. 👈
Step 2: Find your vision or North Star goal
Now that you have a full picture of who you are and what motivates you, it's time to find your vision or ' north star' goal —the guiding light that directs your path towards success.
A vision or north star goal is not just about vague short-term aspirations without clear benefits. It's about setting a single goal that guides you in everything you do.
And it has to be split into achievable goals that are specific, measurable, attainable, relevant, and time-bound (SMART goals).
Your individual goals should resonate with you on a personal level and provide a sense of direction.
Make your vision big and ambitious, even if it feels overwhelming at first. Writing down your ambition should evoke a slight sense of fear because life goals are a serious matter!
Remember, turning your vision into reality requires long-term dedication and commitment. Goal setting is not a one-year endeavor; it's about shaping your future goals.
However, be open to the possibility that your vision may evolve over time as you grow as a person. Don't be afraid to rediscover yourself and adjust your goals accordingly.
Step 3: Break your vision down
So, you've got a big dream . How are you going to get there? Part 2 of the free, downloadable personal development plan template will help you break your vision statement down into smaller learning goals and milestones.
Ask yourself:
What do I need to learn? What soft skills and hard skills do you need to achieve your career goals? Think: Time Management, Flexibility, Front-end code. ‍
How does this help me meet my long-term goals? Why do you think this is important to learn? This will help you prioritise all your learning goals. ‍
How will I learn this? This can be a combination of methods like courses, networking, discussions, readings, and more. ‍
How will I measure my progress? What will success look like for this learning goal? E.g. course completion, business case studies. ‍
What's my timeline? When would you like to achieve this learning goal? Be realistic, but don't shy away from a challenge!
Step 4: Break your milestones further down into smaller goals
Next, ask yourself what goals need to be achieved in order to reach your milestones.
Think about the goals you set in step 3, and break them down even further.
For example, if your goal is to improve your time management, and you've decided to use the Pomodoro Method to achieve this, break the process down into smaller steps.
Here's what that might look like:
Research the Pomodoro method
Compare apps and tools to help you use this method
Test it out for an afternoon of work
Reflect on what went well and what didn't
Try using the Pomodoro method a couple of hours a day for 2 weeks
Decide whether it works for you using the framework laid out in the Personal Development Planner.
And if you are already interested in this topic, you can take one of our courses and pursue your personal development!
Step 5: Assess your skills
You've developed a well-structured plan, and you're on the brink of implementing it.
Now is an opportune time to have introspection and engage with those around you.
Foster open discussions with your colleagues or family and friends to assess your current skills and identify areas for improvement.
This valuable communication will contribute to gaining a better understanding of your baseline.
Suppose your goal revolves around enhancing time management skills.
In that case, there different potential things to be done:
You can evaluate your own abilities .
Seek feedback from people in your social circle to gauge your strengths and areas of improvement, and, based on this input
Establish the baseline from which you aim to progress.
This comprehensive assessment will lay the foundation for personal development skills, professional skills, and even leadership skills that you may wish to cultivate in the pursuit of your goals.
Remember, effective communication skills play a crucial role in these discussions, fostering an environment where you can openly explore your strengths, weaknesses, and aspirations.
Additionally, don't underestimate the significance of public speaking skills, which can enhance your ability to express yourself confidently and persuasively.
Step 6: Get your manager on board (optional)
In the course of our lives, we spend an average of 90,000 hours at work .
That's why it would be great for your personal development goals to overlap with your career development.
This way you can develop some of the skills you need at work (if you're currently working at a company), and there doesn't need to be a conflict between them!
A good way to embed your vision in your day-to-day is to think about what your company wants you to develop and how you can relate this to your own North-Star Goal.
Identify any overlapping areas which you can focus on for your short-term goals.
Imagine a Venn diagram with the skills and capabilities your company wants you to develop in the short term.
And the skills and capabilities you want to develop in order to reach your North Star Goal in the long term.
The overlapping area between the two is where you should focus on your personal development.
Not sure how to go about this?
Plan a talk with your manager to get an understanding of what skills you might be missing or could be needed in the future within your team.
Look at your job description and define where you think you might be falling behind. Which areas could use new challenges? In what areas could you stretch yourself a little?
Discuss your goals and ask how your company can help you achieve them. Make sure you're also clear on how it would benefit you and the company.
Step 7: Get practical
Now that you've figured out your vision, know what milestones you need to reach to get to your vision, have broken down milestones into manageable goals and you know what skills are needed to achieve them.
It's time to get practical and start developing your skills!
Do your research, talk to your network and find the best resources that fit your needs.
Whether it's a course, a book, a seminar, coaching, make sure to consider all options you have and pick the one that best suits you and your needs.
Which are some of best personal development books?
Here is a list that we can provides some of the best personal development books:
Atomic Habits by James Clear: This book provides a simple and effective framework for creating good habits and breaking bad ones.
The Road Less Traveled by M. Scott Peck: This book is a guide to living a more authentic and fulfilling life. Peck argues that the only way to truly find happiness is to face our challenges head-on and to live our lives according to our own values.
Man's Search for Meaning by Viktor Frankl: This book is a memoir about Frankl's experiences in Nazi concentration camps during World War II. Frankl argues that even in the most difficult of circumstances, it is possible to find meaning in life.
How to start a personal development blog?
Starting a personal development blog is an exciting journey of growth and self-improvement. Follow these steps to launch your blog:
1. Create a blog with a hosting service. Siteground is one of the best alternatives and it includes WordPress!
2. Define your blog's purpose and create a content strategy aligned with your personal development goals.
3. Embrace personal growth as a lifelong process and share your experiences to inspire readers.
4. Offer valuable advice for professional growth, such as career advancement strategies.
5. Prioritise mental health with posts on mindfulness, self-care, and stress management.
6. Address career progression by sharing insights on personal branding and goal setting.
Here's an examples of blog posts: "5 Strategies for Career Progression," or "10 Daily Self-Care Habits."
By combining personal anecdotes, practical tips, and engaging content, your blog can become a valuable resource for readers' growth. Happy blogging!
Here's a great video to setup your blog, just in case. It's in Italian, but the translator works very well. Enjoy it!
Business & Innovation (60)
Growth & Marketing (49)
Data & Analytics (14)
UX Design (13)
Alumni Stories (11)
Related articles
Business & Innovation
The 12 best generative ai productivity tools in 2023.
Is Using ChatGPT Plagiarism? No, But It's Close
Is ChatGPT Safe?
Is ChatGPT Down? Error Codes and Easy Fixes
Latest articles
10-step toolkit for managers to unlock team productivity with ChatGPT
Undoubtedly, Artificial Intelligence can help you and your team be...
These 12 Generative Artificial Intelligence tools will boost your...
How to Develop a Growth Mindset: A 4-Step Process
Have you ever felt the Growth Mindset is all talk with little...
The Ultimate Guide to Content Marketing in 2023
If you're looking for a comprehensive guide to content marketing,...
How to Create a Personal Development Plan That Gets You Results
A personal development plan (PDP) is an important part of career and life planning that describes what you want to achieve and how you intend to get there. It is an essential tool to help you target future growth and make actionable plans to reach your goals.
Why create a personal development plan?
At work, a personal development plan helps you gain insights into your career aspirations and identify strengths and weaknesses. It also provides a map of skills you need to improve or learn in your area of weakness. Think of it as a detailed roadmap that guides you throughout the development journey to achieve your goals. Thus, breaking down goals into bite-sized milestones ensures a clear understanding of your goals and the steps you need to achieve them.
As Jim Rohn, personal development expert, said: "If you don't design your own life plan, chances are you'll fall into someone else's plan. And guess what they have planned for you? Not much."  
It can take anywhere from 1-20 hours or more depending on what you want to do, how much detail you need to provide, and the level of experience. In this article, we'll give you a short overview of the whole process, with examples for each step.
How to create a Personal Development Plan at work
To create your development plan, you'll first need to take some time to reflect on what you want to achieve. Think about it holistically include a short-term and long-term period.  
At Talbit, we usually go through 5 steps when creating our development plan. Simple but impactful process that helps us identify our goals, strengths and weaknesses, thus how we can develop it.
1. Self assessment
Assessing your current career situation is a good place to start. Knowing your professional interests, knowledge, and skills will help you determine where to focus your time to achieve the goals you have set for yourself.
Ask yourself these questions:  
How is your career currently progressing?  
Are you where you thought you'd be at this stage in your career?
Where do you want to heading to in the next 3 months, 6 months or a year?
Do you have the skills to achieve that career goals?
What does success mean to you?
Use this opportunity to reflect on your actions, and analyze how they have helped you develop professionally. Once you've written down your answers, it's much easier to break them into goals.
2. Set goals and milestones
Use the SMART rule to create goals that make sense. It is an effective and most used goal-setting strategy that brings structure to any objectives. SMART Goal stands for:
S pecific (simple, sensible, significant).
M easurable (meaningful, motivating).
A chievable (agreed, attainable).
R elevant (reasonable, realistic, and resourced, results-based).
T ime bound (time-based, time limited, time/cost limited, timely, time-sensitive).
Read more: How to create a growth's plan using SMART GOAL
Structuring your goals like this make it easy to achieve by completing small step at a time. Thus every achievement is a source of motivation, and it's worth celebrating.
3. Define strategies to obtain your GOALS
Once you've got all these plans in place, look at ways of achieving them. Depending on the goals, your strategy can be varied. If your goals involve a career change, look at the certification or education you need to obtain and how long it takes to achieve it. If you want to move to a new position, think about the skills set you need for that role and how to build those skills.  
In addition, to be effective in learning and development, your strategies should be:
Job embedded as in job learning. It means that the learning process should occur during the workday and has a direct link to the goals. Thus it must facilitate the transfer of new skills into practice.  
Diversify your approach to learning by including experiential learning (learning by doing), exposure learning, such as through feedback or connections with others that provide insights.  
Continuous and ongoing: it is crucial to learn daily and keep the process running.
Also, remember to incorporate what you've learned into your work as soon as possible. This will give you a valuable hands-on experience when developing new skills and a better chance to remember them.
4. Identify the resources
It is essential to know where is your learning resources located and how to access them. Make use of a diverse selection of resources such as online courses, blended learning platforms, in-job training, conference, articles, webinar, and mentoring for your professional growth.
5. Set a timeline
Laying out a time frame is crucial to ensure you stick to the development plan and a deadline to reflect your progress. We recommend planning your target every quarter (3 months) for a short-term goal and a yearly basis for a long-term goal.  
Putting It All Together
The final step is to put it all together and start planning your personal development. It's sometimes difficult to step outside of the comfort zone and see your full potential, so don't be afraid to ask colleagues and managers for their honest feedback. Your managers can help you connect the plan with the company's objectives and how you can develop it strategically.  
Get access to a personal development template here and start to build your dream today!
Organizations don't know their people's skills - and it's costing them
Investing in skills assessment tools can significantly reduce employee turnover rates. Studies show that organizations using these tools have a 20% lower turnover rate, while companies investing in employees' skills see a reduction of up to 30%.
Future-proof your organization with skilled people
Our most recent Learning & Development survey reveals that the overall NPS is -1 when asked how likely they are to recommend their company as a place for continuous learning and development to a friend or colleague. The absence of personal developmen
Unlocking Success: Skills-Based Strategy & People Development
Staying competitive requires more than just a solid business plan - it requires an understanding of what skills you need, to stay competitive and a plan to develop those skills. This blog will share insights into the why and offer concretes steps to
Try Talbit for free
Get full access to Talbit with a 14-day free trial. No credit card required.
Otakaari 5 02150 Espoo Finland

What is a personal development plan?
Last updated on 18th May 2023
In this article
To achieve success and happiness in your education, career and personal life, you should continuously improve your knowledge, skills and experience. This is known as personal development, which is a continuous lifelong process.
Personal development is beneficial for you as an individual and also for businesses and society as a whole. If you are making the most of your abilities and skills, this will positively impact your life and others around you. According to the NHS , learning new skills can improve your mental wellbeing, as it gives you a sense of purpose and boosts your confidence.
A simple and effective way of keeping track of your personal development is by completing a personal development plan. If you don't have a plan, it will make it difficult for you to focus, and you are unlikely to meet your goals – whatever these may be. As Benjamin Franklin once said, "if you fail to plan, you are planning to fail".
It doesn't matter how old you are or where you find yourself now. It is never too late to start your personal development plan. Most people have completed one at some point during their education or careers. If you haven't, there is nothing to worry about, and there is no time like the present to start planning.
This article will help you learn what a personal development plan is and how a SWOT analysis can help you identify things that could help or hinder your progress. It will also give you tips on how to write a personal development plan and what to do after you have completed it.
A personal development plan, which is also known as a PDP, is an action plan that you can use to identify:
Your individual goals and what you want to achieve.
Your strengths and weaknesses.
The areas you need to improve and develop to meet your goals.
What you need to do to achieve your goals.
Anything that could hinder your progress.
A PDP is a form of self-evaluation and self-reflection that is typically used in higher education and the workplace. However, it can also be a beneficial exercise in your personal life. For example, you may want to learn a new language before travelling overseas, and a PDP can help you achieve this goal.
In the workplace, a PDP is completed as part of an employee's Continuing Professional Development ( CPD ), which is defined by the Chartered Institute of Personnel and Development (CIPD) as:
"A combination of approaches, ideas and techniques that will help you manage your own learning and growth".
Employers will sometimes use PDPs as part of their appraisal process, which is known as a Performance Development Review (PDR).
Benefits of a PDP
The benefits of a PDP are:
It provides you with clear goals.
It helps you to identify your strengths and weaknesses.
It improves your employability.
It improves your performance.
It increases your motivation.
It helps track your progress.
It improves your sense of purpose.
It enhances your mental wellbeing and reduces stress.
Overall, a PDP gives you the best possible chance for success and maximises your potential.
Using a SWOT analysis
You can use a SWOT analysis as a starting point to help you create your PDP.  SWOT  stands for  S trengths,  W eaknesses,  O pportunities and  T hreats. You can use these four areas as a framework to identify what could help or hinder your personal development. If you don't analyse your SWOT, it is unlikely you will succeed in achieving your goals.
When you are conducting your SWOT analysis, you should look at your current situation and ask yourself various questions relating to these four areas.
Some example questions are:
What are you good at?
What advantages do you have over others?
Do you have any resources available to you that others do not?
What do others say about your strengths?
Do you have any achievements you are proud of?
What skills do you struggle with?
What areas do you need to improve upon?
What holds you back?
Do you have any bad habits?
Do you avoid certain tasks due to a lack of confidence?
What do others say about your weaknesses?
Opportunities
Is the industry you are in/looking at in a promising position?
Is there an undeveloped niche in certain markets that you can tap into?
Do you have contacts in your network who could assist you?
Can you take advantage of the mistakes others are making?
Is there an opening for a position not advertised externally yet?
Is there a project you can assist with that will help you develop different skills?
What could derail your success? E.g. competition, finances, changes in technology and any other obstacles.
Is there a risk of your weaknesses becoming threats?
Are there any external changes beyond your control that could be a threat?
It is important to be as honest as possible when answering these questions, particularly when looking at your strengths and weaknesses.
How to carry out a SWOT analysis
The above is just an example, and you are likely to have far more detail in your own SWOT analysis.
  A SWOT analysis aims to:
Promote your strengths.
Reduce your weaknesses.
Exploit the opportunities available to you.
Minimise threats to your success.
You can learn more about SWOT analysis on the CIPD's factsheet .
How do I write a personal development plan?
All PDPs are different. How you write yours will depend on whether you are completing one for personal, education or work reasons. A PDP is also specific to you and based on your individual goals. Therefore, your PDP and what you include will be different from anyone else's.
In education and work, PDPs are likely to be in a specified format. Employers may also have their own procedures and processes for conducting PDPs as part of an annual appraisal (PDR). In these instances, you should follow your employer's procedures when completing your PDP.
Regardless of the reason why you are completing a PDP, here are some general steps you can follow to help you write yours:
Step 1 – Complete a SWOT analysis
You should complete a SWOT analysis as the first step of your PDP and as a self-assessment.
That way, you can:
Identify what could help or hinder you in achieving your goals.
Evaluate your existing skills, knowledge and interests.
Identify if you have any transferable skills that could help you achieve your goals.
Use the results when setting your goals.
You can use our free SWOT analysis template to help you. Please hyperlink here if you want to use the template and/or delete this sentence.
Step 2 – Set your goals
Think about the things you really want to achieve in your education, career or personal life. To meet your overall aims, you should set goals so that you can fulfil your objectives.
Make a list of your goals and ensure they are SMART, which means they should be:
Specific – Your goals should be specific and precise rather than generic. – You should state exactly what you want to achieve or change. – An example of a generic and weak goal would be – I want to be a better public speaker. – An example of a SMART goal would be – I will attend a training course on presenting to help me improve my public speaking skills, as I lack confidence in this area, and it's holding me back.
Measurable – Having a quantifiable goal will make it easier to track and achieve. – For example, I will compare three different courses for content and price. I will enrol on my chosen course within one month.
Achievable – Your goals must be realistic and attainable. – Ask yourself whether you can achieve them in a certain timeframe. – For example, I have got the funds available to pay for the course. I also currently work part time, so I have enough time to study.
Relevant – Your goals should relate to your overall aims and longer-term ambitions. – For example, a lack of confidence in public speaking is one of my weaknesses, and I feel it is holding me back in my career and personal life.
Time-bound – Set realistic timescales to achieve your outcomes. – Ask yourself when you want to achieve your goals by. – Split your goals into short term, medium term and long term. – For example, I will complete my course within the next three months. I will also evaluate whether it has improved my public speaking skills.
Having SMART goals makes it easier for you to achieve them and updating your PDP when you have completed them.
Step 3 – Create your action plan
Once you have your clear SMART goals, you should break them down into action points, which will make them more manageable. You can put these points into an action plan with your priority goals at the top.
There is no requirement for your PDP action plan to be in any particular format. It can be handwritten or typed and tabulated or free-flowing text. Whatever format you choose, you should ensure that it is easy for you to produce, follow and update.
Step 4 – Detail the strategies and resources for achieving your goals
You now have your list of goals in your action plan, but how will you go about achieving them? Now you should write down your strategies and resources you need to achieve your goals.
It can include:
Further training, e.g. enrolling on a course.
Research, e.g. websites, journals and books.
Hands-on experience, e.g. volunteering.
Taking on new projects or responsibilities.
Professional advice, e.g. from a mentor.
Guidance and shadowing during supervision.
Speaking to people in different roles.
Time needed for the strategy to be effective.
Step 5 – Assessing your progress
Finally, you should note in your PDP how you will monitor and assess the progress of your goals. For example, you may be continually assessed throughout a course, and you would use the assessment results as milestones for achieving your goals.
Checkout our free PDP and SWOT templates below!
Download our free PDP template
Download our free SWOT Analysis template
What happens once I have completed my personal development plan?
Once you have completed your PDP, it doesn't end there. You need to follow your plan and track whether you are achieving your outcomes or not. If you are not achieving your goals in your specified timeframe, you should identify the reasons why, rectify and update your plan. If you are successful in achieving your goals, you can tick them off and add new ones to your list. Remember, personal development is a lifelong process.
You may find that things do not go according to plan, but you should not worry or let this put you off. Your PDP is not set in stone. It is a flexible guide that you can adapt as and when the need arises. Ask yourself whether you are making the correct choices to get to where you want to be.
It is important to remember that a PDP is not a one-off exercise. It is a continuous process of development, and it should be a working document. You should regularly review and update your PDP to make the most of your personal development.
Personal development (whether it is for education, career or personal reasons) is important, as it helps you achieve your desires and fulfil your potential. If you are achieving what you want in life, it will improve your mental wellbeing and overall happiness, which will have a far-reaching positive impact.
Some, particularly in workplaces, will look at PDPs as an unnecessary exercise that cannot help them achieve what they want. In these cases, it is usually due to PDPs being used as a tick in the box when annual appraisals come around. To prevent this, employers must look at PDPs as an investment, as employee personal development will benefit their business. Employees should also use it as a good opportunity to improve their knowledge, skills and experience.
If you complete your PDP properly and use it in planning and achieving your goals, you are more likely to succeed in your career and life in general. If you don't have a plan, you are likely to procrastinate and flounder. Remember what Benjamin Franklin once said, "if you fail to plan, you are planning to fail".
Why not use our free PDP action plan template to help you. Please hyperlink here if you want to use the template and/or delete this sentence.
Team Leading Level 2
Study online and gain a full CPD certificate posted out to you the very next working day.
Take a look at this course
About the author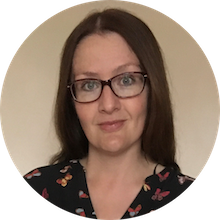 Michelle Putter
Michelle graduated with an MSc in wildlife biology and conservation in 2012, but her career has taken quite a different turn to the one expected. She started in health and safety in 2009 and has worked in several industries such as electrical engineering, aviation and manufacturing. She has been working with CPD Online College since 2018 and became NEBOSH Diploma qualified in 2020. In her spare time, Michelle's passions are wildlife and her garden. She has volunteered for many conservation organisations and particularly enjoys biological recording. Michelle also likes hiking, jogging and cycling.
Similar posts
Sustainable Food Packaging
Gambling addiction and the different types
Why is it so important to complete DBS checks?
Why children may be keeping quiet about abuse
Celebrating our clients and partners.
Four Steps to Creating a Personal Development Plan

Why you need a personal development plan?
How to build your personal development plan, step 1: clear out your vision, step 2: outline your strengths and areas for improvement.
Step 3: Build your personal development plan
Step 4: Review and adapt
A conclusion
We tend to think about our careers and personal development as one ongoing process – like a river flowing constantly. But if you're swimming in that river, every so often you need to stop to take a breath. Taking a moment to create a personal development plan is like taking a very deep breath.
I've been reminded of this a couple of months ago when I broke my constant work cycle of 10 years. Suddenly, I had no current job and no idea what the next one would be. I was so tired of moving straight on to the next thing without rest. So I decided to take a month off, look around, and actually think hard about the next move. Lo and behold, my personal development plan was born.
Imagine if you asked a contractor to build your new house and they said "we don't need a plan, we'll figure it out as we go." You wouldn't tolerate that for a second. So why do so many of us go through life that way?
Most of the time we harbor aspirations and dreams, yet we rarely stop and think about our future in detail.
A personal development plan helps you know where you're headed and how to get there, with specifics.
First, this will bring clarity to your thinking and you'll know exactly where you want to be. What's more, it will give you peace of mind that you're going in the right direction daily.
Efforts will feel more deliberate and decisions will be easier, as you will have a clear benchmark.
When you look at successful people, you will almost always discover a plan behind their success. It is the foundation for success.
Personal development expert Jim Rohn
I couldn't agree more.
The process of building your plan can take considerable time. This is completely normal and you shouldn't rush things. However, it's a good idea to set a deadline in your mind. After all, tasks are a kind of fluid – they take as much space as you give them.
You have to start with the end in mind. To build your personal development plan, look at what's on the other side. Think about your future life. Choose a timeframe that makes sense for you – if you are still in your 20s, a look at 3 or 5 years from now is enough. The older you get, the longer the planning period you can have.
Now, imagine your life in, say, 3 years and go through your imaginary day:
What's the first thought that passes your mind in the morning?
What's the reason you get out of bed?
How's your day structured?
What's your workplace? What do you do there?
How much time do you spend with friends and family?
What makes you feel accomplished at the end of the day?
What gives you energy moving forward and what drains your energy?
In her book Pivot, author Jenny Blake even suggests you craft a full story – here's her template for an Ideal Day Mad Lib.
Now take one step back and review. What are the areas that will make you feel successful? This will help you determine your values. Map them out – you can use anything, from a note-taking app to a blank sheet of paper, from a simple bullet list to a fancy visual board. The best way this works for me is by using a mind map with several main nodes for each of the areas in your life.
Some people prefer to keep that simple, with 2-3 nodes for professional, personal and social fields. Others go in more details – the framework blogger Michael Hyatt uses has 10 life domains:
Intellectual
Vocational (career-related and professional)
Avocational (hobbies and interests)
I believe the map works best with 5-6 categories and you can put there everything you want to – if you feel like travel is a key field for your development, best to have it there.
After you have the key areas as main nodes, complete your mind map by including several sub-nodes that will make the field a success.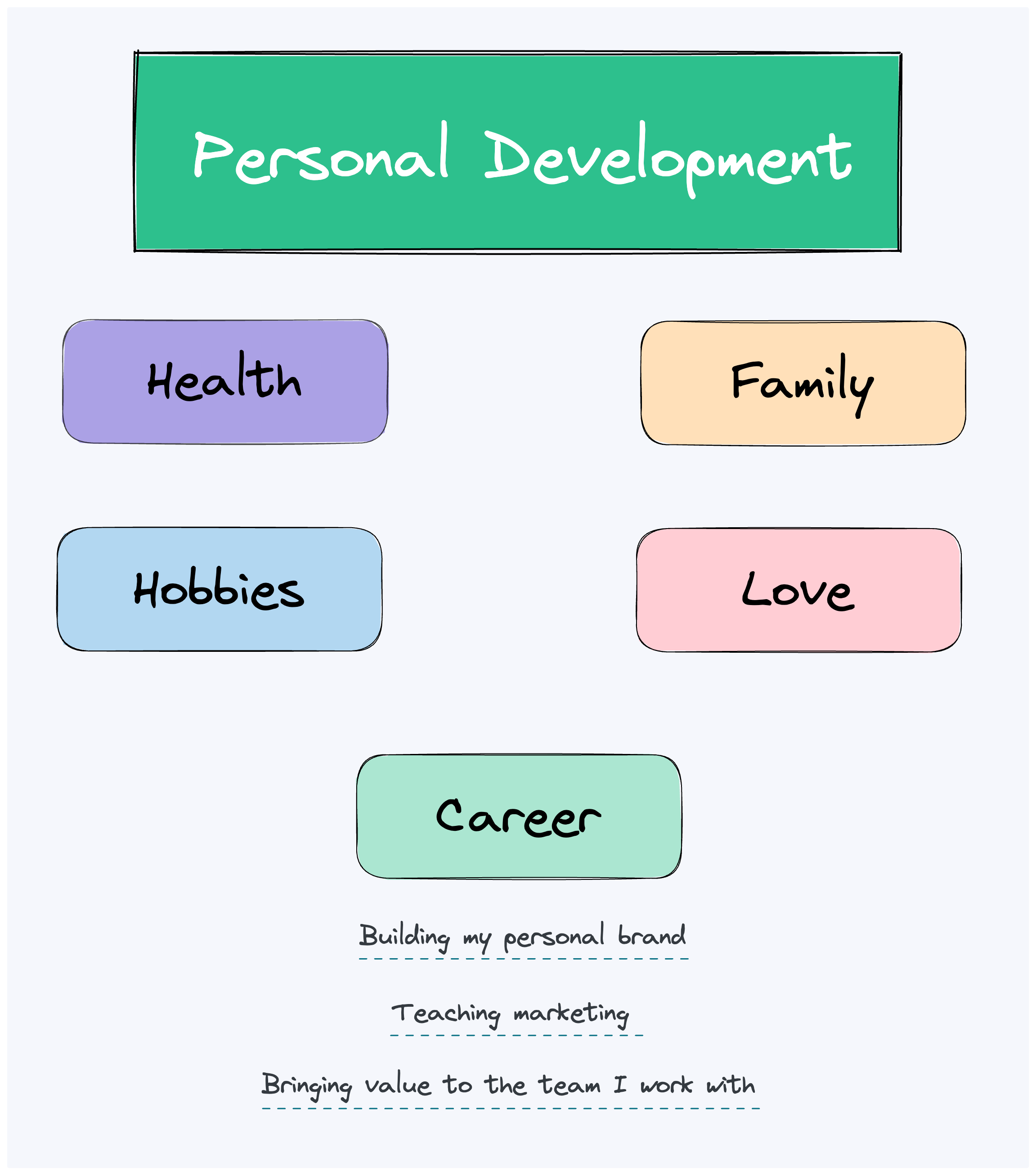 The end result will give you a broad sense of what areas you should focus on.
You've put down a pin on where you want to go – now let's see what are the means of going forward.
First, think about what you already have going for you – what are the strengths and skills that are already relevant to your dream? Maybe you want to move into a new work field – then your natural networking skills will help you get to know the industry more quicker.
Then, make a list of skills you need to develop and projects you can start working on to move you closer to your goals. Think about the people you can contact and who can help you along the way. At this point you don't have to be too specific – think of it as a kind of brainstorming. Jenny Blake has a handy template on this , as well.
After you've created a long list, look at the different points and group them to form clusters. You can use a format that's well known by most business students – the SWOT chart. Although we're used to thinking about it as a tool to assess organizations, it's just as handy for assessing your personality. You just have to draw a four-quadrant map and use each part for your strengths, weaknesses, opportunities and threats. If this sounds too abstract, check out the questions for building a personal SWOT chart here.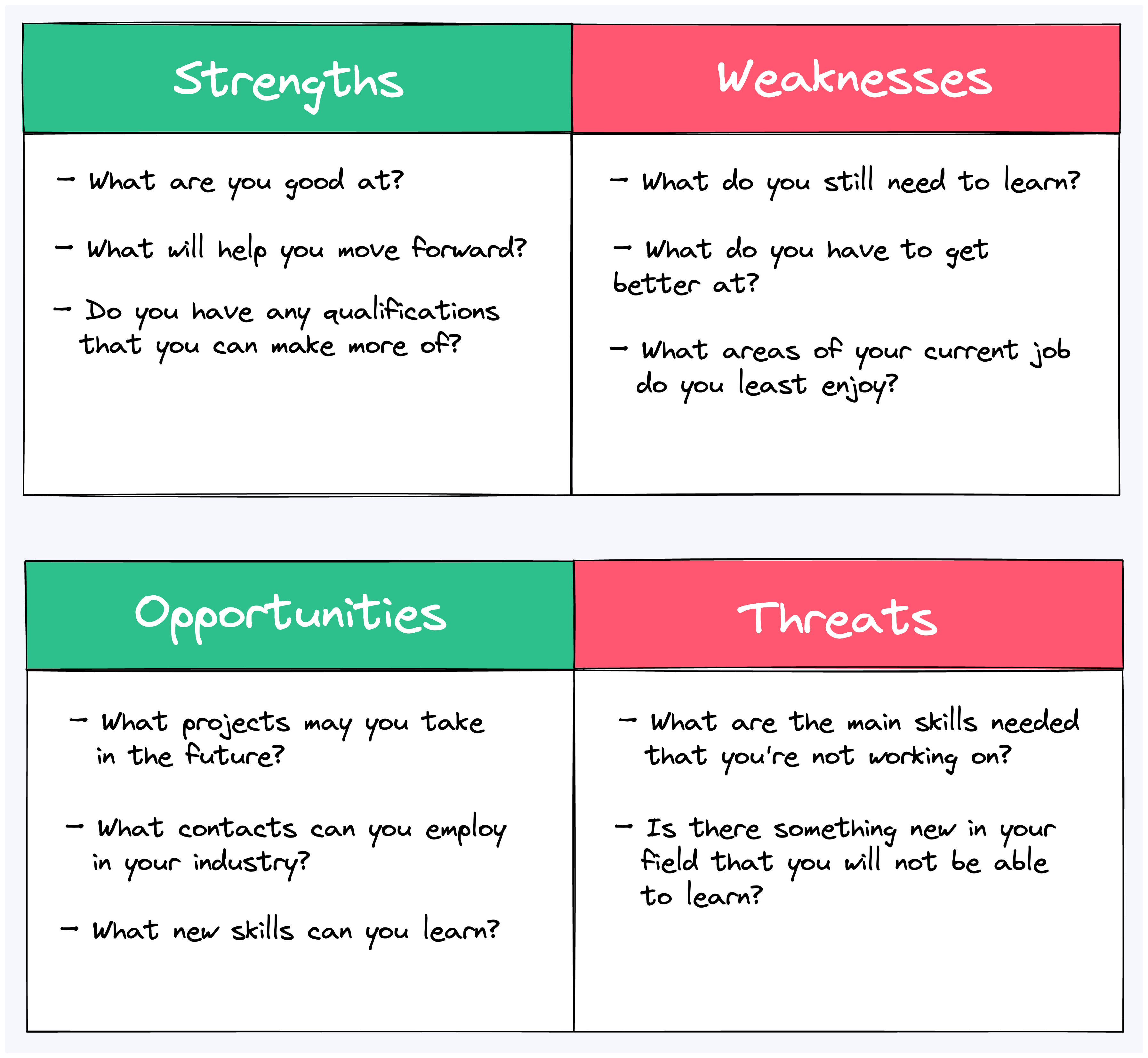 Step 3: Build Your Personal Development Plan
After you have a clear direction, let's go into detail. The key here is to get down to specific actions for the future.
You start by setting up specific projects. What do you need to get them done?
What resources will you need? Books to read, courses to take, tools to subscribe to…
What people will help you do it? Friends, mentors and so on.
What will success look like? Set specific criteria for measuring that.
What is the timeframe? Either put in a general deadline or milestones for different parts of the project.
You'll end up with a clear idea of what needs to get done and how to do it. Now get doing! You can even tie your personal development plan to your annual goals. Read more about setting annual goals here.
Step 4: review and adapt
President Eisenhower once said: "Plans are useless, but planning is indispensable." The importance of a personal development plan is in getting the clarity that comes with answering questions about your future. But it is not set in stone. After all, life changes fast and we need to change with it. That's why it's important to review and adapt.
Reviews can go on a quarterly basis. Make sure you keep your eye on the prize and remind yourself why you're doing what you're doing. Reread your vision, check out your values mind map. But after that focus just on what needs to be done over the next quarter – otherwise, you might feel overwhelmed by the full picture and never get around to doing anything.
If some project no longer makes sense, don't hesitate to remove it from your personal development plan. Don't hesitate to adapt the plan according to new interests or a change in circumstances. A good personal development strategy grows as you do. As Tony Robbins put it, "Stay committed to your decisions, but stay flexible in your approach."
To share or not to share?
You don't have to advertise your new journey to everyone, so don't rent that billboard in front of work just yet. However, it's good to validate your personal development plan with several key people. These can be co-workers, family members, close friends. In a best case scenario, they will be diverse enough to cover all of your plan's areas.
This team of mentors will be able to support you throughout your personal development journey. They will point out ways to achieve your goals, introduce you to new people and resources, or just be there for you when going gets hard. They can also serve as an accountability group – when you've shared your goals with others, you feel obliged to see them through.
A conclusion.
Taking a look around and making sure you know what you're going after is very important and it can be quite refreshing. When I built my personal development plan, I felt energized and ready to conquer every challenge. I was sure I knew what I was doing and that gave me confidence in pursuing my vision.
But if you'd like some more inspiration regarding just where an amazing plan can take you, check out our successful resumes page. There, you can see how more than a dozen real people found their own success. Good luck!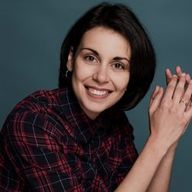 Resume For One Year Of Experience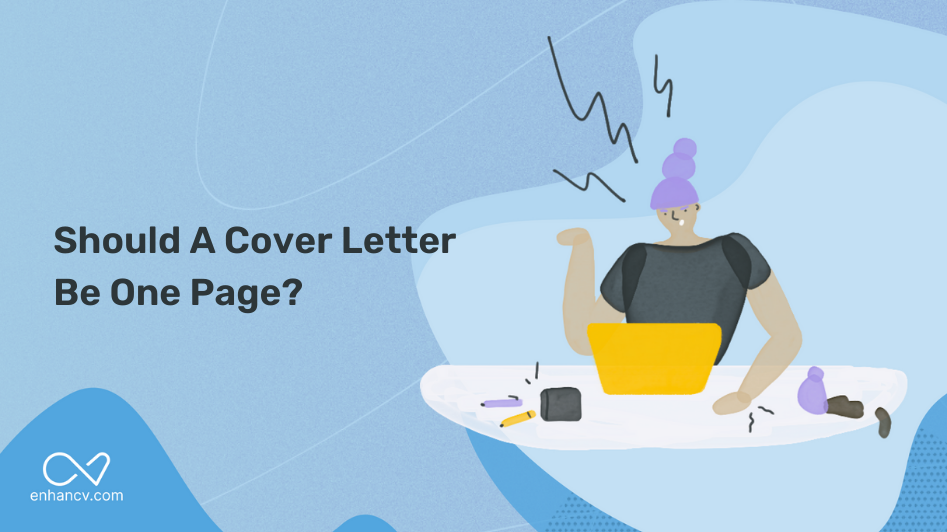 Should A Cover Letter Be One Page

Santa Claus - the man who's never changed his job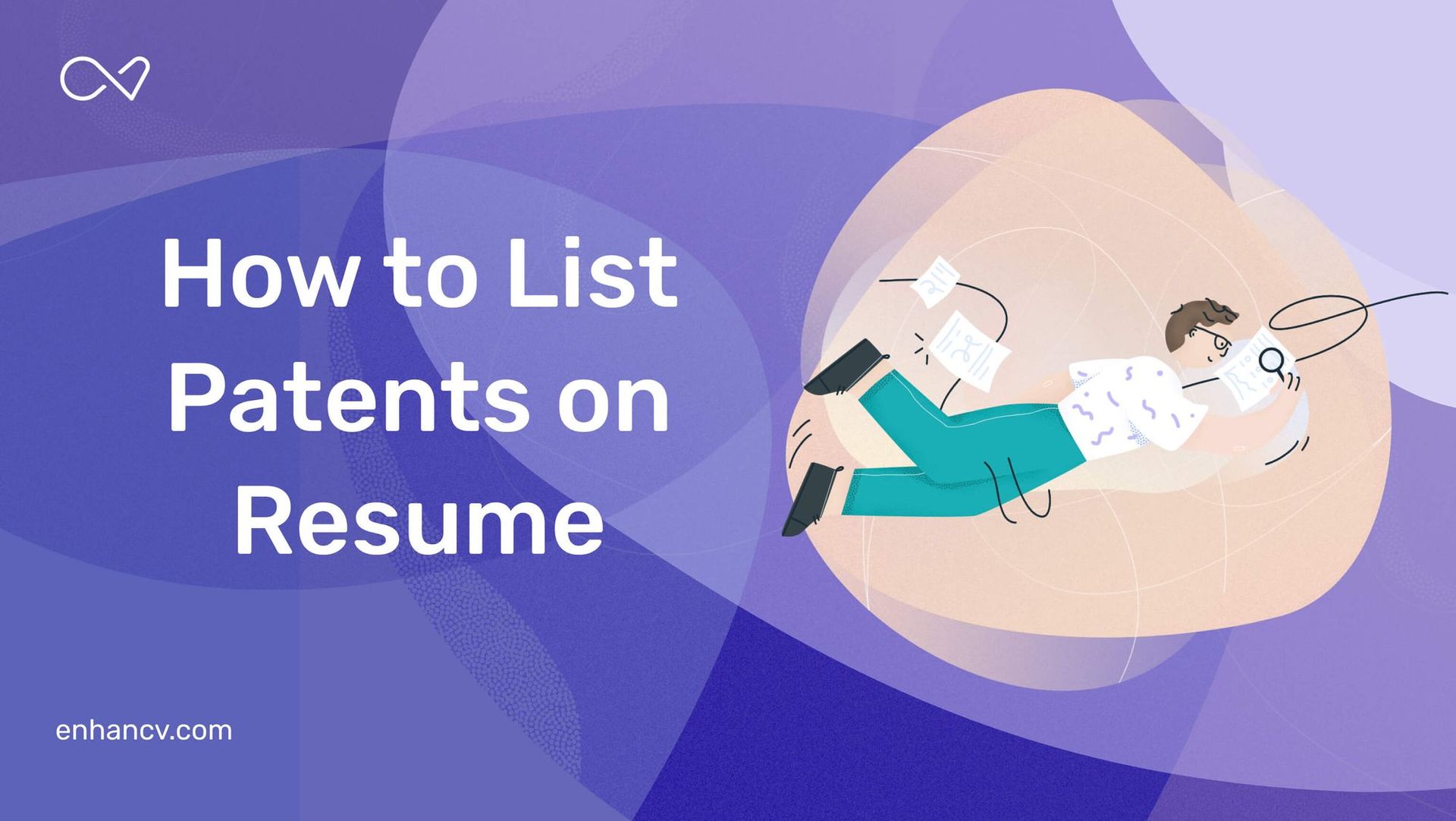 How to List Patent on Resume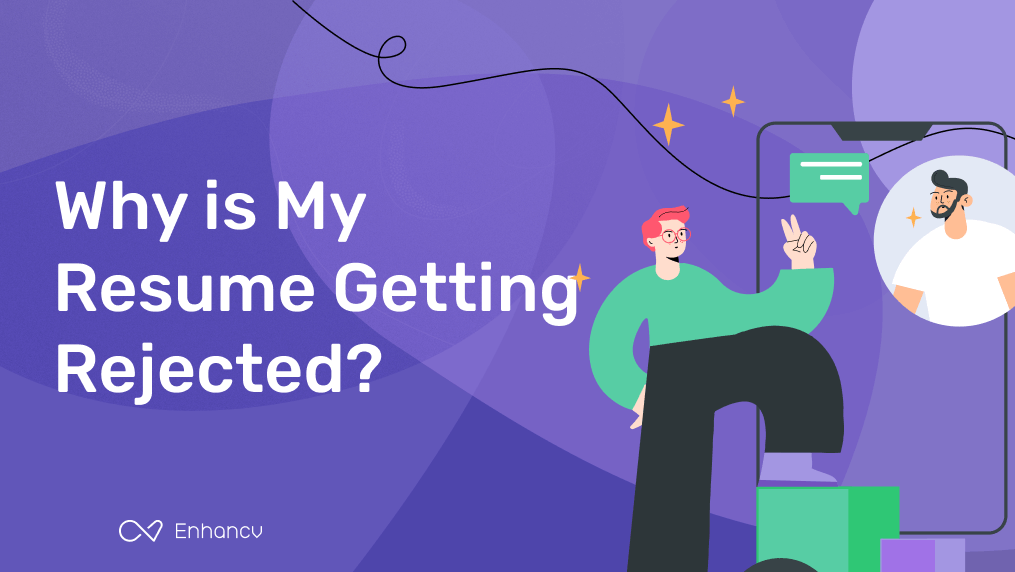 Why is my Resume getting rejected?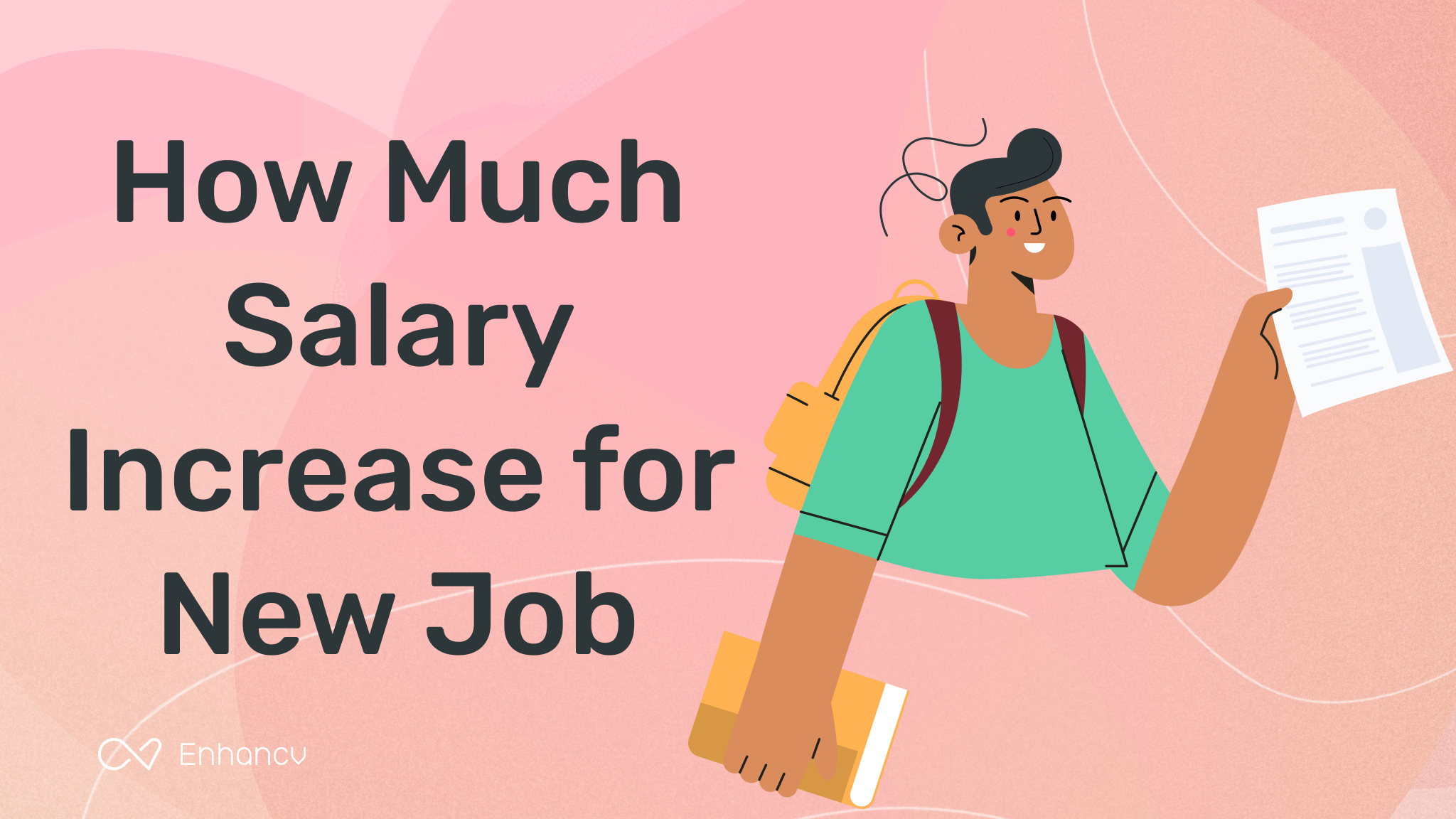 Negotiating a Salary Increase for a New Job: What to Expect and How to Ask
Create Resume
Terms of Service
Privacy Policy
HTML Sitemap
Resume Examples
Resume Templates
Resume Formats
Resume Checker
Resume Skills
How to Write a Resume
Modern Resume Templates
Simple Resume Templates
Cover Letter Builder
Cover Letter Examples
Cover Letter Templates
Cover Letter Formats
How to Write a Cover Letter
Resume Guides
Cover Letter Guides
Job Interview Guides
Job Interview Questions
Career Resources
Meet our customers
Career resources
English (UK)
French (FR)
Swedish (SE)
© 2023 . All rights reserved.
Made with love by people who care.