How to Write a Business Plan That Will Get Approved for a Loan
If you need funding to start, expand, or acquire a business, you'll need to know how to write a business plan for a loan . Yes, lenders will look at the standard factors required of all loan applicants, such as your credit history, credit score, and assets — But business loan lenders will also require a business plan.
Why do you need to know how to write a business plan for a bank loan? Because banks want to know your business idea will be viable and sustainable. To assess its viability, they look at all aspects, including financial statements, sales strategies, and your overall financial plan. Your financial projections are key — a good business plan will include several years' worth of past revenue and profits (if available). It will also forecast sales and profits three to five years into the future. Lenders also want to know what the business is, what products you offer, what the competitive landscape looks like, and who your key personnel are. This information (and more) is used to gauge your business's chances of success, which will ultimately allow you to succeed and to make loan payments to the lender.
While a business plan for a loan should be clear and comprehensible to loan officers, writing a business plan for a loan also benefits you as the owner. A well-executed business plan serves as a guide to your business. You can use the past financials and the forecasts as blueprints to determine whether you are on track for success, for example.
Tip : When you create a business plan to get a loan, remember you are also writing a document that can be used as a forecast and guide for yourself and your business.
What Does a Successful Business Plan Include?
A strong business plan for a loan application will include the following elements:
Cover Page and Table of Contents
Executive Summary
Company Description
Market Plan and Analysis
Organization and Management
Service or Product
Marketing and Sales
Financing Analysis
Funding Request
Many lenders may still be looking critically at how your business will operate during the COVID-19 pandemic. Lenders are primarily looking at two criteria:
How the business's revenue will continue under COVID-19 restrictions and effects.
How a borrower will safely operate their business.
We recommend adding a "COVID-19" section to your business plan. It doesn't need to be very lengthy, but it should cover how you plan to keep a safe and sanity working environment for your staff and customers. Place it in or after your Organization and Management section. The information to include is:
Restricting occupancy
Stocking up on cleaning supplies and hand sanitizer
Wearing masks, gloves, or other safety gear
Wiping down equipment – for example, a fitness facility might wipe down equipment every hour
To address concerns about revenue, include information such as:
If your state has allowed your industry to reopen
New or alternative ways to earn revenue if you can't open a physical location
If you're looking to open a franchise, make sure to check with your franchisor to learn what protocols for their franchisees they've put in place. Lots of franchises have been adding mandatory safety steps for franchisees to put in place.
1. Cover Page and Table of Contents
Your business plan for a loan application is a professional document, so be sure it looks professional. The cover page should contain the name of your business and your contact information. If you have a logo, it should go on the cover.
Both lenders and you will appreciate a table of contents and page numbers in the business plan for a loan application, so they can quickly find specific sections. If you are delivering your plan digitally and not physically, be sure your table of content is clickable and links readers to the correct sections.
2. Executive Summary
It's common for business documents to carry executive summaries at the beginning so that busy people have the key takeaways from a larger document immediately at hand. Your reader shouldn't feel they have to wade through a large document for crucial information.
Briefly summarize the entire business plan on a page. Describe the company, your product, and why you started the company. Include your chief competitors and why your product will succeed against them. If relevant, discuss the economic climate vis-à-vis your customers and products.
Tip : The executive summary shouldn't include a great deal of financial information. If you have a particularly relevant or striking financial result, it can be included.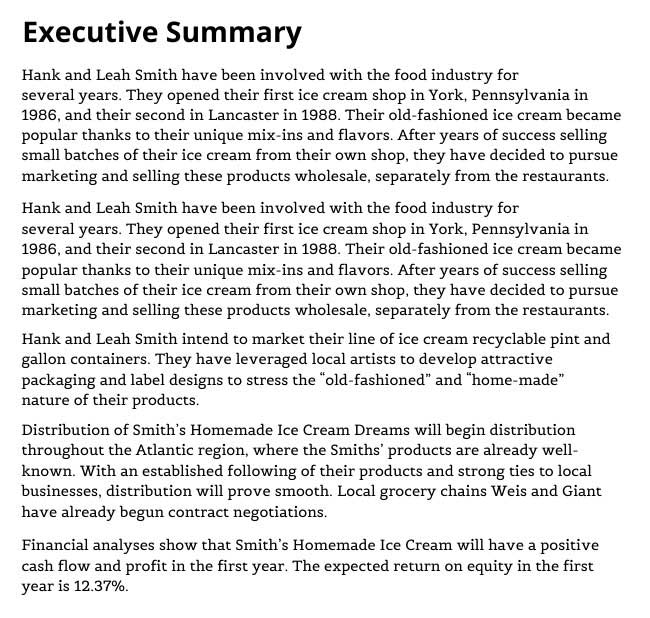 Example of an executive summary.
3. Company Description
The company description should include a mission statement, the company principles, any strategic partners, and your corporate structure. It will be relatively short.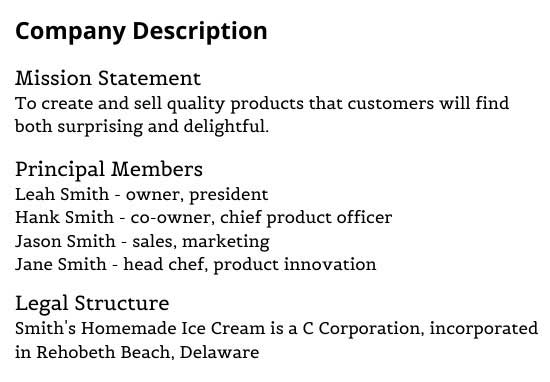 4. Market Analysis
After you've told the lender what your company does and who does it, you'll want to provide a competitive analysis of your market. Let's be clear: the market analysis is not a full marketing plan. That will come later. The market analysis focuses on the qualities of the market, not a detailed plan of how you'll capture it. Identify the existing gaps that your business will fill. A business plan's market analysis should include:
An industry overview and outlook
Any differentiation in sector and niche
Information on your target market
The company's marketing strategy and how it will make your company stand out
The market analysis should also specify the effect of outside sources on your company. For example, if the industry is subject to regulation, include information indicating your knowledge of the regulation and your past compliance with it (if your business is already up and running). Will you require raw materials? If so, how do you guarantee you'll have them at costs that support your financials? Are there any risks to price points changing?
What about your competitors? How do they differentiate themselves? What is their pricing strategy?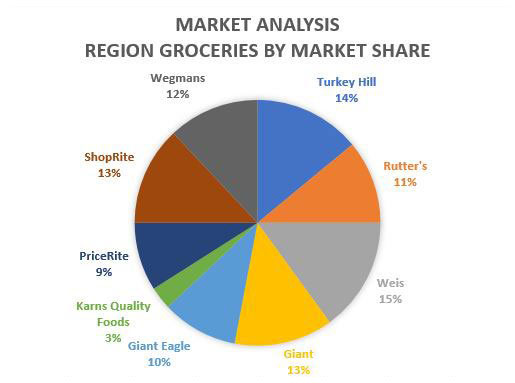 While your market analysis will include information on your competitors, the real focus should be on your target customers. Where do they currently shop? Why? How old are they? What are their beliefs? What's their current average income? Perhaps there is more than one type of customer, in which case you should include details about both customer segments. Showing investors you have mastery over your ideal customer adds confidence in your ability to succeed.
If your company is engaged in ongoing market research or research and development for competitive new products and services, indicate it in this section. Does your research include customer interviews? How are you ensuring that your research is credible?
The market analysis should be based on reputable sources. When describing your competitors and their products, for example, it should be clear to readers where the information comes from.
Tip : Many business owners engage third-party companies to perform an analysis. If you have, be sure to cite them. If your information comes from published research or a survey, be sure to cite those as well.
5. Organization and Management
The organization and management section should itemize your company's management structure. Many business plans provide an organizational chart, a structure description, and salary forecasts.
The description should include each management position, the person in the position, their responsibilities, and their qualifications. If you have a Board of Directors, list them on a separate page, along with any experience relevant to your business's success.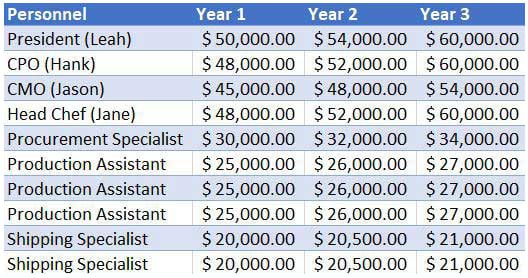 The principals of the firm, such as the owner and co-owners, are included in the business description section. If your company is small and currently contains only the principals, it isn't necessary to include a separate organization and management section.
6. Service or Product
Now it's time to describe your company's product or service in detail. What do you sell, and who do you sell to? What exactly is your business model? What need are you fulfilling for the customer base? Business plans often itemize their entire product line with the planned or current pricing structure.
The service or product section should also include your product/service's estimated lifecycle, and any research and development completed, in progress, or planned. Naturally, this section will vary greatly depending on your type of business. It should also include a description of any trademarks, patents, or other intellectual property rights, if applicable.
See an example of a service and product section here .
7. Marketing and Sales
The marketing and sales section includes three vital pieces of information:
How will customers find out about your products?
What will your sales channels and methods be?
What is your growth strategy?
If you plan for customers to discover your products or services through informational methods like industry meetings, specify what your plan for that method is. If you plan to advertise or develop a public relations campaign, specify what your efforts will be. Will you be on social media channels? Which ones, and why? Are these efforts designed to appeal to specific demographics or types of customers? Which ones, and why? Will sales be accomplished via a targeted sales team? Will management call upon relevant prospective clients or stores? Will you have an online presence?
If you have a growth strategy, outline it. If you plan expansions to other geographic areas or other types of potential customers, discuss it in this section.
See an example of a marketing and sales section here .
8. Financial Analysis
The financial analysis section is key for lenders. The financial analysis must include financial projections for three to five years out. The further out into the future forecasts run, of course, the more difficult it is to predict with certainty. One solution is to prepare a business plan with three-year forecasts, but have a five-year forecast ready if the investors want them.
Tip : If you are already in business, you should also include historical results for the past three to five years (or for as long as the business has been operating, if it's less).
The financial projections must include:
Income statements
Cash flow statements
Capital expenditure budgets
Balance sheets
They may also include profit and loss statements, sales forecasts, and financial metrics relevant to your industry. Lenders may ask you for more granular data, such as cost of sales or cost per product (or service).
You need to provide the projections by month, quarter, and year. Potential investors want to see the financials in both the short and long term. Why? Because businesses that aren't meeting their monthly and quarterly projections can be risky. If they are falling behind in sales or profit, for example, they can fail rapidly.
On the other hand, if sales are much greater than projected, the company can find it challenging to keep up with production and other efforts. To counterbalance the risk, lenders always want a clear picture of what's likely to happen.
See an example of a financial analysis section here .
Need funding? We can get your dream off the ground.
8.2 break-even analysis.
A break-even analysis is the calculation and study of the margin of safety of a company, based on revenue and associated costs.
Learn how to calculate break-even analysis in Excel here .
8.3 Projected Profit and Loss
Also known as a P&L forecast, this section will cover the projection of how much money your company will bring in and how much profit you'll make from those sales.
Tip : Most accounting software, like QuickBooks or Peachtree, can create a P&L forecast for you after you enter sales and expenses.
8.4 Cash Flow Forecast
A cash flow forecast documents your estimate of how much money will come in and out of your business within a specific amount of time (usually 12 months). The forecast includes your projected income and expenses.
Learn more about how to model your cash flow forecast here .
Tip : Looking at your past cash flow through accounting software can help you determine your future cash flow and forecast it.
8.5 Projected Balance Sheet
A projected balance sheet is also known as a "pro forma" balance sheet. It lists out account balances on a company's assets, equity, liabilities, and other spending and income that the P&L doesn't cover – like cash from a loan or outstanding customer invoices.
Learn more about how to create a pro forma balance sheet here .
Learn how to create a company balance sheet and download a template here .
8.6 Business Ratios
Ratios in a business plan are used to assess and analyze the performance of a business. In this case, projected ratios are another good look for banks to understand your business's potential and also serve as a goalpost for your planning.
Common Business Ratios (and Their Formulas)
Net Profit Margin Formula: Net Profit After Taxes / Net Sales Gross Profit Margin Ratio Formula: Gross Profit = (Revenue – Cost of Goods Sold) / Revenue Profit Margin Ratio Formula: Profit Margin = (Revenue – Expenses) / Revenue Quick Ratio (also known as "The Acid Test") Formula: Quick Ratio = (Cash + Marketable Securities + Accounts Receivable) / Current Liabilities OR Formula: Quick Ratio = (Current Assets – Inventory) / Current Liabilities ROI (Return on Investment) Ratio Formula: ROI Ratio = (Gain from Investment – Cost of Investment) / Cost of Investment Current Ratio Formula: Current Ratio = Current Assets / Current Liabilities Common Size Formula: Common Size Ratio = Line Item / Total
9. Funding Request
Now it's time for your funding request! You need to clearly itemize why you need business financing, what amount you're requesting (both current and prospective for the next five years), and what you will use the amounts for.
Tip : Describe how funding will contribute to the overall success of your company (and its strategic plan). Will it allow strategic R&D? Provide funds to acquire a smaller competitor? Create an opportunity for media buys and other marketing?
Here's one way you can structure your funding request:
Your current funding needs.
Any future funding requirements over the next five years.
How you intend to use the funds you receive.
Any strategic future financial plans.
10. Appendix
Appropriate appendix materials include:
Principals' resumes
Tax returns
Relevant real estate documents
Documents detailing the legal structure of your business
Processing flowchart
Letters of intent to purchase from buyers
Advertisement and marketing materials
Relevant training certificates
Sales forecast
Other financial forecasts
Personnel plan
Profit and loss statement
Balance sheet
The Easier Way to Get a Business Loan
Navigating the business loan process on your own can be overwhelming. That's why many current and aspiring small business owners work with a company like Guidant Financial that can guide you through the process.
Here's what working with a consulting company like Guidant can offer:
Simplified Application Process. Rather than wasting your time filling out multiple loan applications for every bank, we shop a single application to multiple lenders.
Better Loan Terms: The ability to apply to several lenders at once often means receiving several loan offers, so you'll have more choices when selecting your terms and conditions.
Faster Approvals: We have established relationships with a vast network of lenders, which means your application goes directly to banks who are most likely to approve your loan.
Guidant supports you throughout the entire loan application process. And with our comprehensive loan package analysis, we ensure you're matched with the lenders who provide the best loan rates and the greatest chances of approval. Call us at 888.472.4455 or pre-qualify in under five minutes .

Demystifying Top Heavy 401k Plans: What You Need to Know
What is a top heavy 401k? Get started with learning how top heavy 401ks can be a boon for small…
Read More »
Top Resources and Grants for Hispanic Entrepreneurs
As we recognize Hispanic Heritage Month, join us in looking at some of the best resources and financing opportunities for…
Leave a Comment
You must be logged in to post a comment.
Get The eBook
Everything you need to know about rollovers for business start-ups (robs).
This eBooks includes:
The steps to fund your business debt-free in as little as three weeks.
How to structure your corporation according to IRS guidelines.
Tips to control your future and direct your retirement funds.
How to earn a salary, save for retirement and be your own boss.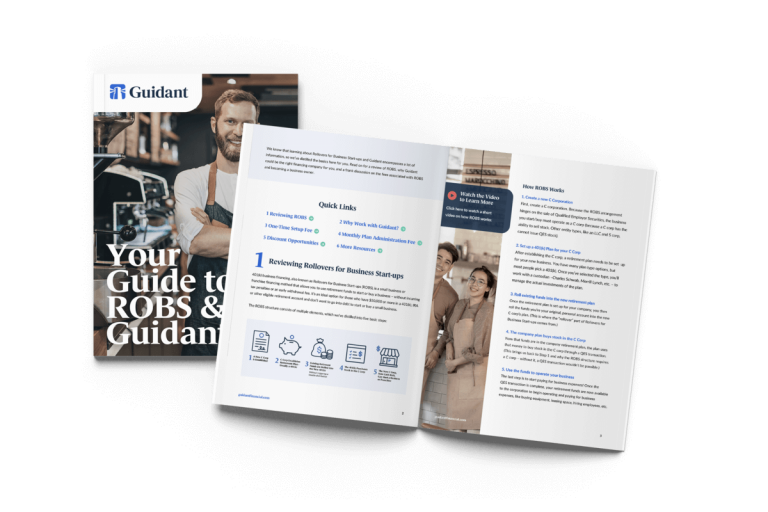 LEARN TO START DEBT-FREE
By pressing "Download the eBook", you agree to this websites Privacy Policy, and you consent to receive information from Guidant Financial at the email address or telephone numbers you provided.
Featured In: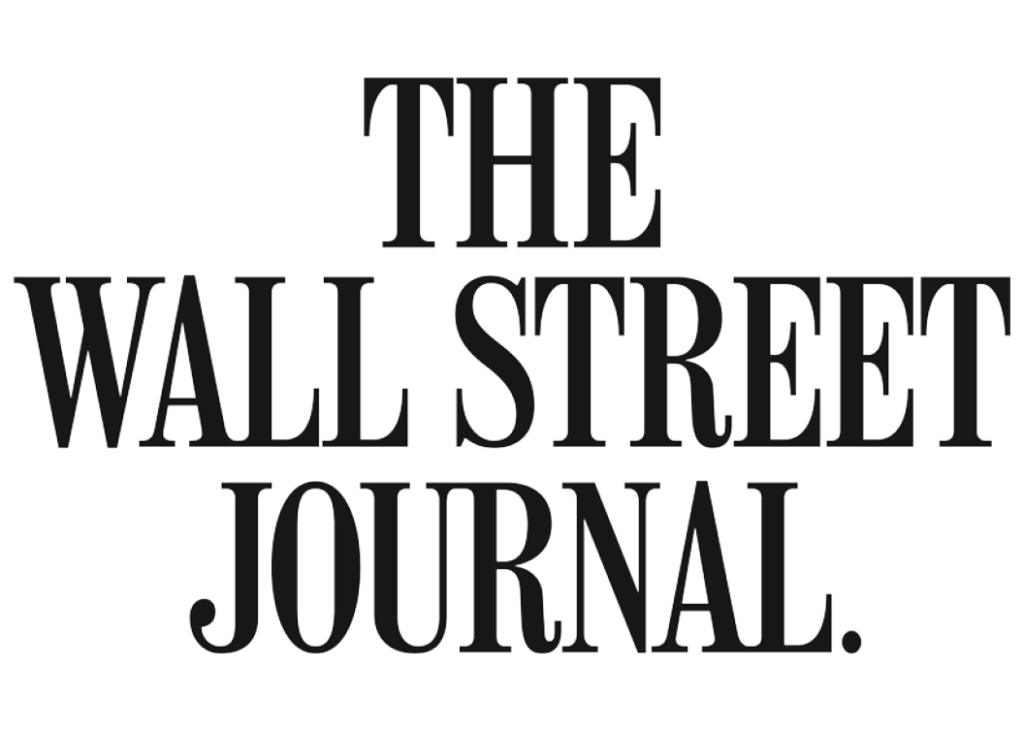 Download The Complete Guide to 401(K) Business Financing: ROBS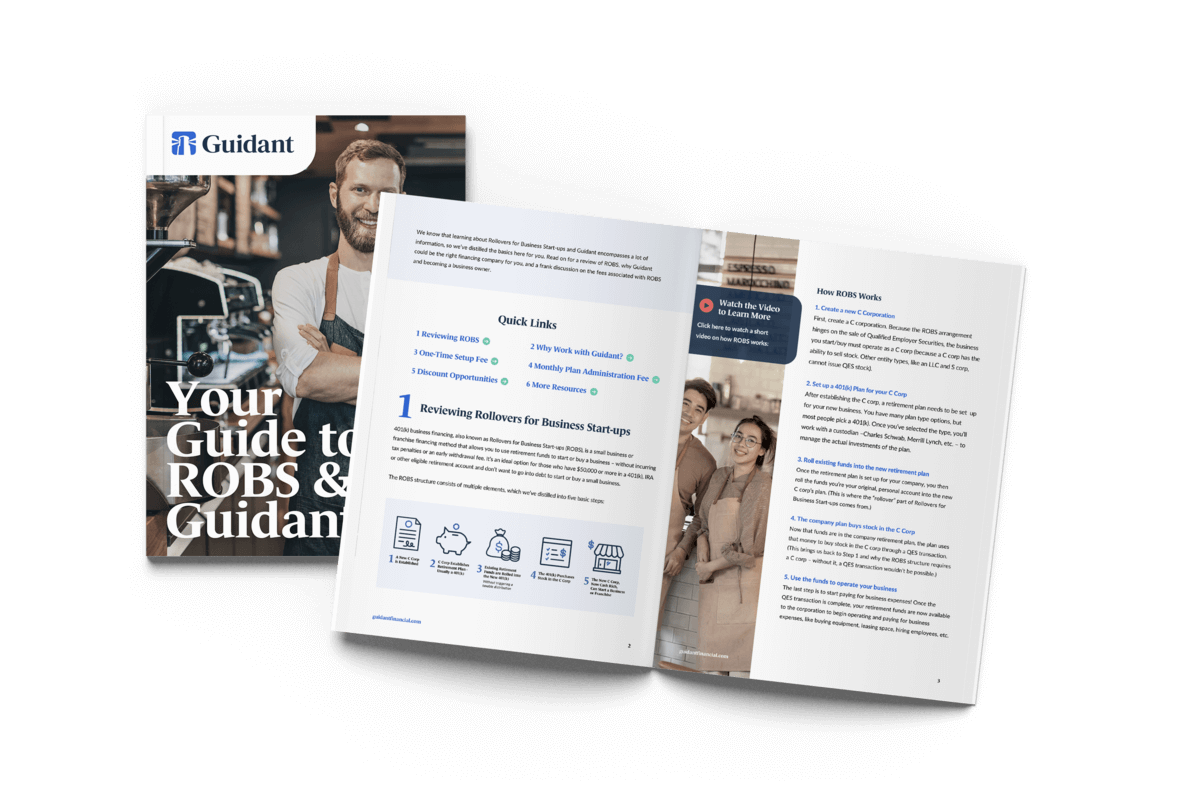 Bank Loan Proposal Template
Used 8,506 times
e-Sign with PandaDoc
​ [Sender.FirstName] [Sender.LastName] [Sender.Company] ​
​ [Sender.Company] ​ [Sender.StreetAddress] [Sender.City] [Sender.State] [Sender.PostalCode] ​
​ [Sender.Phone] [Sender.Email] ​
Bank Loan Proposal Template
Lender: [Lender.Company] ​
Attn: [Lender.FirstName] [Lender.LastName] ​
Table of Contents
Introduction, company profile, partner histories, loan request, loan repayment, financial statements.
Income statements
Cash flow statements
Balance sheet
Financial forecast, projections, business operational data, confirmation, loan proposal letter.
Dear [Lender.FirstName] [Lender.LastName] ,
I have been in the restaurant industry for more than two decades, holding both front of house and back of house positions. I've worked in several major U.S. markets, including New York City and the San Francisco Bay Area, and overseas in South America and Europe.
I first started out in my grandfather's restaurant busing tables and doing dishes, and for the past 5 years I have been the manager of a highly acclaimed and popular destination restaurant in San Francisco. I also hold a Bachelor's Degree in Food Business Management from the Culinary Institute of America.
Since those early days in grandpa's kitchen, I have wanted to run my own restaurant. I believe my time is now, as I have the necessary experience, industry relationships and connections to make this happen. With help from those industry connections, I've created a sound business plan that borrows from established ventures but takes things a step further.
The following proposal will show [Lender.Company] why I'm seeking a loan to launch my restaurant and how the money will be used to complement my existing capital.
​ [Sender.FirstName] [Sender.LastName] ​
At its core, a restaurant is a gathering place to relax, refuel, and socialize with others. The world is full of different cultures, but one thing we all share are meals together. I've taken this ethos to heart, and it is the driving force behind my concept for a restaurant.
In San Francisco, it's not enough to just serve good food; you are selling an experience as much as a meal. The city is one of the top markets for restaurants in the country. It was one of the first two regions, along with New York, in the U.S. reviewed by Europe's esteemed Michelin Guide, and it contains the most restaurants per capita of any U.S. city. In essence, San Francisco is a trend-setter in the food world.
My restaurant is currently in the buildout phase, with an anticipated opening date of six months from now. We have secured a lease for a space in a neighborhood that has steady foot traffic, is popular with tourists and locals alike, and does not have any similar restaurants already.
The space will be bright and open, with an exposed kitchen in the rear to show off food production and a 360 degree bar in the center with ample space to wait for a table and have a drink. We are aiming for seating of up to 50 at a time in order to give patrons a more personal experience.
We envision a younger clientele, with plenty of out-of-towners due to the neighborhood being popular with tourists. Our prices will be very competitive in order to attract customers, but I also believe in living wages and benefits for our employees. To this end, all tips generated by the service staff are pooled together and dispersed equally depending on each employee's function in the overall operation of the restaurant.
In addition to myself, there are two more investors in my restaurant. We each bring something unique to the concept, all having spent our careers in the restaurant industry.
One investor is a veteran in beer, wine, and spirits who runs a bar consulting business in San Francisco. He has helped open some of the city's most popular and well-respected establishments. He has also won numerous industry awards. His focus is on using fresh ingredients to craft cocktails that pair well with food.
The other investor is a seasoned chef who has worked for some of the finest restaurants in the U.S. for two decades. He studied cooking in France, and held two apprenticeships in Spain. His food has been lauded as "cutting-edge California cuisine."
I bring to the team the front of house experience, handling the direct contact with customers and managing the service staff. I have over 10 years of direct restaurant management experience at high-volume locations in San Francisco and New York.
Our budget for the restaurant is $250,000. Of that, the three investors (myself and the two others mentioned) have raised $125,000, meaning we need another $125,000 to launch the restaurant.
Our existing investment is being used to pay lease costs on the space while it's built out and construction expenses to renovate the interior. It's also going toward city and state permit and licensing costs associated with restaurant and bar operations. As stated previously, we anticipate an opening date of six months from now.
The money we are requesting from [Lender.Company] will go toward the following needs:
Kitchen equipment, $75,000: We believe quality food comes from good products. We need to purchase general cooking utensils, tableware and silverware, a new industrial-size oven with a 10-top burner, and refrigeration equipment.
Bar equipment, $25,000: Our bar will use only the finest ingredients and spirits available, in addition to a small and well-curated beer and wine list. We have established relationships with beverage industry distributors for these products at competitive rates.
Food, $25,000: No restaurant is complete without its menu. Through our years of experience and vast connections, we have established relationships with food purveyors around the state of California and elsewhere in the U.S. to supply the restaurant. These products will be the last items ordered before opening.
We are asking [Lender.Company] for a loan of $125,000 to be repaid over one year at a rate of 6% interest, making payments of $11,041.67 monthly.
Our estimates for revenue are an average of $6,000 per day over 22 operational days per month for a total revenue stream of $132,000 a month. After factoring in staff costs of $25,000 per month and operational costs of $75,000, we are left with enough money to comfortably repay a loan under those terms.
Spreadsheets for each partner are attached showing various forms of collateral we are putting up as security for our loan request. Among them are mutual fund investments, equity from ownership of two separate residential properties, and savings accounts.
Attached to this loan request are personal and business financial statements for each partner.
Income statement
Mention your income statement details here
Cash flow statement
Other documentation attached to this request includes income and cash flow projections for the restaurant, and alternative operational structures in the event our projections do not materialize.
I, [Sender.FirstName] [Sender.LastName] , attest that all information mentioned above is true to the best of my knowledge and understanding.
​ [Sender.Company] ​
​ [Lender.Company] ​
​ [Lender.FirstName] [Lender.LastName] ​
Care to rate this template?
Your rating will help others.
Thanks for your rate!
Useful resources
Featured templates
Sales proposals
NDA agreements
Operating agreements
Service agreements
Sales documents
Marketing proposals
Rental and lease agreement
Quote templates
Business Loan Proposal Template
This business loan proposal template managed to secure funds to over 16,000 clients! If you're unsure of how your business loan requests should look, simply use this completely customizable template and get ready to close the deal! You can change the text, images, colors, your logo - it's all 100% editable.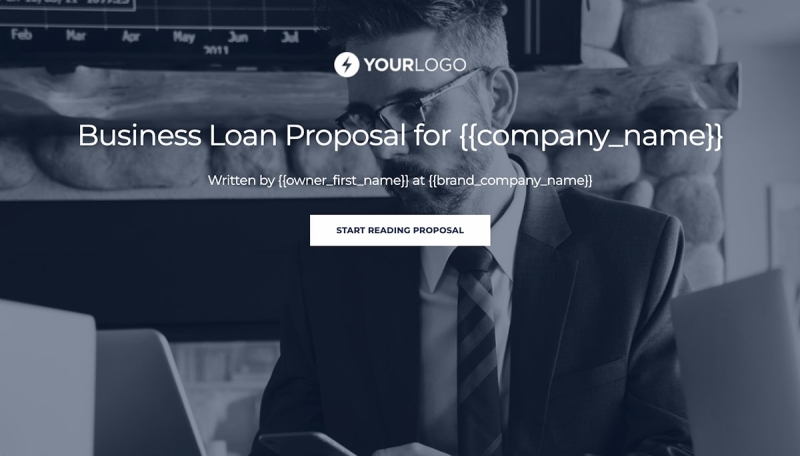 What's in this business loan proposal template
Visually attractive cover.
No matter which industry you're writing a business loan request for, the first impression always matters. In this business loan proposal template, the first thing your creditor sees is a nicely designed cover, fit for a world-class company like yours. From the text, logo, and background image, you can change everything to make it a better fit for your needs.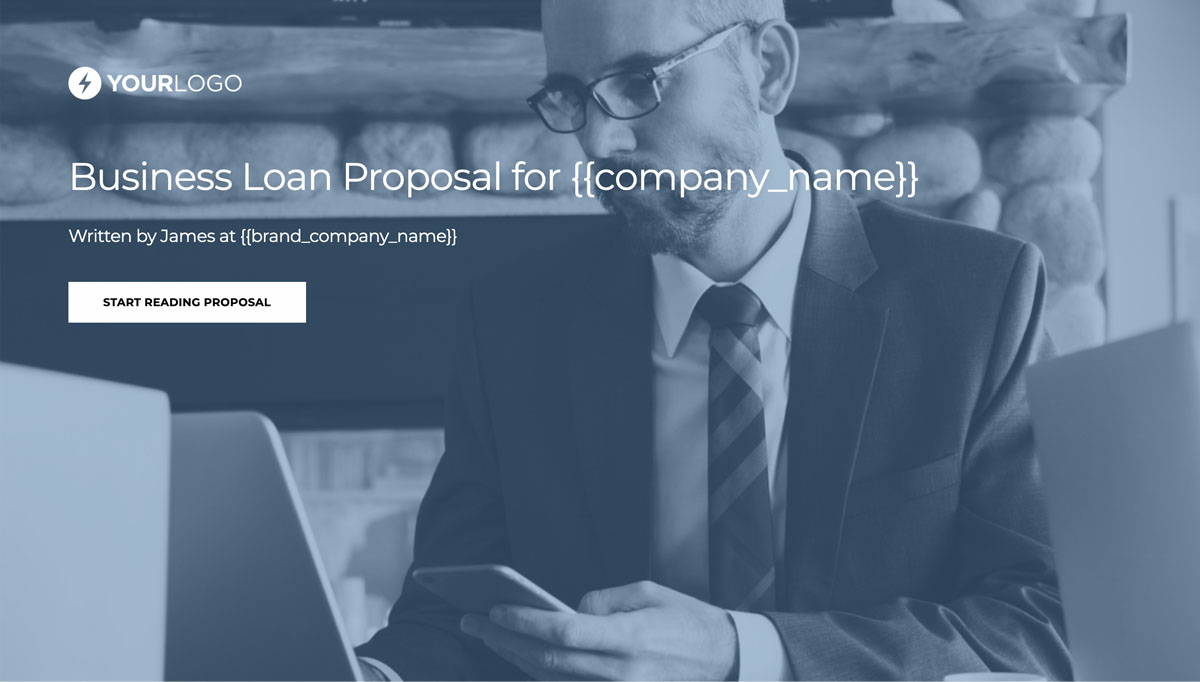 The best way to start your bank loan application is with a direct and straightforward cover letter or executive summary. Use this page to clearly and briefly describe who you are, your business background, the nature of your business or start-up, and how the loan will be used to help your company succeed.
Like everything else in this proposal, it's completely editable - the colors, the text, images, layout - everything.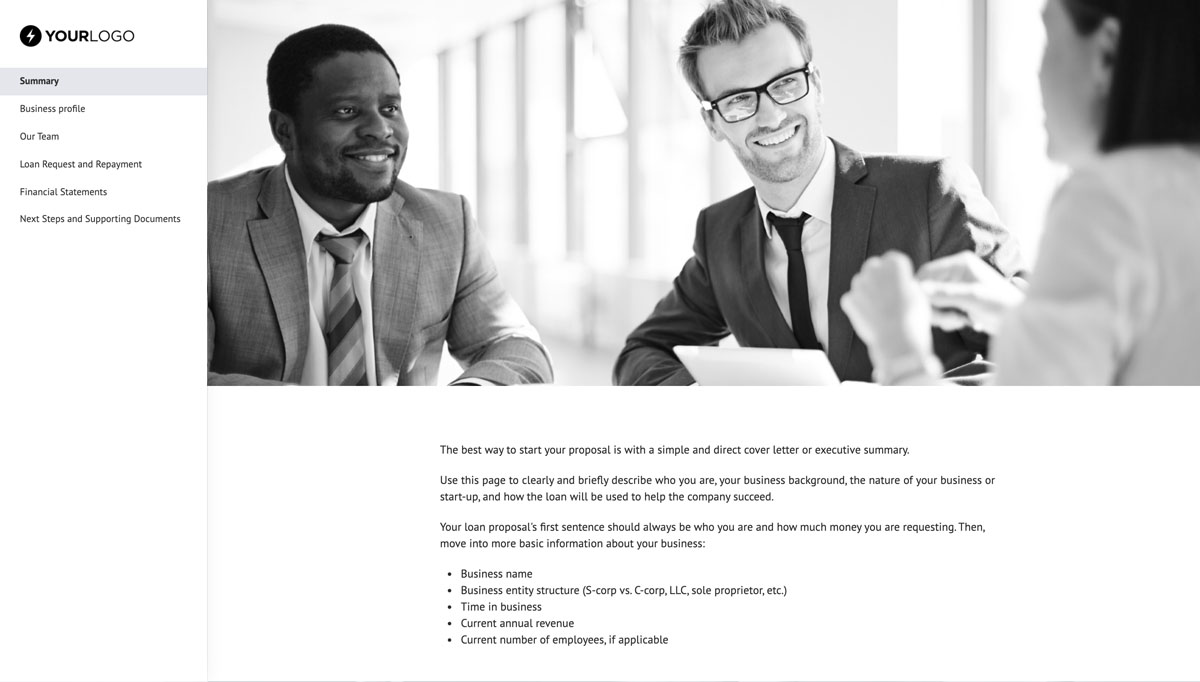 Business profile
Explaining what your business does and the process of using and repaying the loan may sound a bit overwhelming to small business owners. That's why we created a business profile - a page dedicated to the history of your business, along with current activity and results.
It is a perfect place to highlight your business plan, leave some links to your brochures or any other documents that will help soft sell your business.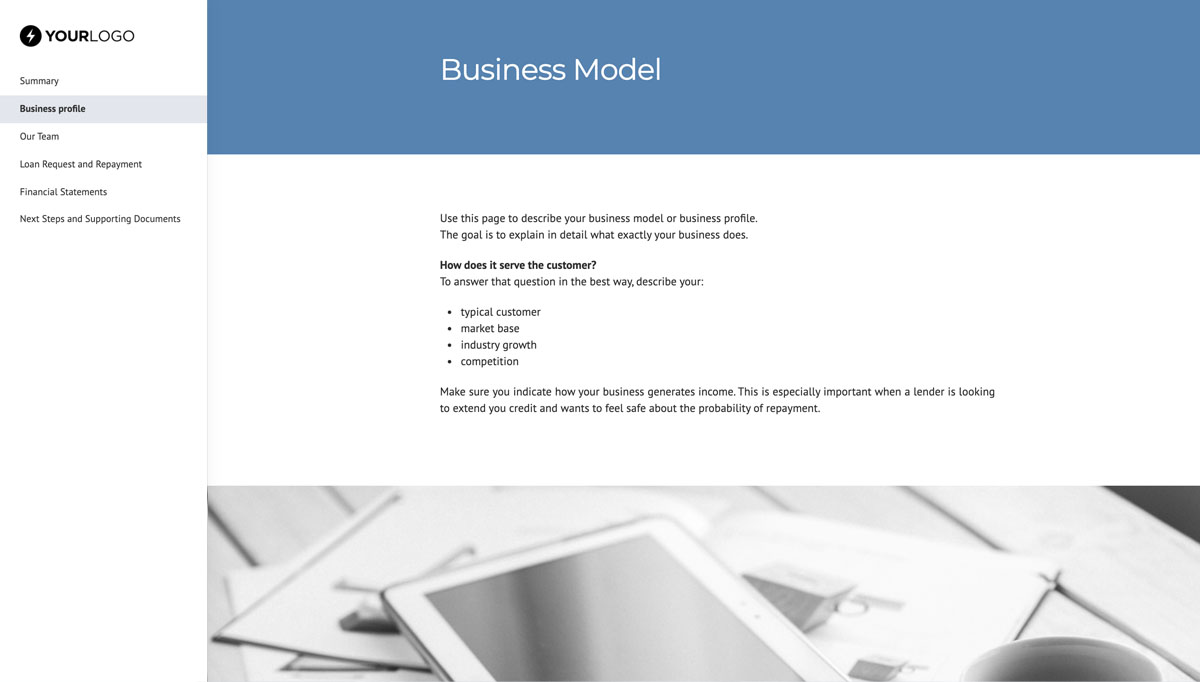 Management experience
The best way to show potential creditors how serious you are about your business is through management experience. Describing the experience, qualifications, and skills of key members of your management team gives you the perfect opportunity to show you understand exactly what your business needs to succeed.
In this business loan proposal template, we've created a whole section for management experience. All you need to do is fill it in!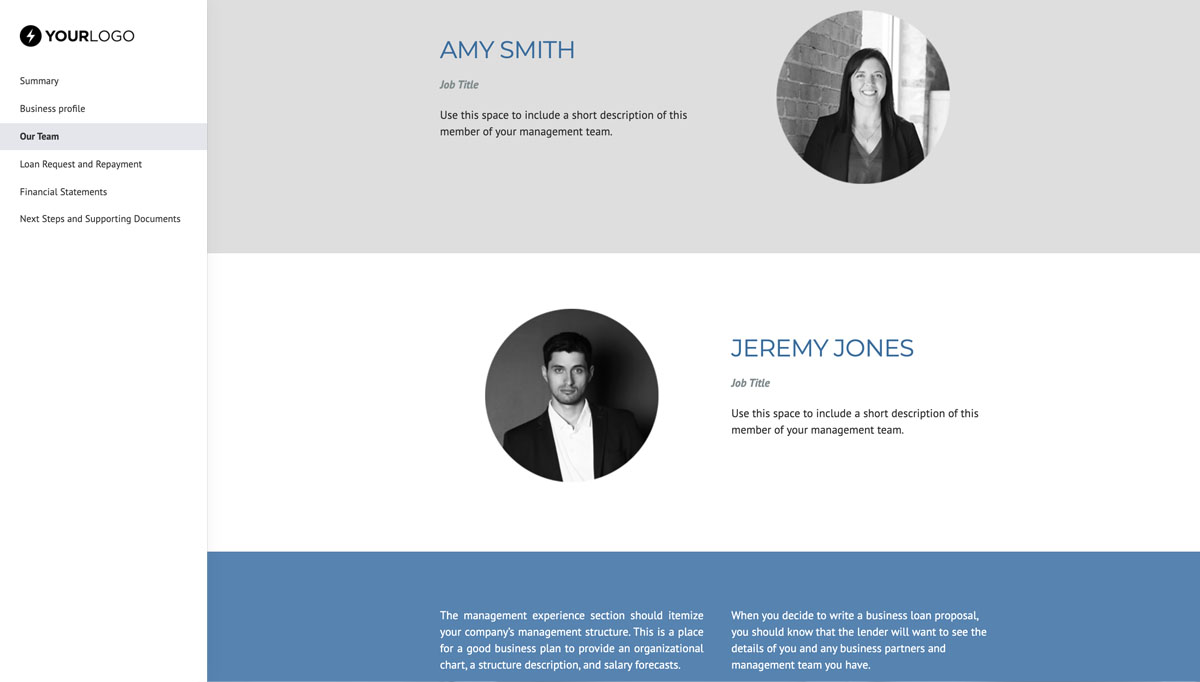 Loan request and payment
This section in the business loan proposal template is all about the numbers. Show precisely why you need business financing, the amount you are requesting, the interest rate, as well as what you will use it for.
Whether you're looking for a small business loan or a large sum of money, this is the place to write it down. Like the rest of this template, every part is editable, from the text and logo to the background image.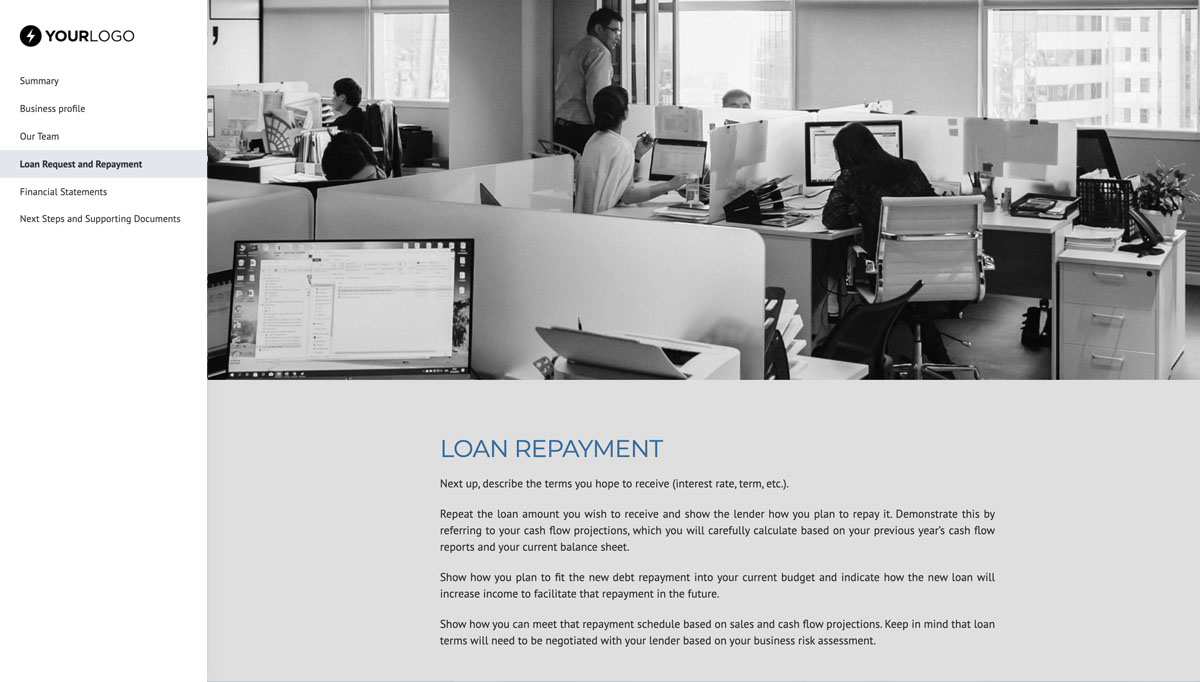 Financial statements
This is the section the creditor will spend the most time looking at! It is also the perfect place to include your personal financial statements, balance sheets, credit history and reports, tax returns, and any other financial document you see fit for the cause.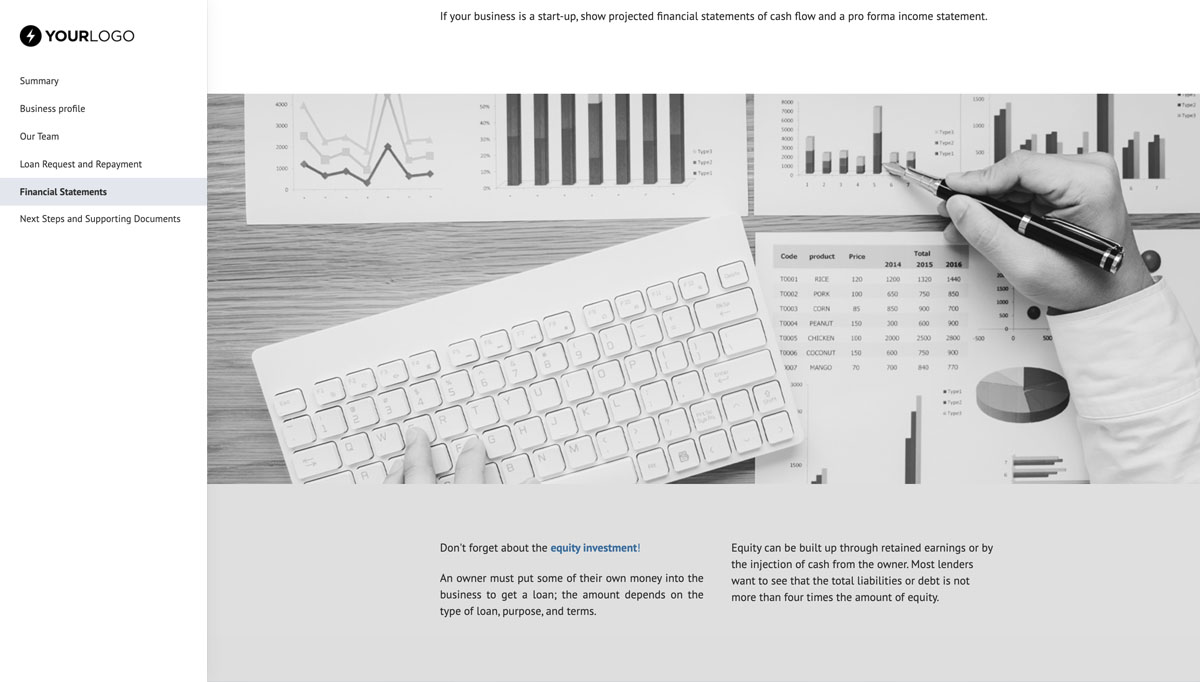 Next steps and supporting documents
Once the hard part of writing the loan proposal is done, use this section to attach the proof behind the story you have told. If you're feeling optimistic, you can even add a digital signature box that will allow your creditors to approve your business loan right away!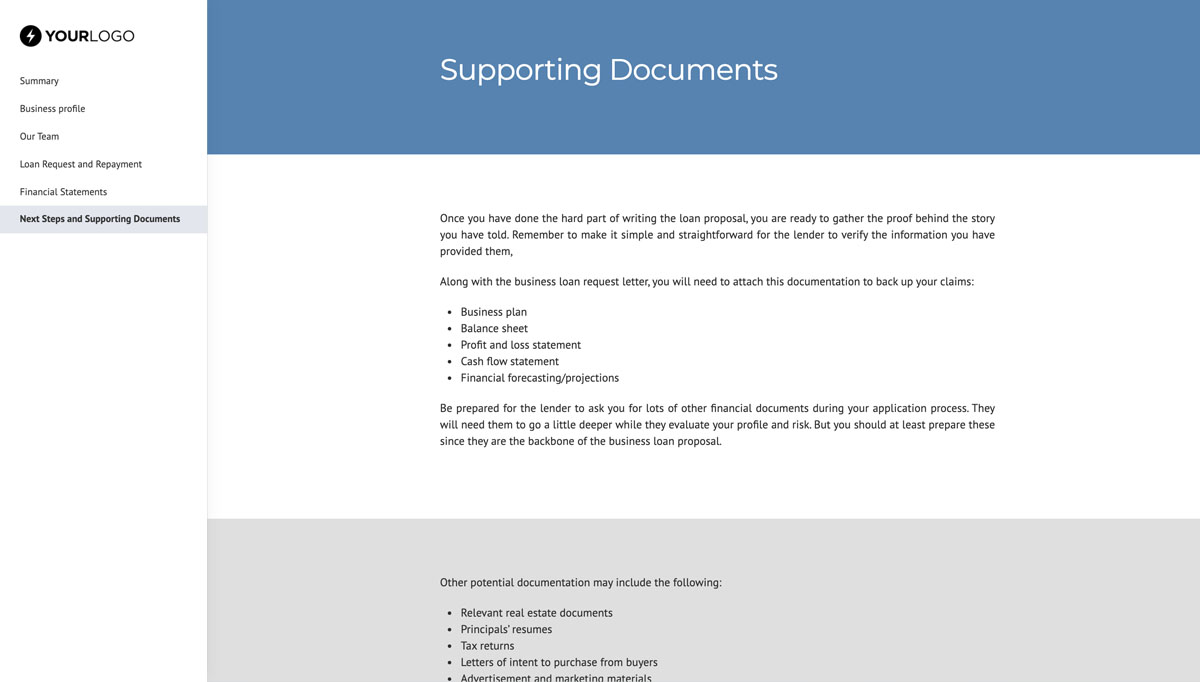 Get Paid Straight from the Proposal
No more messing around with invoices, no more waiting for checks to clear. This proposal template lets you take payments directly from the proposal, using the integrations with PayPal, Stripe, and GoCardless.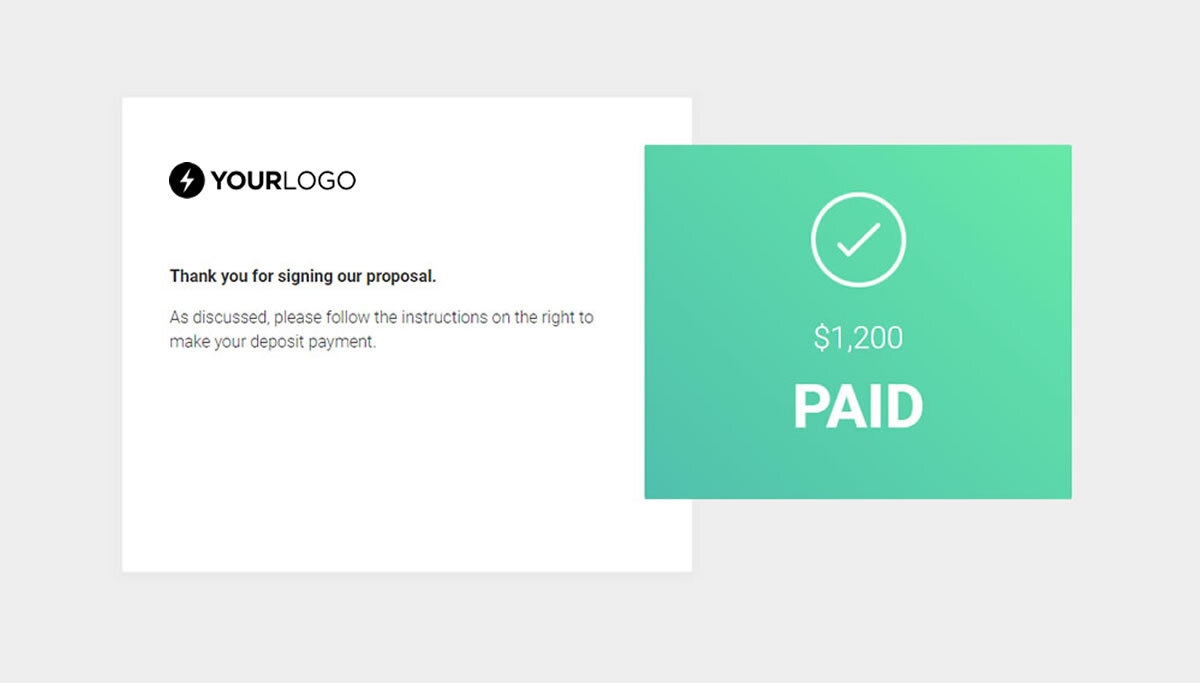 Don't take just our word for it
Here is what some of our 10,000 users across the globe have to say

Sara K. CEO & Founder

Shade O. Business Owner

Brent R. Marketing and Advertising
150+ other free proposal templates just like these are also available inside Better Proposals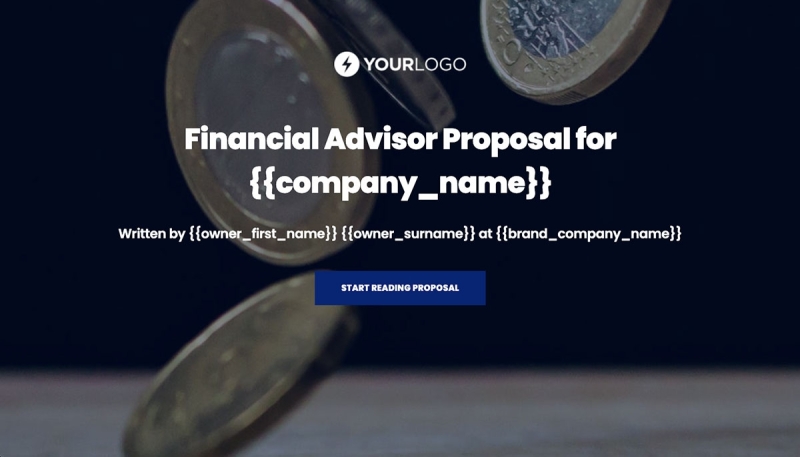 This financial advisor proposal is customizable and lets you showcase your portfolio, expertise and anything else you can offer to your clients. Use this financial advisor proposal to get amazing results.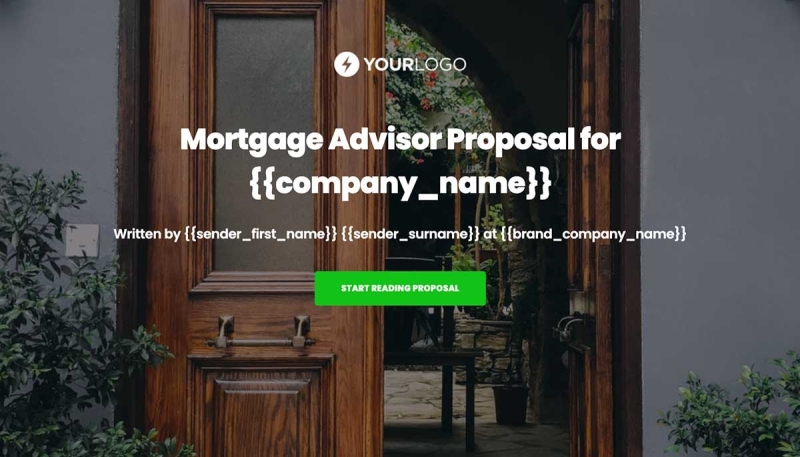 Every mortgage advisor knows how important it is to build a trusting relationship with your clients. Use our mortgage advisor proposal to show your previous work and win over new clients.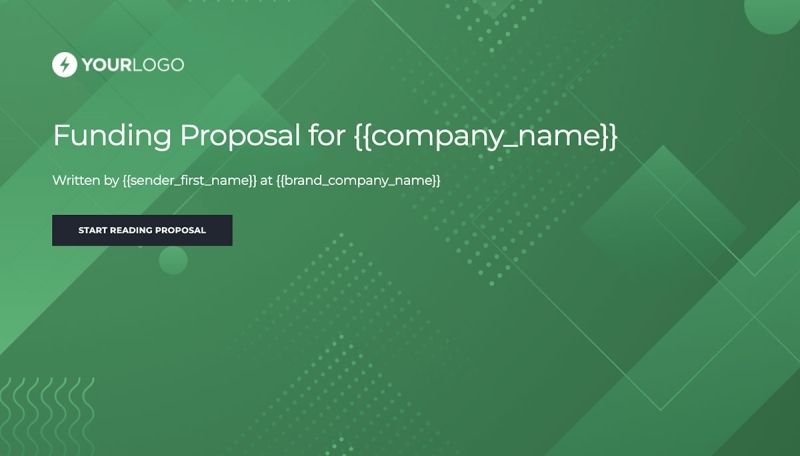 Use this professional funding proposal template to reach out to possible funders and increase your organization's visibility and credibility! The funding proposal is pre-written and saves you time while offering great success.
Automate your sales process with our 50+ integration partners
Import your contacts from a CRM, receive payments, chat with prospects and manage projects. All in once place. See all integrations

Your questions, answered
Common questions about plans, designs and security
Start sending high conversion proposals today
Join 10,000+ happy customers and enjoy a simpler, faster, and more professional way to win more business.
No credit card required. Cancel anytime.

Advertising
Applications
Assessments
Certificates
Announcement
Invitations
Newsletters
Questionnaires
Food & Beverages
Recruitment
Marketing Examples
Transportation
13+ Loan Proposal Examples [ Personal, Construction, Small Business ]
Loan Proposal
13+ loan proposal examples, 1. business loan proposal template, 2. restaurant loan proposal example, 3. loan proposal for startup template, 4. small business loan proposal template, 5. business loan proposal, 6. credit proposal example, 7. home loan proposal sample, 8. bank loan sample proposal, 9. contractor loan proposal, 10. sample loan proposal, 11. land loan proposal, 12. student loan proposal, 13. simple loan proposal, 14. loan fund proposal, what is a loan proposal, how to write a loan proposal, faq's, what are the elements of a loan proposal, what supporting documents does your loan proposal need, what are viable collaterals for a personal loan.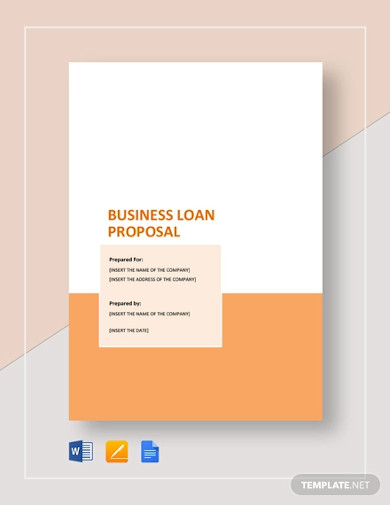 1. Start with a Comprehensive Executive Summary
2. provide a business profile, 3. state your loan request, 4. introduce a proof that you can pay, more design, 6+ amortization schedule examples, samples, 6+ loan receipt examples, samples, 6+ mortgage note examples & samples, how to present a business loan proposal, 24+ note examples & samples in pdf, 11+ loan application examples, samples, 10+ business proposals examples & samples, define beneficiary statement in real estate, 7+ disclosure statement examples, samples.

Related Articles
id; ?>)" rel="noopener" role="button" tabindex="0" aria-label="postclick">48+ Formal Letter Examples and Samples
id; ?>)" rel="noopener" role="button" tabindex="0" aria-label="postclick">46+ Application Letter Examples & Samples

How to Write the Perfect Business Loan Proposal
Knowledge Base
Accounting and finance
Even though the UK's economy may be improving on the whole, new business owners can still find it tough to convince banks to hand over cash. One sure-fire way to get turned down is to take a slapdash approach to the whole process of applying for a loan.
Before you approach a bank , get hold of your credit file to see if there are any obvious steps you can take to improve your standing in the eyes of lenders: next comes the paperwork. The process can seem cumbersome, or even intimidating, so here is a walk-through of what a typical loan application consists of – along with some pointers on how to deal with each step along the way.
1. Personal information: 'all about you'
Among the routine personal background information asked for, you may find a box dedicated to education, qualifications and experience. Here, the focus should be less on your GCSE  grades, and more on evidence to show that you've got what it takes to manage business funds effectively.
Look to give the lender a well-rounded image of yourself. For instance, if your academic background is mostly technical, you could highlight managerial or creative abilities, with detail on your past experience. You should also ask yourself if there are any more explicit steps you could take to improve your credentials here. Examples might include formal Google AdWords accreditation if you're going to be selling online, or even mentioning a short business accounts course.
2. Name and status of your business
Picture this: you put your proposed business name on the form, only for the small business advisor to quickly discover via Google that the name's already taken. Here, you've demonstrated pretty clearly that you haven't done your homework.
By contrast, taking steps such as registering a company with the same name as your business (even if you're not trading under that business name yet) shows that you're serious about protecting the name and reputation of your business.
3. Your existing assets and resources
If asked to detail your assets, don't forget to include 'intangible' (non-physical) assets. For instance, are you developing new technology, or processes that could be patented? Even if this is still a work in progress, it's worth mentioning.
When lenders ask about your current team, try and highlight how your colleagues' skills will complement yours. For instance, if you are a more 'behind-the-scenes' worker, emphasizing your decision to employ someone who is a natural salesperson will highlight your aptitude in role and group management.
4. Making your unique selling point clear
It is vitally important to outline what differentiates your business from current competition, and the reasons why customers will choose you above any other products or services. Be specific: point to the characteristics that make your product or service stand out, rather than general statements such as 'we aim to be the best'.
5. Your business goals
Lenders will be keen to ensure that you've got an achievable plan in place, so try and make reference to concrete facts and statistics about your business. For example:
"At present, the business is running at full capacity. With an investment in 'X' new equipment, I aim to reduce my production costs by 'X'%".
This will assure lenders that your product or service is actually viable, rather than being a vague idea in the development or pre-development stage. You want to show ambition, but refrain from being unrealistically optimistic in your business goals.
6. The purpose of the loan
What lenders want to hear is not just a description of the item you want to buy, but how that new item is going to be put to work in your business.
For instance, rather than saying the money is "for a new van", elaborate a little further, perhaps along the following lines:
"Some of my existing customers were inquiring about home deliveries. After looking into this, I realised that a delivery service would add a valuable revenue stream to my business, as demonstrated in my costings (attached). I require funding for a van to enable me to launch this new arm of my business…"
7. Revenue and profit forecasts
Lenders want to see that you'll have enough cash coming in to meet repayments consistently. This is your opportunity to demonstrate that you're financially savvy, and that your plans for the business are backed by solid numbers and statistics. When making revenue and profit forecasts you should focus on:
At the front of your mind will be the costs directly relating to how you produce your goods, or deliver your service: i.e. materials, manufacturing, packaging, transportation, and staff wages. You also need to factor in additional costs needed to keep your business running, including rent, bills, marketing, computer software, and the cost of maintaining your business equipment.
Lenders will be looking for evidence that you have factored in all of these costs with clear costing sheets. You must also communicate that your model will be successful in its current field, and competitive with similar business — so be ready to make reference to other companies' pricing plans, and have factual evidence of their current charges.
Revenue predictions
Here you should consider how many customers you are expecting to get. If you're already trading, you can refer to your figures to date as a starting point, and illustrate how you intend to build on this. If the loan is to get you off the ground, you'll be more reliant on data from your industry as a whole. Use industry statistics to support your forecasts, to give them a strong grounding.
The more you can flesh this out, the better.
For instance, give predictions for repeat sales based on how often customers are likely to need your product or service (i.e. replenishment rates). Additionally, try to pinpoint peak times of year when you think your business will be particularly busy.
Funds drive growth
It also helps if you can illustrate how the loan funds will actively drive revenue growth. Let's say you're going to use the funds to boost your online presence: can you predict how online sales will increase on the basis of an increased paid ad spend?
Looking into the future…
Finally, no matter how well-worked your calculations, there will always be an element of 'crystal ball gazing' when presenting predictions to lenders. To try and make your predictions seem more solid, you might want to consider presenting your figures in terms of the best case, worst case, and in-between scenarios.
Need some more help on getting your costings right while still staying competitive? Check out our help centre for more hints and tips.
Related Articles
What is a Confirmation Statement?
LLP vs Ltd: What's the difference?
How to start a business from scratch
Six things you need to know about how to set up a business
Setting up a subsidiary company
What is a shareholder?
Recent Posts
Current Issues UK SME's have, what's being done and what you can do
Pay rates recap for limited company owners
National Insurance: Increase to Primary Threshold – Good for limited company owners?
Popular Articles
Long-Term Business Growth: Laying The Foundation
eBay Business: Building Your Brand
Levelling Up Your Business
Scaling Your Business – Growing Pains
Business Bank Account from Barclays
Apply for Instant Loan
Download Our App
Eligibility
Interest Rates
Document Required
EMI Calculator
Personal Loan App
Instant Cash Loan
Mobile Loan
Short Term Loan
Salary Advance Loan
Education Loan
Medical Loan
Travel Loan
Debt Consolidation Loan
Home Renovation Loan
Marriage Loan
Consumer Durable Loan
Personal Loan For Women
Personal Loan For Doctors
Personal Loan For Businessman
Personal Loan For Self-Employed
Personal Loan For Corporate Employees
Personal Loan For Government Employee
Personal Loan For Salaried Employees
Personal Loan For Chartered Accountant
Personal Loan For Defence Personnel
Unsecured Business Loans
Bill Discounting Or Invoice Discounting
Medical Equipment Loan
Working Capital Loan
MSME/SME Loan
Instant Loan
Emergency Loan
Personal Loan For Teachers
Dealer Locator
Customer Care
Pay from anywhere
Customer service app NEW
Covid Safety Measures NEW
Bill Discounting Portal
RBI IRCAP - Customer Education DISCLOSURE
Fraud Awareness
Customer Education discclosure
Unsecured business loans
How To Write A Proposal For A Business Loan?
26 June 2023
Hero FinCorp Team
2023-06-26 00:00:00
Table of Contents
Are you planning to apply for an online Business Loan? Chances are that the lender will also request a Business Loan proposal. Read on to learn how to draft one and what characteristics it must include.
Preparing a well-documented, effective Business Loan proposal is the most crucial step toward getting an online Business Loan from a lending institution. After all, the loan proposal would be your first contact with a finance provider. So, you must craft a document that showcases your company in the best possible manner. The ultimate goal is to convince the loan company that you are ready to achieve business success and repay the borrowed amount on time. In the following sections, you will learn how to write an effective proposal for a Business Loan.
What is a Business Loan Proposal?
A Business Loan proposal is a document that describes your company's financial and operational history. Before approving your Business Loan, lending institutions want to understand your business and gather information about your risk and working capital management. Many loan providers ask for a loan proposal to evaluate your position and determine your creditworthiness. A solid proposal letter demonstrates to the loan provider that your company has good financial well-being and can repay your loan in the future.
How is a Business Loan Proposal Different from a Business Plan?
While business plans and Business Loan proposals contain similar information, a loan proposal focuses more on the loan amount and your repayment plan. A business plan is a long-term, broad document that guides you during different business stages. It includes your business structure, operational strategy, and future perspectives. In contrast, a Business Loan proposal is a short-term, focused document that aims to secure the business's finances. While reviewing a proposal letter, lenders are more interested in your requested loan amount, its purpose, and repayment capacity.
What Makes a Good Business Loan Proposal?
A good small Business Loan proposal should be well-written and organised. Although it is a short document with only a few pages, you may need to attach a few additional documents to support its details. It should demonstrate financial stability, short sections, and specific business details. Here are a few characteristics that make a good Business Loan proposal:
Simple and Plain Language: The Business Loan proposal format should be well-structured, easily understandable, and clear, devoid of acronyms and technical terms.
Demonstration of Growth Prospects: The proposal should focus on how you plan to take your venture to success in the next few years. It should showcase multiple scenarios and contingency plans.
Representation: If you don't have the time or skills to write an effective proposal letter, take professional help to showcase your strengths.
To Avail Unsecured business loans
Business loan proposal structure.
Although your lender may suggest a proposal format with the required sections, a typical Business Loan proposal format contains the following sections:
Executive Summary or Cover Letter
This section briefly describes your personal and professional background, including your business overview and planned usage of the loan amount. You may also design this section as a cover letter, summarising your personal and business details.
Business Overview
Provide relevant information about your business, licenses, legal structure, and current activities. You may also cover your qualifications, skills, and experience in this section. It may also include important details about your target customers, industry trends, marketing channels, current market conditions, etc.
Owner Investment
Your business equity demonstrates your motivation to achieve success. This section contains your financial investment details in the business, including any cash amounts and retained earnings.
Loan Request
Clearly specify the amount you require as an online Business Loan and what you plan to use it for. Provide details about what you will do with the loan amount and where you plan to invest it. Moreover, explain how you decided on the requested loan amount with the help of estimates and quotes in calculations.
Loan Repayment Plan
Based on the loan amount and repayment schedule, explain how you plan to repay the borrowed amount on time according to your working capital management plan and the projected cash flow. If you regularly experience fluctuations in the cash flow and sales, explain the other options and cash reserves you have to make EMI repayments in lean times.
Financial Statements
In this section, provide a brief overview of your personal and business financial statements with the help of actual bank statements. Loan providers want to see your statements for the last few years and the current period. You can support your statements with financial records like income statements, net worth reconciliations, balance sheets, etc.
If you have more than 20% equity in the business, you must provide your personal bank account statements as well. Some lending institutions also require tax returns for a certain number of years. Find your lender's documentation requirements to support your Business Loan proposal.
Income and Cash-Flow Projections
This section will include the details of your project's cash flow and income statements. Also, discuss the changes you plan to make in the business if you fail to meet those projections. Provide projections for at least a year.
Pledged Collateral
Explain what recourse the lender can use if you default on the loan repayment. Summarise the assets you can use as collateral. The loan company will have the legal right to sell that asset to recoup its outstanding balance. However, if you opt for a collateral-free Business Loan online, you don't need to provide any collateral against the loan.
Existing Liabilities
The lender would want to know what other debts and financial obligations you currently handle. Even with enough income, EMI repayment may be challenging if you already pay for other commitments. Summarise your current obligations' details here, including the entity, amount owed, EMI amount, repayment schedule, etc.
When you apply for a Business Loan for working capital management or any other purpose, a loan proposal will help the lender get a clear image of your loan purpose. It lets them evaluate your financial well-being, based on which they offer an adequate loan amount at a reasonable interest rate. Therefore, use the above tips to create a clear proposal that the lender can easily understand.
At Hero FinCorp , entrepreneurs fulfilling the eligibility criteria can get an unsecured Business Loan of up to Rs 40 lakh online with attractive interest rates and flexible repayment tenure of up to 60 months. Apply now!
Research and calculate the costs to create a loan request proposal according to your loan requirement. Project your business as financially stable with a high repayment capacity to get fast approval.
A good Business Loan proposal must be written in simple language, demonstrating your growth prospects and showcasing your strengths. Use the right Business Loan proposal format to write it efficiently.
The five steps to writing a business proposal are:
Research information about your competitors, customers, and working capital management.
Strategize your business goals and activities.
Calculate the costs, expenses, and funds.
Draft a clear and convincing proposal.
How to Track Personal Loan Application Status Online?
Personal Loans are the best funding options for people who nee . . .
Instant Personal Loan without Salary Pay Slip or Bank Statement
An Instant personal loan is a quick and convenient method to cate . . .
How To Get Instant Personal Loan for Low CIBIL Score?
Personal Loan with Low CIBIL score . . .
How to Calculate Your Personal Loan EMI Using Excel?
Equated monthly installments (EMIs) are the installments that you . . .
Our Top 10 Picks for the Best High Mileage Electric Bikes and Scooters in India
The electric bike segment has drastically boomed in India in r . . .
10 Second Hand Cars Under 2 Lakh in Delhi
Everyone in India and abroad was surprised by the government's announcement to replace ...
Get Instant 50,000 Loan Without CIBIL Score
What is NMI in Loan and How It Works?
Hero FinCorp
Disbursement
The act of paying out money for any kind of transaction is known as disbursement. From a lending perspective this usual implies the transfer of the loan amount to the borrower. It may cover paying to operate a business, dividend payments, cash outflow etc. So if disbursements are more than revenues, then cash flow of an entity is negative, and may indicate possible insolvency.
Subscribe to our newsletter and get exclusive deals you wont find anywhere else straight to your inbox!
Public Notice
Notice No. 1 of 2
Public Notice: Moratorium Message
Dated: march 31, 2020.
Dear Customers,
Today, the entire world is facing a crisis in the form of Covid-19, and it is during these times that we all need to come together to support each other and to act responsibly.
In light of the recent nationwide lockdown, we at Hero FinCorp are providing a three months moratorium to our loan customers as per eligibility and guidelines issued by RBI. This moratorium facility is only applicable for EMIs due between March 01, 2020 and August 31, 2020. EMIs / over dues prior to March 01, 2020 are not eligible for moratorium.
Please note, if you opt for the moratorium, interest will continue to accrue for the duration of the moratorium period at the currently running interest rate on your loan. This additional interest will be collected from you by extending the original tenor of your loan. We will also share an updated loan repayment schedule which would include all relevant details.
We urge customers to use this option only if absolutely necessary. This facility has been especially designed for those customers whose cash flows have been severely affected and they do not have sufficient savings or other income sources which they could use for paying their EMIs. The downsides of opting for the moratorium include:
1. Higher interest costs
2. Longer loan tenor
3. You pay more overall
If you can, then you must continue to pay EMIs as per your existing Repayment Schedule. This would be a far superior option in the long run as it offers several benefits, it is easier, simpler, and cheaper to do, so choose wisely!
To apply for moratorium, please send us a request from your Registered Email Address, along with your Loan Account Number and Registered Mobile Number. Post which we shall initiate the moratorium for unpaid EMI of March 2020 (if any), and for EMI of April and May 2020.
For moratorium request or any other information, please write to us at:
Retail Finance Customers:
Corporate Finance Customers:
Best Wishes, Team Hero FinCorp
Notice No. 2 of 2
Public Notice: Update on Hero FinCorp's operations during COVID-19
Dated: march 26, 2020.
At Hero FinCorp, health and safety of all our employees, customers, and stakeholders is a top priority. In the wake of the Corona virus (COVID-19) outbreak, we are strictly adhering to guidelines from the government and other concerned authorities, in order to contain the spread of the virus and minimize impact on business.
During this challenging time, we have taken several measures to ensure safety of our employees, this includes providing work from home option for all our workforce and keeping a regular check on their and their family's well-being. We have shut–down our offices and introduced alternate ways of working through Digital modes to ensure safety and business continuity. We are also working with our vendors and partners to ensure compliant and robust BCP plans are operationalized at their end as well.
Given the 21 day nation-wide lockdown announced by the honorable Prime Minister of India on March 24, 2020, we have put in place various initiatives to ensure that there is zero disruption in critical operational processes. Accordingly we are ensuring regular and relevant communication goes out to all our stakeholders and investors on the status of our operations.
While we remain committed to providing high levels of service to our customers, given the circumstances, we urge our customers to co-operate with us by ensuring the following:
1. Choose E-mail channel for any loan servicing related request - This is a channel that has been strengthened to ensure quick resolutions to issues raised. While our call center remains operational, customers might encounter longer wait times, as they are operating at a reduced capacity to accommodate work-from-home policy.
2. Ensure timely payments of EMIs through digital channels – We urge our customers to remain disciplined towards their EMI re-payments. We have made available numerous digital modes of payments on our official website (www.HeroFinCorp.com), and encourage our Retail customers to pay their dues by leveraging the same.
This is an unprecedented situation, and we at Hero FinCorp remain fully focused on overcoming the common crisis that we face. We are confident that with a little faith and discipline we shall soon see this situation through and normal business operations shall resume.
In case of any query regarding your loan, re-payment or loan servicing requests, please do reach out to us on the below mentioned E-Mail IDs:
For Retail Loans Help
Two-Wheeler
Personl Loan
Simply Cash
For Corporate Loans Help
Machinery Loans
Loan Against Property
Corporate loans and Structured Finance
Doctor Loans
Supply Chain Finance/ Bill Discounting
Medical Equipment Finance
Construction/ Healthcare/ Education Finance
Team Hero FinCorp

Proposal Templates > Loan Proposal Template
Loan Proposal Template
If you are looking to secure a new loan, a loan proposal might be your best bet. We've taken the guesswork out of putting together impressive looking proposals with our free and fillable loan proposal template that can be customized to your needs in minutes. Edit, deliver, and track your proposal, then get approval with built-in eSignatures.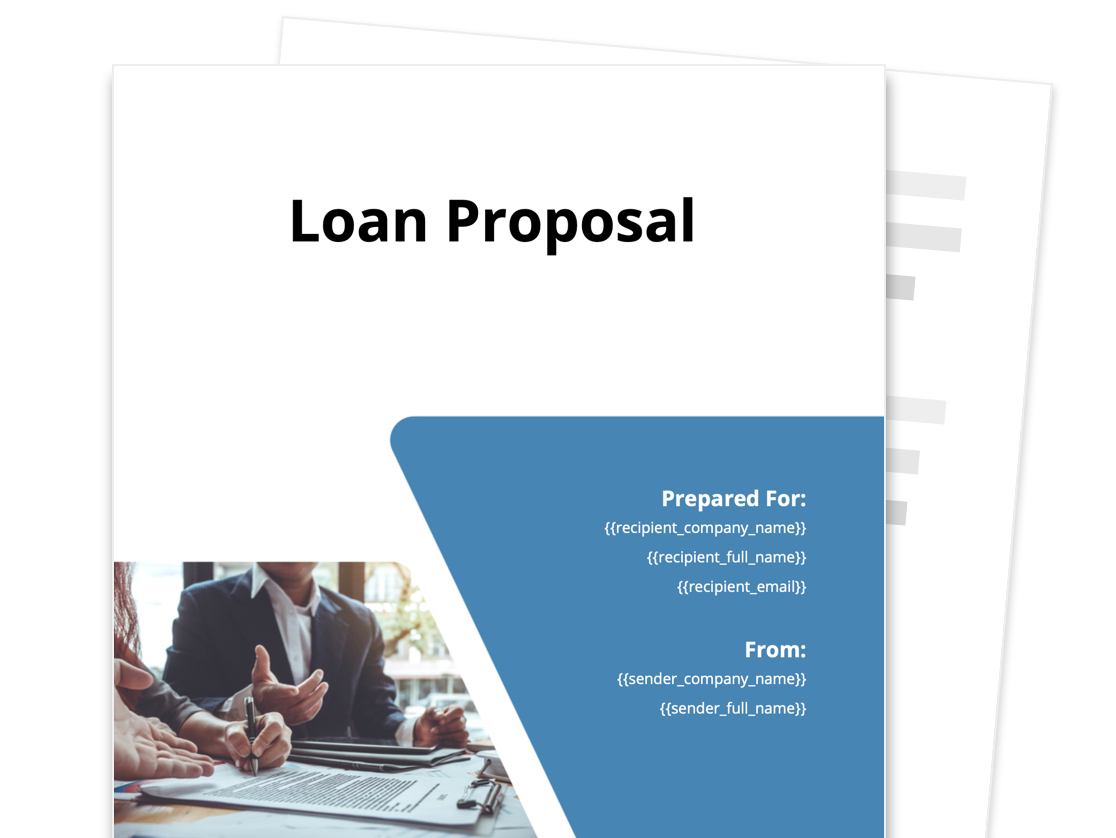 Best proposal software ever! 
I've tried soooo many proposal softwares and I'll never try another one after Proposable. It's so easy to use and it looks good, which all the others don't.
Account Executive , Grow.com
Smart, reliable, and constantly improving.
Proposable just works. I can make visually interesting sales presentations, dynamically insert content, and execute agreements. Proposable powers our entire sales process.
CEO , Periodic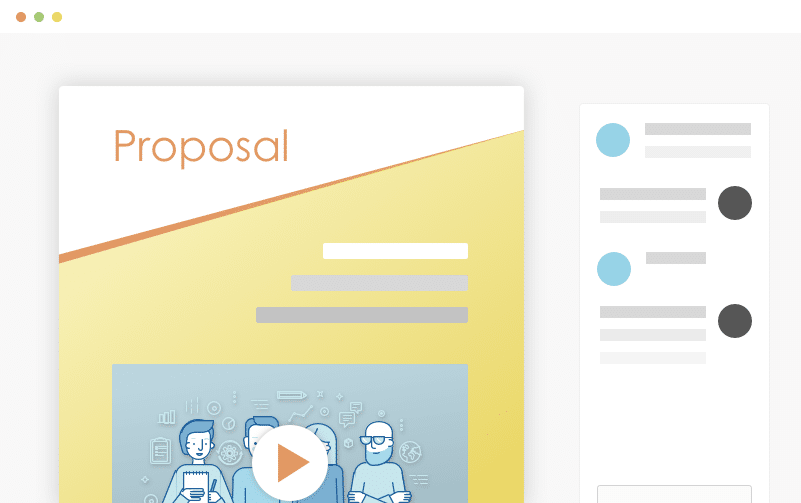 [email protected]
Call or Text (866) 670-7483
Business Loans
Posted on December 12, 2022
Riley Draper
A business loan application process often requires numerous documents, one of which is a request letter. This letter is a significant part of your application as it is written to request financial assistance from the financial institution.
In most loan application cases, the success of your application process hinges on your ability to craft a convincing and professional business loan request letter. However, to do this, you need to know what the letter entails, the necessary information to include, and, of course, how to write one. 
To help you with your application process, below we have compiled everything you need to know about writing a request letter for a business loan.
What Is A Business Loan Request Letter?
During your loan application process, whether you are getting a business loan for your beauty salon or trucking company, your lender or financial institution will request information from you. This information is to help the lender or institution trust you enough to know that you will be able to pay back their loan.
Many times, the request for this information comes in the form of a business loan request letter. A request letter is a formal letter or a document that is written to request anything from an official. It can be seen as a way of asking for a favor from officials.
In this case, a business loan request letter is a letter to the bank or lending institution that supports your business loan request. During the loan request review process, the bank underwriter will pay attention to the content of your business loan request letter to see if you deserve to get your loan approved.
In essence, your loan request letter is the difference between your loan being approved or refused. A loan request letter usually commits elements such as the loan amount requested, detailed planned use of money if disbursed, reasons why you think you should receive the funds, and a detailed description of how you plan to repay the loan.
The loan request letter is usually requested when asking for financial help in the form of a loan. This can be when you're applying for a loan from a conventional financial institution or bank lender, or when you're requesting a loan from the SBA ( Small Business Administration ).
In both cases, you are trying to demonstrate to the lender that your business can repay the borrowed amount, and you have a plan for using the loan when disbursed. Although loan request letters are usually a part of loan application processes, they do not necessarily need to be a part of every loan application process.
Some situations require loan letters, and some can do without them. Some situations that do not require loan request letters are:
Situations where you require a loan from specific lenders whose only concerns are your bank statement
Situations where you request a business line of credit and the only requirements are recent business financial statements
Situations where you request equipment financing and the equipment will be the collateral you need.
Regardless, writing a request letter for a business loan is an essential step to securing your loan. However, simply writing a letter is not enough. It is crucial to write an excellently detailed loan request letter that passes your message across quickly to the money lender.
What You Need To Know About Writing A Loan Request Letter
Many elements go into writing a loan request letter. These request letters are a form of well-documented proposal that accompanies other loan application documents, which is why they should convey specific information. When writing a loan request letter, your letter must have specific information. This information includes: 
1. Basic Business Information
Money lenders and financial institutions do not give out loans to businesses or individuals who walk up their doorsteps. They do not accept and disburse loans without knowing who the borrower is. A detailed business loan request letter should begin with a proper introduction that communicates the borrower's basic personal and business details.
It is a great way to not only break the ice but also get the lender to be familiar with you and know you're genuine. The basic business information should include the following:
Your address
Your business name
Your business address
Name of the money lender or loan agent
Contact information of the loan agent
Requested loan amount
Current business project
Current annual revenue
Turnover of the previous financial year
Current number of employees
These details tell the institution all they need to know about you, your financial needs, and your business. Needless to say, all information given should be legal and up-to-date.
2. Purpose Of The Loan
What is the loan for? How does the lender know you will use the loan for the right things? After offering the basic business information, it is essential to the money lender your plan for the loan when approved. Approving a loan to a business (especially small businesses) is a considerable risk for many financial institutions.
It would be best if you showed the institution that you plan to use the loan for the right things. When talking about the purpose of the loan, briefly tell the lender how you plan to use the business loan. Be concise and professional, yet offer enough details for total insight.
Be persuasive enough to help the lender see your vision and show them you have what it takes to use the loan properly.
3. Provide Repayment Assurance
Before money lenders approve business loss, they want to ensure they receive their money and interest at the due date. Without proper assurance, they will be skeptical and might refuse to approve the loan for disbursement. After drawing out the purpose of the loan you are requesting, it is essential to detail how you mean to repay the money on or before the duration of repayment. 
What are your plans to make back the money? How soon can you make money? Are there any risks that are expected? Still being persuasive yet professional, describe how you expect to pay the loan back. However, don't just draw out a plan using words. Offer evidence to support your plan.
This will build your credibility and increase your chances of the loan being approved. Your evidence can include a business plan, personal finance and credit history (do you have bad credit? Here is all you need to know about getting a business loan with bad credit ), past business financial decisions and results, and any other relevant financial details.
As with any other letter, it is essential to close your business loan request letter. Your closing is your last chance in the letter to persuade the money lender to approve your application and agree on specific loan terms if possible. In the closing part, you can convey what approving the loan will mean to your business without sounding desperate.
Remain professional yet courteous at this point in your letter. The closing part of your business loan request letter is also an excellent opportunity to negotiate for specific terms, such as a certain interest rate or a longer repayment term. However, don't just tender your requests.
Back them up with compelling reasons why the lender should take on these terms.
How To Write A Request Letter For A Business Loan
Now that you are familiar with the essential elements of a professional business loan request letter, it is essential to know how to write a convincing and successful request letter. Because your request letter plays an integral role in the success of your business loan application process, knowing the best way to write one is vital to your ability to win a loan.
Business loan request letters are usually about one page in length. However, they should be written professionally and in great detail.
1. Heading And Greeting
When writing a letter, it is a formality to have the heading and greeting first. The loan request letter is not left out. At the top of your business loan application letter, you are expected to leave a formal greeting and belief introduction of yourself. This is where the basic business information comes into play.
Begin by writing your name and contact information
Date the letter correctly (when the letter was written)
Include the name, title, and other important contact information of your loan agent
Include a subject line that states you are applying for a loan and the amount of loan you are applying for 
Include a formal greeting.
Below is an example of a format for the heading and greeting section of your letter:
[Company/Business Name]
[Business Address]
[Lender Name]
[Lender Title]
[Lender Institution Name]
[Subject]: 
Dear Mr/Miss/Ms./Mrs [Name],
At a glance, the heading and creating part of your letter will tell the lender what they need to know about your business and the type of loan you need.
2. Summary of Your Business Loan Request Letter
What do you need the loan for? The second step and the second element when writing a business loan request letter is to briefly tell your money lender what the purpose of your letter is, the type of loan you need, and the amount you want to borrow. The summary of your business loan request letter is usually only a few sentences short.
The length may vary from letter to letter as every request letter is unique. Regardless, it should be nothing more than a summary.
For example: 
I am writing this to request a [kind of loan] loan in the amount of [amount] for the purpose of [purpose]. 
This is straight to the point but immediately tells the lender what you need and why.
3. Basic Information About Your Business
Following the summary of your business loan request letter, it is essential to tell your lender all they need to know about your business. To do this, you will provide basic information about your company. Although lenders want to know as much as they can about you and your business, they do not have the time to read pages upon pages of all information about your company.
They spend so much time processing other loan applications that a long introduction can be a big turn-off. So, instead of an entire file on your business history, write out the following:
Your business's recognized, registered, and legal name
Your business's legal structure (is it a sole-proprietorship company , partnership, or limited liability company?)
Years of operation or how many years you have been in business for
A concise description about what your business does or operates in
Your company's annual revenue and profit
Number of employees
4. Description Of The Purpose Of The Loan
After offering the basic introductions, you must tell your lender why you need the loan. In this section, explain to your lender how you plan on using the loan when it is approved. Give them a great but brief insight on the plan and show them you have mapped out the use of the finances every step of the way.
For example, don't just say you need to buy more stock. Instead, state what stock(s) you need, how much they are, how much you plan to re-sell, and how much revenue you plan to make back from this.
5. Show Your Ability to Repay the Loan
Show the lenders that you are more than capable of repaying the loan given by including several documents that show your current financial ability. Highlight your credit history and present financial disposition using financial statements such as:
Summaries of up-to-date profit-and-loss or balance statements. This will show the lenders that your business is growing
Schedules to show repayment plan for other outstanding debt that your company might owe to other lenders
Future cash-flow projections . This will show your budget for the repayment terms and your ability to pay back.
6. Concluding Elements
As with any other kind of letter, you need to end your request letter with a concluding part. This concluding part should include several elements, such as:
A final paragraph that refers the lender back to your attached documents and financial statement
A paragraph persuading the lender to review your package
A sentence showing the lender that you anticipate speaking to them soon
Your signature
A list of all included documents.
Sample Of Business Loan Request Letter
ABC Crescent Street
Miami, FL 12345
Jan. 1, 2022
Jack Stephen
Senior Loan Officer
678 Spring Road
Florida, FL 67890
Re: Small business loan request for $350,000
Dear Mr. Stephen, 
I am writing this to request a small business loan of [input loan type] of $150,000 for the purpose of [input your purpose of the loan]. 123 Movers is a successful business that is well-established in the transportation and shipping industry. Our success is recounted on our official website [input website URL].
123 Movers started operation in April 2018 in one location with just [input number] workers and [input number] trucks. Serving local and international clients, we have grown consistently over three years and now have over [input number] with [input number] of trucks in our services. 
Last year, our annual revenue totaled $1.2 million—[input more information about the growth of the business]. To promote our growth, increase efficiency, and improve the quality of our services, we plan to hire more staff and expand into new market sectors.
We request a [input loan type] to continue our expansion efforts and supplement our growth as a business. [Input more reasons/purpose for the loan application]. A loan in the sum of $350,000 will enable us to [state how the loan will help your business in this paragraph]. 
Attached below, please find our recent financial statements and our business plan for your review. I have also attached other necessary documents [state documents] to highlight how strong our financial disposition is. With a credit score of [input credit score], we are confident in our ability to adhere to the necessary loan terms.
Thank you for reviewing our letter and the attached financial documents. I look forward to a favorable response from you at your convenience.
John Doe [signature]
John Doe, Owner
123 Movers.
Perfecting The Art Of Writing Business Loan Request Letters
Writing request letters for business loans can be an intimidating process, especially if you have no practice doing so.
However, all you need is a few trials, and you will undoubtedly master the art of writing business loan request letters like a pro. Request loan letters are essential in many loan application processes, which is exactly why you need to put your best foot forward while writing.
Optimize your letter by including the necessary documents, highlighting your best assets, and following the proper format mentioned above. Include a header and greeting, a concise description of your request, your business's basic information, a description of the purpose of your loan application, your ability to repay the loan, and a proper concluding element.
Although mastering the art of writing business loan request letters is one of the many steps in making sound financial decisions for your business, the first step begins with finding a financial company dedicated to offering the solutions you need.  With relationships with over 150 different programs and an aim to maximize your business's growth, we at Coastal Kapital offer innovative financial solutions to business owners with all credit types. 
From equipment leasing to merchant processing, collateral asset and real estate-backed funding, we have all you need to grow your business. Contact us at 866-670-7483 to discuss your financial options!