Business Plans Handbook
Business Plans - Volume 03
Ice Cream Shop Business Plan
Ice Cream Shop
BUSINESS PLAN
FRAN'S ICE
Davis Plaza Regional Mall 19 Orchard Avenue Davis, CA 95616
January 1996
This business plan details a franchise ice cream shop located in a California shopping center. Fran's Ice anticipates continued success due to its superb location, diverse menu, and well-known quality product
INTRODUCTION
Executive summary.
DESCRIPTION OF BUSINESS OBJECTIVES
COMPETITIVE ANALYSIS
Development timetable, principals' profiles, financial information.
The purpose of this business plan is to outline the parameters under which the principals will pursue the construction, development and operation of a franchised Fran's Ice Cream Shoppe in a key location at the mall entrance to the food court of Davis Plaza, a successful, dominant, super regional shopping center in metropolitan Woodland - Sacramento.
Davis Plaza's management company, Martin Richardson and the franchisor, the Fran's Ice Shoppe Company, Inc., are optimistic and enthusiastic about locating a high-volume shop within Davis Plaza.
Martin Richardson, The Fran's Ice Shoppe Company, Inc., and the franchisees, Augustus and Cheryl Dwyer, are all confident that this Fran's shop will be successful among the other national stores already committed to doing business in Davis Plaza.
The Fran's Ice Shoppe of Davis (franchisee), will construct, develop and operate a licensed franchised ice cream dipping shop of The Fran's Ice Shoppe Company, Inc. (franchisor). This single retail dipping shop will sell Fran's ice cream and related products, all manufactured by the franchisor under its name.
Revenue will be primarily from the sale of hand-dipped ice cream and related products consumed within Davis Plaza. Franchisees will also sell ice cream cakes, traditional gourmet cakes, birthday cakes and Cola products. Sales are anticipated to be $360,000 in the first year and to increase at an average annual rate of 4% per year in the first five years of operation.
The franchise will be located in Davis Plaza in Davis, California. Because of its location in the center of the Woodland - Sacramento areas, Davis Plaza serves many communities and is commonly considered the Tri-Cities' premier retail facility. Davis Plaza, which opened in 1968, is a two-level, enclosed regional shopping center containing a total of 1.2 million square feet and 200 stores, shops and food service establishments. The Plaza is anchored by Hank's, B.P.'s, and Westbury's. Fran's Ice Shoppe of Davis will be located in "The Outdoorum" which is Davis Plaza's 40,000 square foot food court containing 17 food service establishments including Cheese Pleese, Beefeaters, and Sweet Dreams.
Franchisee's primary customers will be drawn from Davis Plaza's 1994 trade area population of over 853,000 people, which is projected to reach 940,000 people by 1999. Customers shopping The Plaza will purchase Fran's handdipped ice cream and other products on an impulse basis during their shopping trip, or as a dessert treat upon completing a meal at The Outdoorum. Franchisee also anticipates that many patrons will make the shop their primary destination due to name recognition and product quality. Except for a small Earl's Ice Cream Shop and a Frozen Treat selling soft serve vanilla only, there is no other competition within Davis Plaza, and no outside competition within 2 miles of The Plaza.
The principals will be managing their own shop. Augustus Dwyer will be the hands-on manager for daily operations. Cheryl Dwyer will retain her present position as a nurse clinician for J. Landers, but will assist with her employee management and accounting skills. In addition, approximately six to ten school and/or college students will be hired to work shifts during peak sales periods. Other part-time employees may be hired on an "as needed" basis for special projects such as cake decorating, preparing large orders for caterers and servicing of other special functions.
Project costs are projected to be $250,000 which includes leasehold improvements (build out of the shop), equipment purchases, opening inventory, and working capital needs. This amount does not include the $35,000 franchise fee, $3500 Fran's grand opening contribution, or $7870 cost of architect's plans for the store which Gus and Cheryl Dwyer have already invested in this business from their own funds. The principals are seeking to finance the remainder of this project through a local lending institution using the assistance of a Small Business Administration (SBA) guarantee, with an agreement that allows for loan repayment over 10 years.
Based on a preliminary timetable it is anticipated that the shop will be operational for business no later than April, 1, 1996.
Other Noteworthy Facts:
A 2.5 gallon tub of ice cream from Fran's costs $29.00 ($11.60 gal.)
From a 2.5 gallon tub come 724 oz. scoops which sell for from $1.50 to $l.95 a scoop. Therefore a tub will sell for $108 to $140.
Average ticket for a Fran's shop runs around $2.30.
DESCRIPTION OF THE BUSINESS/OBJECTIVES
The Fran's Ice Shoppe of Montclair (Shoppe), will be a franchised operation of The Fran's Ice Shoppe Company, Inc. licensed to sell Fran's ice cream and related products. The Fran's name has been associated with the ice cream business since 1961. The Company manufactures a large and growing volume of Fran's products which it distributes through a variety of channels. The ice cream ordinarily is not sold for retail dipping except to franchised dipping shops.
The Franchisor is Connecticut Corporation, with principal offices in New Haven, C.T. The ultimate parent of the company is Drake PLC, a public corporation listed on the London Stock Exchange, via ownership of The Harley Company.
Franchisees have been granted a license to sell certain ice cream products under the Fran's name since 1977, although the franchisor has been conducting a business of the type operated by the franchisee since 1983. Affiliates of the franchisor are actively engaged in various other sectors of the food service industry, including fast service restaurants, theme restaurants, food service supply business, institutional and retail food production, distribution and sales and food commodity transactions.
The main items for sale will be hand dipped ice cream and yogurt cups/cones, sundaes finished with a variety of toppings such as hot fudge, caramel, butterscotch or fruit, banana splits shakes malts, and ice cream sodas and floats. Most of these items will be consumed immediately on the premises. Davis Plaza provides extensive indoor seating for the food court customers.
In addition to hand-dipped ice cream sales, the Shoppe anticipates doing a material business in the sale of both ice cream cakes and gourmet traditional cakes and birthday cakes. These cakes will be displayed for immediate sale at all times during business hours and can also be produced in quantity on a special order basis for caterers and parties. Phenomenal foot traffic in the plaza and employees from the 200 shops in the mall can support a lucrative cake business for the Shoppe.
The goals and objectives of The Fran's Ice Shoppe of Davis are as follows:
"To deliver a quality product in a consistent, courteous and timely manner in order to have the customer return again for another satisfying, flavorsome treat, while at the same time earning a reasonable return on the initial investment"
The principals believe that for an organization to be successful, the organization must ensure that the customer continues to return to purchase the product, again and again. One way to ensure repeat business is to provide consistency in both the product and service. Fran's product speaks for itself; the service our Shoppe provides will be a function of training, evaluation, and retraining in order to deliver it courteously and in a timely manner.
In order to earn a reasonable return on the investment, along with the ability to repay debt, strict cost-control measures will be implemented. These measures will include, among others, proper and prudent purchasing practices, maximization of product distribution through strict adherence to weights, amounts and recipes (portion control), effective utilization of personnel, and the constant search for ways to reduce the cost of sales of our products without sacrificing quality and service.
In summary, the principals are committed to ensuring that this operation is successful.
The purchase of hand-dipped ice cream and related products is basically an impulse-type purchase by a consumer relating to one of the following stimuli:
Passing by the Shoppe on the way to another destination,
Visual contact with the Shoppe's signs,
Observing someone else consuming one of the Shoppe's products,
The final course (dessert) after a meal has been consumed elsewhere.
Locating the Shoppe in Davis Plaza gives the business the opportunity to take advantage of all of the above mentioned ways which motivate the consumer to purchase the products offered.
Passing by on the Way to Another Destination
Davis Plaza is comprised of the best known, nationally recognized retail stores and outlets. The unique blend of these operations draws a large cross section of the population to the Plaza to shop for a variety of goods and services. The Fran's Ice Shoppe of Davis will be a 556 square foot store located at the entrance to the food court of the mall. It is on the second level, right across from the main escalators carrying shoppers from the lower to the second level. It is between the main parking structure and B.P.'s, requiring all B.P.'s patrons entering from the main parking structure to pass directly in from of the Shoppe on their way to B.P.'s. The Shoppe is well within walking distance from anywhere in Davis Plaza in five minutes or less. Because of its location, many patrons of the Plaza will pass by the Shoppe on the way to and from another store, making it convenient for an impulse purchase.
Visual Contact from the Shoppe's Sign
Signage is planned for the Shoppe in two locations. Large, colorful neon signs will be located over the dipping cabinets, making them visible from both the food court and from down the mall. Since the Shoppe will be in a corner location, the Shoppe will be visible from several directions in the "I" shaped mall. There is also an opening to below directly in front of the Shoppe, allowing visibility to patrons on the lower level. The location for the Shoppe has the greatest amount of foot traffic in front of it than any other food service in Davis Plaza.
Observing Someone Else Consuming One of the Products
As previously mentioned, the Shop's products more than likely will be consumed on or nearby the premises. The fact that Davis Plaza is enclosed and self-contained will make Fran's products very visible to many shoppers, particularly since all products will be served in containers that display the Fran's logo.
The Final Course (Dessert) After a Meal has been Consumed Elsewhere
In addition to the tremendous foot traffic generated by the major department stores and numerous nationally renowned shops surrounding The Fran's Ice Shoppe of Davis, the Shoppe is to be located at die entrance to The Outdoorum, the Plaza's food court. The food court houses 17 places to eat. The Shoppe can be seen from anywhere in the food court, making it a likely destination for a dessert treat following a meal for the entire family. The Shoppe will have two 3-foot wide, 4-shelf display cases for cakes. One 3-foot display will be for frozen ice cream cakes, and the other will be refrigerated for display of traditional gourmet cakes and gourmet birthday cakes. The principals believe that tremendous potential exists for the sale of birthday cakes in the Plaza since many gifts are purchased there and no competition exists for these items in the Plaza.
An additional marketing strategy of the Shoppe will be sales generated from freezer carts bearing the Fran's logo and colors off site from Davis Plaza. There are many fairs, festivals and parties within the Shoppe's geographic service area (including the Sacramento County Fair, and Renaissance Days) where significant additional sales may be generated on ice cream bars and other novelties. Most importantly, these outside sales will give the Shoppe name recognition which will help make it a primary destination for an expanded segment of the market.
Additional methods of enhancing the Shoppe's name recognition will be local newspaper advertising with coupons, special promotions and discounts to employees of Davis Plaza, companion promotions and discounts with other merchants in the Plaza, and offers to local schools for discounts to students with good grades.
Lastly, additional sales revenue and name recognition for the Shoppe will be generated by sponsoring sports, social, educational and fund-raising activities within the communities served by Davis Plaza. The principals have numerous fund-raising idea and plans for community involvement that will help make the Shoppe a money-maker.
The primary competitors of The Fran's Ice Shoppe of Davis are within the Davis Plaza itself. The principals have done a detailed analysis of the existing ice cream and yogurt shops outside Davis Plaza, and this study is available upon request. The principals believe that the two ice cream and yogurt related businesses inside Davis Plaza are the Shoppe's main competition. They are:
Frozen Treat
Located across The Outdoorum from the Shoppe. Frozen Treat does not serve real ice cream at all. They serve only one flavor of soft serve, vanilla. They make cones, cups, sundaes and shakes and, according to Davis Plaza management, enjoyed $550,000 in sales volume in 1994 and approximately the same sales volume in 1995.
Earl's Ice Cream and Yogurt
Located in the Westbury wing of Davis Plaza. This is a small shop with extremely limited visibility. It is not located in The Outdoorum but is on the outskirts of the heavy traffic area of the Plaza. Earl's serves 24 flavors of real ice cream and 2 flavors of frozen yogurt. No cakes are offered for sale. According to Davis Plaza management Earl's enjoyed $303,000 in sales volume in 1994 and approximately the same sales volume in 1995.
The principals believe that there is outstanding potential for the sale of Fran's super premium quality ice cream, yogurt and related products in Davis Plaza. As just noted, in 1994 and 1995 the sales volume generated for ice cream, frozen yogurt and soft serve in Montclair Plaza was $852,000. The Fran's Ice Shoppe of Davis will be located in the most visible food service location in Davis Plaza. The principals feel that Frozen Treat will not hinder the Shoppe's sales because Frozen Treat serves only average quality soft serve vanilla products. The Shoppe will have 32 flavors of the finest quality ice cream and 6 flavors of frozen yogurt and sorbet ready for sale at all times…as well as ice cream cakes, birthday cakes, gourmet traditional cakes by the slice or whole, and shakes, malts, sundaes, ice cream bars, frozen yogurt and sorbet bars, and sodas.
Other ice cream and frozen yogurt stores exist within a three-mile radius of Davis Plaza. There are four small independent stores and three Scoops stores in this three-mile circle. The closest independent to the Plaza is approximately 2 miles away. As stated previously the principals strongly believe that the Shop's main and most important competitors are inside Davis Plaza. The principals also firmly believe that the quality and selection of Fran's products they will offer, coupled with a superior location within the Davis Plaza, will help them achieve the success they anticipate and will work toward. The principals are also actively engaged in negotiations with the landlord to exclude any new competition from The Plaza during the term of their lease.
The principals, themselves, will manage this business. Augustus Dwyer will be the hands-on manager for the daily operation of the Shoppe, assisted by Cheryl Dwyer. Gus Dwyer shall have the following responsibilities and perform the following duties:
Oversee the design, development and construction of the Shoppe
Collect competitive bids for the build out of the Shoppe and for the equipment needed for the Shoppe. Select contractors and equipment suppliers to complete the Shoppe.
Seek and obtain the necessary financing for this project.
Attend and successfully complete Fran's Ice Basic Management Training Course # 318 at The Fran's Ice Shoppe Company, Inc. corporate offices in New Haven Connecticut. This is an eleven day training course which will prepare Gus to successfully operate a Fran's ice cream shop. Gus is registered to attend this course from 1 -16-96 to 1 -26-96.
Plan, coordinate and execute merchandising and promotion of the Shoppe, including Grand Opening activities, and a year round calendar of holidays, special events and numerous other promotional activities.
Prepare all products to be sold, sourcing the most cost effective suppliers on goods not purchased from Fran's directly. Maintain adequate levels of inventory, while maximizing inventory turns and losing no sales due to out-of-stocks.
Ensure that standards of product quality control and shop cleanliness required by the franchisor are maintained on a daily basis.
Recruit, select, interview and hire all Shoppe personnel.
Perform orientation, training and re-training of all Shoppe personnel.
Perform all required accounting functions for the Shoppe.
Personally make a commitment to give 100% best effort and a personal full-time commitment to operating the Shoppe to its greatest potential. Gus will demonstrate the leadership necessary to operate the Shoppe successfully on a daily basis, and to ensure an acceptable return on the initial investment and repayment of debt.
The principals will designate certain properly trained personnel who will coordinate the activities of the other employees during periods when Augustus Dwyer is not on the premises. Those employees will be trained to make prudent decisions in the absence of Gus Dwyer and to carry out the duties of the Manager on an as-needed basis. In the event of an emergency, the principals can be contacted by phone or paged by remote pager and be on-site within 15 minutes.
Six to eight high school and/or college students will be hired to work at the Shoppe on a part-time basis. There will be no full-time employees of the Shoppe other than management.
The principals are developing a program of orientation and training which all Shoppe employees must complete prior to starting work. A written policies and procedures manual will be the foundation for that that training. All Shoppe employees will be trained to perform all customer service, quality control, and cleanliness and sanitation procedures utilized by the Shoppe, and will know exactly what is expected of them as a Fran's Ice Shoppe employee.
The principals have worked for many different supervisors in their 37 years of combined work experience, and have seen many different management techniques and styles. Augustus Dwyer has extensive management experience in both retail and wholesale sales and customer service. Cheryl Dwyer brings to Fran's a wealth of experience as house supervisor in a 205 bed J. Landers Hospital, supervising 60 or more nurses at a time. The combined management experience which the principals have will be an asset to them in training and managing a productive team of Shoppe employees.
The proposed timetable for the project is as follows:
Augustus Herman Dwyer
A strong, responsible businessman and manager, Augustus Dwyer has over 21 years experience in retailing, wholesaling and customer service Gus' roots are in the grocery industry, where he was employed for 14 years. The first 5 years Gus spent working at store level as a box boy, grocery clerk, produce clerk, and produce department manager. He was elevated by Division Corporate Personnel who felt that his talents would be best utilized at the division level and promoted to Division Produce and Floral Buyer.
During this 9 year period, Gus' hands-on approach to his work greatly benefitted his company. Gus planned, researched and implemented a program of fresh fruit, soup and salad bars for the company and personally assisted in the set-up of 41 new salad bars divisionwide.
Gus was also responsible for planning the division's floral program and purchased cut flowers and plants for 110 stores for 4 years.
Utilizing his knowledge and experience in the floral trade, Gus now works as National Sales Manager for a flower wholesaling company in San Francisco. He has an outstanding record in high volume sales and increasing sales revenues. He has expanded the customer base, sourced new suppliers, and increased the variety of product his company sells, resulting in a 30% increase in sales since coming on board with the company.
Gus' strengths include the ability to plan, organize, achieve results quickly, and evaluate and implement winning marketing strategies. He has significant influence with other employees and positively motivates his subordinated and peers. He is an experienced buyer, merchandiser, salesman, and customer satisfaction specialist.
Cheryl Lynn Dwyer
An experienced nurse manager, Cheryl's nursing background involves a total of 10 years as a Registered Nurse, all employed with J. Landers. Seven of the years have been dedicated towards the Management Of Medical-Surgical And Maternal Child Health Nursing Services. Accountabilities include yearly performance evaluations of approximately 45 employees and the general supervision of J. Landers Florin on the evening shift of the entire hospital, which averages 120 employees. All problems unresolved are directed to her for her successful resolution and followup.
Cheryl is responsible for the successful planning and implementation of the Medical-Surgical Department Quality Management Program, which encompasses directing nurses in data collection, action plans and evaluation on a monthly basis. She has completed a 12 week, total quality management course and participated in two task forces utilizing Total Quality Management (TQM).
Cheryl's strengths include effective organization and leadership abilities and extensive interpersonal skills. Cheryl has seven years experience hiring successful employees, coaching, counseling and motivating them to deliver the best nursing care to J. Landers members.
Note: Please see attached career/work histories of Augustus and Cheryl for details.
Sales Break-Even Point
A common question business owners have when considering new business opportunities is this: "How much do I have to sell just to break even?" In other words, "How much revenue do I need to pay all my expenses?"
The question is not as difficult to answer as it might seem. Only three pieces of information is needed to make the calculation.
The average price of whatever you sell.
The average cost of whatever you sell.
The total fixed costs your have to pay no matter what you sell.
or to state it another way…
In the case of The Fran's Ice Shoppe of Davis the Sales break-even is computed as follows:
Summary of Build-Out and Start-Up Costs
Principal reduction on the SBA loan (in the amount of approx. $24,000 is not shown as an expense on the Inc. & Exp. Statement.
Payroll expenses are listed under "Labor" under cost of goods sold.
Proforma Balance Sheet
Proforma Statements
Financial Summary
Equipment Schedule
Other articles you might like:
User contributions:, comment about this article, ask questions, or add new information about this topic:.
Skip to primary navigation
Skip to main content
Skip to primary sidebar
Skip to footer

Ice Cream Truck Business Plan
In This Article
An ice cream truck business plan.
How would you like to step into your new role as the ice cream man with an almost fool proof plan for earning profit within your first year of business?
First step to success: have a carefully laid out business plan!
Why Do I Need A Business Plan?

Writing a thorough business plan forces you to think through your goals for this new business venture.
You might consider this  Business Plan Template for Ice Cream Trucks  that we recommend.
You'll be required to describe the purpose of your business and how you're going to reach specific goals in order to achieve success.
It is vital that you design this ice cream van business plan before opening day, so you'll have clear direction for your business from the very beginning.
You'll also be able to enlist support from other successful businessmen and investors when you show them your profit expectations.
What Should I Include in My Ice Cream Business Plan?
If all the information that must be included in your plan seems daunting, you might consider this  Ice Cream Truck Business Plan Template .
Thorough  research and analysis  is an important aspect to your plan, since it will help you develop reasonable goals for your business.
The information you find will also help you to create a unique niche to be filled and make your business even more successful.
Determine what  types of products and services  you'll offer and list these in your vending business plan.
Will you sell only novelties or branch out to soft-serve and other options? How about offering services like renting your truck out for parties and picnics?
Once you've decided what you'll offer, you'll need to decide  how you'll market  yourself to your local community.
Will you pass out flyers, advertise in local publications, design a website?
After you've developed your initial marketing strategy, you'll want to go a step further and decide  how you'll keep your business growing .
Is this something you always want to plan on running yourself or will you start looking to hire other employees?
Your ice cream van business plan should also include  financial projections  for how much you'll spend in getting ready to open your business, when you plan to break even with those expenses, what you plan to make in profit by the end of the first year, and where you'll be in two or three years' time.
How Do I Write My Ice Cream Truck Business Plan?
While you can hire a professional to write your business plan, there are also customizable ice cream truck business plans available which will save you time and money.
This is the  Ice Cream Truck Business Plan Template  that we recommend and have been promoting for years. We've had many happy customers.
So, get started today by working on your own ice cream truck business plan and have fun reaping the rewards of this fun and lucrative business!
By Jenn Fraiser
Go back to  Ice Cream Business Plan  Main Page Go back to  Ice Cream Truck  Main Page Go to  Serving-Ice-Cream.com  Home Page
for your weekly recipe fix.
Reader Interactions
Leave a reply cancel reply.
Your email address will not be published. Required fields are marked *
Save my name, email, and website in this browser for the next time I comment.
About Serving Ice Cream
Welcome to the wonderful world of ice cream! I'm just a girl with an addiction for all things creamy and frozen...so of course I'd want to have this space as an excuse to experiment, learn, and try every flavor of ice cream imaginable! Want to find out more about my passion? Let's dig in →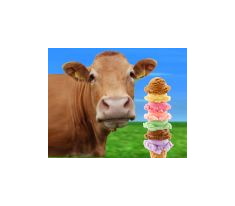 Ice Cream Parlor Business Plan
Ice cream parlors and small food vendor shops can target key demographics and establish projects within the residential market by using this free, printable business plan.

Sample text from Ice Cream Parlor Business Plan:
1.0 Executive Summary
[COMPANY NAME] was established in [DATE] and is located in [LOCATION]. [COMPANY NAME] is a family managed restaurant whose owner, [NAME], brings over 15 years of managerial experience in the Restaurant Industry. [COMPANY NAME] serves homemade recipes including Breakfast, Lunch and Dinner and is open from 6:30 am until 9:00 pm seven days a week. [COMPANY NAME] is a full-service family restaurant and ice-cream parlor resembling a country-style kitchen that is clean, family friendly and geared towards social and business gatherings. The decor is a genuine Americana theme including white lace curtains, ivy stenciling, handmade patriotic hangings, an old wooden radio, a soda fountain, nostalgic pictures of Coca-Cola bottles and classic cars. There is no similar dining experience within [COUNTY] County. [COMPANY NAME] is favorably located off a highly traveled intersection [ADDRESS] just minutes from a 232 acre Park and Recreation Complex. The restaurant contains approximately 1,200 square feet of commercial space with 60 parking spaces available on site.
The affordable menu features classic hometown recipes from burgers and soups to milkshakes and banana splits. Seating capacity in the restaurant is 65, including 12 barstool seats at a counter. There is a large outdoor deck covered by a canopy, which can accommodate an additional 25 customers. The restaurant hosts community events including, after-school functions, sports team functions, outdoor movies, and a weekly Sunday old-fashioned classic car show. The restaurant prides itself on customer service and community involvement.
Clearly the competitive edge of [COMPANY NAME] is its reputation for quality food and affordability. The homemade recipes are fresh, the portions are large and the desserts are delicious. In addition, the clean atmosphere creates an inviting and comfortable meeting place for individuals and groups, which is conveniently located with ease of access.
[COMPANY NAME] is seeking grant funding in the amount of $500,000. The funding will be used to cover building expansions and updates, new equipment, and to hire additional staff. Based on the detailed financial projections, [COMPANY NAME] future sales for Year 1, Year 2 and Year 3 are expected to be $167,651, $250,000 and $300,000.
1.1 Objectives
[COMPANY NAME] has three main objectives:
1. To be rated one of the top sit-down dining restaurants in [COUNTY], [STATE].
2. To support the local youth in [COUNTY], [STATE].
3. To accomplish annual gross sales of $160,000 in 2010; $250,000 in 2011; and $300,000 in 2012.
1.2 Mission
The mission of [COMPANY NAME] is to provide an inexpensive eatery for families on the go throughout the county of [COUNTY], [STATE]. In turn, the Restaurant's mission is also to give back to the community by creating employment opportunities for high-school students, college students and stay-at-home mothers; subsidizing programs and sports activities that are in jeopardy of being deleted from high-school curriculum; and contribute to local organizations like the Glee Club and others that are in need of assistance.
1.3 Keys to Success
The keys to success of the Restaurant are as follows:
1. Good hometown cooking
2. Affordable prices
3. Daily community activities
4. Commitment towards youth and school activities
2.0 Company Summary
[COMPANY NAME] was established in April 2010 and is located in the City of [CITY], [STATE] at the [PLACE]. [COMPANY NAME] is a family managed restaurant whose owner, [NAME], brings over 15 years of managerial experience in the Restaurant Industry. [COMPANY NAME] serves homemade recipes including Breakfast, Lunch and Dinner and is open from 6:30 am until 9:00 pm seven days a week. [COMPANY NAME] is a full-service family restaurant and ice-cream parlor resembling a country-style kitchen that is clean, family friendly and geared towards social and business gatherings. The decor is a genuine Americana theme including white lace curtains, ivy stenciling, handmade patriotic hangings, an old wooden radio, a soda fountain, nostalgic pictures of Coca-Cola bottles and classic cars. There is no similar dining experience within [COUNTY]. [COMPANY NAME] is favorably located off a highly traveled intersection just minutes from a large Park and Recreation Complex. The restaurant contains approximately 1,200 square feet of commercial space with 60 parking spaces available on site.
People who printed this template also printed...
DISCLAIMER: The business plans, templates, and articles contained on BusinessPlanTemplate.net are not to be considered as legal advice. All content is for informational purposes, and Savetz Publishing makes no claim as to accuracy, legality or suitability. The site owner shall not be held liable for any errors, omissions or for damages of any kind.
Copyright © 2011-2023 by Savetz Publishing , Inc. Contact us . Privacy Policy .
Subscribe to the Free Printable newsletter. (No spam, ever!)
This template is easy to download and print. Each free business plan template is available in Microsoft Word (DOC) format, and many of the Business Plan Forms are available in Excel (XLS) format as well. Just choose a business plan template and download it. Open it in Word or Excel (or another program that can display the DOC or XLS format), edit it, and print your personalized business plan.
Collections of business forms are now available as convenient all-in-one downloads. There's a Start-Up collection that's ideal for new businesses, or choose from: Budget , Theater , Restaurant , Sales , Inventory , Human Resources , Agriculture , Church , Auto , or Real Estate . Each collection is just $27.
Business Plan Forms
General Business Plans
Business Plans for Specific Industries
Business Plan Articles
Business Form Theme Packs
Newest Additions
Search All Business Plan Templates
Search all templates for:
Thank you for your suggestion.
We're always adding new printables, and would love to hear your suggestions. What are we missing?
Submit Suggestion    Close
Ice Cream Profits
Why Do So Many Ice Cream Trucks Fail While Others Succeed?
Are you're thinking about starting your own ice cream truck business? Maybe you already have one and want to drive profits even higher through a planned approach. You may already know about the industry and just how profitable and rewarding it is.
A Golden Opportunity …
The ice cream truck business can be very lucrative as there are:
No huge competitors dominating the market
Low overhead
Flexible hours (work as much or as little as you want!)
Low start up costs
However, the key to success is a carefully planned, well executed business plan.
This is Serious Stuff …
FACT: Over 50% of small businesses fail in the first year. (U.S. Small Business Administration) FACT: Statistics prove that having a well-written business plan can greatly improve your chances of success. FACT: The primary reasons for small business failure come under the category of poor planning. (Dunn and Bradstreet)
"I Can Help You Plan for Your Ice Cream Truck's Success …"
I've heard it all …
As the founder and editor of Ice Cream Profits, entrepreneurs just like you write in with questions about the ice cream truck business. Of the hundreds of questions I get every month, about 80% involve effective business plan development or business start-up.
I also get the success stories – the letters and e-mails from truck owners who've built profitable and established businesses. They offer tips and advice, telling me what worked for them.
So I have a unique vantage point – and a wealth of secret, insider information about the ice cream truck business that others don't. I know what it takes to make it!
Regardless of what anyone says, starting your own business has its risks. But, what I've learned is that a good business plan helps you tackle challenges before they set you back.
Introducing …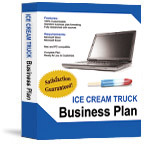 The Ice Cream Truck Business Plan 2017 (A complete business planning kit comprised of Microsoft Word, Excel, and Adobe documents)
Up-to-Date Research and Analysis (updated for 2017)
Critical Ratios and Calculations
Financial Forms
Expense and Income Estimates
Complete Marketing & Operations Plan
A Detailed, Fully-Customized, Winning Business Plan
Step-by-Step Guide for How to Get Started in the Ice Cream Truck Business
Plus You'll Get Some Amazing Bonuses
Satisfaction Guaranteed!
This is a business plan kit (with incredible getting started bonuses) that will help you address the planning of your ice cream truck business and create a professional document you can be proud to show any bank, investor or business consultant.
Here's What Others Are Saying About The Ice Cream Truck Business Plan …
"Both the industry analysis and the marketing plan provided valuable information. I personally liked the industry analysis because it shows the strength of the industry as a whole, along with the increasing viability of niche market mobile vending operations. This is a great planning tool! It illuminated some areas that had been overlooked by me and also gave very helpful information in some areas that I was lacking current information.
I would absolutely recommend this business plan! Without it, it will be a much longer, harder road to success. This highlights many areas to consider when starting out on your own."
Wesley Ward "…great outline for anyone looking to enter the ice cream truck business."
"I liked how the business plan used a realistic example of an ice cream truck business. The business plan was easy to read and understand.
I would recommend this business plan to others as it is a great outline for anyone looking to enter the ice cream truck business." .
Jeff Howard
"Long term approach to planning"
"The Ice Cream Truck Business Plan gave me an idea on a long term approach for planning more than one year of my business. Projections are nice to have as they provide a vision for the future."
James Broker Pittsburgh, Pennsylvania
"Easy to use and modify"
"The Ice Cream Truck Business Plan was very easy to use and modify to fit my business."
Darold Miller Spokane, Washington
"Excellent market research, industry analysis, and refined financial planning …"
"As a seasoned business writer I've worked with many companies to develop their business plans into viable documents that lead to startup capital or new investors.
I often see many common mistakes such as overdone length and hasty financials that are sure to prevent a plan from succeeding. However, this plan is a breath of fresh air because it is well written, professionally cited, and easy to understand.
The plan's author has done his or her homework in the form of market research, industry analysis, and refined financial planning. I would recommend this business plan to anyone interested in starting an ice cream truck business."
Mark A.F. Bond Expert Business Plan Writer China Doll Publishing
"Simply Plug in Your Ice Cream Truck's Details and The Plan is Done"
The most difficult part of writing a business plan can be the research phase. This is why we paid special attention to the research section using only the highest quality sources and gathering all the useful information necessary.
By writing this research section, we've saved you hours of tedious frustration gathering this research data. We input some of the key research data we found into easy to read charts and graphs.
"The Top 5 Ways This Planning Tool Saves You Time, Money and Effort"
In order to bring you the best ice cream truck business planning tool available, we started our search by purchasing every major ice cream truck business plan on the market.
As we began our review, we found tons of recurring problems. We soon realized that if we wanted to offer a complete authentic ice cream truck business plan that would serve as an effective planning tool, we'd have to research and develop one from scratch…
It's Written From Scratch Specifically for the Ice Cream Truck Business
This plan has been completely researched and created from scratch as an authentic business plan with all the necessary detail and relevant data.
(True Story) During our research, we found on more than one occasion, plans that referenced completely different businesses throughout their "ice cream truck business plans." You'd be reading along and then when you expect it to say ice cream it would say "taco" or "pizza." It was obvious they used an old template and forgot to swap out a few words.
I can only imagine how it would look to an investor or banker if this was left uncorrected.
It's Properly Formatted the Way Investors, Partners, and Financing Companies Want it
There is a standard format for business plan writing and an acceptable length. For a plan to be an effective planning tool and easily updated it should be approximately 30 pages. Section contents and length are also critical.
One of the ice cream plans we reviewed during our research was over 80 pages long! We showed this plan to a banker with 25 years experience and he simply shook his head and laughed saying nobody would ever read that.
This plan is properly formatted to adhere to the business plan writing guidelines so you don't have to waste time and energy reformatting it.
We've Cut The Fluff
A business plan should be a very clear and concise document illustrating the business feasibility. If it's not relevant to the ice cream business plan we cut it. The result is a much easier to navigate plan that's ready for your customization.
Over and over again we found our competitors' plans including random sections dedicated to other industries, which were obviously left over from plans they tried to tweak for the ice cream business.
In fact, one business plan providers included a 50 page "bar tender's guide" with their materials. (When was the last time you ordered a cocktail at an ice cream truck?)
It was clear this company never expected us to actually READ the materials provided since many of the elements included were of no use for the ice cream entrepreneur.
This Plan Has Been Fully Researched with Up-to-date Research and Statistics from Reliable Sources
This plan was developed and fully researched using trusted up-to-date resources and market data.
We've done the hard research providing statistics, forecasts, and market data to save you time and effort in the research process.
By choosing a plan with real research from accurate sources you are saving time, money and energy. This allows you to focus on details that will make your business unique.
It's The Only Plan on the Market that Can Stand the Scrutiny of Our Professional Review Team
Before we ever made this plan available to the customers of ice cream profits we had it professionally reviewed in its entirety. Among our 3rd party review team was;
A banker with 25 years of lending experience
An ice cream shop veteran with 3 stores and 20 years of ice cream business experience
A former vice president of franchise operations for one of the nations largest fast food chains who has personally opened several new businesses.
In addition to praise, they gave specific feedback to help strengthen the plan which was promptly incorporated to make the plan even better.
Only when our 3rd party review team gave thumbs up, was it ready for our customers.
100% Complete and Ready to be Customized …
Sitting down and writing a business plan can be a daunting task. There are so many sections and important information to include that it's hard to know where to start.
This is why a completely customizable business plan specifically for the ice cream industry complete with all you need to customize it can be a huge time saver. All you need to do is customize to fit your ice cream truck business' details and the plan is done. This is the easiest way to write a business plan.
System Requirements You will need Adobe Acrobat (a free program), Microsoft Word and Microsoft Excel to use the Ice Cream Truck Business Plan.
Key Facts and Figures Updated for 2017
The Ice Cream Truck Business Plan is updated regularly to ensure the most up to date facts and figures for your Ice Cream Truck plan. Gathering the research for your ice cream truck business plan can be the most difficult part, which is why we've already done it for you.
The Ice Cream Truck Business Plan uses the following sources in writing the ice cream truck industry analysis:
International Dairy Foods Association
US Census Bureau
Datamonitor
US Food & Drug Administration
Once you are finished editing your plan and typing in your assumptions all of the following statements are immediately calculated:
12-Month Profit-Loss Statements
3-Year Profit Projection
Opening Day Balance Sheet
Break-even Analysis
Writing a Business Plan Has Never Been Easier …
Simply customize to fit your ice cream truck's details in the Microsoft Word business plan template and save. Open the Excel document and plug in your shop's projected numbers and you can calculate your break even analysis, opening day balance sheet, 3-year profit projection and 12-month profit loss statement.
Then simply print out your documents and place in a professional binder and your business plan is done.
"An Ice Cream Truck Business Plan in a Fraction of The Time at a Fraction of The Cost!"
We priced our business plan based on its value to you and if you are at all unsatisfied you can return the business plan for a full money back guarantee.
We did extensive research in creating this ice cream truck business plan and included detailed financials. We found many of the other business plans out there offer only basic guides on how to write a business plan leaving you to do all the work.
Ours is already written for you, all you need to do is edit to fit your ice cream truck business. It's as easy as that. The Ice Cream Truck Business Plan includes a completely customizable ice cream truck business plan for just $47.00 . We are offering the Ice Cream Truck at a special discounted price (a $50.00 savings) to see if our sales increase enough to offset the lower price. If sales do not increase at the rate we expect, the price will go back up, so make sure to order your copy before the price goes up.
Request Access: Ice Cream Truck Business Plan 2017 Price $47.00 – Plus Bonuses!
Plus, Check Out these Bonuses We've Included for FREE!
($405.00 value – Yours Free)
In addition to the Ice Cream Truck Business Plan and financials, we will also send you a second bonus pack loaded with the following value-added items packed with ice cream truck information to get you started, a $405.00 Value Absolutely Free!
Free Bonus Pack #1
Complete how to guide for getting started in the ice cream truck business.
($47 value)
This is a complete step by step guide to starting an ice cream truck business. It lists out everything you must do in order to open an ice cream truck business.
Get detailed information and instructions on the following:
Licenses and Permits – How to Obtain them and How Much They Cost
Ice Cream Truck Safety Tips – What You Must Know
The Best Products to Sell – Where to Get Them and What to Buy
Ice Cream Truck Equipment Necessary – The Best Type of Freezers
How Much Money Can I Expect to Make Operating an Ice Cream Truck? – Profit potential
How to Avoid Being Scammed Without Offending Your Customers – How to Protect your profits and product
Best Locations and Events To Sell At – So you maximize your profits and don't waste your valuable time
Free Bonus Pack #2
2 Additional Complete Business Plans:
Ice Cream Cart Business Plan and
Ice Cream Trailer Business Plan
($194 value)
You will get three business plans for the price of one. This way you can evaluate three mobile ice cream business formats to determine which fits your situation best. The ice cream cart business plan and the ice cream trailer business plan come with all the same components as the ice cream truck business plan, they are simply geared toward the cart and trailer business format.
This bonus is (a $194.00 dollar value) given to you for free when you purchase the Ice Cream Truck Business Plan today.
Free Bonus Pack #3
Business Plan Writing Guide and Checklists for Starting an Ice Cream Business
The following guides we have included to help you navigate the getting started process and help you avoid overwhelm when launching your ice cream truck business.
Insider's Guide to Business Plan Writing – Get a breakdown of each critical section of the business plan with the expert tips, do's and don'ts!
Checklists for Starting an Ice Cream Truck Business – Find out if you have what it takes to own your own ice cream truck.
Free Bonus Pack #4
Ice cream truck equipment,suppliers, and distributors directory.
($67 value)
We've compiled a complete list of top-notch equipment vendors, suppliers and distributors in the ice cream truck business. It's all yours, complete with phone numbers, Web sites, e-mail addresses and physical addresses. You just need to pick up the phone and start calling.
Free Bonus Pack #5
How to Get an SBA Loan:
Your guide to the most popular SBA loans and how to secure the funds you need for your business!
So you've decided you want to start your own business, great! But before you get too far ahead of yourself, you need a plan to finance your business.
One of the best resources entrepreneurs turn to is the SBA. This FREE ebook will explain the differences between the different types of SBA loans and describe what type of business they work best for. Learn what important tools you will need to put you ahead of the rest when it comes to getting your loan APPROVED!
These added bonuses are loaded with over 65 pages of ice cream truck business tips. You won't find this information anywhere else.
All of these bonuses ($405.00 value) are yours free!
Is There a Money Back Guarantee?
Absolutely. We offer an iron clad 100% money back 60-Day guarantee. What else did you expect from a friendly company that stands behind its product? If you have any doubts whatsoever about our product, we will give you a complete refund. Period.
Yes, Please Send Me The Ice Cream Truck Business Plan.
>> I understand that I will get IMMEDIATE ACCESS to The Ice Cream Truck Business Plan and My Free Bonuses ($405.00 value).
>> I understand that the order process occurs via an industry-leading secure server and that my ordering information is completely safe.
>> I understand that I have the choice to pay the one-time only, introductory fee of just $47.00 with my Visa, MasterCard, American Express, Discover or PayPal.
>> I understand that if I'm not completely satisfied, I can return my purchase for a full refund.
To go to our secure order page, simply click on the link below.
The Ice Cream Truck Business Plan (A complete business planning kit compromised of Microsoft Word, Excel, and Adobe documents)
Wishing You Success in Your Ice Cream Truck Ventures, Founder of IceCreamProfits.com
P.S. If you came to this Web site looking for information on how to make money in the ice cream truck business, this plan is for you. No other customizable plan and resource offers such professional, in-depth insight into this exciting industry. And you can order it here right now!
P.P.S. We've made sure you've got plenty to gain and nothing to lose with our 60-Day Risk Free Money Back Guarantee.
PLEASE NOTE: Because I'm currently offering this business plan at less than one third the price of competitors, this price may not last long! So do yourself a favor and order it now before the price goes up!
P.P.P.S. Don't wait! Opportunity favors the well prepared. This business plan and the supplements included will help you crystallize your vision and help you on your way to making your dream come true.
Click Here Now To Get Immediate Access To The "Ice Cream Truck Business Plan" Using Our Safe and Secure Server
Home » Business ideas » Food Industry » Ice Cream Truck
Ice Cream Truck Business Plan [Sample Template for 2023]
An ice cream truck business is a mobile food business that involves selling ice cream and other frozen treats from a vehicle, usually a truck or van. The ice cream truck business is a type of street vending that is popular in many countries, particularly in the United States and the United Kingdom.
Ice cream trucks typically play music to attract customers, and they often travel through neighborhoods, parks, and other public places to sell their products. They may also be hired to cater events such as parties, festivals, and corporate functions.
While the ice cream truck business can be profitable during the warmer months, it may not be as lucrative during the off-season or in areas with harsh winters.
Steps on How to Write an Ice Cream Truck Business Plan
Table of Content
Executive Summary
Company profile, swot analysis, marketing plan, sales and distribution plan, operational plan, financial plan, financial projection, growth plan.
John McCain® Ice Cream Truck, Inc is an ice cream truck business based in Albuquerque, New Mexico and with an active presence in Santa Fe, Rio Rancho, and Las Cruces. We are well-equipped and trained to serve high-quality frozen treats to customers of all ages.
Our target market includes families with young children, college students, and individuals of all ages looking for a sweet treat. We plan to operate primarily in residential areas, parks, and popular event venues to maximize our exposure and customer reach.
To support our business, we have secured a fully equipped and customized ice cream truck, licensed by local authorities and compliant with all health and safety regulations. Our team consists of experienced and friendly staff who are passionate about creating a memorable experience for our customers.
John McCain is the founder and CEO of John McCain® Ice Cream Truck, Inc.
a. Our Products and Services
At John McCain® Ice Cream Truck, Inc., our menu features a variety of ice cream flavors, including classics like vanilla, chocolate, and strawberry, as well as unique offerings such as salted caramel, mint chocolate chip, and black raspberry. We also offer dairy-free and vegan options to accommodate customers with dietary restrictions.
b. Nature of the Business
Our Ice cream truck will operate with a business-to-consumer business model.
c. The Industry
John McCain® Ice Cream Truck, Inc. will operate in the fast-food industry.
d. Mission Statement
Our mission at John McCain® Ice Cream Truck, Inc. is to provide a fun and unique dessert experience while delivering exceptional customer service. We are excited to embark on this venture and look forward to serving our community for years to come.
e. Vision Statement
Our vision at John McCain® Ice Cream Truck, Inc. is to become a leading ice cream truck business in the United States, offering delicious frozen treats and exceptional customer service to customers of all ages.
f. Our Tagline (Slogan)
John McCain® Ice Cream Truck, Inc. – Ice Cream Every You Go!
g. Legal Structure of the Business (LLC, C Corp, S Corp, LLP)
John McCain® Ice Cream Truck, Inc. will be formed as a Limited Liability Company (LLC). The reason why we are forming an LLC is to protect our personal assets by limiting the liability to the resources of the business itself. The LLC will protect our CEO's personal assets from claims against the business, including lawsuits.
h. Our Organizational Structure
Chief Executive Officer (Owner)
Accountant (Cashier)
Ice Cream Vendors
Truck Driver
i. Ownership/Shareholder Structure and Board Members
John McCain (Owner and Chairman / Chief Executive Officer) 52 Percent Shares
Eden Bright (Board Member) 18 Percent Shares
Allen Brown (Board Member) 10 Percent Shares
Silas Brooks (Board Member) 10 Percent Shares
Hannah Michigan (Board Member and Sectary) 10 Percent Shares.
a. Strength
Low startup costs compared to opening a brick-and-mortar ice cream shop.
High mobility and flexibility, allow the business to move to locations with high customer traffic.
Ability to serve customers quickly and efficiently, leading to high customer satisfaction.
Easy to manage and operate with a small team.
Ability to quickly adjust the menu and prices based on customer preferences.
b. Weakness
Limited menu options compared to a full-service ice cream shop, which may result in lower repeat customers.
Weather-dependent business, with sales potentially affected by rain or extreme temperatures.
Limited storage capacity on the ice cream truck may limit the menu options and sales volume.
Heavy competition from other ice cream vendors, including other ice cream trucks and food trucks.
c. Opportunities
Ability to expand the business by securing regular locations at popular events, festivals, and fairs.
Potential to collaborate with other food vendors or event organizers to increase exposure and sales.
Opportunity to introduce new menu items and specialty ice cream to attract new customers.
Possibility to partner with local businesses or organizations to provide catering services.
i. How Big is the Industry?
The ice cream truck sector is a subset of the food and beverage industry, which includes restaurants, cafes, food trucks, and other food service establishments. While there is no precise estimate of the size of the ice cream truck industry, the food and beverage industry as a whole is a large contributor to the worldwide economy.
According to ResearchAndMarkets.com, the worldwide food and beverage industry was worth USD 7.5 trillion in 2020 and is predicted to be worth USD 9.4 trillion by 2025, increasing at a CAGR of 4.7% over the forecast period. The report also notes that the food and beverage industry has been experiencing a shift towards healthier and organic food options, with a growing emphasis on sustainability and ethical sourcing.
ii. Is the Industry Growing or Declining?
While there is no specific data on the growth or decline of the ice cream industry alone, there are some trends and factors that may impact the industry.
One trend that may impact the ice cream industry is the growing demand for healthier and more diverse ice cream and dessert options. Consumers are increasingly interested in plant-based and organic food options, and many ice cream and related food businesses are adapting to this trend by offering more diverse and healthier menu options.
iii. What are the Future Trends in the Industry
As consumers continue to prioritize healthier and more diverse food options, ice cream trucks may need to adapt their menus to meet these changing preferences. This could include offering more plant-based options or using higher-quality, locally-sourced ingredients.
Ice cream trucks may increasingly integrate technology into their operations, such as mobile ordering and payment systems, to improve efficiency and convenience for customers.
iv. Are There Existing Niches in the Industry?
No, there are no existing niches when it comes to the ice cream truck business.
v. Can You Sell a Franchise of your Business in the Future?
John McCain® Ice Cream Truck, Inc. has plans to sell franchises in the nearest future and we will target major cities with thriving markets in the United States of America.
Changes in health and safety regulations may require expensive upgrades to the food truck and equipment.
Fluctuations in ingredient costs may affect profit margins.
Competition from nearby restaurants and ice cream shops, including those offering similar menu items.
Economic downturns or shifts in consumer behavior may result in lower sales.
i. Who are the Major Competitors?
Big Gay Ice Cream
Ben & Jerry's Scoop Truck
Dippin' Dots
The Original New Orleans SnoBall
Dairy Queen
Little Baby's Ice Cream
Pinky's Ice Cream & Snowballs
Snowie Shaved Ice
The Wandering Cow
Meltdown Ice Cream Truck
Ice Cream on Wheels
Jimmies Ice Cream Truck
Mister Softee
The Ice Cream Truck Company
Turkey Hill Dairy
Sweet Ice Cream Co.
ii. Is There a Franchise for Ice Cream Truck Business?
Yes, there are franchise opportunities for ice cream truck business and some of them are;
Ben & Jerry's Scoop Shop
Bruster's Real Ice Cream
Baskin-Robbins
Cold Stone Creamery
Haagen-Dazs
Marble Slab Creamery
Orange Leaf Frozen Yogurt.
iii. Are There Policies, Regulations, or Zoning Laws Affecting Ice Cream Truck Businesses?
In general, ice cream truck businesses are subject to health and safety regulations that require them to obtain a permit or license from the local health department. These regulations may cover areas such as food handling, sanitation, and equipment safety.
Zoning laws may also apply to ice cream truck businesses, especially if they operate in public spaces such as parks or sidewalks.
Some cities may require vendors to obtain a permit or license to operate in these areas and may limit the number of vendors in a given location. Additionally, vendors may be required to comply with noise ordinances or other regulations that affect their operations.
a. Who is Your Target Audience?
I. age range.
Our target market comprises people of all ages.
ii. Level of Educational
We don't have any restrictions on the level of education of those who will purchase our products.
iii. Income Level
There is no cap on the income level of those who will purchase our products.
iv. Ethnicity
There is no restriction when it comes to the ethnicity of the people who will purchase our products.
v. Language
There is no restriction when it comes to the language spoken by the people who will purchase our products.
vi. Geographical Location
Anybody from any geographical location is free to purchase ice cream from us.
vii. Lifestyle
John McCain® Ice Cream Truck, Inc. will not restrict any customer from purchasing ice cream from us based on their lifestyle, culture, or race.
b. Advertising and Promotion Strategies
Deliberately Brand All Our Trucks.
Tap Into Text Marketing.
Make Use of Billboards.
Share Your Events in Local Groups and Pages.
Turn Your Social Media Channels into a Resource
Develop Your Business Directory Profiles
Build Relationships with players in the event planning industry and the food services industry.
i. Traditional Marketing Strategies
Marketing through Direct Mail.
Print Media Marketing – Newspapers & Magazines.
Broadcast Marketing -Television & Radio Channels.
OOH, Marketing – Public Transit like Buses and Trains, Billboards, Street shows, and Cabs.
Leverage direct sales, direct mail (postcards, brochures, letters, fliers), tradeshows, print advertising (magazines, newspapers, coupon books, billboards), referral (also known as word-of-mouth marketing), radio, and television.
ii. Digital Marketing Strategies
Social Media Marketing Platforms.
Influencer Marketing.
Email Marketing.
Content Marketing.
Search Engine Optimization (SEO) Marketing.
Affiliate Marketing
Mobile Marketing.
iii. Social Media Marketing Plan
Start using chatbots.
Create a personalized experience for our customers.
Create an efficient content marketing strategy.
Create a community for our target market and potential target market.
Gear up our profiles with a diverse content strategy.
Use brand advocates.
Create profiles on relevant social media channels.
Run cross-channel campaigns.
c. Pricing Strategy
When working out our pricing strategy, John McCain® Ice Cream Truck, Inc. will make sure it covers profits, insurance, premium, license, economy or value and full package. In all our pricing strategy will reflect;
Penetration Pricing
Cost-Based Pricing
Value-Based Pricing
Competition-Based Pricing.
a. Sales Channels
Our sales channel strategy will involve using partners and third parties to help refer customers to us.
John McCain® Ice Cream Truck, Inc. will also use marketing's four Ps: place, pricing, product, and promotion. We can create a visible, in-demand service that is competitively priced and advertised to our clients by carefully integrating all of these marketing methods into a marketing mix.
b. Inventory Strategy
The fact that we will need ingredients (ice cream, toppings, sugar, milk, nuts, fruits, cones, cups, and other supplies), means that John McCain® Ice Cream Truck, Inc. will operate an inventory strategy that is based on a day-to-day methodology for ordering, maintaining and processing items in our warehouse. We will prioritize freshness, quality, and timely availability while minimizing waste and optimizing costs.
John McCain® Ice Cream Truck, Inc. will make sure we work with "Just-in-time (JIT) inventory" – (JIT involves holding as little stock as possible, negating the costs and risks involved with keeping a large amount of stock on hand.)
c. Payment Options for Customers
Here are the payment options that John McCain® Ice Cream Truck, Inc. will make available to her clients;
Credit or Debit Card
Electronic Payment Systems such as PayPal or Venmo
Bank Transfers.
d. Return Policy, Incentives, and Guarantees
At John McCain® Ice Cream Truck, Inc., our customers are our top priority. Please notify us as soon as you see an error in your order so that you can pick up the proper food item. When using a credit card, you will be repaid for the amount associated with the error and charged for the cost of the new item.
If you purchase with cash, you will be asked to pay the difference if the ice cream is worth more than the incorrectly delivered item. Similarly, if the difference in the balance is less than the food received in error, the difference will be credited to your account for the new item. In exceptional circumstances, we may be able to award you with store credit.
If you come to pick up your order, it will be prioritized. In all cases, please return the ice cream order to our host in the original container(s). If you have any questions about the Return & Refund Policy, please contact our customer service representative.
e. Customer Support Strategy
Customers' feedback will be sought as part of our customer service strategy. This will help us provide excellent customer service to our clients. We will collaborate using a good CRM platform to do this. We will concentrate on enhancing our Customer Service Team and leveraging Multi-Channel Servicing on a regular basis as part of our customer support strategy.
Our operational plan will cover the day-to-day operations of the business, including the production process, equipment, staffing, and customer service.
Production Process: We will outline the steps involved in the production of ice cream, and packaging. We will also detail any quality control measures to ensure consistency and high-quality products.
Equipment: Will acquire the latest equipment. Our plan also includes a maintenance schedule to ensure the equipment is in good working condition and that any repairs are made promptly.
Staffing: We will outline our staffing needs, including the number of employees required for each shift and their roles and responsibilities.
Customer Service: We will have detailed customer service policies and procedures, including how to handle customer complaints, how to provide a positive customer experience, and how to ensure prompt and accurate order fulfillment.
Health and Safety: We will put detailed health and safety measures in place to protect employees and customers, including food safety protocols, cleaning procedures, and emergency response plans.
Sales and Marketing: Our operational plan will include a sales and marketing strategy to attract and retain customers. It will also include promotions, advertising, and partnerships with other businesses.
a. What Happens During a Typical Day at an Ice Cream Truck Business?
The day usually begins with setting up the ice cream truck, which includes setting up the fridge, freezer, service station, and other equipment.
Preparing ice creams, toppings, and other products
Interacting with customers
Managing inventory
Cleaning and maintaining the truck
Managing finances
At the end of the day, the ice cream truck is closed down and cleaned up.
b. Production Process
The production process for ice cream typically involves the following steps:
Mixing the ingredients – ice cream ingredients such as cream, milk, sugar, and flavorings are mixed together in a large vat.
Pasteurization – the mixture is heated to a specific temperature to kill any harmful bacteria.
Homogenization – the mixture is forced through a machine to break down the fat particles and create a smooth texture.
Aging – the mixture is left to cool and rest for several hours or overnight to improve flavor and texture.
Freezing – the mixture is poured into a machine that freezes and churns the mixture to create the desired consistency and texture.
Adding mix-ins – any additional ingredients such as nuts, fruit, or candy can be added to the ice cream during the freezing process.
Packaging – the ice cream is packaged into containers and stored in a freezer until ready to be sold.
Quality control – samples of the ice cream are taken and tested to ensure they meet quality standards before being distributed to stores or sold to customers.
c. Service Procedure
The service procedure for an ice cream truck business typically involves the following steps:
Setting up the truck: The truck is set up in a high-traffic area with all necessary equipment and supplies.
Greeting customers: The vendor greets customers and takes their orders, providing a menu if necessary.
Preparing the ice cream: The vendor prepares the ice cream according to the customer's order.
Adding condiments: The vendor adds toppings as requested by the customer.
Completing the order: The vendor packages the ice cream and any side items (such as chips or drinks) and provides them to the customer.
Processing payment: The vendor processes the customer's payment, either by cash or card.
Maintaining cleanliness: Throughout the service procedure, the vendor maintains a clean and organized ice cream truck, disposing of trash and wiping down surfaces as needed.
Closing down: At the end of the day, the vendor cleans and sanitizes the ice cream truck, restocks supplies, and secures the equipment for the next day's service.
d. The Supply Chain
The supply chain for our ice cream truck business includes working with suppliers, transportation providers, and distributors to ensure that high-quality raw materials are efficiently and effectively procured, processed, packaged, and delivered to customers. Effective communication and planning are essential for managing the supply chain and meeting consumer demand.
e. Sources of Income
John McCain® Ice Cream Truck, Inc. will serve ice cream, sorbet, gelato, frozen yogurt, and popsicles, among other frozen goodies. To complement the frozen delights, we will also provide a variety of toppings such as sprinkles, nuts, chocolates, fruit, syrups, and cold beverages such as lemonade or iced tea.
a. Amount Needed to Start your Ice Cream Truck Business?
To successfully set up our ice cream truck in the United States of America, John McCain® Ice Cream Truck, Inc. would need an estimated $120,000 in funding. Please keep in mind that this figure covers all of our employees' salaries for the first month of operation.
b. What are the Costs Involved?
Business Registration Fees – $750.
Legal expenses for obtaining licenses and permits – $1,300.
Business Consultant Fee – $2,500.
Business registration fee: $750
Ice Cream Truck: $70,000
Equipment (freezers, ice cream machines): $3,000-$10,000
Initial inventory (cones, toppings, napkins, and other supplies): $3,000-$10,000
Permits and licenses: $500-$2,000
Insurance: $500-$1,000
Marketing and branding (logo design, website, social media): $500-$2,000
Website: $600
Opening party: $3,000
Miscellaneous: $2,000
c. Do You Need to Build a Facility? If YES, How Much will it cost?
John McCain® Ice Cream Truck, Inc. will not build a new facility for our ice cream truck business because by nature the ice cream truck business is a mobile business.
d. What are the Ongoing Expenses for Running an Ice Cream Truck business?
Inventory (the cost of purchasing ice cream, toppings, cones, cups, and other supplies needed to operate the business)
The cost of gasoline or diesel fuel to power the ice cream truck
Maintenance
Licensing and permits
Marketing and advertising
Employee wages
Commissions
Maintaining freezers, refrigerators, generators, and other equipment needed to operate the business
Rent or lease payments.
e. What is the Average Salary of your Staff?
Chief Executive Officer – $55,000 Per Year
Manager – $45,000 Per Year
Accountant – $35,630,000 Per Year
Truck Driver – $27,100 Per Year
Ice Cream Vendors – $26,000 Per Year
Cleaners -$24,000 Per Year
f. How Do You Get Funding to Start an Ice Cream Truck Business?
Personal savings
You can apply for a small business loan from a bank or other financial institution
You can use crowdfunding platforms such as Kickstarter or GoFundMe to raise money for your ice cream truck business.
Research and apply for grants that are applicable to your ice cream truck business.
Consider partnering with an investor who can provide funding in exchange for a percentage of ownership in the business.
You can also seek funding from friends and family members who are willing to invest in your ice cream truck business.
a. How Much Should You Charge for your Product/Service?
We will usually charge between $3 and $5 for a single scoop of ice cream in a cup but as you add toppings or extra scoops, the price will increase.
b. Sales Forecast?
First Fiscal Year (FY1): $270,000
Second Fiscal Year (FY2): $340,000
Third Fiscal Year (FY3): $400,000
c. Estimated Profit You Will Make a Year?
First Fiscal Year (FY1) (Profit After Tax): $100,000
Second Fiscal Year (FY2) (Profit After Tax): $190,000
Third Fiscal Year (FY3) (Profit After Tax): $200,000
d. Profit Margin of an Ice Cream Truck Product/Service
The ideal profit margin we hope to make at John McCain® Ice Cream Truck, Inc. will be between 15 and 35 percent depending on the additional ingredients, pack, and size.
a. How do you intend to grow and expand? By opening more retail outlets/offices or selling a Franchise?
John McCain® Ice Cream Truck, Inc. will grow our Ice cream truck by selling franchises.
b. Where do you intend to expand to and why?
John McCain® Ice Cream Truck, Inc. plans to expand to the following cities;
Austin, Texas
Atlanta, Georgia
Boston, Massachusetts
Denver, Colorado
Miami, Florida
Nashville, Tennessee
New York City, New York
Portland, Oregon
San Diego, California
Silver Spring, Maryland.
We are expanding to these cities because these cities have large populations, a thriving food scene, and a diverse consumer base that may be receptive to new and innovative food concepts such as specialty ice cream.
The founder of John McCain® Ice Cream Truck, Inc. plan to exit the business via family succession. We have placed structures and processes in place that will help us achieve our plan of successfully transferring the business from one family member to another and from one generation to another without hitches.
More on Food Truck & Cart