Business Plan Conclusion: Summary & Recap
You've written your business plan, but now you want to wrap it up to make a lasting impact on your reader. In this article, we will define the conclusion to a business plan as well as provide some tips to help you attract and seal the deal with potential investors and lenders.
What is a Business Plan Conclusion?
This business plan conclusion is a concise summary and recap of all of the components of a business plan , but especially the executive summary. It summarizes your business plan in 2-3 paragraphs, with an emphasis on the most important points.
Download our Ultimate Business Plan Template here
Is the Business Conclusion Necessary?
It's good practice for business plans, but not always necessary to be successful in obtaining funding.
If you have a stellar executive summary, it may be unnecessary.
If the business conclusion is written well enough, it can serve as an executive summary of sorts – a short recap that provides more detail than the business plan as a whole, but only includes the most important points. It could also serve as an executive summary that is more concise than an actual executive summary.
How To Write a Conclusion for Your Business Plan
The conclusion of your business plan is the last thing people read before deciding to invest in you and your business, so it needs to make a lasting impression.
Determine Location
Depending on your intended audience, there are two common places for the conclusion. If your plan is meant for internal purposes, you may have the conclusion at the end of the entire document. However, if you are seeking funds from investors, you want to place the conclusion at the end of the Executive Summary, increasing the chances that it is actually read.
Review & Concisely Recap 
    Finish Your Business Plan Today!
Startups might include the following information:.
Funding requirements
Service or benefit to the investor
Target market and audience
How products or services solve the target market's problem
Marketing strategy
Competitive advantage
Management team experience
Financial projections
Launch plan
Established businesses might include information in their conclusions such as:
Mission statement
Company's history
Products and/or services
Historical growth data
Financial summary
Company's goals
Summarize the 3-5 points in a couple of paragraphs. You don't need to summarize everything that happened in your business plan, just the most important points of the business plan.
Support Your Claims with Stats and/or Visuals
Establish a Call-To-Action (CTA)
Proofread & Spell-Check
The conclusion needs to give your readers a sense of closure by wrapping up all loose ends while making your last pitch effort to obtain the money your business may need.
Business Plan Conclusion Example
Use this conclusion example to help you with how to end a business plan, but keep in mind to make it relevant to your target audience, industry, and funding requirements:
Expanding into the Seattle metro area will allow Skyridge to provide its cutting-edge technology to more people who need it. Purchasing the fabrication plant in Seattle allows us to produce all of our products in-house and in one location, delivering them promptly and efficiently to the northwestern region.
We have the power to change the way people use technology, and we want [Investor's Name] to be a part of it. By investing in Skyridge's growth, [Investor's Name] will benefit in the following ways:
Inclusion with a startup that has seen XXX% growth over the past X years and our company's management team with XX years of experience in the technology industry
Contribution to Seattle's economic growth and its citizens' access to technology that enhances their lives
Participation in company planning meetings and receive an XX% share in all profits earned
We can add to the number of lives Skyridge's technologies impact, generate more job opportunities in the region, and alter the technology sector if we work together. If you agree with our vision for a better future for everyone, join us.
How to Finish Your Business Plan in 1 Day!
Don't you wish there was a faster, easier way to finish your business plan?
With Growthink's Ultimate Business Plan Template you can finish your plan in just 8 hours or less!
Related Articles To Help You Write a Business Plan
How to Write an Executive Summary
How to Expertly Write the Company Description in Your Business Plan
How to Write the Market Analysis Section of a Business Plan
The Customer Analysis Section of Your Business Plan
Completing the Competitive Analysis Section of Your Business Plan
How to Write the Management Team Section of a Business Plan + Examples
Financial Assumptions and Your Business Plan
How to Create Financial Projections for Your Business Plan
Everything You Need to Know about the Business Plan Appendix
Other Helpful Business Plan Articles & Templates
AI Content Shield
AI KW Research
AI Assistant
SEO Optimizer
AI KW Clustering
Customer reviews
The NLO Revolution
Press Center
Help Center
Content Resources
Facebook Group
Closing Statement Example for Business Plan: Tips & Guide
Table of Contents
Your business plan's closing statement is the last thing an investor will read, so it must be compelling enough to encourage them to invest. The final paragraph of your business plan should do two things. It should summarize the entire document and give the reader a better grasp of your company's USPs (unique selling propositions). By using persuasive writing techniques and language, you can ensure your ending is as impactful and memorable as possible. To help get you started, this blog post will provide tips and an example of a successful closing statement for a business plan.
What Is a Business Plan?
A business plan is a comprehensive document that outlines a business's strategy and operating procedures . It's typically used to attract investors, secure funding, and provide direction for the business in the future. Typical components of a business plan include
An executive summary
Market analysis overview
Financial projections
Details on how the company plans to achieve its stated objectives.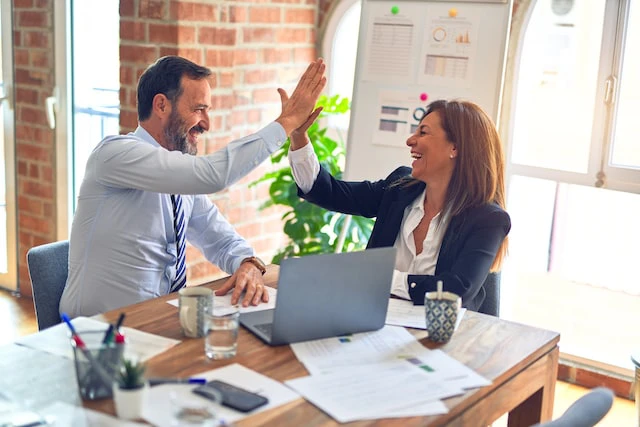 Tips on Writing a Conclusion for Your Business Plan
Your company's closing statement in a business plan can inspire investors or motivate employees. It should offer a view into the future by stating your goals for the company's growth and development. Consider the following suggestions for concluding your business plan .
Proper Amount of Information
The final section of your business plan should include a concise summary of your essential ideas. Explain why your company will succeed and how you intend to get there. This business plan section is your last attempt to convince potential backers to put money into your venture. The final section of a company plan written for internal use can be more optimistic. You could mention your future goals for growth or expansion in this situation. This will help the audience understand the direction you envision the company heading. To win over investors, you might include the following in your final paragraph:
The state of your company's finances as of right now
Money to help your business expand and thrive
Customers and clients who fit your target demographic
Demand from Consumers
Particulars that set you apart from the competition
Your strategy to boost revenue.
Include the following in your conclusion to provide management with some insight into the future of the company:
Details about your company's past and its offerings
Intentions for the long-term
Future growth or expansion plans
These aren't the only points that should be mentioned in a conclusion, but they're among the most crucial.
Incorporate Data and Statistics
To make your case more convincing, you should use evidence like figures and facts. Doing so will strengthen your argument and leave the reader with a favorable impression of your company. Your company's financial history and growth projections may help convince investors to invest in your company. Market share and customer happiness statistics can help reassure upper management that their company is on the right track.
Keep a Good Attitude
Avoid sounding pessimistic as you wrap things up. Avoid statements like "Despite our difficulties, I am certain that our business will be successful." Don't dwell on past failures, but rather on your company's successes and future prospects. Using phrases like "I am positive about the future of our company" will leave the reader with a favorable impression of your firm.
End With a CTA
The business plan's final section should end with a call to action. In this section, you might argue why the reader should join your cause or invest in your business. Your stand must be a concise and direct call to action. Readers need to know exactly what you want them to do, and you need to convince them to do it.
Conclude and Reflect
After you've finished writing your conclusion, it's essential to go back and read it over. Ensure that your point is made without ambiguity and that all relevant details are included. Ensure the tone is upbeat and cheerful, and check for spelling and grammatical problems. To attract investors, it's essential to have a second pair of eyes look over the final draft of the business plan. Obtaining as much input as possible will help you ensure your argument is well-articulated and persuasive. After you've come to a satisfying conclusion, it's time to move on to the next phase of your business plan.
Location: End of Document or Executive Summary?
Determine whether you want your business plan's conclusion to appear at the end of the document or the executive summary. If you're writing a business plan to attract investors or obtain funding, consider adding the conclusion to the executive summary. Investors will likely skim the rest of your report before getting to your executive summary. Including it there is crucial to ensure they get your main points. Doing so will give your audience a clearer picture of where you are going with your argument.
Closing Statement Example for Business Plan
We are certain that ABC Corporation will become a key player in the XYZ industry due to our extensive market research and analysis. Our unique combination of innovative products and services, competitive pricing, and dedicated customer service makes us the go-to provider for ABC customers. The funds we secure from this investment round will help us develop and improve our products and services. It will also finance our expansion into new markets. With your support, we can make ABC Company the industry leader in XYZ. Thank you for considering our business plan and taking the time to learn more about our company. We look forward to working with you and exploring the potential of this partnership. Thank you for your time. Sincerely, XYZ Team
The closing statement example for business plan above is an excellent example of how a business model should end. It emphasizes the objective, progress, and, most significantly, the business owner's commitment to its mission . In summary, the conclusion should restate your company's value proposition and create a lasting impression on the reader.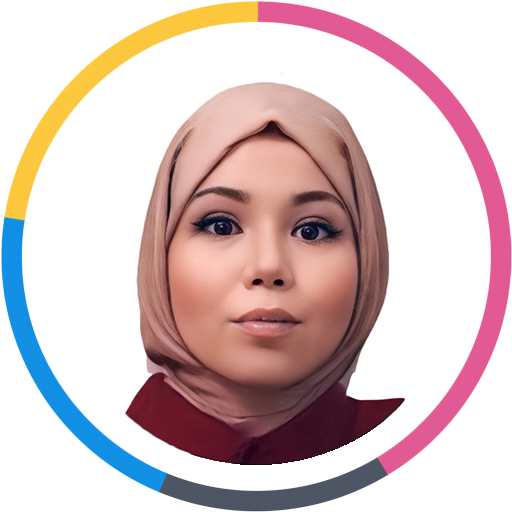 Abir Ghenaiet
Abir is a data analyst and researcher. Among her interests are artificial intelligence, machine learning, and natural language processing. As a humanitarian and educator, she actively supports women in tech and promotes diversity.
Explore All Write Business Plans Articles
Free business planning software solutions worth considering.
We can go on and on about how a business plan can secure funds from investors and get you off…
Business Development Plan Template (Free Sample)
If there are no plans or targets, how will you measure productivity? Thus, it's evident that a business development plan…
A One Page Business Plan Template: Free & Detailed 
The journey of a thousand miles, they say, starts with a step. In this case, developing a multi-billion enterprise begins…
10 Effective Ideas for a Business Plan
Starting a business is no easy task, but with the right idea and commitment to seeing it through, great things…
An Effective Beauty Business Plan Sample
Are you planning to start your own beauty salon business? You may have dreams of the perfect nail polish shades,…
Effective Bakery Business Plan Templates
Are you an aspiring baker looking to make your mark in the industry? Writing an effective business plan is the…
You're our first priority. Every time.
We believe everyone should be able to make financial decisions with confidence. And while our site doesn't feature every company or financial product available on the market, we're proud that the guidance we offer, the information we provide and the tools we create are objective, independent, straightforward — and free.
So how do we make money? Our partners compensate us. This may influence which products we review and write about (and where those products appear on the site), but it in no way affects our recommendations or advice, which are grounded in thousands of hours of research. Our partners cannot pay us to guarantee favorable reviews of their products or services. Here is a list of our partners .
How to Write a Business Plan, Step by Step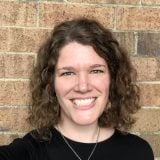 Many or all of the products featured here are from our partners who compensate us. This influences which products we write about and where and how the product appears on a page. However, this does not influence our evaluations. Our opinions are our own. Here is a list of our partners and here's how we make money .
1. Write an executive summary
2. describe your company, 3. state your business goals, 4. describe your products and services, 5. do your market research, 6. outline your marketing and sales plan, 7. perform a business financial analysis, 8. make financial projections, 9. add additional information to an appendix, business plan tips and resources.
A business plan is a document that outlines your business's financial goals and explains how you'll achieve them. A strong, detailed plan will provide a road map for the business's next three to five years, and you can share it with potential investors, lenders or other important partners.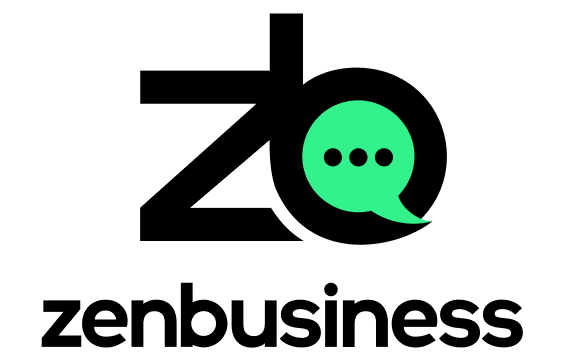 ZenBusiness: Start Your Dream Business
Here's a step-by-step guide to writing your business plan.
» Need help writing? Learn about the best business plan software .
This is the first page of your business plan. Think of it as your elevator pitch. It should include a mission statement, a brief description of the products or services offered, and a broad summary of your financial growth plans.
Though the executive summary is the first thing your investors will read, it can be easier to write it last. That way, you can highlight information you've identified while writing other sections that go into more detail.
» MORE: How to write an executive summary in 6 steps
Next up is your company description, which should contain information like:
Your business's registered name.
Address of your business location .
Names of key people in the business. Make sure to highlight unique skills or technical expertise among members of your team.
Your company description should also define your business structure — such as a sole proprietorship, partnership or corporation — and include the percent ownership that each owner has and the extent of each owner's involvement in the company.
Lastly, it should cover the history of your company and the nature of your business now. This prepares the reader to learn about your goals in the next section.
» MORE: How to write a company overview for a business plan
The third part of a business plan is an objective statement. This section spells out exactly what you'd like to accomplish, both in the near term and over the long term.
If you're looking for a business loan or outside investment, you can use this section to explain why you have a clear need for the funds, how the financing will help your business grow, and how you plan to achieve your growth targets. The key is to provide a clear explanation of the opportunity presented and how the loan or investment will grow your company.
For example, if your business is launching a second product line, you might explain how the loan will help your company launch the new product and how much you think sales will increase over the next three years as a result.
In this section, go into detail about the products or services you offer or plan to offer.
You should include the following:
An explanation of how your product or service works.
The pricing model for your product or service.
The typical customers you serve.
Your supply chain and order fulfillment strategy.
Your sales strategy.
Your distribution strategy.
You can also discuss current or pending trademarks and patents associated with your product or service.
Lenders and investors will want to know what sets your product apart from your competition. In your market analysis section , explain who your competitors are. Discuss what they do well, and point out what you can do better. If you're serving a different or underserved market, explain that.
Here, you can address how you plan to persuade customers to buy your products or services, or how you will develop customer loyalty that will lead to repeat business.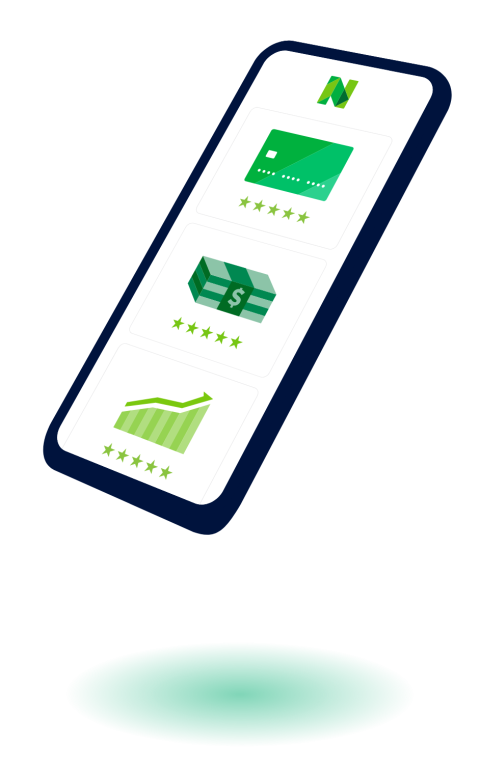 » MORE: R e a d our complete guide to small business marketing
If you're a startup, you may not have much information on your business financials yet. However, if you're an existing business, you'll want to include income or profit-and-loss statements, a balance sheet that lists your assets and debts, and a cash flow statement that shows how cash comes into and goes out of the company.
You may also include metrics such as:
Net profit margin: the percentage of revenue you keep as net income.
Current ratio: the measurement of your liquidity and ability to repay debts.
Accounts receivable turnover ratio: a measurement of how frequently you collect on receivables per year.
This is a great place to include charts and graphs that make it easy for those reading your plan to understand the financial health of your business.
» NerdWallet's picks for setting up your business finances:
The best business checking accounts .
The best business credit cards .
The best accounting software .
This is a critical part of your business plan if you're seeking financing or investors. It outlines how your business will generate enough profit to repay the loan or how you will earn a decent return for investors.
Here, you'll provide your business's monthly or quarterly sales, expenses and profit estimates over at least a three-year period — with the future numbers assuming you've obtained a new loan.
Accuracy is key, so carefully analyze your past financial statements before giving projections. Your goals may be aggressive, but they should also be realistic.
List any supporting information or additional materials that you couldn't fit in elsewhere, such as resumes of key employees, licenses, equipment leases, permits, patents, receipts, bank statements, contracts and personal and business credit history. If the appendix is long, you may want to consider adding a table of contents at the beginning of this section.
Here are some tips to help your business plan stand out:
Avoid over-optimism: If you're applying for a business loan at a local bank, the loan officer likely knows your market pretty well. Providing unreasonable sales estimates can hurt your chances of loan approval.
Proofread: Spelling, punctuation and grammatical errors can jump off the page and turn off lenders and prospective investors, taking their mind off your business and putting it on the mistakes you made. If writing and editing aren't your strong suit, you may want to hire a professional business plan writer, copy editor or proofreader.
Use free resources: SCORE is a nonprofit association that offers a large network of volunteer business mentors and experts who can help you write or edit your business plan. You can search for a mentor or find a local SCORE chapter for more guidance.
The U.S. Small Business Administration's Small Business Development Centers , which provide free business consulting and help with business plan development, can also be a resource.
On a similar note...
404 Not found
Starting a Business
Growing a Business
Business News
Science & Technology
Money & Finance
Green Entrepreneur
Subscribers For Subscribers
Store Entrepreneur Store
Spotlight Spotlight
United States
Asia Pacific
Middle East
South Africa
Copyright © 2023 Entrepreneur Media, LLC All rights reserved. Entrepreneur® and its related marks are registered trademarks of Entrepreneur Media LLC
10 Simple Tips to Write a Successful Business Plan In the new book "Write Your Own Business Plan," business expert Eric Butow takes the anxiety and confusion out of planning and offers an easy-to-follow roadmap to success.
By Entrepreneur Staff • Sep 26, 2023
"The absolute biggest business plan mistake you can make is to not plan at all." So writes Noah Parsons in his helpful blog post 17 Key Business Plan Mistakes to Avoid in 2023 . But how does one pull together all of the necessary components of a cohesive plan? It can feel overwhelming.
Eric Butow, CEO of online marketing ROI improvement firm Butow Communications Group, has teamed up with Entrepreneur Media to update the second edition of our best-selling book Write Your Business Plan to provide you with a simple, step-by-step process for creating a successful business plan. In the following excerpt, he gives ten tips to gather all of the critical information you will need to succeed.
1. Know your competition.
You need to name them and point out what makes you different from (and better than) each of them. But do not disparage your competition.
2. Know your audience.
You may need several versions of your business plan. For example, you may need one for bankers or venture capitalists, one for individual investors, and one for companies that may want to do a joint venture with you rather than fund you.
3. Have proof to back up every claim you make.
If you expect to be the leader in your field in six months, you have to say why you think that is. If you say your product will take the market by storm, you have to support this statement with facts. If you say your management team is fully qualified to make the business a success, be sure staff resumes demonstrate their experience.
Order Write Your Own Business Plan Now and Get 1 Month of Free Access to Business Planning Software Liveplan Premium
Easy step-by-step business plan generator
Built-in financial calculators
500+ sample plans and templates
4. Be conservative in all financial estimates and projections.
If you feel certain you'll capture 50 percent of the market in the first year, you can say why you think so and hint at what those numbers may be. But make your financial projections more conservative. For example, a 10 percent market share is much more credible.
5. Be realistic with time and resources available.
If you're working with a big company before you buy a business, you may think things will happen faster than they will once you have to buy the supplies, write the checks, and answer the phones yourself. Being overly optimistic with time and resources is a common error entrepreneurs make. Being realistic is important because it lends credibility to your presentation. Always assume things will take 20 percent longer than you anticipated. Therefore, twenty weeks is now twenty-four weeks.
6. Be logical.
Think like a banker and write what they would want to see.
7. Have a strong management team.
Make sure it has good credentials and expertise. Your team members don't have to have worked in the field. However, you need to draw parallels between what they've done and the skills needed to make your venture succeed. Don't have all the skills you need? Consider adding an advisory board of people skilled in your field and include their resumes.
Write Your Own Business Plan is available now at Entrepreneur Bookstore | Barnes & Noble | Amazon
8. Document why your idea will work.
Have others done something similar that was successful? Have you made a prototype? Include all the variables that can have an impact on the result or outcome of your idea. Show why some of the variables don't apply to your situation or explain how you intend to overcome them or make them better.
9. Describe your facilities and location for performing the work.
That includes equipment you use to create your products and/or services. If you'll need to expand, discuss when, where, and why.
10. Discuss payout options for the investors.
Some investors want a hands-on role. Some want to put associates on your board of directors. Some don't want to be involved in day-to-day activities at all. All investors want to know when they can get their money back and at what rate of return. Most want out within three to five years. Provide a brief description of options for investors, or at least mention that you're ready to discuss options with any serious prospect.
To dig deeper, buy Write Your Own Business Plan and get 1 month of free access to business planning software Liveplan Premium.
Entrepreneur Staff
Editor's Pick Red Arrow
Lock Its First Year, This Startup Struggled to Get 75 Clients. Five Years Later, They Have 18,000. Here's How They Did It .
I Sold My House to Work Remotely on a Cruise Ship for 3 Years — and I May Stay Aboard Even Longer. Here's What My Life Will Look Like.
Lock Think You Screwed Up? These 6 Business Leaders Share Their Big Mistake — and Lesson Learned .
This Founder Walked-On to a Top College Basketball Team in the '90s. Today, He and Drew Brees Are Bringing the 'Walk-On Mentality' to Franchising .
Lock Do Unplug Days Lead to Productivity? The Answer May Surprise You .
Here's the Secret to Growing Your Small Business , According to Execs at UPS, Airbnb, Mastercard, and Other Big Brands
Related Topics Red Arrow
Most popular red arrow, costco isn't facing devastating surges in theft like target and walmart — and the reason is very simple.
The retailer's CFO revealed its strategy during a fourth-quarter-earnings call.
'No Question, We Probably Went Too Far': Delta Airlines CEO Backtracks on Sweeping Changes to SkyMiles Accounts, Sky Club Access
The unpopular changes set to roll out in 2025 were announced earlier this month.
Netflix Is Mailing Out Its Last DVD Today. I Got the Very First One 25 Years Ago.
Netflix co-founder and founding CEO Marc Randolph tells the story of the first Netflix DVD that got sent in the mail — and one he wished never went out the door.
'Control, Surveillance and Manipulation': How TikTok's Office Surveillance Could Backfire and Cost The Company Billions
Recently, TikTok made headlines for the wrong reasons — introducing a badge monitoring app called MyRTO, aimed at enforcing its office attendance policy as part of a top-down return-to-office mandate. While many companies are recalibrating post-pandemic work expectations, TikTok's approach not only raises serious ethical issues but also amplifies broader concerns about its surveillance culture.
4 Proven Strategies to Help You Find Success in Executive Leadership
The path to executive leadership is broader than many think and can be cultivated with effort in the right direction.
There is 'A Crisis of Trust in Leadership' in Business Today. Here's What We Should Do About It
Today's poor and ineffective leadership demands a course correction.
Successfully copied link
Everything that you need to know to start your own business. From business ideas to researching the competition.
Practical and real-world advice on how to run your business — from managing employees to keeping the books.
Our best expert advice on how to grow your business — from attracting new customers to keeping existing customers happy and having the capital to do it.
Entrepreneurs and industry leaders share their best advice on how to take your company to the next level.
Business Ideas
Human Resources
Business Financing
Growth Studio
Ask the Board
Looking for your local chamber?
Interested in partnering with us?
Start » strategy, ready, set, startup checklist: 25 steps to starting a new business.
Before you start your new business, here are 25 tasks to check off on your startup to-do list.
Starting a new business can be daunting. Breaking it down into smaller steps can make the process feel more manageable and help you build momentum until your first sale. If you have a great idea, but you're not sure where how to get it off the ground, start with this checklist.
1. Perform market research
Whether you have an idea already, or you're ready to build something from scratch, the first step is to do some research. Investigate how much demand there is for your product or service, as well as the existing competition. The information you learn can help you narrow down your business concept.
Market research encompasses both primary and secondary sources. In practice, it entails conducting focus groups, surveys, and interviews with potential customers (primary research) and reading government statistics and market reports (secondary research).
2. Test your concept
Before you dive in, test your business idea to make sure it's based on a valid market need. Perform a competitive analysis to make sure your product or service doesn't already exist. You may want to create a prototype or conduct beta testing to get user feedback on the product or service you plan to launch.
3. Work on your pricing model
There are a few ways to price your product or service, such as a subscription model, flat-rate pricing, or premium pricing. Your pricing model should help you find the right balance of value and revenue as well as fine-tune your price per item.
4. Build a business plan
A business plan is necessary for when you apply for funding. It also helps guide your operations. The goal of your business plan, according to the U.S. Small Business Administration (SBA), is to:
Help find financing.
Show you've vetted the market.
Fully detail your execution strategy.
A business plan generally consists of a combination of market analyses, financial projections, and details about your business operations. This plan should be iterative and revisited as your business grows to reflect your expansion and future goals.
5. Work on your sales pitch
Hone in on what makes your business different from everyone else's. When you're just starting out, you must craft an elevator pitch that articulates what sets you apart and why investors and customers should care. A great sales pitch will explain what you do or sell to whom and why in two to three sentences.
6. Find funding
There are many sources of funding for new businesses. Some business financing options include:
Short-term loans .
SBA loans .
Crowdfunding .
Angel investments .
Venture capital .
Working capital loans .
Many entrepreneurs also bootstrap their ventures using their personal finances or by asking their friends and family for initial capital. Use your business plan to decide what option is right for you.
7. Decide on a business structure
The way you structure your business entity has tax and liability implications. No matter which business structure you choose — a sole proprietorship, limited liability company, or a nonprofit — if it's more complicated than a sole proprietorship, you will need a lawyer to help set it up correctly. Consult an expert from the start to avoid any tax complications.
8. Get the right licenses and permits
Some businesses, like restaurants and cafes, need specific licenses to operate. Depending on where you operate and your industry, you may need several permits and licenses. Check this list from the SBA to find out what, if any, you need to procure.
9. Open a business bank account
Even when you start a sole proprietorship, it's critical to keep your business and personal finances separate. Open a separate bank account for your new entity to keep your cash flow organized and trackable when it comes time to do your taxes.
[Read more: 5 Easy-to-Start Business Ideas ]
10. Organize your accounting
Anticipate tax time and set up your accounting system to make April much less stressful. Organize your expenses and income into three categories: business income, inventory costs, and other expenses (like payroll, rent, and other overhead). Find and hire an outside accountant , or buy an accounting tool to help you stay organized as you grow your business.
Advertise your grand opening on your social media channels and in local media outlets, like your town newspaper.
11. Develop your supply chain
Does your business idea revolve around a new product? If so, you'll need to find a way to get it made that's scalable. You may be able to make items yourself in the beginning, but as your business grows, that won't be sustainable.
"Getting referrals from fellow business owners via social media and forums can be a great starting point and a way to get feedback on suppliers you've been evaluating," said Liz Bertorelli, owner of online lifestyle brand Shop Passionfruit , in Martha Stewart .
Or use a directory like ThomasNet , Maker's Row , MFG , Kompass , Alibaba , or Oberlo to find available manufacturers.
12. File a copyright or patent
Once you have a solid plan for your product or service, protect your intellectual property with a copyright or trademark. You can file to protect the rights to your company's name, logo, content, creative ideas, or original creations in addition to a product design or service offering.
13. Decide where to sell
There are many companies that launch online before moving into a physical retail space. Warby Parker, Glossier, Casper, and Everlane are all companies that were founded as online-first retailers. Launching online can be a good way to keep costs down, but there are some serious benefits to having a brick-and-mortar location .
14. Develop a brand
Create a strong brand identity, including a memorable name, logo, and branding materials. Your brand identity communicates to consumers your business's mission, values, and personality. It helps your company stand out from competitors and attract customers. You may want to work with a designer who can translate your brand identity into visual cues.
15. Design product packaging
Once you have your brand identity, it's time to create the packaging , shipping materials, and any in-store physical assets that you will need to bring that identity to life. Even service businesses should consider using branded invoices or adding a logo to vehicles to help encourage brand recognition.
16. Negotiate a lease
Should you decide to open a storefront, you will need to find real estate property. That usually means negotiating a business lease . Make sure you know how much space you need, carefully vet the neighborhood, and read the contract thoroughly before signing.
17. Get the right insurance policies
The insurance policies you need will depend on the size of your company (i.e., how many employees you hire) in addition to your assets and liabilities. Here are a few policies you might need:
Workers' compensation .
Professional liability insurance .
Product liability insurance .
Business vehicle insurance .
Small business health insurance .
General liability insurance .
Property insurance .
18. Set up a website
Your website is crucial to help customers learn more about your brand. Build a business website that tells your story to build excitement before your grand opening and help people learn about your product or service. Even entrepreneurs who don't intend to sell online need a website with their store hours, location, and phone number, at a minimum.
19. Register your business
New businesses may need to register with their state government, the federal government, or they may not need to register at all. Generally speaking, if you want to file for trademark protection, or if you need a federal tax ID, you need to register with the federal government .
20. Get the right tools
When you're just getting started, you don't need a lot of fancy technology to start selling. But you do need some basics, like a point-of-sale system , wireless internet , and telephone service. You may also need office equipment, like desks and chairs, or software to enable remote work.
21. Prepare for order fulfillment
Retailers and some restaurants need to consider how they will get the product to the customer . If you offer online ordering, what logistics partner will you work with to ensure the item is delivered? Do you offer curbside pickup? For retailers, this means determining what shipping partner has the best rates and reliability — such as DHL, UPS, Fedex, or USPS. For restaurants, this could mean working with a third party like Uber Eats or Caviar.
22. Set up your social media channels
Social media is how many customers discover new brands. Create Facebook , Instagram , and Twitter profiles for your business. These platforms are where you can share news about your upcoming grand opening, launch your products, and generate buzz.
23. Hire an employee
If you have the budget, it's time to bring an employee on board. Find someone you can trust to delegate part of the day-to-day operations so you can continue to focus on the big picture. This might be a manager, a partner, or your first hourly worker who can oversee the store.
24. Advertise your grand opening
Ready to meet your first customers? Make sure they know you're about to open for business. Advertise your grand opening on your social media channels and in local media outlets, like your town newspaper. You might run an opening day discount or promotion to improve foot traffic or work with an influencer who can quickly spread the word about your brand.
25. Open your doors for business
Congratulations, you're ready to go. Good luck selling! CO— aims to bring you inspiration from leading respected experts. However, before making any business decision, you should consult a professional who can advise you based on your individual situation.
Follow us on Instagram for more expert tips & business owners' stories.
CO—is committed to helping you start, run and grow your small business. Learn more about the benefits of small business membership in the U.S. Chamber of Commerce, here .
RSVP today!
Join us on October 19, 2023, for America's Top Small Business Summit: Ready, Set, Scale — a must-attend event for small businesses ready to take their companies to the next level. Spend the day with us at U.S. Chamber Headquarters in Washington, D.C. or tune in to our livestream for a small business gathering like no other.
Subscribe to our newsletter, Midnight Oil
Expert business advice, news, and trends, delivered weekly
By signing up you agree to the CO— Privacy Policy. You can opt out anytime.
For more startup tips
How to use ai tools to write a business plan, how to start an influencer business, 6 essential steps to take when setting up a retail business.
By continuing on our website, you agree to our use of cookies for statistical and personalisation purposes. Know More
Welcome to CO—
Designed for business owners, CO— is a site that connects like minds and delivers actionable insights for next-level growth.
U.S. Chamber of Commerce 1615 H Street, NW Washington, DC 20062
Social links
Looking for local chamber, stay in touch.
404 Not found
support your career
get the interview & get the job
How To Write the Conclusion of a Business Plan
Your business plan's conclusion should encapsulate your overall justification for why your venture will succeed in order to draw investors or motivate your staff. Additionally, it ought to give a short future outlook outlining your goals for development and growth. The conclusion should also restate your company's key selling points and leave readers with a favorable impression.
How to write a business plan conclusion
When writing a business plan's conclusion, adhere to these guidelines:
1. Decide where you want it to be
Choose whether you want the executive summary or the entire document to contain your business plan's conclusion. Consider placing the conclusion at the end of the executive summary if you are writing a business plan to attract investors or raise money. The executive summary introduces the key points of the business plan and outlines the company's funding requirements and conditions. It can be more persuasive to potential investors to place the conclusion at the end of this summary, and it also increases the likelihood that it will be read.
You might select a more conventional location for your conclusion at the end of the document if you are writing a business plan for an established company to track progress or provide information to a third party. In this case, your conclusion should review and highlight the company's advantages.
2. Include the right information
Depending on whether your business is a startup looking to raise capital or an established organization evaluating goals, the information you include in your business plan conclusion will vary. New companies trying to get funding might include:
Established businesses might include information in their conclusions such as:
Not all conclusions need all these details. The most crucial information for the purpose of your business plan should be included, but the conclusion should be brief. When selecting what to include in your conclusion, keep your audience in mind. Focus on the value your company provides to investors, for instance, and the reasons why this opportunity is special. Focus on company leadership's experience and ways to lower the lender's risk when applying for a business loan.
3. Add facts and statistics
Facts, figures, and statistics should be used to support the conclusions in your business plan. Investors want evidence that your business can succeed and that they will see a return on their investment. Include details like your track record of expanding this or other businesses, or the information you used to calculate how much funding you need. This information is more convincing than assumptions or vague statements.
4. Maintain a positive tone
Your business plan's conclusion should be formal and upbeat in nature. You want to convey your optimism and enthusiasm for the company's success so that the reader will feel motivated or enthusiastic to support the business. Use language that is assertive and active and conveys your confidence in the business.
5. Include a call to action
At the conclusion of your essay, include a brief call to action that instructs the reader on what to do next. The reader should be motivated to support the business's objectives in the manner you desire. You might conclude by saying something like, "Invest in the success of Harper Corps by joining us as a minority partner in WinTec Enterprises." In your call to action, use action words and emphasize how the reader will benefit from taking that action.
6. Review your conclusion
Make sure your business plan's conclusion is written with proper spelling, grammar, and punctuation by reading it after you've finished. You want it to flow naturally and be both concise and clear. Ask a friend or coworker who is not familiar with the objectives of your company to read it as well. Ask them if they have any questions about the book's conclusion and whether reading it has piqued their interest or excitement. Then make improvements as needed.
What is a business plan conclusion?
The goal of a business plan conclusion is to persuade the reader of the company's success by summarizing the plan's advantages. The conclusion should highlight how the organization makes money and why it is a good investment because businesses typically produce business plans in order to obtain funding or investors. Businesses also create business plans to evaluate their performance or set new objectives.
In a business plan, the conclusion can be found at the end of the whole thing or at the end of the executive summary. The executive summary, which appears at the start of the business plan, provides an overview of what the reader can expect to learn and persuades them to continue reading. Some people conflate the executive summary and the conclusion, but there are several significant differences between the two.
Every business, whether new or established, should have a business plan with a succinct and focused conclusion.
Business plan conclusion example
Use this sample business plan conclusion as a model for your own plan's conclusion, being sure to customize it to your target audience's needs and requirements:
Expanding Bridgewater & Co. Our already prosperous company will be able to provide cutting-edge health technologies to more people who need them thanks to its expansion into the Denver metropolitan area. Buying this manufacturing facility in Denver gives us the chance to produce all of our goods internally and in a single location and ship them out quickly and effectively to the area. We want Sixty-Seven Investors to be a part of this exciting revolution because we have the unique ability to change lives. Investing in Bridgewater & Co. s expansion benefits Sixty-Seven Investors by:
We can save more lives if we work together, Bridgewater & Co. Products change, add to the community's employment opportunities, and revolutionize the health technology sector. Invest with us if you share our vision for a more prosperous and healthy future.
Business Plan Writer Explains How to Write a Business Plan: Part 8 The Conclusion
How do you conclude a business plan presentation?
Conclusion. The conclusion of a business plan doesn't necessarily need to be lengthy; in fact, it can be quite succinct. Your conclusion should restate the opportunity, highlight the plan's key strengths, summarize your vision, and remind the reader of the reasons why your company is in a position to carry out the plan successfully.
What is summary in business plan?
One of the most crucial components of your plan is the executive summary, which is a synopsis of all the important sections of your business plan.
What should be done after finishing the business plan?
Make sure it connects to your purpose.
Begin to test and measure.
Use the 80/20 rule.
Learn something new (quickly)
What is recommendation in a business plan?
A business recommendation letter, also known as a reference letter, is an endorsement of the products or services that one company has provided to another business or individual.
Related posts:
What To Do When Coworkers Are Stepping on Your Toes at Work
Guide: How To Create and Maintain Recruitment Pipelines
Cross Branding: Definition, Benefits and Examples
What Is SOAP API? (And How It Differs From REST API)
What Is an ESOP?
How To Write a Good Call to Action (With Examples)
How To Relax After Work (Plus Why It's Important)
What Is a Weekly Sales Report? (Plus How To Format One)
Related Posts
What is price skimming (with advantages and disadvantages), 10 customer success strategies to improve your business, leave a reply cancel reply.
Your email address will not be published. Required fields are marked *
Save my name, email, and website in this browser for the next time I comment.
New tools to improve performance
How to Write a Great Business Report Conclusion: Everything You Need to Know
When creating a comprehensive business report for your company, most of your time and energy will go into writing the main section of your report.
Once you come to the conclusion, you will probably be exhausted and you may feel the urge to just 'wrap it up' as soon as possible.
This can be a costly mistake.
Your conclusion carries the same importance as all the other sections of the report since it leaves the final impression on the reader.
How you conclude your business report has a direct impact on the way in which the readers will respond to the important information you gathered.
The business report may be spectacular, but without a convincing conclusion, all your efforts may deteriorate.
In this article, we are going to teach you how to write a compelling conclusion that will leave a huge impression on all your readers.
What Is Conclusion in Business Report Writing?
How do you write a conclusion for a report, types of business report conclusions, improve business reporting with databox.
No matter which type of business report you have written, you will need a good conclusion to sum up all the critical information.
A business report conclusion is the last section of the document used for summarizing the most important information, providing a final word to the readers.
Through the conclusion, you are able to convey the main message of your business document. You use it to outline the report as a whole, remind the readers of the main pain points, and present the key findings and decisions.
Depending on whether you have written a shorter or longer business report, the conclusion length may vary, but it should always be included. It is a sign of good organization and it can make the readers understand the pain points much easier.
To put it simply, the conclusion is supposed to create the impression among the readers that the purpose of the report has been achieved.
Business report conclusions have a lot of similarities to executive summaries, which is why a lot of people tend to confuse these two.
However, there are some important things that differentiate them. These include:
Executive summaries are mainly focused on displaying what the report will be about, while conclusions are an overview of what was discussed in the report.
Executive summaries provide readers with a broad overview of the business report, while the conclusion summarizes the key pain points and most important data.
Executive summaries should convince the readers to continue reading the report, while the conclusion should persuade them to take certain action.
Conclusions tend to include CTAs (Call to Action), which isn't the case with executive summaries.
Related : Executive Reporting: Management Reporting Best Practices & Report Examples
Now that you understand what a conclusion is and why it's so important to include it in your report, let's show you how you can write the perfect one and impress your readers.
Follow these steps to create a great business report conclusion.
Choose the Position
Include the right information, summarize the contents, facts and statistics, maintain a positive tone, develop a cta.
There are two places where conclusions are most commonly placed – at the end of the executive summary and at the end of the entire report.
For business plan reports, the common practice is to place the conclusion at the end of the executive summary.
This way, you make the first step through the executive summary and introduce the plan's main pain points and funding needs. Then, you create a conclusion to summarize these numbers to your potential investors, which directly impacts their decision to go over the executive summary once more, this time reading it more thoroughly.
For other types of business reports, the conclusion will generally be placed at the end of the whole report. Established companies use these business reports to track performances and data from important departments, which is why the conclusion should primarily focus on briefly reviewing the key metrics you included and emphasizing the company's main strengths.
The information you put into the conclusion also depends on whether you are a new startup looking to attract investments or an established company that wants to track performances and asses objectives.
To raise money, startups should include this type of information:
Financial needs
The benefits of their product and how it can affect the market
Target audience/ideal customer persona
How the product can attract new customers
Marketing and sales strategy
Competitive landscape and analysis
The expertise of the main members of the company
Financial forecasts (next 3-5 years)
Launching plan
Existing companies should include information such as:
Mission statement
Performance history
Data that showcases business growth
Financial summary
Overall goals and objectives
While these types of details are important, they aren't universal for all reports. Your primary goal should be to include the most important data from your specific document and keep the conclusion concise and understandable.
PRO TIP: How to Track the Right Metrics for Your SaaS Company
It's not easy to know which KPIs to track for sales, marketing, and customer success in a SaaS company. There are many possibilities, and so much to do! Why not start with the basic metrics that determine the health of your company?
Sales (Gross) Volume: How much revenue did your sales team bring in this month, this quarter, or this year?
MRR Growth: How fast are you growing revenues from recurring subscriptions?
Customers: How many customers do you have right now?
Customer Churn Rate: What's your customer churn rate, and how much revenue have you lost to churn?
If you want to track these in Stripe, you can do it easily by building a plug-and-play dashboard that takes your Stripe customer data and automatically visualizes the right metrics to allow you to monitor your SaaS revenue performance at a glance. 
You can easily set it up in just a few clicks – no coding required.
To set up this Stripe dashboard , follow these 3 simple steps:
Step 1: Get the template
Step 2: Connect your Stripe account with Databox.
Step 3: Watch your dashboard populate in seconds.
The best way to convey your main message is by explaining it in detail throughout the business report and then summarizing it to recap the main points.
When creating the business report, take notes of the most important information that you should later highlight in the conclusion.
Make sure to avoid any extra details since they are already provided within the report. Only include the key points that explain why the business report itself is useful to the company.
Also, don't use any additional information that you didn't include in the report. This can only confuse your readers and send mixed messages.
You should prepare some facts, statistics, and data to support the statements in your conclusion. No matter if the reader is a potential investor or the key stakeholders in your company, you will want to include some evidence to back up your claims.
This makes the conclusion much more convincing and the audience will see that your forecasts aren't based only on vague assumptions.
The tone in your conclusion should match the rest of the document and the best way to leave an impression on the audience is by using a professional and positive tone throughout the whole report.
After going through the conclusion, the readers should feel interested and enthusiastic to support the growth of your organization.
Make sure you exude confidence by using strong and active language.
Including a call to action at the end of your conclusion helps you persuade the readers to support the goals you set up.
This can be anything from "Join us at X enterprises" or "Invest in X and become a part of the success".
A good CTA includes strong action words through which you emphasize the benefits of investors joining your firm or key stakeholders supporting your objectives.
After you are finished writing the conclusion, go over it once again to make sure there aren't any spelling, grammar, or punctuation mistakes you overlooked. The conclusion should be clear, precise, and easy to go understand.
You can even ask a colleague or a friend to read it since it's always helpful to have an extra set of eyes. Ask their opinion on how the conclusion makes them feel and whether it was easy to go through.
As we said, depending on which type of business report you have written and what is included in it, there are a few different types of conclusions you should differentiate.
Let's walk you through them.
Conclusion with a Prediction
Conclusion with a major problem, conclusion with a quote, conclusion with a summary.
If your report focuses on a decision or strategy that already took place, you can write a conclusion that predicts the outcomes of that specific strategy.
You can include financial forecasts, sales expectations, and overall growth predictions. Make sure to also back up your predictions with sufficient evidence.
Writing this type of conclusion can be a bit tricky. You don't want to come off strong and repeat the same issue over and over again. However, you do want the readers to take the issue seriously and realize why it is important that everyone focuses on solving it as soon as possible.
Be direct, but also lenient. Describe why that issue is important and provide a few ways on how you can solve it. Keep it brief and memorable.
Ending your conclusion with a powerful quotation can leave a great impression on the readers. However, you should be very careful when choosing the right quote.
You can't just throw in some saying from Shakespeare and wrap it up. It is best to quote someone influential in the industry in such a way that it reinforces your message.
When writing your short but meaningful summary, don't go into detail about your main points again. Keep it as brief as possible and only remind the readers of the most important information.
Also, you should remember that a conclusion doesn't have to include only one of these things. Mixing up a summary and a prediction can be a powerful combination, so always try to figure out a few different ways to convey your message and then choose the right one.
Business reporting is one of the indispensable activities within a company, but it is also one of the most time-consuming.
The traditional way of creating business reports has always been a daunting task for executives around the world – hours spent copying and pasting, checking different tools for data, tracking the performance each week, and constantly updating the reports manually.
Databox has introduced a new way of doing things.
With our customizable dashboards , you will save both time and energy by tracking all of your important data in one place and updating it in real-time. You can connect your favorite devices and monitor business performances in one comprehensive report.
Additionally, you will also be able to prepare beautiful and understandable reports by using some of our advanced visualization tools. With just a few clicks, you can visualize all of the key metrics and turn them into professional-looking graphs and charts.
Sign up for free and improve your business reporting process in no time.
Get practical strategies that drive consistent growth
How to Write an Executive Summary for a Report: Step By Step Guide with Examples
Key stakeholders don't have time to read your reports impress them with executive summaries instead. here's everything you need to know..
Reporting | Sep 22
Salesforce Report Types Guide: 4 Reports Every Sales Pro Should Use
Learn how different report types in salesforce help you display, group, and analyze relevant data for improved sales pipeline performance., sales activity reporting: definition, benefits, top metrics to include, examples, and more, want to learn how to track your company's sales activities here is everything you need to know about sales activity reporting..
Latest from our blog
Organic and Paid CTR Industry Benchmarks for 2023 [ORIGINAL DATA] September 28, 2023
12 Biggest Sales Challenges SaaS Faced in 2023 September 28, 2023
Popular Blog Posts
What is a KPI?
SMART Goal Tracker
Marketing Report Templates
Google Analytics Dashboards
Google Search Console SEO
Website Performance Metrics
SaaS Metrics
Google Analytics KPIs
Business Dashboards
Dashboard Integrations
Dashboard Examples
Calculate Metrics
Build Dashboards
Dashboard Reporting
Metric Tracking
Goal Tracking
KPI Scorecards
Desktop, Mobile & TV
More Features
TV Dashboards
Mobile Dashboards
Dashboard Snapshots in Slack
White Label Dashboards
Client Reporting
POPULAR DASHBOARD EXAMPLES & TEMPLATES
Marketing Dashboards
Sales Dashboards
Customer Support Dashboards
Ecommerce Dashboards
Project Management Dashboards
Financial Dashboards
SaaS Dashboards
Software Development Dashboards
Databox vs. Tableau
Databox vs. Google Looker Studio
Databox vs. Klipfolio Klips
Databox vs. Power BI
Databox vs. Whatagraph
Databox vs. AgencyAnalytics
Culture & Careers
Product & Engineering teams
Junior Playmaker Internship
Talent Resource Center
We're Hiring!
Affiliate Program
System status
Case studies
Help Center
API Documentation
Start a Chat
Search for:
Apple Numbers
Apple Pages
Software Testing
White Paper Templates
Business Process Design
Software Development
Writing Tips
Action Plan Writing
Business Plan Writing
No products in the cart.
Business Plan
How to write the conclusion section of your business plan.
This tutorial explains how to write the conclusion for a business document, for example, a report, thesis, project, or any document that needs a section to gather together the main points.
The structure of the conclusion is as follows:
Reviewing this conclusion, we can see that it mirrors the structure of the executive summary. This serves several purposes:
Reminding the reader of the messages made in the executive summary
Reinforce the main message the authors want to highlight
Laying information throughout the white paper to nudge the reader in the right direction.
Download Now – Buy Here!
Anthony James
Username or email address *
Password *
Remember me Log in
Lost your password?
Where to write the conclusion of your business plan?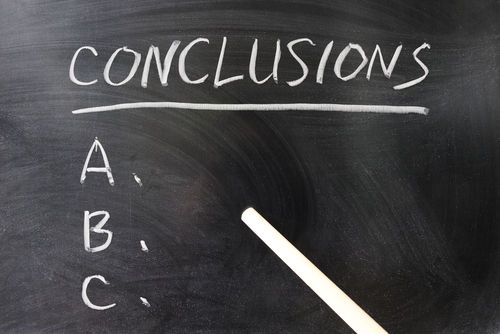 First of all, is there a conclusion to a business plan?
Do business plans have a conclusion?
Yes, but the conclusion of the business plan is not necessarily where you would expect it to be!
The conclusion of the business plan is not at the end of the plan but in the executive summary . And there are two good reasons for that.
Firstly because the executive summary contains the key points of your business plan - the rest of your plan is only there to reinforce and back the claims advanced in the executive summary - which makes it a natural place to conclude the plan.
Then (and mostly?) because the executive summary is very likely to be the only part that will get fully read in your plan!
That's for the form, now let's look at what goes into the conclusion of your business plan.
What is the content of a business plan's conclusion?
Well... it depends on the purpose of you business plan.
If you are writing a business plan to raise financing, then you need to specify the total funding requirements, the amount you already secured (from existing shareholders, banks, business partners, grants, etc.), and eventually an overview of the key terms you would like to obtain (minimum commitment, duration of the loan, or percentage of equity on offer, etc.).
If you are writing a business plan for a supplier or a key hire, then you can adopt a more traditional type of conclusion that simply reiterates and highlights the key strengths of you project.
What tool can I use to write my business plan?
A good way to write your business plan quickly without having to wonder what goes in each part is to use online business plan software . There are several advantages in doing so:
You are guided through the writing process by detailed instructions and examples for each part of the plan
You can be inspired by already-written business plan templates and examples
You can easily make your financial forecast by letting the software take care of the financial calculations for you, without errors
You get a professional document, formatted and ready to be sent to your bank or investors
It's easy to track your forecast against the actual financial performance of your company, and to keep your plan up to date and relevant
If you're interested in using this type of solution, you can try our software for free by signing up here .
I hope this quick guide helped you to get a better understanding of how to write the conclusion of your business plan. You can find some additional information in our guide to writing a business plan .
Also on The Business Plan Shop
Free business plan template
Business plan vs. business model
How to write a five-year business plan?
If you find this article useful please share it with your network.
Create a convincing business plan
Assess the profitability of your business idea and create a persuasive business plan to pitch to investors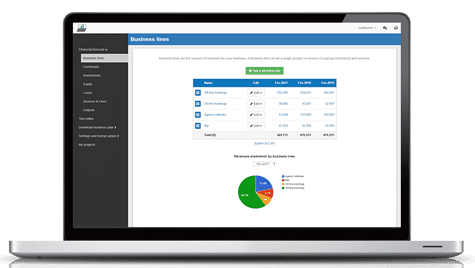 500,000+ entrepreneurs have already tried our solution - why not join them?
Not ready to try our on-line tool ? Learn more about our solution here
Need some inspiration for your business plan?
Subscribe to The Business Plan Shop and gain access to our business plan template library.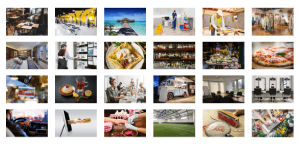 Need a professional business plan? Discover our solution
Write your business plan with ease!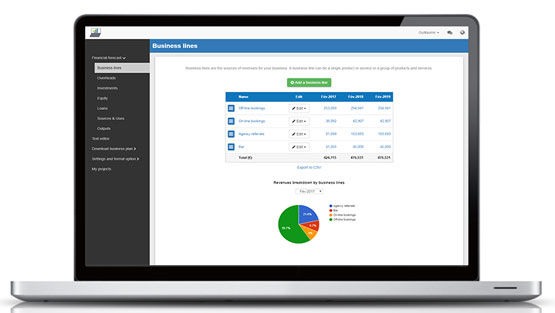 It's easy to create a professional business plan with The Business Plan Shop
Want to find out more before you try? Learn more about our solution here

Business Plans
Start a Business
Limited Company
Self Employed
Contractors
Home vs. Office
Business Plan (8) – Conclusion and Appendices
October 11, 2020
Business Plan Guide
In Part 8 of our Guide to Writing a Business Plan we look at the 'Conclusion'.
12. Conclusion
A business plan conclusion, doesn't need to be very long, in fact, it can be pretty brief.
Your conclusion should; reiterate the opportunity, highlight the key strengths of your plan, summarise your vision, and remind the reader why your business is in a position to successfully execute the plan.
If you are looking to raise funding with your plan, you should detail the finance required.
Depending on who the plan is for, you could also include a 'call-to-action', telling the readers what they need to do next.
Add any Appendices
Finally, add any appendices that are relevant and strengthen your business plan.
You should put detailed information that supports your plan but is too 'heavy' to include in the main body, in an appendix. These could include things like; additional statistics, results of research that you have done, or maps.
Business Plan Conclusion Tips
This is a good time to transmit your optimism without exaggerating
Leave the reader feeling positive
The guide was written with help from the EBP Business Plan Designer Team.
More Bytestart Guides
How to Conclude a Business Plan
by Mariel Loveland
Published on 28 May 2019
It doesn't matter if you're launching a brand new business or planning to expand your already successful venture: you will need a business plan. This is a road map that helps you achieve all of your business goals. It basically answers a series of questions about your company ranging from what your product is to who you're selling it to. This, of course, can be figurative as some businesses provide services, rather than products.
For example, a plumbing company's product is fixing pipes, not typically the retail sale of the pipes themselves. A medical practice's product is diagnosing and curing illnesses, not typically the medicine itself (that's usually left up to the pharmacies).
Partially completed written business plan.
Word processing software.
Inside every business plan is a conclusion – and it varies depending on the industry and the audience. Regardless, this is your final pitch to summarize your entire report. A solid business plan conclusion example is one that highlights strengths and ensures the reader that your business will be a success.
Share the conclusion of your plan with a few people you trust to make sure company outsiders can understand your points.
Explain The "Why" Behind Your Business Plan
In your business plan conclusion pdf (or printed paper if you're going old school), you need to tell readers why they're actually reading your business plan in the first place. For example, the conclusion of a business plan for a coffee shop looking for funding might briefly mention that you're searching for a certain amount of money to remodel your dining space or buy a new espresso machine.
You might also want to use different business plan conclusion examples for different audiences. If you're looking for $100,000 in funding from investors, disclose financial details in your conclusion. If you're looking for a new partner or to sell your business, you'll need to outline this in your conclusion as well. You might actually be looking for investors and partners or looking for investors or a buyer at the same time. Print out business plan conclusion PDFs for each specific instance.
State The Key Milestones
Your business plan probably has stacks of pages with different milestones. When do you expect to turn a profit? How long will it take you to train new staff? In how many months do you expect to break a sales milestone? Even your executive summary, the shorter preface to your plan that explains your key assumptions in everyday speak versus industry jargon, has a few milestones buried deep in its short pages.
State your key milestones in your conclusion, whether you place this in an executive summary or at the end of your report. For example, the conclusion of a business plan for a coffee shop might say that you expect to sell 1,000 lattes by the first month. Write this down along with the percentage of increased revenue you expect month-to-month and the measures you'll take to get there. Put the milestones in a graph, table or column for easy digestibility.
Create a Call to Action
The best business plans don't just end with an "okay, now what?" They end with inspiration. To do this, you'll need to add a call-to-action to your business plan conclusion. The call-to-action can be anything from "invest money today" to "join us as a partner."
For example, the conclusion of a business plan for a coffee shop might include "try one of our specialty cold brews today." This is a successful business plan conclusion example because it gives investors the opportunity to try your product to see if they really believe in what you're offering.
Not all Business Plan Conclusion Examples Are at the End
Before printing out your business plan conclusion PDF, think about where you're going to actually put your conclusion. This might come at the end of your executive summary, which is at the beginning of your business plan.
You also might wish to write a longer conclusion at the end of your business plan. Either is effective, though the executive summary does come first and is most easily digested. You might have the biggest opportunity to show your business prowess in a place most investors are going to read first.
How to Write a Conclusion for a Business Plan?
The conclusion of your business plan should summarize your overall argument for why your business will be successful to attract investors or inspire your employees. It should also provide a brief glimpse into the future, outlining your plans for expansion and growth. Finally, the conclusion should reiterate the unique selling points of your business and leave the readers with a positive impression.
Here are some tips on writing a conclusion for your business plan.
Table of Contents
1. Decide Where You Want it to be Placed
2. put the right information, 3. make it convincing by adding facts and statistics, 4. maintain a positive tone, 5. end with a call to action, 6. review your conclusion, business plan conclusion example, final thought.
Decide whether you want the conclusion of your business plan to be at the end of the complete document or at the end of the executive summary. Consider adding the conclusion at the end of the executive summary if you're writing a business plan to attract investors or raise funds. The executive summary is typically the first thing investors will read, so adding the conclusion there will ensure that they see your most important points.
If you're writing the business plan for internal purposes, such as to guide decision-making or track progress, then you may want to place the conclusion at the end of the complete document. This will allow readers to see the full context of your argument before reaching the conclusion.
The conclusion of your business plan should briefly summarize the main points of your argument. It should state why you believe your business will be successful and how you plan to achieve your goals. If you're writing the business plan for investors, this is your chance to make a final pitch for why they should invest in your company.
If you're writing the business plan for internal purposes, the conclusion can be more forward-looking. In this case, you may want to include your plans for expansion or growth. This will give readers a sense of where you see the business going in the future.
For example, your conclusion should put this information if you want to convince investors:
Current financial situation of your company
The needed funds for your company growth and expansion
Your target market and customers
Customers' demand
How you make a difference from your competitors
The plan to increase your sales
And if you want to give managers an idea of where the company is headed, your conclusion should include:
Your company history and products
Future goals and objectives
Plans for expansion or growth
Timeline for achieving these goals
Not all conclusions need to include all of this information, but these are some of the most important points to include.
Reinforce your argument by adding some facts and statistics to back up your claims. This will make your conclusion more convincing and leave the reader with a positive impression of your business.
For example, if you're trying to convince investors that your business is a good investment, you might include information about your company's past financial performance or projections for future growth. If you're trying to convince managers that your company is headed in the right direction, you might include information about your market share or customer satisfaction rates.
Keep the tone of your conclusion positive and optimistic. This will leave the reader with a good impression of your business and make them more likely to invest in or support your company.
For example, avoid phrases like "Even though we've had some setbacks, I'm confident that our business will be successful." Instead, focus on the positive aspects of your business and your plans for the future. Phrases like "I'm confident that our business will be successful" or "I believe in our company's potential" will leave the reader with a positive impression of your business.
The conclusion of your business plan should include a call to action. This is your opportunity to convince the reader to invest in or support your company.
For example, if you're writing a business plan for investors, you might say something like "I invite you to invest in our company and join us on this exciting journey." If you're writing the business plan for internal purposes, you might say something like "I invite you to join me in working towards these exciting goals."
This call to action should be brief and to the point. It should be clear what you're asking the reader to do, and it should be convincing enough to make them want to do it.
After you've written your conclusion, take a step back and review what you've written. Make sure that your argument is clear and that all of the important information is included. Check for any typos or grammatical errors, and make sure that your tone is positive and optimistic.
If you're writing the business plan for investors, ask someone else to read your conclusion and give you feedback. It's important to make sure that your argument is clear and convincing, so get as much feedback as you can.
Once you're happy with your conclusion, you're ready to move on to the next section of your business plan.
Here's an example of a conclusion for a business plan:
"The company's management is optimistic that it will be able to meet its aggressive sales targets, with total sales of $10 Million, $15 Million, and $20 Million in 2022, 2023, and 2024, respectively.
Furthermore, we have carefully analyzed its market, potential clients, and ability to increase its sales and market share in our industry. The Company has the potential to provide high ROE to potential investors due to its unique selling point that meets customers' demand, aggressive marketing strategy, and makes a difference from competitors.
The management team invites you to invest in the company and join us on this exciting journey. With your support, we believe that we can achieve our goals and create shareholder value. Thank you for your time and consideration.
The Company will need to raise early money in order to become an industry leader. This money will go toward startup expenditures, building a legitimate storefront, and expanding the company's infrastructure, product development, and marketing.
The company will be able to achieve its success in 3 years based on the funding requirements.
Assuming all goes according to plan, the management team is confident that it will be able to generate significant returns for its investors."
The conclusion of your business plan is your opportunity to briefly summarize your company and its potential for success. It should include information about your current financial situation, your target market, and your plans for expansion or growth. You should also include some facts and statistics to back up your claims. Keep the tone positive and optimistic, and end with a call to action.
With this information, hope you can write a convincing conclusion that will leave the reader eager to invest in or support your company.
Jessica D. Davis
My name is Jessica D. Davis, as a writer and editor, I'd like to create a place where other writers and I can talk about business, investing, health, career, lifestyle, home improvement and other topics.
12 Types of Employment Termination
7 ways to improve athletic performance, you may also like, mastering the art of revenue cycle management: a guide for home health providers, mastering data visualization with a parallel coordinate plot: best practices for clear and insightful representations, the multitude of benefits your business gains from customized packaging , top 5 cyberattacks: a countdown of the most shocking, thinking beyond the norm: 10 innovative business ventures perfect for savvy investors, guardian angels in suits: nicholas zappas explores why entrepreneurs need close protection specialists, the significance of dbs checks for small businesses, the power players: marco bitran explores how electrical engineers supercharge startups, how carlos urbaneja explores 7 effective techniques for conducting employee misconduct investigations, william hanron redmond explains how global companies can ensure compliance with international contract agreements, leave a comment cancel reply.
Save my name, email, and website in this browser for the next time I comment.
Tips to start your business
Be a business owner and have a life
How to manage stress
Prepare for startup postpartum
How to find a mentor
How to find business success
Reasons why businesses fail
Pain points when starting
Reduce risk when starting
Keep your business on track
Start with no money
Start while employed
Start after bankruptcy
Start during a recession
Start while in debt
Start with friends
Start while being a mother
Is it too late to start a business?
Lessons before a second business
Resources to help you start
Free business tools
Books for starting a business
Work with the SBDC
What these experts wish they knew
How to start a business while employed
How to Start a Business While You're Still Employed
Pratik Dholakiya
7 min. read
Updated September 28, 2023
Don't those two magic words sound like music to your ears if you have been dreaming of starting a company? You bet.
But for anyone considering quitting their job to start their own company, there are plenty of potential roadblocks—usually around the idea of giving up your regular paycheck for a while— from your kids' tuition fees to your mortgage.
You can't begin to think of quitting your job to start your own business unless you have enough money to take care of your priorities and liabilities.
Right? Not necessarily.
On this page
1. Organize your time
2. test your ideas, 3. don't cross your current employer, 4. analyze your business's success before registering with the irs, 5. look for a co-founder, 6. focus on local networking, the hybrid path to entrepreneurship.
There is another way—"a hybrid path to entrepreneurship," which basically involves starting a business while you're still employed.
Consider Bob Parsons , the founder of GoDaddy Hosting . Prior to starting GoDaddy, Parsons founded another company called Parsons Technology. He started that company in 1984, but he didn't quit his day job until late 1987, when he was ready to focus solely on his startup.
Parsons is not unique; many other eminent and successful entrepreneurs kept their day job while starting a business . According to an Academy of Management study , people who start their businesses while they are still employed are 1/3 less likely to fail compared to people who jump in without having the safety net of employment.
Now that's a good news. What's better than having a day job (a.k.a. your steady source of income) as well as a chance to pursue your dream startup?
But that's easier said than done. Remember you're still probably working 9 to 5 or more and then hustling at night to take care of your business.
With that said, it is not impossible. If you follow some of these simple ground rules mentioned below, it becomes somewhat easier to walk the fine line between keeping up your full-time job and pursuing your own business.
Time is perhaps your most valuable asset, especially when you are already working 40-plus hours a week for your employer. Don't forget the time you need to set aside for family , to get proper rest, and do other human things. You should, therefore, be really skillful with your time management if you want to devote some dedicated hours to your business.
Get everything written down in a calendar—whether you're using a paper day planner or Google calendar. Don't skip anything. Include all your commitments, and divide each task into achievable-sized bits. Don't be afraid to schedule specific blocks of time for particular projects, rather than just writing down meetings.
Look for dead time such as lunch hours, your commute time, or free times during vacation days, and so on to develop your website , write a blog, or send out pitches . Have small and realistic goals and always remember to keep the balance.
You may believe to have a great idea, but the market may not agree to that. It is therefore essential to test them thoroughly before launching your startup .
But before that, there are a few questions you need to answer:
Does your idea(s) solve a pain point?
Do you have a product?
What's its USP ( unique selling proposition )?
Who is your target audience ?
How will you distribute your product?
What are your major costs ?
What are your sources of revenue ?
Once you have these answers, it's time to test your idea in the real world.
Here are a few ways you can do this:
Create a prototype of your product that meets your customers' biggest pain point and get user feedback (including seeing if they'll pay for it) in order to validate the product even before launching it.
Similarly, service providers can start with freelancing to build a client base years before they actually start the business.
Interview your target audience to see if they actually have the pain point, which you are about to solve.
Conduct surveys to reach hundreds and thousands of target audience and analyze the result. While it is like an extension of customer interviews, you can ask more closed questions and tools like SurveyMonkey makes it even easier to analyze the results.
No matter how much you hate your current job, never cross the line with your employer. You really don't want to get dirty on the legal grounds.
So, make sure your startup is not an exact replica of your current organization. In fact, it is better to have a business idea which is unrelated to your day job. Also, never use your corporate computers or equipment to do works related to your business and never do them during your office hours.
Make sure you are in compliance with your non-disclosure agreement and any other employment agreements that you have signed. Your employer clearly won't appreciate it you become their direct competitor. If you are planning to start a competing business, speak to a lawyer to ensure that you are on solid legal grounds before you start your own business.
It's better to maintain a strong relationship with your employer if you can. For example, if you are a digital marketer and want to launch your own startup, see if you can negotiate working with your employer on a freelance basis to free up your time. This way your employer gets to keep you for longer and you can gradually start on your business without any legal issues.
While you do need to register your company on a federal level , don't do it any earlier than you really need to. Note that not all businesses need a tax ID (EIN) from the Internal Revenue Service (IRS).
You need this only when you:
Run a corporation or a business partnership
Have employees, or
Meet certain IRS criteria
But until you reach that point or if you still have a long way to go before you launch, you can have the liberty of not registering.
What is the point of creating unnecessary work at the time when every moment and resource counts? However, you must register with IRS as soon as you meet any one of its criteria. No excuses there. Remember, whether you're registered as a business or not, you'll still need to report income and pay taxes on it.
Starting a business is difficult and it gets even more challenging if you try to do it alone.
Of course, there are many examples of solo founders , and sometimes it's easier and makes financial sense do go alone. Having a good co-founder who compliments your skill sets and shares your dreams and passion can be helpful. Co-founders can not only add to your company's competencies, but can also challenge your ideas along the way—many times that can help you be more effective.
On the flip side, a fundamental disagreement with a co-founder can tank your startup. So make sure your co-founder's approach and vision is compatible with the way you work or think. It is usually best to get someone you have worked with earlier on board than going with a stranger. Just be sure to put your agreement with your co-founder in writing , especially in terms of their ownership or equity stakes so there aren't any surprises if you end up parting ways.
Launching a startup is challenging, both financially and emotionally, and you may not always have your family and friends' support in your entrepreneurial pursuits.
So, reach out to others who are also starting their own businesses. Find a community of supportive entrepreneurs; this will not only help you to get that much needed emotional support, but will also help you learn from their experience.
SCORE can help you find an experienced business mentor . Also check out sites like like Meetup , The Savvy Community (for women entrepreneurs), Nomad List , YEC , and so on. There are even private Facebook groups like Freelance to Freedom Project Community and many LinkedIn groups that aspiring entrepreneurs should consider joining.
Quitting a full-time job to start your business is perhaps one of the biggest decisions you will ever make.
But, you might not have to take that risk immediately.
It is often a good idea to walk the thin line between maintaining your full-time job and preparing the foundation of your startup, although it will no doubt be challenging. At least you'll have the financial support and stability you need to test your idea and decide if it has legs.
Just get started, and take small steps towards your dreams.
Pratik Dholakiya is the founder of The 20 Media, a content marketing agency specializing in content and data-driven SEO.
Related Articles
4 Min. Read
Are You Cut Out to Run a Kennel or Pet Boarding Business?
16 Min. Read
How to Start a Bakery: The Ultimate Guide for Bakers
5 Min. Read
What Is a Benefit Corporation?
9 Min. Read
Going Beyond the Napkin: How Do You Know If Your Idea Is Any Good?
Discover the world's #1 plan building software
Nicholas G. Coriano
Business Plan Writer
Nicholas G. Coriano's Links
Standard Business Plans
Business Formations
Business Plan Conclusion
How to Write a Business Report Conclusion
Small Business
Business Communications & Etiquette
Business Writing
')" data-event="social share" data-info="Pinterest" aria-label="Share on Pinterest">
')" data-event="social share" data-info="Reddit" aria-label="Share on Reddit">
')" data-event="social share" data-info="Flipboard" aria-label="Share on Flipboard">
How to Give a Budget Report
How to write a business report to an executive, how to write an exploratory project proposal.
An Outline to Pitch an Idea to a Company
When to Use a Business Report to Communicate Instead of a Business Letter
Whether you've written a business report to inform your staff of impending changes at the workplace or to explain a major decision, the report must be clear and concise and provide enough detail to forestall questions. That's why it's so important to conclude your report with authority.
How you end a business report will leave a lasting impression on the reader and enhance your chance of meeting your goal in writing the report. If your goal is to seek funding or an operating change at work, or if you wish to request something specific, conclude on a positive note that shows your readers you have their needs in mind and can provide a benefit.
Summarize the Contents
The most effective way to communicate a message is to give that message in detail and then summarize or recap the message that you just expressed. One of the key aspects of a business report conclusion is summarizing the information for your reader. Your summary should mirror your opening or executive summary, recapping highlights that lead to a conclusion.
Avoid details, because you've already provided them in your report and can make assumptions the reader will accept. Highlight only the key points that summarize your main pieces of information, which might include new, important facts, projections or a justification for the reader. Most importantly, don't introduce any information in the conclusion that wasn't in the actual report because this may confuse your reader.
Offer a Brief Action Plan
After you've summarized the contents, it's important that you provide an action plan or recommendation based on the information in the report. This doesn't have to be super specific, but it should give the reader a general overview of your assessments about the report, and some of the steps necessary to accomplish a task, fix a problem or implement a solution.
For example, if your report concerns the possible acquisition of another company, you could write, "Based on the findings of this report, I recommend that we analyze XYZ's financial statements for the past three years, and if we find them to be acceptable, set up a meeting with the board of directors to present our acquisition plan."
Make a Subjective Statement
If the purpose of your report is to provide more than just a list of facts and figures, tell the reader why the facts you have just presented are important. After you have laid out the specifics in a report on a new competitor, point out how the competitor might affect your sales and suggest ways to deal with the new threat.
Show a Benefit
Let the reader know that there is a payoff in reading your report and following your recommendations. Tell the reader what to do with the information you've presented and why it benefits her. If you are requesting funding for a project or to be sent to a seminar or workshop, tell the reader what she will get out of investing with you or spending company funds to send you on a business trip. For example, while a business seminar might cost the company $1,000, the specific skills you learn might help you decrease $50,000 in current spending or increase revenues by $100,000.
Include Supporting Data
After the written portion of a business report, include an appendix with charts, graphs, a budget, photos and other support documents that help strengthen your case. Providing this information in the body of your report might make reading the report too laborious or boring. Conclude business reports with objective documents that show you have done your homework and that your facts, conclusions and recommendations are supported by objective research.
Oxford University Press: Structuring a Business Report
Victoria University of Wellington: How to Write a Business Report
Sampson Quain is an experienced content writer with a wide range of expertise in small business, digital marketing, SEO marketing, SEM marketing, and social media outreach. He has written primarily for the EHow brand of Demand Studios as well as business strategy sites such as Digital Authority.
Related Articles
Proper way to present a financial statement, how to write a business trip report, how to close an audit, how to do a proposal statement, elements of a business report, drafting an internal memorandum, characteristics of a good business report, how to report someone on facebook if i don't have an account, how to write an informal business report, most popular.
1 Proper Way to Present a Financial Statement
2 How to Write a Business Trip Report
3 How to Close an Audit
4 How to Do a Proposal Statement
Investing 101
The 4 Best S&P 500 Index Funds
World's Top 20 Economies
Stock Basics Tutorial
Options Basics Tutorial
Economics Basics
Mutual Funds
Bonds/Fixed Income
Commodities
Company News
Market/Economy News
Apple (AAPL)
Tesla (TSLA)
Amazon (AMZN)
Facebook (FB)
Netflix (NFLX)
Create an Account
Join a Game
Create a Game
Budgeting/Saving
Small Business
Wealth Management
Broker Reviews
Charles Schwab Review
E*TRADE Review
Robinhood Review
Advisor Insights
Investopedia 100
Join Advisor Insights
Your Practice
Investing for Beginners
Become a Day Trader
Trading for Beginners
Technical Analysis
All Courses
Trading Courses
Investing Courses
Financial Professional Courses
Advisor Login
Newsletters
Business Plan: Conclusion
A business plan is not just a lengthy document that helps you get a loan or secure backers, even though that might be the reason you're putting it together. A business plan is a thorough examination of whether your business idea is viable. Preparing your business plan in the early stages of developing your company can save you a great deal of time, money and heartache by showing you where the weaknesses in your idea lie and giving you a chance to correct them before you make any serious mistakes, whether with your money or someone else's.
Your business plan will present a snapshot of your company at one moment in time. Since your company will constantly be changing, your business plan will quickly become outdated. However, the formal plan you create will serve as a document that you can look back on any time your business is struggling or you are having doubts about its direction. Consulting your plan at times like these can show you if you are on the right track. Perhaps you've strayed from your plan and need to return to your original ideas. On the other hand, if you are on track with the plan and things just aren't working, the business plan will allow you to easily examine every detail of your business and see where you need to make changes to improve your  business model . 
Once you've completed your initial plan and, one hopes, obtained the capital you were seeking, keep in mind that your business plan should be a living document. You will want to revisit it from time to time, updating each section as you learn what works for your business and what doesn't. As your business evolves, you'll find that older versions of your plan provide a helpful reminder of how far you've come. As a bonus, continually updating your plan will put you ahead of the game if you later need to secure additional financing.
There's no question that putting together a good business plan takes a tremendous amount of labor. But if you do it right, your effort will pay off. You will obtaining financing, open your doors (or expand your doors) for business and then – really get to work.
How To Write A Business Plan
Entrepreneurs: Separate Biz and Personal Finances
Financial New Year's Resolutions You Can Keep
3 Steps to Identify Your Financial Goals
How to Start a Business While working a Full-time Job
Why Every Business Owner Needs a Financial Advisor
Crowdfunding Business Plans
Established Venture Business Plan
E-1 Treaty Traders Visa Business Plan
E2 Treaty Investor Visa Business Plan
EB-5 Immigrant Investor Program Business Plan
H-1B Specialty Occupations Visa Business Plan
O-1 Immigration Visa Business Plan
Pre IPO Business Plans
SBA Business Plans
Start-up Venture Business Plan
Connecticut
Massachusetts
Mississippi
New Hampshire
North Carolina
North Dakota
Pennsylvania
Rhode Island
South Carolina
South Dakota
West Virginia
Process Outsourcing
Process Improvement
Buying a Business
Selling a Business
Business Valuations
Investment Review
I.P. Monetization Report
I.P. Policing Strategy Analysis & Report
Patent Feasibility Analysis & Report
Trade-Dress Consultation & Report
USPTO Copyright Assessment & Filing
USPTO Patent Filing & Follow-up
USPTO Trademark Filing & Follow-up
USPTO Trademark Search & Analysis Report
Puerto Rico
Inbound Call Center Services
Outbound Call Center Services
Virtual Receptionist Services
Initial Public Offerings
Private Placements
Corporate Branding
Form 10 – General Form For Registration of Securities
Form 10Q – Quarterly Report
Form 1A – Regulation A Offering Statement
Form 3 – Initial Statement of Beneficial Ownership of Securities
Form 4 – Statement of Changes in Beneficial Ownership
Form D – Notice of Exempt Offering of Securities
Form S1 Registration statement under Securities Act of 1933
Schedule 13D – Beneficial Ownership report
Accredited Investor Outreach
Micro Cap Investor Relations
Social Media IR
Retail Investor Awareness
Investor Presentations
Investor Relations Websites
Press Release Writing
Whiteboard Animations
Website Design
Product Listing Service
Social Media Development
Content Creation
Feasibility Studies
Due Diligence Reports
Surveys & Data Collection
Proposal Development & Bid Support
Private Company Clients
Public Company Clients
Sample Startup Business Plan Conclusion
We are confident that we can achieve our conservative financial projections, generating a gross revenue in excess of (enter projected revenues for year 1) in year one after the opening of the business.   In addition, our management has carefully considered its market, potential customer base, and its ability to grow its sales average to capture market share (in our area of business and abroad/in our area of business) . With our projected numbers and the total market share and revenue in the (enter company industry) industry, we confidently project over a (estimate the entity value in year 4) entity value in year four.
We firmly believe that our business has the potential to become a highly regarded resource in local and regional markets.  Due to the company's aggressive marketing strategy as well as the careful development of company products and services,  the establishment of the company as a regarded entity in our industry is now within grasp.
(INCLUDE IF BUSINESS NEEDS AND INVESTOR OR LOAN) As owners, the Managers' commitment is to take personal accountability for all financial debt. The Company has taken the necessary precautions to ensure the business is fully capitalized and has addressed all financial shortfalls to ensure a successful business expansion. Providing that the company is able to continue operations and fulfill requirements during our first year of operation, BUSINESS NAME will be able to secure repayment of the investment and achieve operational success for many years to come.
In all the above we intend to communicate our ability to serve our community or customers with products and services that will satisfy & exceed our customers' needs and wants. All the above promotional tools that we have mentioned throughout the plan shall be well integrated and utilized in tandem so as to maximize their effect.
Entrepreneurs have a tendency to paint any business plan with a very optimistic brush, highlighting strengths and camouflaging the risks. The Company Managers, as business owners, have a vested stake and financial commitment in the success of this business. The Company has taken all precautions to validate the Company business and financial models, focusing on realistic projections.  If you have any questions, please contact the Founders directly.
##################
Check out our wide range of business plan templates and financial projection templates available for immediate download at https://cervitude.com/shop/ . 
The Consultants at Cervitude IR help entrepreneurs and executives from around the world by developing first class business plans to launch and expand their businesses. Learn more about our business planning services .  In you are looking for our startup business planning services, click here .
Download business plan templates and financial projections templates by clicking here .
Share this:
CervitudeNetwork
Take your business to the next level
Create everything you need in just a few clicks
Launching Your Own Reiki Business
Immerse yourself in the exciting world of entrepreneurship by starting your very own Reiki business. This venture requires more than just an understanding of the healing arts, it entails learning about business operations and marketing techniques to reach your target market effectively. To thrust forward in this journey, you must don the hat of an innovator, a creative thinker, and most importantly, a passionate believer in the power of Reiki.
The Challenges of Starting a Reiki Business
Believe it or not, starting a Reiki business can be more challenging than launching a rocket into space. You've got to deal with understanding the market, creating a business plan and finding the right location for your business. And that's just the tip of the iceberg.
The Journey Begins with Research
So how do I reduce these challenges, you ask? Well, just like any other successful venture, researching is paramount. It's all about knowing the right data points. Understand your customer base, potential competition and what they're doing. The key here is not just 'how to start', but 'how to start right'.
A Solid Business Plan: An Absolute Must
You wouldn't launch a spaceship without a flight plan, would you?
The Art of Location Scouting
Next on our list is finding the perfect location. Like choosing where to land on Mars, selecting your business location can be crucial to your success. Remember that accessibility is key in this line of business.
Don't Underestimate the Power of Marketing
Marketing is as important as building an efficient electric car - without it, nobody will know what you have to offer. It's not enough to build something amazing; people need to know it exists!
Funding Your Venture
Funding is one hurdle that every entrepreneur faces. But remember - before PayPal became a billion-dollar company, it was just an idea that needed funding. Explore all your options, from loans to investors.
Continuous Learning and Improvement
Just like how we are constantly improving our rocket technology for space exploration, it's crucial to keep learning and improving in your Reiki business as well. Keep yourself updated with the latest trends and techniques, and never stop innovating.
The Power of Design in Business
In today's digital age, creating a visually appealing brand is as important as the product or service you're offering. It's similar to designing a spacecraft - both functional and aesthetically pleasing. This is where Desygner comes into play. Just like how it assists in creating stunning designs effortlessly, it can help you design your logo, website, marketing materials etc., ensuring your Reiki business stands out from the crowd.
Launching Your Prosperous Reiki Business: A Comprehensive Guide
Embarking on a Reiki business venture is an exciting and potentially fruitful journey. This holistic method of healing has been proven to promote relaxation and stress reduction, creating a massive demand in wellness industries worldwide.
A successful Reiki enterprise starts with a strong foundation. First, ensure that you have adequate training and certification; these are non-negotiable prerequisites. Then, understanding your target market will guide your strategic planning. Venture into the business terrain by offering unique modalities tailored to your audience's needs.
The power of technology cannot be overlooked in this era. Harness its potential to optimize your operations and reach more people. The list below provides essential tips for utilizing digital tools:
Establish an online presence through a well-designed website
Create social media accounts for increased visibility
Implement an efficient booking system
Offer online sessions or webinars if feasible
Incorporate digital marketing strategies for growth
Use Desygner for your graphic design needs
Regularly update your content to keep it fresh and engaging
Prioritize customer feedback to improve their experience.
Lastly, don't forget to consistently exude positivity and compassion - the core values of Reiki practice. As with any endeavor, remember that success doesn't come overnight. Patience, hard work, and resilience are key components of a prosperous business journey.
In Conclusion...
This comprehensive step-by-step guide offers valuable insights into establishing a successful Reiki business. Remember, meshing these traditional practices with modern tools such as Desygner can propel your business to greater heights. Now, it's time to translate this knowledge into action. Start drafting your business plan and take the first step towards your Reiki business success story. Sign up on Desygner today and begin your journey to prosperity!
Boosting Your Reiki Business with Innovative Marketing Strategies
Setting Foundation for a Successful Content Strategy in a Reiki Business
UNLOCK YOUR BUSINESS POTENTIAL!
Upmetrics AI Assistant: Simplifying Business Planning through AI-Powered Insights. Learn How

Business Planning
Financial forecasting, ai assistance, see how upmetrics works →, strategic planning, entrepreneurs & small business, accelerators & incubators, business consultants & advisors, educators & business schools, students & scholars.
Business Plan Course
Strategic canvas templates, e-books, guides & more.
Customers Success Stories
How to start a cannabis business- a step-by-step guide.
11 Min Read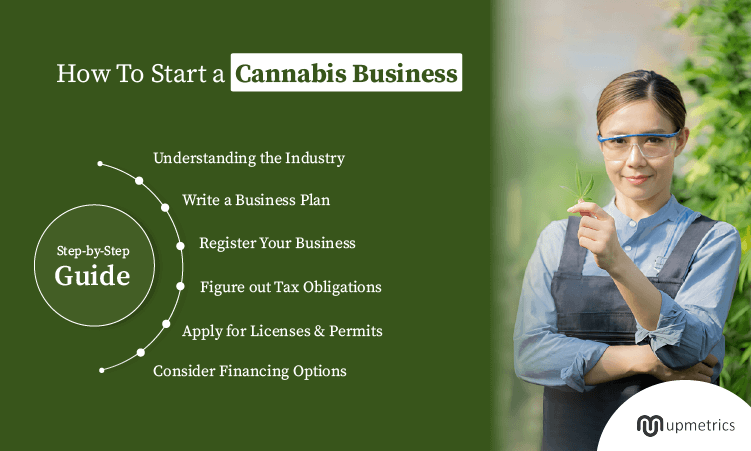 The legalization of medical and recreational marijuana has opened avenues of opportunities for starting cannabis businesses.
Do you also see this industry as a potential business opportunity?
Well, we don't blame you. After all, the profits are attractive, and the market seems to be promising.
However, to stand apart and increase your chances of starting a successful cannabis business, you need to put in a lot of homework.
Let's ease the first step for you. We have answered the most important question about how to start a cannabis business in great detail.
From choosing a business model to acquiring licenses and permits and sorting out the financial requirements—we have covered it all for you.
Sounds good? Let's dive right in.
Startup costs : $187,000-$1,174,600
Industry trend : Growing
Difficulty : Hard
  Profitability : 15-25%
Time to build : 9-20 months
Commitment : Full-Time
How much money do you need to start a Cannabis Dispensary?
The cost of starting a dispensary in the USA varies between $187,000-$1,174,600 . However, the cost can extend up to $2 million depending on factors such as state federal law, dispensary licenses, lease deposits, remodeling expenses, and liquid asset requirements.
To understand the detailed breakdown of costs, read the costs of starting a dispensary .
Pros and Cons of Starting a Cannabis Business
Many cannabis businesses emerged in the US market space with the expectation of making huge money. However, like every business, there are pros and cons to starting a cannabis business.
Lucrative market: There is an extremely high demand for cannabis products.
Rewarding profits: Along with an exceptional market, cannabis businesses enjoy a healthy profit margin.
Diverse opportunities: The cannabis market is relatively new and offers a myriad of untapped business opportunities.
Regulatory challenges: The Cannabis industry is heavily regulated and has a strict legal framework.
High startup costs: It takes a lot of money (read: Millions) to start a cannabis business.
Choosing market – which phones will you make cases for?
Now, that you are fairly aware of the advantages and disadvantages surrounding the marijuana industry, let's discuss a way to start your cannabis business.
Step-by-step Guide to Start a Cannabis Business
Table of contents.
Understanding the Cannabis Industry and Market
Select a Cannabis Business Type
Brainstorm a Cannabis Business Name
Write a Cannabis Business Plan
Register Your Cannabis Business
Figure out Tax Obligations
Apply for Cannabis Business Licenses and Permits
Get Business Insurance
Hire Cannabis Staff
Consider Your Financing Options
Let's equip you with a step-by-step guide to start your own cannabis business in the marijuana industry. Let's get started. 
1. Understanding the Cannabis Industry and Market
Ever since its legalization in the States, the cannabis industry has been growing by leaps and bounds presenting endless opportunities to business enthusiasts trying to tap into this market.
It's wise to look at the latest trends and market statistics circling the cannabis world before setting up your business.
Let's check out these unmissable stats:
Market size : The US cannabis market size is expected to reach 15.8 billion dollars by 2023. With tremendous growth potential, it is expected to capture a market size of 40.1 billion dollars by 2030.
Number of Users : As of 2023, nearly 55 million American adults have tried cannabis at least once in their lives.
Changing preferences : Customer preferences are shifting from medical cannabis to cannabis for recreational use in 2023. There has been a reported spike in demand for edibles, pre-rolls, and vapes since last year.
State legalization : Recreational marijuana has been legalized in 21 states along with Washington DC and Guam. 4 more states are eyeing adult-use legalization in 2023.
Acceptance amongst people : According to a report by the Pen Research Center, 88% of US adults are in favor of marijuana legalization.
Industry challenges : More than 50% of cannabis business leaders consider regulations and compliance as their top challenge followed by inflation.
Now, that you have a fair idea about market trends, let's discuss different types of cannabis businesses.
2. Select a Cannabis Business Type
Now, growing, manufacturing, and retailing a cannabis product is not the only way to get into the cannabis industry. Although these activities dominate the legal supply chain, cannabis businesses can be classified into two distinct categories:
Plant-touching Cannabis Businesses
These businesses are in direct handling of cannabis products like cannabis plants, buds, edibles, oil, etc. Such businesses are highly regulated at the federal level given that cannabis remains illegal in a few states even today.
Here are a few examples of plant-touching businesses:
Cultivation : Such businesses are involved in the breeding, growing, and harvesting of cannabis plants.
Manufacturing : These businesses are involved in the manufacturing of cannabis products such as CBD oil, edibles, topicals, cartridges, etc.
Dispensary : These businesses sell ready cannabis products to direct consumers. Dispensaries sell recreational as well as medical marijuana depending on their cannabis business license.
Lab testing : Such businesses are involved in testing the products to determine their THC levels. They ensure whether a product is safe for consumption or not.
Distributors : Cannabis distributors are involved specifically in the point-to-point distribution of marijuana products.
The licensing process of plant-touching businesses is quite strict and largely varies between different states. Identify the state requirements before determining the type of cannabis business you want to start.
Ancillary Cannabis Businesses
Ancillary cannabis businesses aren't involved in the testing, manufacturing, breeding, or selling of cannabis products. But they are indirectly related to cannabis companies by playing a supporting role.
Here are a few different ancillary cannabis businesses that exist in the cannabis industry:
Cannabis product packaging
Professional services, i.e. professional advisors, legal counsel, digital marketing, and accountants.
Cannabis accessories, i.e. vapes, grinders, ashtrays, storage boxes, etc.
Cannabis technology, i.e. seed-to-sale POS system, security system.
Construction of facilities
Harvesting and manufacturing equipment
Ancillary businesses complement the main cannabis market and are quite easy to get started with.
The entry barriers for ancillary businesses are quite low compared to cannabis businesses and so are the legal requirements.
3. Brainstorm a Cannabis Business Name
It's all in the name, right? Before you start a cannabis business finalize the legal and do business as (DBA) name of your business.
Brainstorm different names and pick something that resonates with your business idea.
Here are some ideas to help you brainstorm the names:
Choose a name that's catchy and easy to remember.
Choose easy to pronounce and spell the business name.
Choose a generic name that will stay relevant as you expand, i.e. LeafLife Dispensary
Don't choose a name that is too specific. i.e. Arizona cannabis store.
Try using keywords in your business name. This will help boost the SEO.
Once you have your top picks, check the state database and ensure that the name is not taken by some other business in the cannabis space.
4. Write a Cannabis Business Plan
A well-structured cannabis business plan offers answers to every question you have regarding how to start a cannabis business. It helps in establishing a legally compliant business and operating it successfully.
Here are important sections to include in your business plan:
Executive summary
Company Overview
Market analysis
Products and services
Sales and marketing strategies
Operations plan
Management team
Financial plan
Writing these sections requires utmost attention and precision in detailing. It's not an easy task and definitely not an exciting one.
Write a Cannabis business plan in no time
Get Upmetrics' business plan template, import data directly into the editor, and start editing using Upmetrics AI Assistant.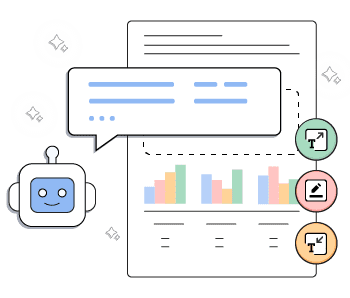 Start Planning Now
5. Register Your Cannabis Business
Remember, how you brainstormed and finalized the cannabis business name. It is now time to legally register your business with the state.
You can register your cannabis company with a generic name and choose an alternate doing business as (DBA) name for operational purposes.
Choose from different business entity options like a sole proprietorship, limited partnership, LLC, or limited corporation. Finalize the business structure and register your company accordingly.
To register an LLC or limited corporation, you would have to file an article of incorporation with the state.
Lastly, get an EIN number from the IRS. EIN is required for filing taxes and even when opening a business bank account. And, also register with the tax agencies for different state, federal, and local taxes.
The business registration process and requirements for each state are different. Conduct your own research to understand the requirements or hire a special help who can undertake this entire registration task for you.
6. Figure out Tax Obligations
Marijuana legalization is still left on a federal level making it a grey scope industry.
The cannabis industry is taxed the highest and faces the highest number of taxation challenges compared to other industries.
According to IRS section 280E- Federal Controlled Substances Act, marijuana is considered a Schedule 1 drug. This restricts the cannabis companies from deducting business expenses that are otherwise deductible for other businesses.
This means you will pay all your taxes on gross income.
Not only that, the average tax rate applicable to cannabis businesses is 55%. For a comparison context, the average applicable tax rate in other industries is 30%.
After figuring out the federal taxation laws, figure out specific laws applicable in your state. Certain states impose excise tax over normal tax structure.
For instance, if you are operating a cannabis dispensary in Washington state, you owe a 37% excise tax on all sales.
Too many obligations right?
Well, that's a part of starting a business in the cannabis industry. As a business owner, you need to figure out this complex tax structure and ensure compliance with each to stay away from legal troubles.
7. Apply for Cannabis Business Licenses and Permits
The cannabis industry is heavily regulated by the federal government. It's therefore essential to acquire essential permits and licenses for your business to ensure its legal compliance.
Now, the licensing requirements for marijuana businesses vary substantially from state to state. These states have their unique qualifying requirements as well. Check the official state's website and get updated information before starting the application process.
The licensing fees vary between $150-$15,000 and more depending on your state. Some states even impose the requirement for minimum capital and liquid assets to qualify.
Consider these requirements and the state's application process as you prepare the documents. Practice extra caution as some states won't allow you to reapply on rejection.
8. Get Business Insurance
Consider getting robust insurance coverage to withstand the constantly evolving legal landscape of the cannabis industry.
Identify the state laws and requirements for your particular business to get all-around coverage. Ideally, a cannabis business should opt for general liability, product liability, and workers' compensation policies.
Then depending on the type of business model, you can get extra coverage for uncovered areas. For instance, testing labs require an Error and omissions policy to offer coverage against potential claims of negligence.
Because of the high-risk nature of cannabis businesses, only non-admitted insurance providers work with cannabis companies. This will potentially increase the insurance costs for your business.
9. Hire Cannabis Staff
Next up, you need to start hiring employees to run your cannabis company.
Check that business plan to understand what type of employees are required in your specific cannabis business. Depending on the type of business, you may require budtenders, cultivators, lab technicians, research scientists, etc.
Consider hiring people from diversified backgrounds. The diversity will help you establish relevance amongst the larger target audience.
Once you assemble a basic team, you can move ahead and plan the opening of your cannabis company.
10. Consider Your Financing Options
Limited financing options are one of the greatest challenges for cannabis companies. They don't have easy access to traditional loans and credit facilities like businesses from other industries.
Moreover, the unclear federal policy makes large banks and financial institutes averse to the high risks involved in cannabis businesses.
This leaves you with one of the few financing options to consider:
Bootstrap the capital using personal savings and loans from friends and family.
Seek funding from angel investors and venture capitalist firms.
Seek small business loans if available.
Acquire the capital through startup accelerators and incubators.
Despite being illegal federally, the cannabis community is growing strong. Wealthy individuals are seeing a promising growth prospect in the cannabis market and are looking for investment opportunities.
With a promising business plan, you stand a good chance to raise the startup capital and acquire essential funding.
That pretty much will get you started on the right foot. Easier said than done, right?
Well, at least now you have a pretty clear understanding of how to start a cannabis company.
Now, use our cannabis business plan template to write an actionable business plan and ensure that you cover every little aspect that goes into launching a successful business.
We hope this was a pleasant and informative read for you.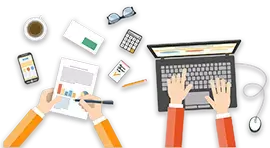 Frequently Asked Questions
What are the first legal steps to take when starting a cannabis business.
Registering your cannabis business is the first legal step that will make it a unique business entity. Only after you register the business, can you apply for licenses, permits, insurance, and taxes.
Where is the best place to start a cannabis business?
The scope for cannabis businesses widens as more and more states allow for cannabis legalization. The states of Oregon, Colorado, California, Michigan, Nevada, and Illinois offer a thriving environment for starting a cannabis business. However, we would say Oregon stands at the top with fewer restrictions.
How do I create a business plan for my cannabis business?
Get a business plan template to start writing your cannabis business plan. Conduct deep research and gather all the materials before you start writing. Here are the most important components of a cannabis business plan:
Business Overview
Product and services
Market Overview
Marketing and sales strategies
Personnel plan
What are the tax implications of running a cannabis business?
According to section 280 E of the IRS, cannabis is classified as a level 1 drug. This makes it illegal federally. As a business owner, you cannot deduct expenses that are otherwise deductible for other businesses. This means you will pay your taxes on gross income and not gross income minus COGS. Further, many states have separate guidelines for cannabis businesses that are applicable over normal tax structures.
What are the common challenges in cannabis distribution?
For cannabis businesses that are involved in the delivery services of cannabis products, the biggest challenge is compliance with different state regulations. This creates hurdles in the supply chain and product delivery. Security is another important concern that needs consideration in the distribution process.
About the Author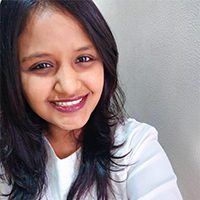 Kruti is a passionate and skilled writer with a knack for business management. She loves to talk and write about small business, startups, business growth, and planning. Besides writing, she loves to read and explore the world. Read more

Reach Your Goals with Accurate Planning
No Risk – Cancel at Any Time – 15 Day Money Back Guarantee

Popular Templates
Please fill out the form below and we'll contact you shortly.
We care about your privacy. See our privacy policy
Download Your Template Now
We care about your privacy. See our Privacy Policy